Calafia Airlines is a Mexican airline founded in 1992. It started its operations in the same year. The airline was established in Cabo San Lucas, Baja California Sur providing services of Aerotaxi, charter, and short-range tourist flights. The airline was the first regional airline that offered tours for the sighting of the gray whale, which in the winter months, reaches Mexican coasts in various geographic regions of the state of Baja California and the Sea of ​​Cortez. It also offers tours to areas such as the Laguna De San Ignacio, the Sierra Tarahumara, the Misiones de Loreto, the Cabo Pulmo Marine Park, and La Paz were successfully added.
Also Read: Cabin Crew Interview: How to Sell Yourself
Through the years, the airline maintains high rates of punctuality on its flights, the attitude of service and hospitality towards its customers, warmth in human treatment, responsibility for flight safety, and, as a rule, maximum customer satisfaction is pursued. All of this is possible because of its responsible and professional administrative management. Its flight attendants also play a vital role in reaching its objectives in everyday operations.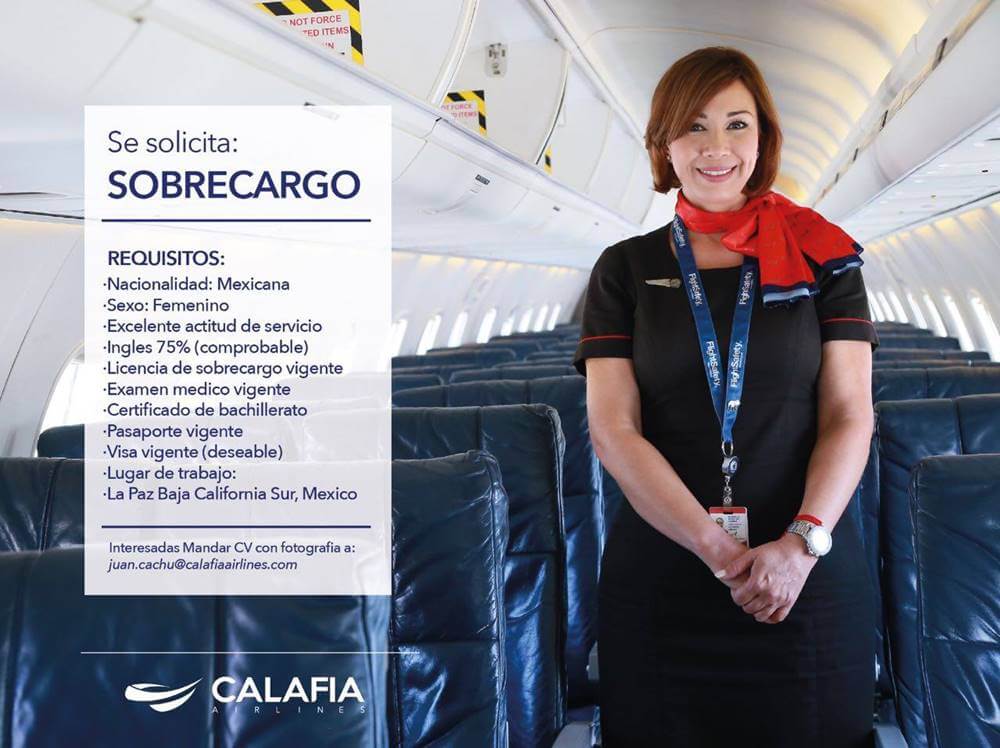 List of Requirements and Qualifications to Become a Calafia Airlines Cabin Crew
Flight attendants are professionals who provide excellent and quality customer service to passengers and travelers. Since they are known to be the frontline customer care provider, they are considered to be the face of the airline. They have a wide scope of areas of responsibilities including ensuring the safety and security of passengers. They also demonstrate emergency equipment and safety procedures, administer first aid, and deal with emergencies.
Hence, at Califia Airlines, the airline is looking for individuals who can endure long shifts and unsociable hours, and work during public holidays. Importantly, they are looking for individuals who got the essential skills valuable for the job.
Below are the criteria for a flight attendant position that aspiring individuals must meet.
Candidates must be fluent in English, written and oral. Individuals who can speak multiple foreign languages are an advantage.
They must also be physically fit as the job requires.
They are available or willing to work long hours. It may involve long shifts and unsociable hours, and it may be necessary to work during public holidays.
Also, weight must be proportion to height.
Excellent communication and customer service skills.
Can handle any situation including emergencies calmly and professionally.
Having a degree is not required. However, it is advantageous if you have a degree related to tourism, travel, hospitality management, and others.
They must also be able to know how to swim.
Candidates must be energetic, proactive, friendly, and confident.
They must have a valid passport and other documents necessary.
They must be willing to relocate when required.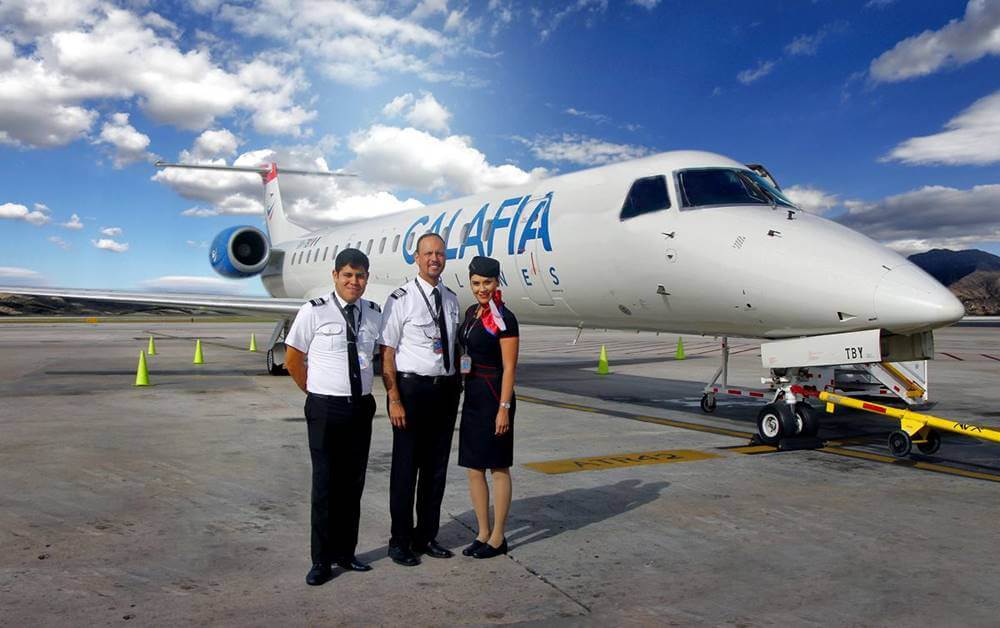 Application Process
Here is a step-by-step guide to help you with your application.
Step 1: Visit the company's Careers page or you may also check out their other official sites and pages.
Here, is the LinkedIn account of Calafia Airlines – https://www.linkedin.com/company/calafia-airlines/about/.
Step 2: Check out the "Jobs" section for job openings and vacancies.
Step 3: Apply for the available flight attendant position.
Step 4: Wait for a response. You will be contacted if you are one of the shortlisted applicants.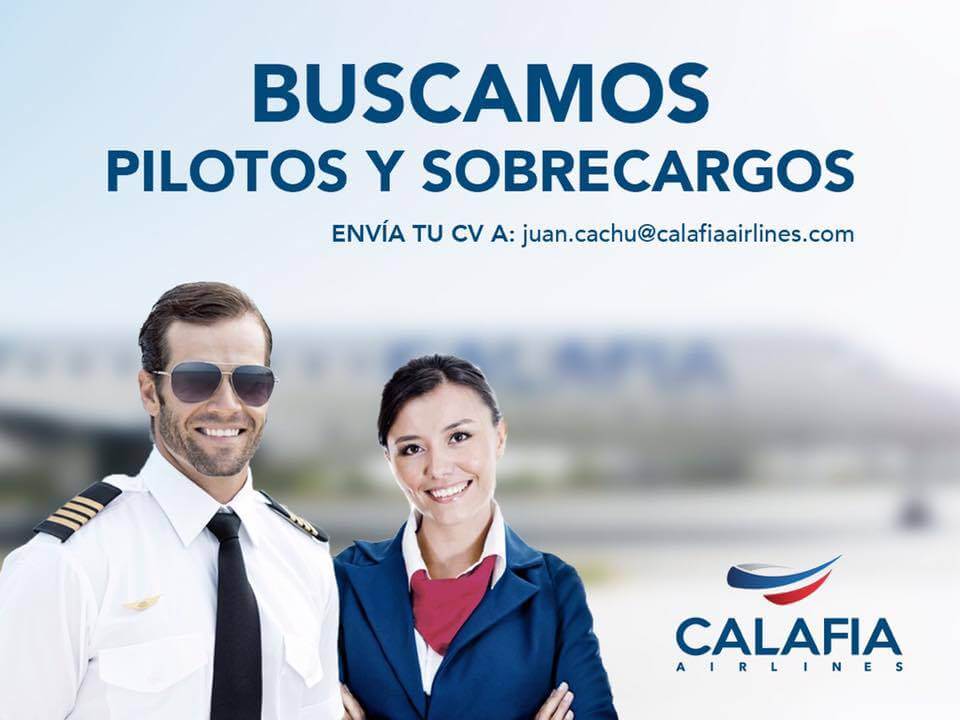 Salary & Benefits
Flight attendants at Calafia Airlines receive competitive salaries and benefits packages. They also receive some travel perks, discounts, allowances, and an opportunity to travel the world. There are also lots of career opportunities, growth, and development for them. The airline offers training programs for their flight attendants to keep them updated with the new standards and regulations and to become more prepared and equipped with sufficient knowledge and hone their skills to keep up with the fast-paced environment and better serve the passengers or travelers.
Video: What It's Like Flying with Calafia Airlines
This video was uploaded by a vlogger to her YouTube channel as she shared her experience with the airline.
This video was uploaded by a YouTube vlogger with the username "Tania Magallanes" on her channel. This video will give you some insights about the company, how to book a flight and a brief tour into the cabin of the aircraft. This video is a documentation of her flying experience with Calafia Airlines and here you will get to see how the airline provides services to its travelers.
Photos: Calafia Air Cabin Crew Uniforms
Check out these pictures of Calafia Airlines crew so you can see what they look like in uniforms:
Frequently Asked Questions
The following are some of the common questions asked about Calafia Airlines flight attendants.
1. What is language(s) must I learn and speak to become eligible for a flight attendant position at Calafia Airlines?
You must be fluent in English may it be written or oral. If you can speak other foreign languages, that is a competitive advantage during the selection process.
2. Does Calafia Airlines require a college degree for a flight attendant position?
The airline does not require a college degree but if you have one, that is advantageous.
3. Do they require previous experience when applying for the flight attendant position?
When applying for a flight attendant position, prior experience as a flight attendant or in any service-related field is considered an advantage and preferred.
4. Are there any physical requirements must I meet?
You must be physically fit to carry on and perform the job. You must also be able to swim and your height must be in proportion to your weight.
5. What qualities and characteristics do Calafia Airlines look for in their flight attendants?
Candidates must be energetic, proactive, friendly, and confident. They must also have the ability to handle any situation.
6. Can I still apply for a flight attendant position at Calafia Airlines even if I have visible tattoos?
Visible tattoos are not allowed while wearing the cabin crew uniform. Hence, you must comply with the airline's policy about its grooming standards.
7. Where can I see if they are hiring for a flight attendant position?
You can check out their official website or other official sites and pages such as LinkedIn.
8. Do they provide training for their flight attendants?
Training is provided for successful applicants to equip them with the knowledge and skill set that they need for the job.
9. What necessary skills must I possess to gain a competitive advantage over other applicants?
You must have excellent communication and interpersonal skills as well as knowledge about customer service.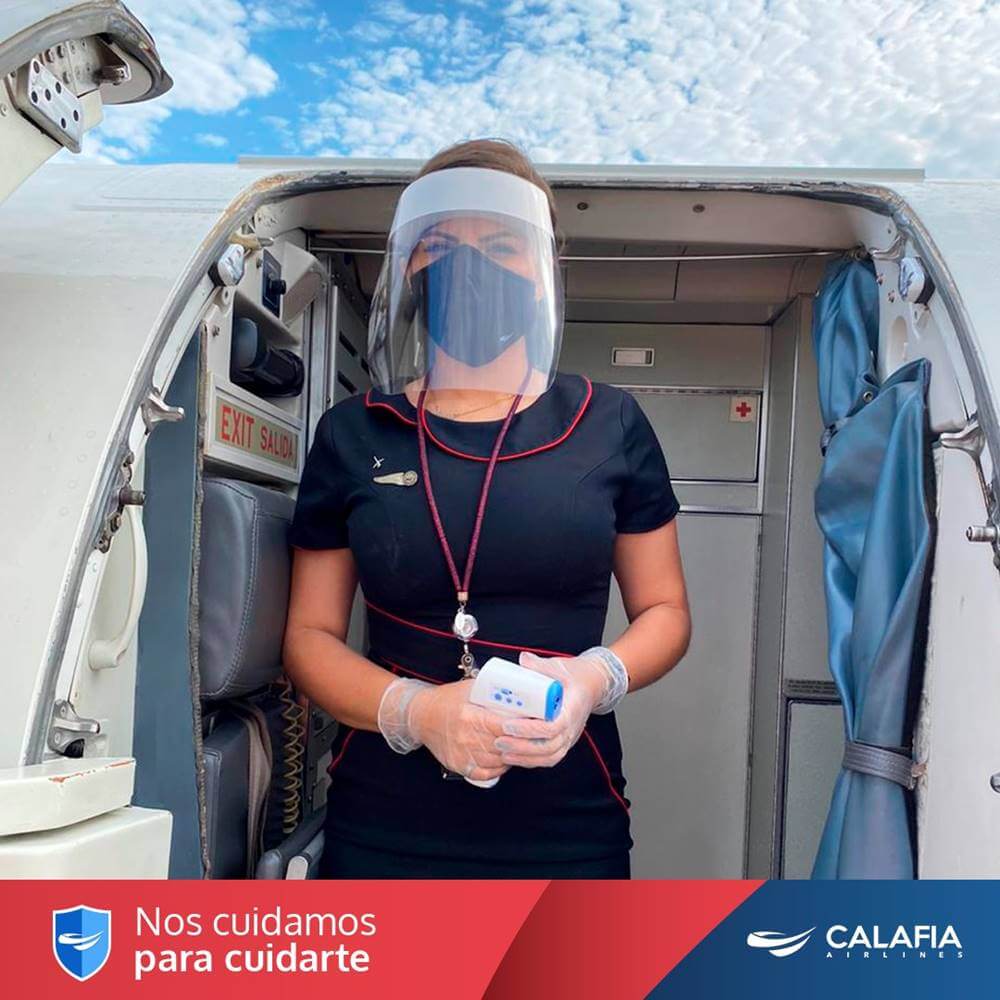 Summary
In conclusion, the job of flight attendants can be demanding at times. Their job requires a long period of standing and walking and they are expected to work overnight, on weekends, and even on public holidays. In terms of the requirements and qualifications, they are not difficult to meet. You must be fluent in English, physically fit, and has excellent communication and customer service skills. Additionally, you must be service-oriented and patient. Hence, if you think you have all these essential qualities, do not hesitate to apply when an application for the flight attendant position is open.