Chair Airlines is Switzerland's newest aviation provider, prioritizing mostly leisure travel and commercial flights. Established last 2019, the airline company has been making a name in the aeronautical industry with its continuous progression. With the help of their team, Chair Airlines ensures that the passenger's delightful holiday experience starts when they step on board.
Also Read: Copenhagen Layover Guide: Best Things to Do in 24 Hours
Since they are continually expanding their routes and destinations, Chair Airlines seeks enthusiastic individuals who can contribute to the pleasant flight experience for the passengers. They are specifically looking for flight attendant candidates who have a passion for flying, serving others, and most especially meet the high qualifications the airline has set.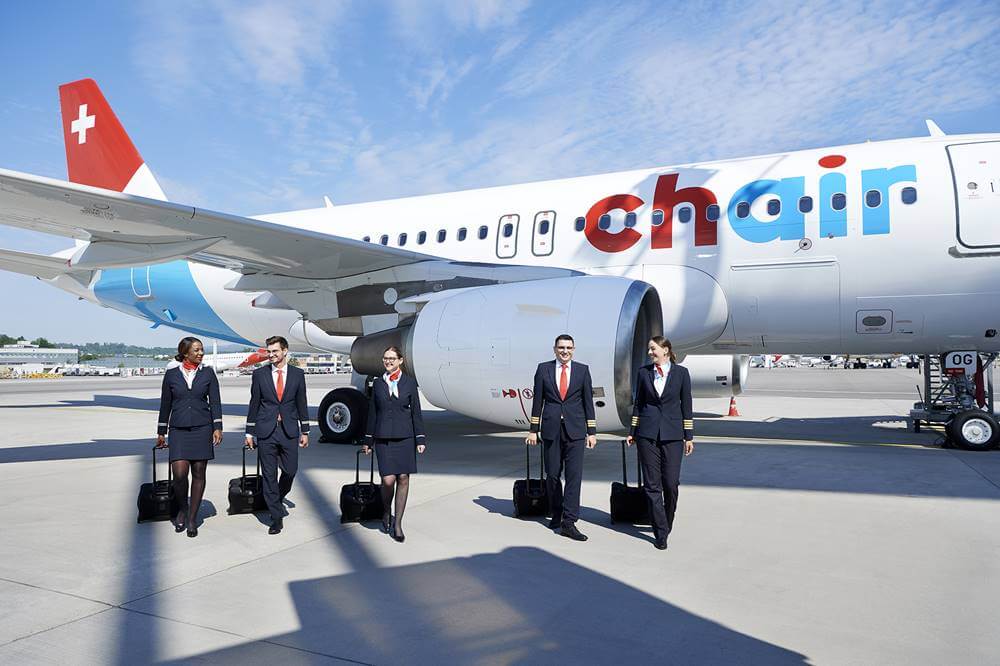 List of Requirements and Qualifications to Become a Chair Airlines Flight Attendant
The work quality carried out by the flight attendants is the key to a positive flight experience for the passengers. With this in mind, Chair Airlines have listed below the qualifications necessary to fulfil this objective:
Completed school year or equivalent
At least 18 years of age
At least 165 cm and at most 190 cm without shoes on
Normal BMI and weight proportionate to height
Ability to pass a medical assessment and drug test
Good health condition both mentally and physically
Proficiency in English with at least a B1 or intermediate level, and at least a C1 in German
Fluency in other languages, especially French, Italian, Greek, and Spanish is an asset
Pleasant appearance and charming personality
Interpersonal and excellent communication skills
Good Swimming skills
Professional appearance and manners
Ability to work independently and lead and cooperate in a team
Clean Criminal Records
Willingness to work on irregular schedules, holidays, and on-call work shifts
Completion of Military service if the applicant's home country requires it
Ability to obtain all authorization and valid work permits to allow the applicant to work and travel on all routes and destinations served by Chair Airlines
Physical strength to push carts, lift luggage and open and close exit doors
Physical endurance to not sit down for longer periods
Application Process
Step 1: Prepare a copy of all the necessary documents. Prepare a pdf and physical copy of all the following documents:
Resume or CV with a full body picture
All diplomas
Other certifications and achievements
Work references
Cabin Crew Attestation or CCA
Step 2: Submit a copy of the documents online
Chair Airlines reminds all applicants that the flight attendant job position is only available to those who are willing to go to extra lengths to put a smile on the passenger's faces. If you have this genuine passion and meet all the requirements above, you can submit all these documents to their email address: Cabin-recruitment@chair.ch
Step 3: Ace the interviews
If your skills and personal qualities meet Chair Airlines' qualifications, you will be selected to come forward for a series of interviews. Chair Airlines will evaluate your strengths, soft skills, and personal qualities. Be reminded to dress in business attire and present professionally during the personal interview.
Step 4: Complete the Chair Airlines Flight Attendant Course Training
You need to finish both the theoretical and practical courses covered by the flight attendant training program scheduled by Chair Airlines. It is better to make preparations and study, especially on the knowledge-based parts, since the training is intensive and rigorous.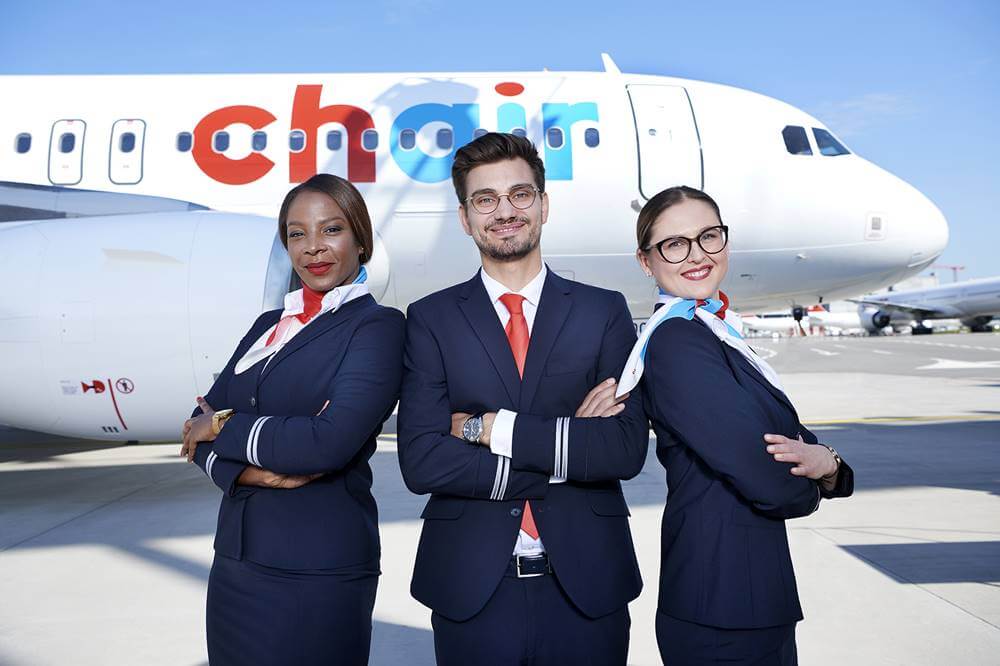 Salary & Benefits
Above average salary of CHF 3,442 per month
High-Quality training
Paid flight attendant training program
Flexible work shifts
Free meal on board
Can be part-time or full-time
Sales commission
Flight and shopping discounts
Opportunities for career and personal growth
Reimbursement of expenses
Uniforms and other equipment used by the flight attendant will be provided by Chair Airlines
Travel packages and perks
Video: A Short Introduction to Chair Airlines
With the birth of a brand new airline in Switzerland, Chair Airlines have been making a name in the country. Watch this short video about the background regarding Switzerland's newest airline:
Chair Airlines is known for its holiday and tour accommodations where there is an influx of tourists and other travellers. Their affordable fares and availability during the winter season which is also the time for skiing trips make them a subsidiary of the Swiss flag carrier of Switzerland. Chair Airlines also have plans in expanding its routes and destinations mainly in Spain, Turkey, and Gree to accommodate more passengers.
Photos: Chair Airways Cabin Crew Uniforms
Check out these pictures of Chair Airlines crew so you can see what they look like in uniforms:
Frequently Asked Questions
Here are some common questions and answers about the job requirements as a cabin crew for Chair Airways:
1. Does Chair Airlines accept flight attendants with tattoos and piercings?
Yes, as long as the tattoos and piercings are not visible while wearing the flight attendant uniform. In addition to this, they require all flight attendants to dress, act, and do their make-up professionally.
2. Does Chair Airlines accept applicants from other countries?
The airline company only consider applicants from EU or EFTA, unless they have a valid work permit to have the authorization to travel in Switzerland and other routes served by Chair Airlines.
3. Do candidates receive any salary during the flight attendant training course?
Yes, flight attendant candidates will already receive remuneration right from their first day of the training program.
4. What are the aviation services provided by Chair Airlines?
The airline company provides scheduled flights across Europe and North Africa as well as within Switzerland which include Palma de Mallorca and Zadar. They also have available charter flights, especially during the winter months to different European destinations such as London. Moreover, they offer city trips and holiday flights.
5. Does Chair Airlines also give allowance aside from the monthly salary?
Chair Airlines provide reimbursement for the flight attendant's expenses, as well as free food on-board and transportation.
6. What are the duties and responsibilities of flight attendants in Chair Airlines?
Provide a hospitable approach to the passengers
Answer all the customers' inquiries
Implement safety regulations and demonstrate protocols
Serve meals and beverages
Prepare, clean and check if the equipment on board functions normally
7. What languages should I learn when applying as a flight attendant at Chair Airlines?
Switzerland is home to nationals who speak a variety of languages. Flight attendant applicants for Chair Airlines must be fluent in both German and English. Aside from that, it would be an advantage if they can also speak Italian, French, Spanish, and Greek.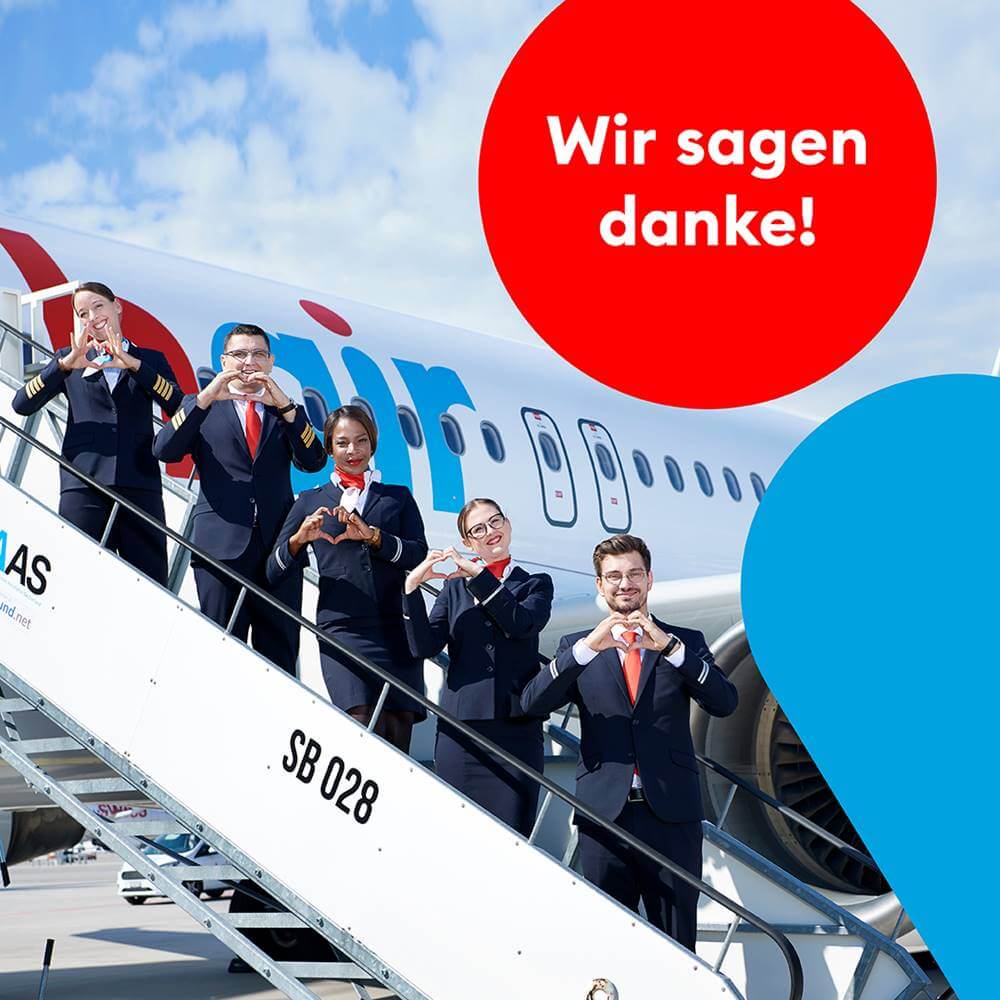 Summary
Being a flight attendant in Chair Airlines means that you are a host thousands of miles above the ground. Your appearance and demeanor must be aligned with the high standards that Chair Airlines has set upon its image. In return, the airline company promises multiple benefits including free meals during the flight, reimbursed expenses, and a paid training program.
They also offer a competitive and above-average salary for their flight attendants. I hope this article has helped you gain insights about Chair Airlines.