The uniform at CommutAir features stylish pieces for its flight attendant uniform. It includes a tailored navy blue blazer, giving it a formal and sophisticated look. Flight attendants also wear a crisp white shirt underneath their outerwear, paired with a matching navy blue skirt or trousers. To add a touch of elegance, the uniform is accessorized with a gold and navy blue scarf, which complements the overall design.
Aside from this, their uniform makes them easily recognizable among the crowd and the other airlines, with the chosen color scheme of black, blue, white, and some shades of gray. This color scheme not only exudes a sense of probity but also ensures that flight attendants stand out in any airport or aircraft environment. Meanwhile, the black and gray accents on the uniform further enhance the sleek and modern aesthetic of their general appearance.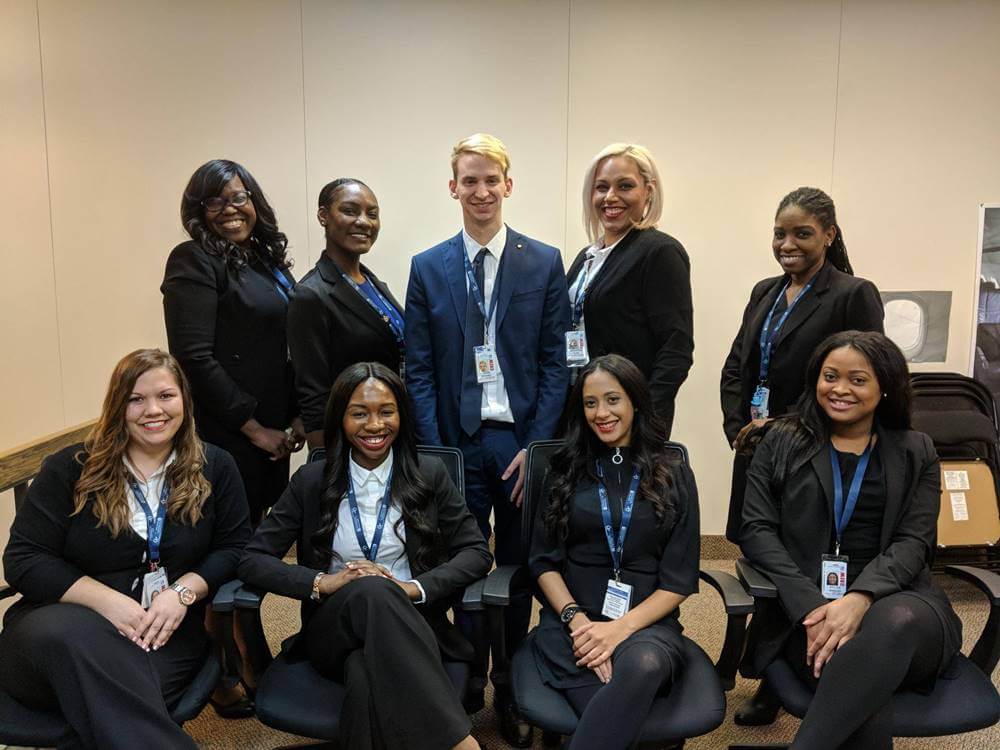 Features of the Flight Attendant Uniform
CommutAir's flight attendant uniform colors are black, blue, white, and gray.
A blue neck scarf imprinted with a white letter design
A semi-dark navy blue dress
A black blazer jacket with an insignia wing badge
White long-sleeve button blouse
A knee-length black skirt
Company ID with a light blue lanyard imprinted with its name
A blue necktie
Black formal shoes
Black hosiery
Black socks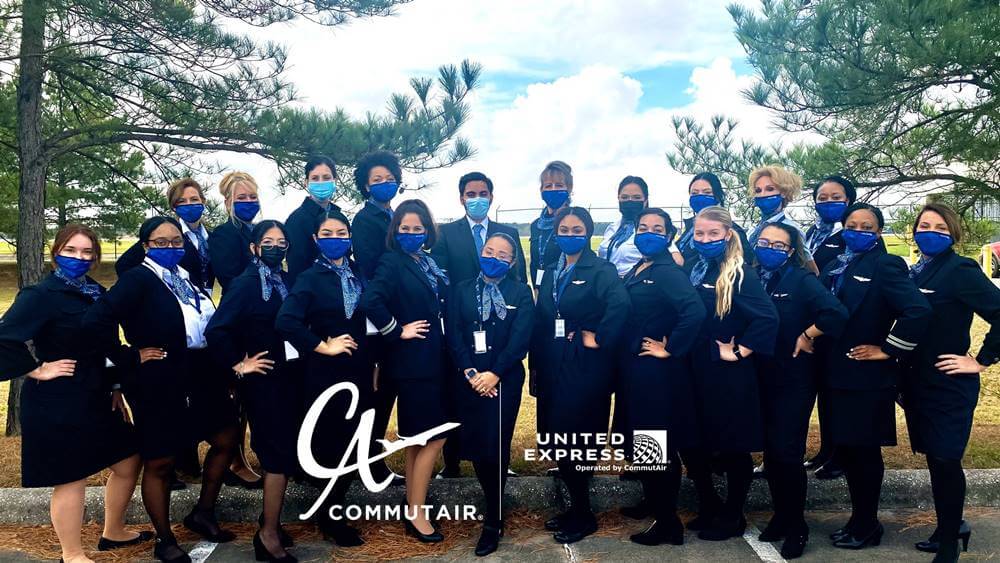 CommutAir's Female Flight Attendant Uniform
The female flight attendant uniform should be clean, neat, and in good repair. A nice and proficient-looking flight attendant is visually appealing in the eyes of the passengers. On top of that, they also need to consider the ethics, values, and norms that a flight attendant should observe while rendering their service to their passengers. This is to maintain the performance and appearance standards of the FAs, and wearing the proper uniform and presentation is only one of them.
Here is the list of female flight attendant uniforms.
Dress
Button blouse (long sleeve)
Skirt
Slack Pants
Neck scarf
ID
Insignia
Shoes
Hosiery
Wristwatch
CommutAir's Male Flight Attendant Uniform
Flight attendants must be responsible for their uniform maintenance while maintaining its good image and uniform appearance. They should also ensure that their uniform is always clean, pressed, and in good condition. Below are some of the uniform pieces for male flight attendants.
Button blouse (long sleeve)
Slack Pants
Vest
Blazer jacket
Tie
Belt
Insignia or wing badge
Apron
Socks
Shoes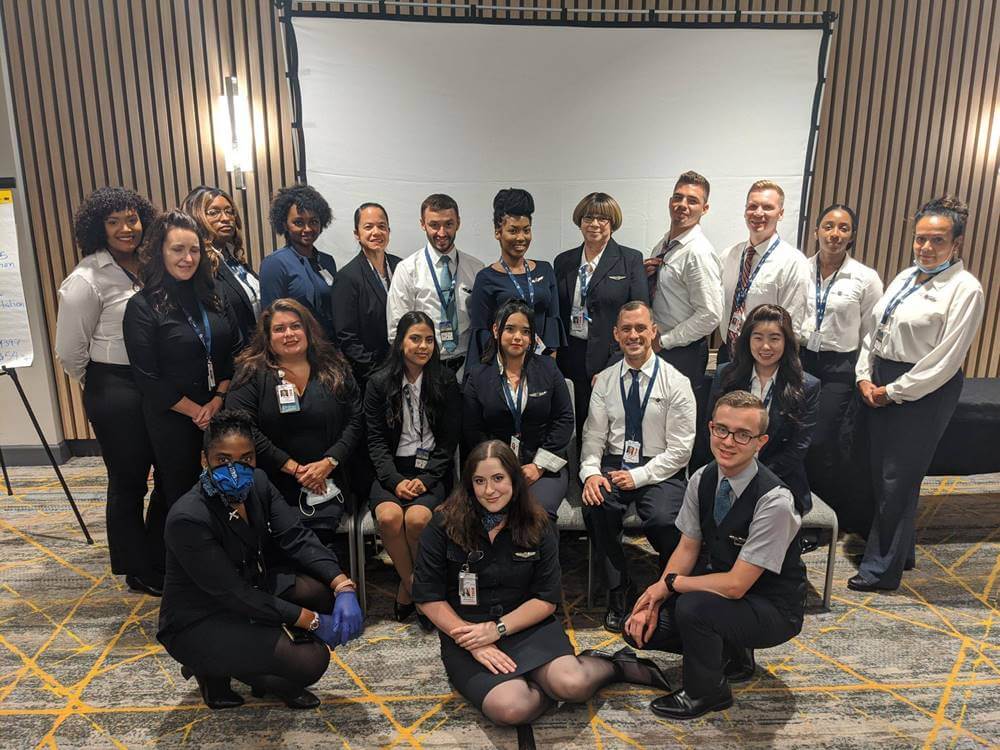 Presentation and Grooming Policy
To project a formal and presentable image, flight attendants at CommutAir ensure that they strictly obey the guidelines and standards set for them. This aims to create an impact through a competent image while delivering their service. Likewise, flight attendant uniforms are also included in the given appearance standards, including proper wearing and uniform maintenance.
Uniform
Wearing an appropriate uniform that is in good repair and condition is a flight attendant's obligation. It not only represents the image of the airline but also ensures the safety and security of passengers. A well-maintained uniform allows flight attendants to be easily identifiable in case of emergencies, making it easier for them to assist passengers efficiently. Additionally, a presentable and neat appearance instills confidence in passengers, creating a positive and welcoming atmosphere on board.
Personal Hygiene
Flight attendants must also maintain proper hygiene regularly. Although it is considered a personal, regular activity, all cabin crew must follow it. Maintaining personal hygiene is crucial for flight attendants, as it reflects their commitment to the well-being of passengers. Regular grooming practices such as proper dental care, clean and styled hair, and well-manicured nails not only contribute to the overall appearance but also prevent the spread of germs and diseases.
Hands and fingernails
Hands must be washed regularly, and most importantly, fingernails must be well-trimmed and polished. This is crucial because fingernails can easily trap dirt and bacteria, which can then be transferred to surfaces and passengers. Besides, well-trimmed and well-polished nails give a clean and neat appearance, enhancing the overall image of the flight attendant.
Cosmetics and makeup
Makeup for female flight attendants should be subtle and natural-looking to maintain a presentable appearance. Bright and bold colors should be avoided, as they can be distracting for passengers. Likewise, flight attendants should ensure that their makeup is long-lasting and does not smudge or run throughout the duration of the flight. By paying attention to the color and longevity of their makeup, female flight attendants can contribute to the overall polished and put-together image of the cabin crew.
Hair and grooming
Hair wax or hair gel application in doing hairstyles for both males and females must also be considered by the flight attendant of the airline company, in which extreme hair color must be strictly observed. Flight attendants should also avoid using strong fragrances or perfumes that could potentially cause discomfort to passengers with allergies or sensitivities.
Facial hair and mustache
Male flight attendants should maintain a clean, neat appearance, especially their facial hair and mustache, to present a capable and polished image, fostering trust and reliability among passengers.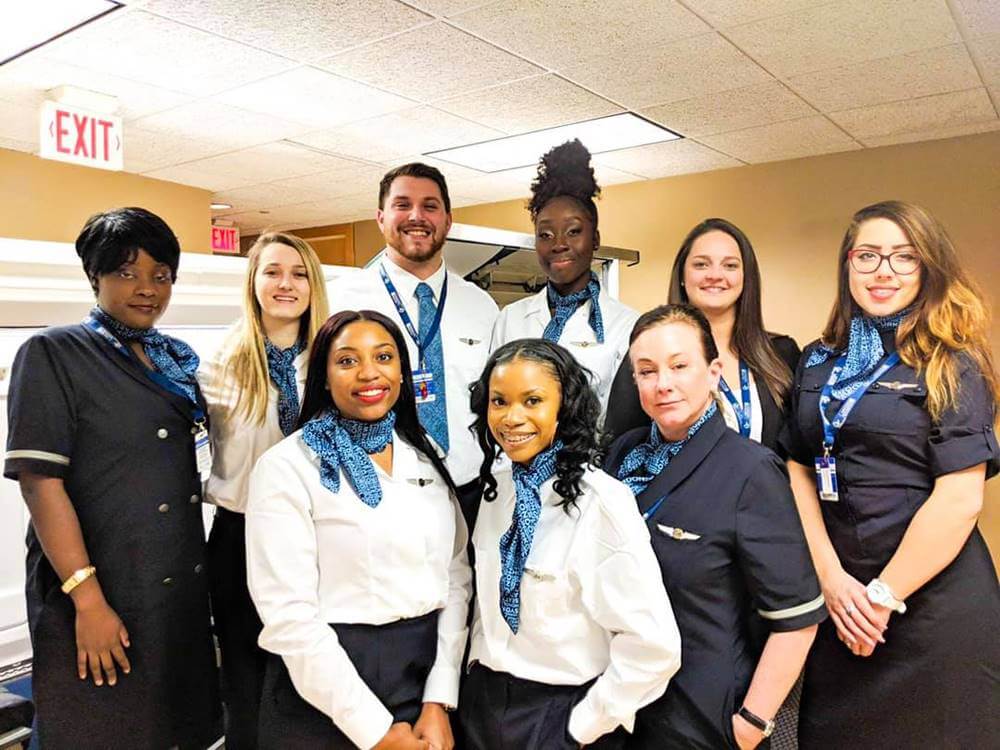 General Notes to Remember
A company uniform is considered a working uniform and must only be worn during working hours or any company events wherein flight attendants are required to use it. Using the uniform for personal use is highly discouraged.
Flight attendants and other cabin crew members should avoid drinking alcoholic drinks and smoking in public while they are wearing their uniforms.
Flight attendants should avoid joining controversial and scandalous activities while wearing the uniform.
It is expected that all cabin crew members follow the guidelines and policies set to them.
Wear the latest uniform issued by the airline company.
Other inner garments must anchor to the color of the uniform.
It is the flight attendant's responsibility to purchase their luggage or bags.
Flight attendants are responsible for the uniform maintenance.
Only one insignia pin is required for FAs to wear.
If the FA's uniform has been damaged while they are on duty and it is proven that it is not the FA's negligence, it is the company's responsibility to replace or refund it.
Video: Together we Soar
The video explores the common goals and duties of flight attendants and cabin crew members at CommutAir, showcasing their uniforms, work nature, and responsibilities in a shared environment.
Summary
In summary, CommutAir's flight attendant uniform features a navy blue blazer, white shirt, navy blue skirt or trousers, gold and navy blue scarf, and a color scheme of black, blue, white, and gray. This professional and sophisticated look makes flight attendants easily recognizable and enhances their sleek and modern appearance in any airport or aircraft environment.