Every piece of clothing in the Cape Air flight attendant uniform represents meaningful values and distinctive efforts while they deliver a high quality of service to their passengers on the flight. Thus, the uniform of a Cape Air flight attendant is carefully designed to convey proficiency, elegance, and a sense of trust. From the crisp white blouse to the tailored navy blue skirt or pants, every element is thoughtfully chosen to reflect the airline's commitment to excellence.
The uniform also includes small details, such as a polished silver wing pin and a neatly tied scarf, that add sophistication and individuality to each flight attendant's look. The silver wing pin signifies the flight attendant's level of experience and expertise, while the neatly tied scarf adds grace and charm.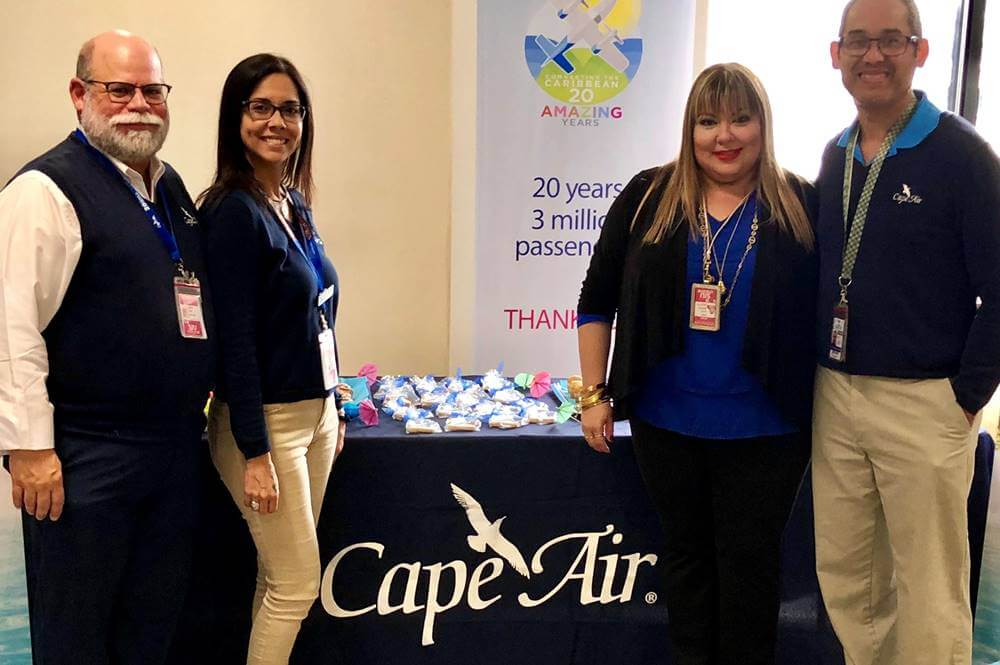 Features of Its Uniform
The flight attendant uniforms are primarily made of blue, white, and black shades of color.
Aircrew members wear a dark blue jacket with the airline's name imprinted on the right portion of the jacket's chest.
A dark blue necktie
A white collared button shirt tucked in blue or black pants paired with a black belt
A black cardigan sweater for female flight attendants matched with a blue shirt and black or dark blue pants
A dark blue vest for male
An ID that has a blue lanyard and a company name imprinted on it
Female Cape Air Flight Attendant Uniform
To maintain a neat and presentable look, a female flight attendant at Cape Air is expected to wear a clean, well-pressed, and in good condition piece of clothing, especially if they are on duty and dealing with their passengers on the flight. This kind of look must be in line with the set appearance standards and personal values and norms while working.
Below are only some of the components of the female flight attendant uniform.
Slacks or formal pants
Sweater
Blouse
Dress
Heel shoes
Wristwatch
ID
Personal garments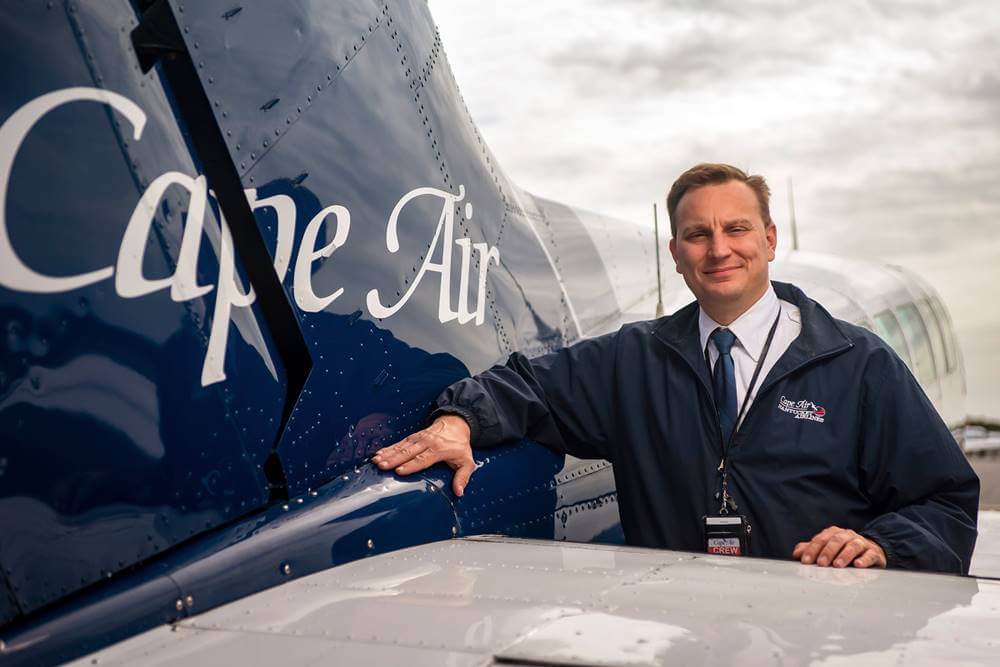 Male Cape Air Cabin Crew Uniform
Every male flight attendant at Cape Air wears a handsome set of inflight and airport uniforms that complement their professional demeanor and create a superb aura when providing services to passengers.
The male flight attendant uniforms consist of the following:
Jacket
Collared button blouse (long sleeve or short sleeve)
Socks
Black formal shoes
Wristwatch
Neck Tie
Vest
ID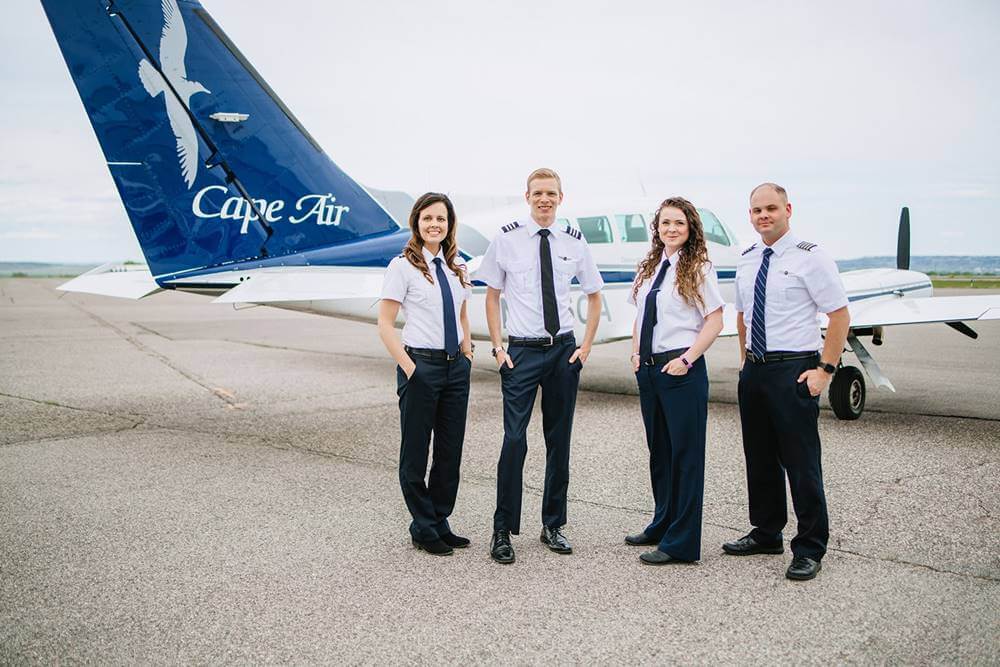 Presentation and Grooming Policy
The uniform serves as a visual representation of the airline's brand and values, enhancing its overall image and reputation. Hence, a satisfied and impressed passenger is more likely to choose the same airline for future travel and recommend it to others, leading to increased customer loyalty and business growth.
Appearance Standards
To maintain the standards set for them, flight attendant applicants must pass initial screening, interviews, examinations, and training to become official airline flight attendants. They must adhere to strict requirements, policies, and standards to ensure passenger safety, comfort, and satisfaction. Flight attendants are trained to handle emergencies, provide exceptional customer service, and follow airline rules, ensuring a seamless travel experience.
Hair Grooming
Both male and female flight attendants must have a natural hair color like black, brown, or golden brown. Extremely contrasting hair colors that are not appropriate for wearing the uniform are prohibited. Hair must not cover the face of the flight representative, and female flight attendants who have long hair must tie their hair with a hair tie. It is also important that it is neatly combed and clean. Appropriate haircuts for male flight attendants are also encouraged.
Body Art (Tattoos, piercings, etc.)
Tattoos, piercings, and other body art must not be visible while wearing the uniform, especially those tattoos that have an offensive image, word, or design. It is also important for employees to maintain a formal appearance that aligns with the company's values and image. Visible tattoos or piercings may distract customers or give off an unprofessional impression.
Makeup/Cosmetics
Female flight attendants should wear makeup mindfully, blending shadow colors and maintaining a natural appearance. Use subtle and neutral shades for a polished appearance. Minimal makeup allows for an easy transition from working on the plane to attending to passengers.
Clothing/Uniform
The uniform must be clean and neat. It is also important that it is well-pressed and in good condition. Flight attendant uniforms must perfectly fit the body shape of the wearer so that they can comfortably do their work with confidence and move freely.
Fingernails
Nails must be neat and well-trimmed. Regular hand washing is highly encouraged for all flight attendants because it is important to have clean hands and fingers. Natural polish color for female flight attendants is also allowed provided that it anchors to the natural color.
Luggage and Accessories
Luggage and other personal bags must have a simple design, color, and style as instructed by the airline company. Accessories design, size, and style must be minimal and might not affect the services and cause destructive incidents.
Important Notes to Remember
While on duty, cabin staff members must wear their full uniform.
It is completely forbidden to include personal design or other extreme design in the worn
Cape Air expects that all of its flight attendants adhere to a set of uniform standards. Disciplinary measures will be taken if the agreement is not followed.
Wearing the company uniform for personal use is strictly prohibited.
Extreme hair color is not advised for both male and female flight attendants.
Color/s of the undergarment worn must complement the company's uniform color.
Athletic socks and shoes are not advised to wear as a footgear.
Body art like piercings and tattoos must not be visible while wearing the uniform.
Avoid smoking or drinking alcoholic drinks in public while wearing the uniform.
Video: Cape Air Flight from Boston to Bar Harbor
This video enhances visualizations of Cape Air flight services, focusing on cabin crew members and the aircraft's features. It also highlights the cabin crew members' uniforms while they are on duty. Each crew member is seen demonstrating their expertise in providing a safe and comfortable flying experience for passengers, ensuring passengers that they can expect a pleasant journey with Cape Air.
Summary
In summary, the Cape Air flight attendant uniform embodies their values and commitment to providing high-quality service. The white blouse, navy blazer, and Cape Air logo on the chest represent probity and pride. The neatly pressed trousers and polished shoes further emphasize their commitment to maintaining a polished image, fostering a positive impression for the airline.