The GoJet Airlines flight attendant uniform consists of a crisp white long-sleeve blouse with a black vest, slacks or pants, and a blue necktie for men. Meanwhile, the female flight attendant uniform consists of a simple black dress with a matching blue scarf, as well as black pumps. The design of the uniform is simple and classy, reflecting the modern and sophisticated image of the airline.
On top of that, the flight attendants' uniforms are not only stylish but also functional, with multiple pockets to hold essential items like pens, notepads, and personal items. It also allows them to move freely, which makes them work effectively and efficiently.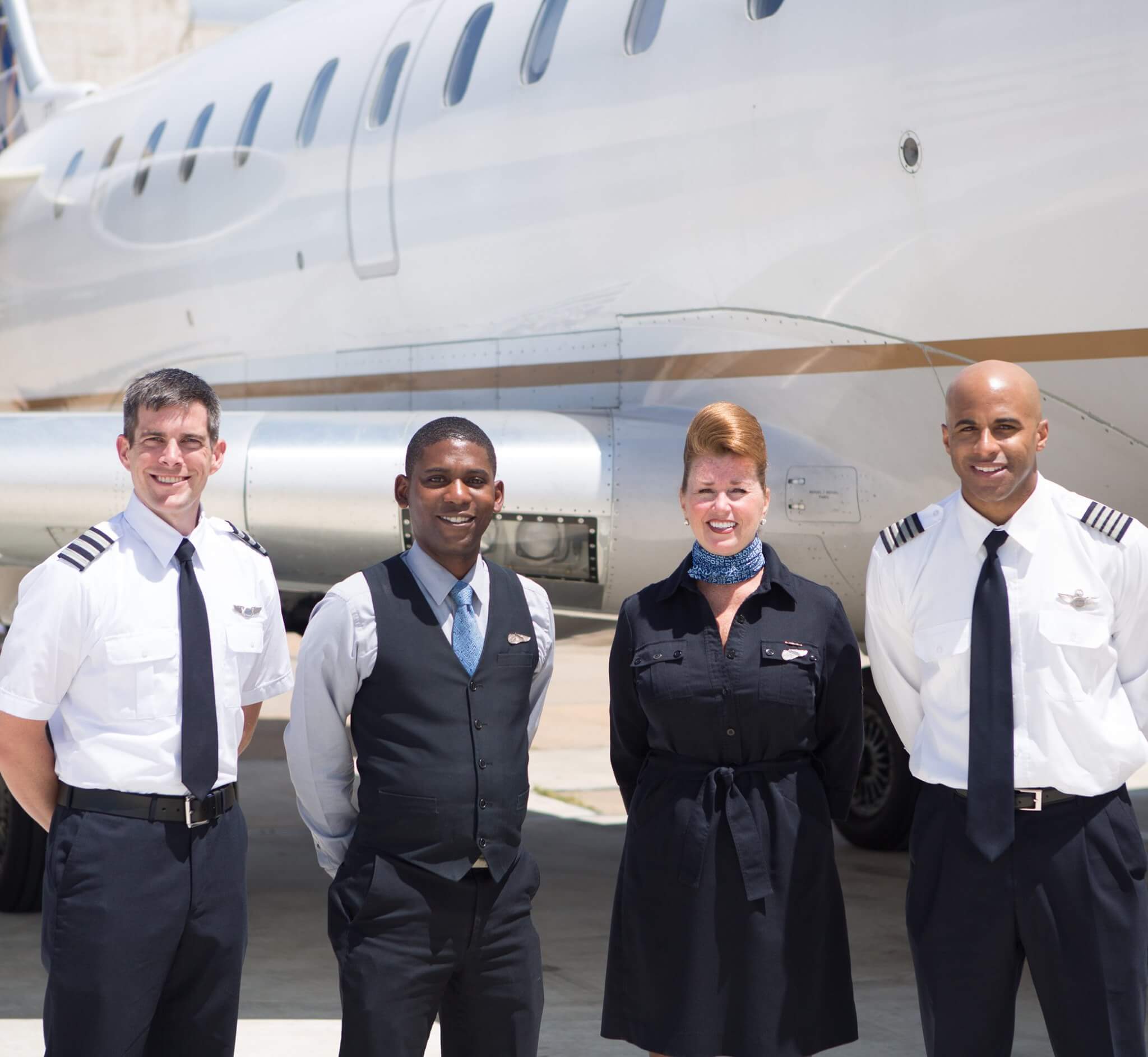 Features of Its Uniform
For female flight attendants:
A simple dress for female flight attendants
A skirt
Neck scarfs
Heel shoes
An insignia or wing badge (usually pinned to the FA's outer garment)
A company-issued ID
For male flight attendants:
A blazer jacket paired with a white long-sleeve blouse
A black slack or pants with a belt
Formal closed shoes paired with black socks
A vest paired with a long-sleeve white blouse
Blue necktie
An insignia or wing badge
A company-issued ID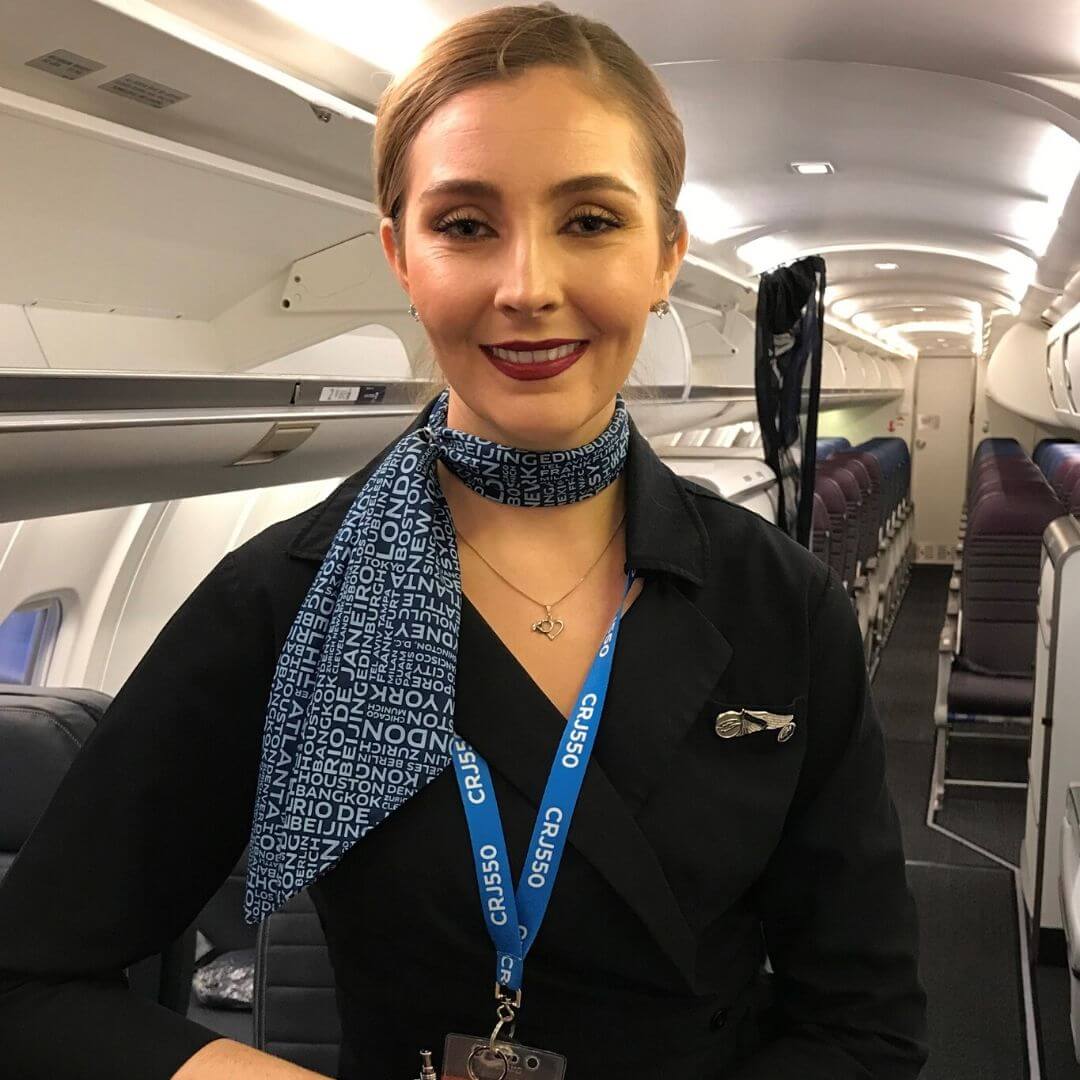 Female GoJet Airlines Cabin Crew Uniform
Wearing a complete set of uniforms is crucial for all cabin staff members, including the flight attendants, because it makes them recognizable among the crowd and passengers can easily spot them for assistance. Aside from this, wearing the prescribed FA uniform can contribute to the positive reputation of the airline company and establish a strong and trustworthy connection between the cabin staff and the passengers.
Below are pieces of clothing for female flight attendants.
Dress
Skirt
Blouse
Neck scarf
Hosiery
Insignia pin or wing badge
Heel shoe
ID
Accessories
Outerwear
Weather gear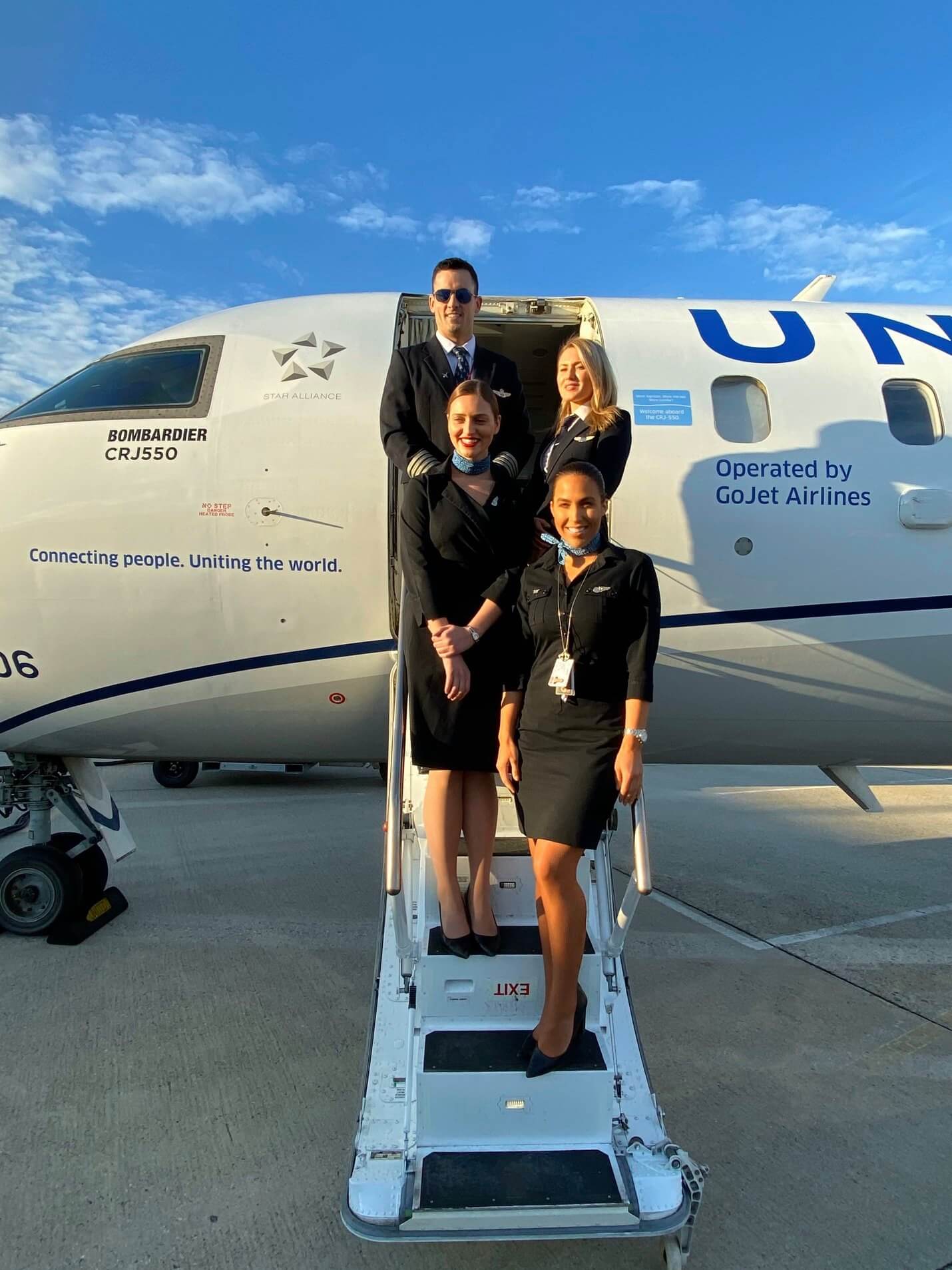 Male GoJet Airlines Cabin Crew Uniform
GoJet Airlines' male flight attendant uniform aligns with the brand's values and standards, reflecting the efficiency of the aircrew in delivering service, and making them proud wearers. By wearing the company-issued uniform, the male flight attendants exude a sense of professionalism and unity, creating a cohesive and polished image for GoJet Airlines.
To be familiar with the pieces of clothing that male flight attendants wear, here is a list of their uniforms.
A formal corporate blazer jacket
Vest
Sleeve white blouse
Tie
Slack pants
Belt
ID
Weather gear
Insignia pin
Formal close shoe
Socks
Luggage
Uniform Accessories (Male/Female)
GoJet also adds some accessories to their uniform for both male and female crew members. These accessories include neckties and scarves that add glam to the overall look. These accessories not only enhance the appearance of the crew members but also help them maintain a formal and refined image while representing the airline.
Below is a list of the accessories available for both male and female crew members:
Neckties
Scarfs
Jewelry
Wing badge
Pins, insignia, and brooches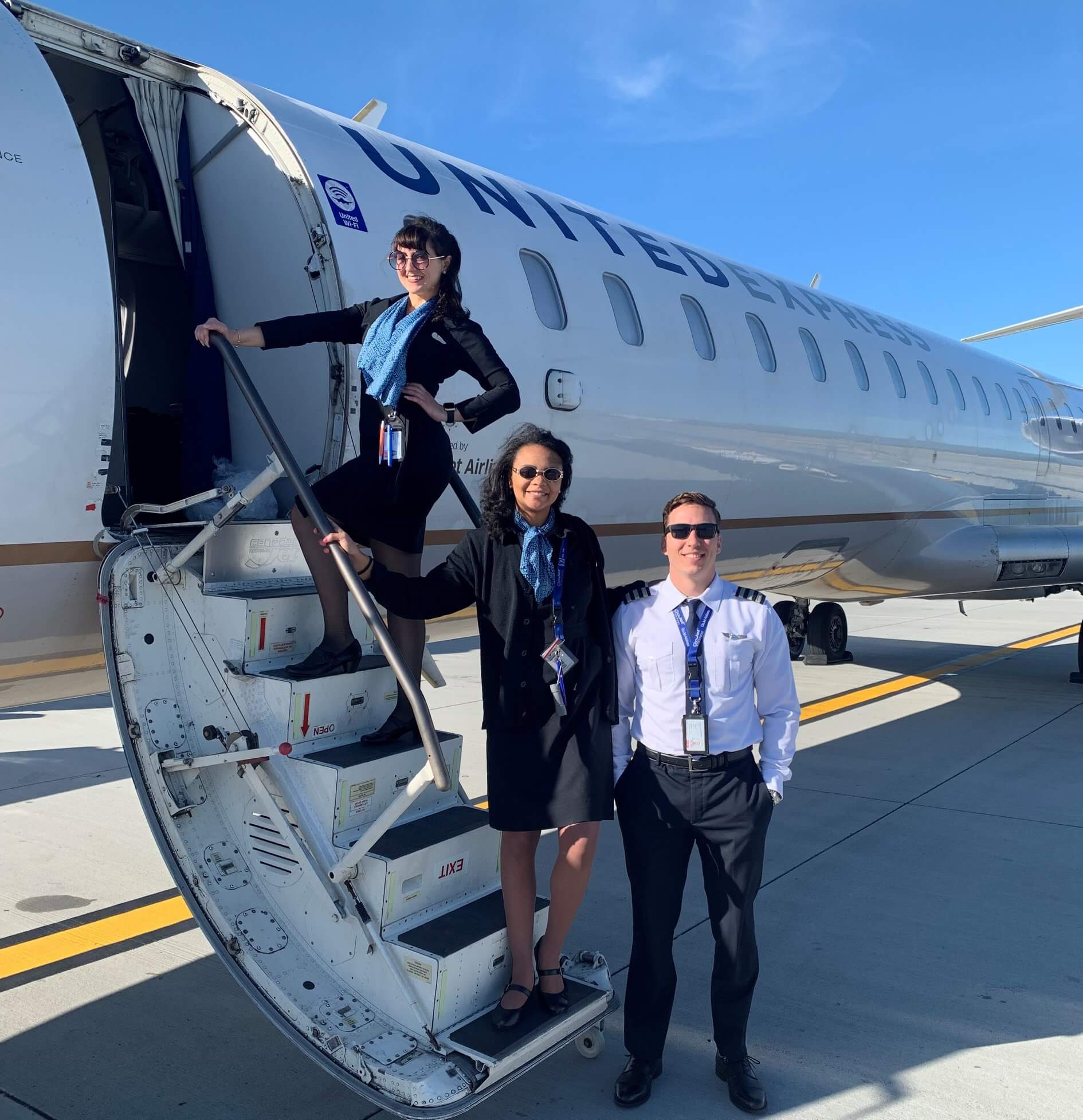 Presentation and Grooming Policy
Flight attendants at GoJet Airlines must adhere to company policy and standards, focusing on grooming and appearance to maintain a presentable and neat appearance, ensuring they effectively interact with passengers. Some of the appearance and grooming policies are presented below.
Hair and Style
Both male and female flight attendants' hair must be clean, and their hairstyles must be neatly done. For male FAs, hair must be neatly trimmed and properly combed, while female hair that is long must be tied properly. Application of hair wax or hair gel is possible, provided that the proper amount is strictly observed.
Makeup or Cosmetics
Female flight attendants are required to apply makeup to avoid paleness but should avoid exaggerated colors, particularly contrasting shadows, that don't match their skin color or uniform style. The goal is to achieve a neat and presentable appearance that complements the airline's brand image.
Hands and Fingernails
Flight attendants and cabin crew members should wash hands, trim nails, and avoid contrasting polish colors or designs, as they may affect the formality of the uniform design. Additionally, flight attendants and cabin crew members need to maintain a neat and simple appearance by keeping their hair well-groomed and avoiding excessive jewelry.
Facial Hair or Mustache
Male flight attendants should have a clean and neat-looking face. That is why their facial hair and mustaches must be well-trimmed. Facial hair should be maintained at an appropriate length to ensure a polished and tidy look. This not only adheres to the airline's grooming standards but also ensures that male cabin crew members can present a well-groomed image to passengers.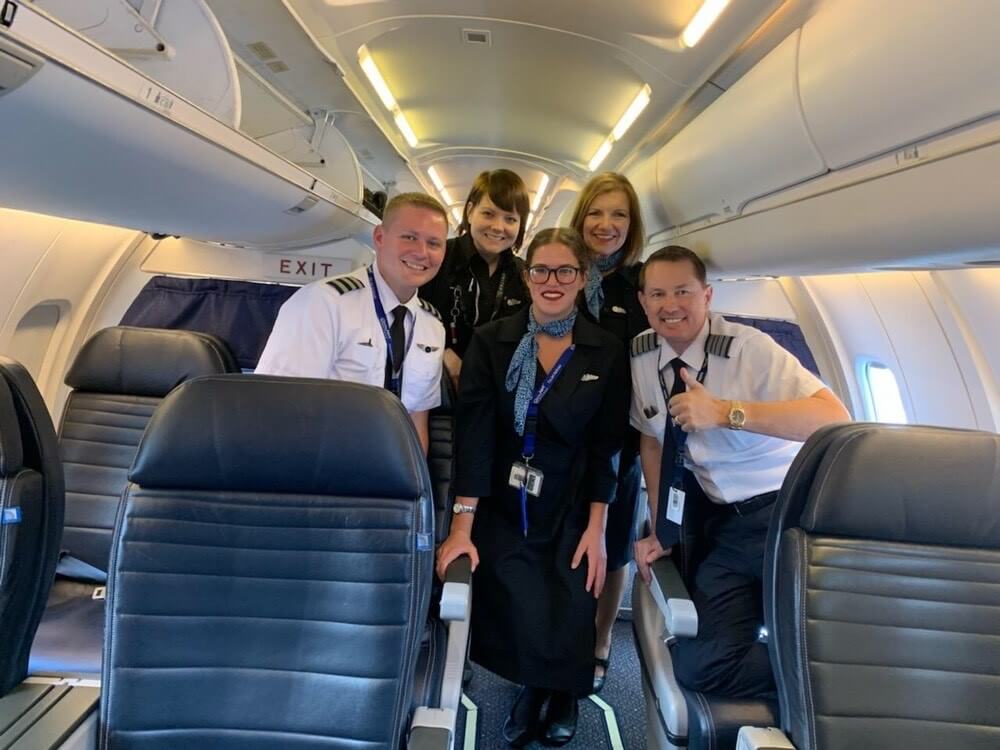 Important Notes to Remember
FAs must ensure the flight attendant uniforms are in good repair and condition before use to ensure their safety and efficiency.
Company uniforms can be purchased in the company-designated store or from vendors.
An insignia pin or wing badge shall be provided by the company at no cost.
Maternity uniforms are available at GoJet Airlines for pregnant flight attendants.
The airline company will require flight attendants to replace the ill-fitting uniform.
The flight attendant uniform requires the wearer to refrain from smoking or drinking alcohol in public areas.
The airline uniform is a working garment only suitable for company-recognized events and should not be worn on personal occasions.
The flight attendant uniform must resemble the previously released uniform in terms of design, style, and color.
Body art, like tattoos, must not be visible while wearing the uniform.
Multiple piercings are not allowed while wearing the complete uniform.
Video: GoJet Airlines Flight Attendant Job Requirements/ How to become a flight attendant in GoJet Airlines?
This video provides essential information for aspiring flight attendants about the initial requirements for applying for the job and outlines the necessary preparations and concepts for beginners to identify in the aviation industry.
Summary
In summary, GoJet Airlines flight attendant uniforms feature a simple, classy design with a white blouse, black vest, slacks, and blue necktie for men and a black dress for women. They are functional, with multiple pockets for essentials that allow them to move without restrictions. The uniforms are also designed to be comfortable, made from high-quality materials that are breathable and easy to clean.