The noticeable features of Aha! flight attendant uniforms include a combination of a vibrant color scheme that incorporates the airline's logo and branding. The uniform is designed with sleek lines and modern cuts, giving it a contemporary and classy look.  Their uniform also features practical features like multiple pockets for easy access to essential items, ensuring efficient flight attendants can perform their duties while maintaining a neat and polished appearance.
In addition to its stylish design, the Aha! crew uniform is also known for its high-quality materials. The fabric used is not only durable but also comfortable, allowing flight attendants to move freely and perform their tasks with ease.  On top of that, the airline's vibrant color scheme and logo design foster unity among flight attendants, making them easily recognizable to passengers.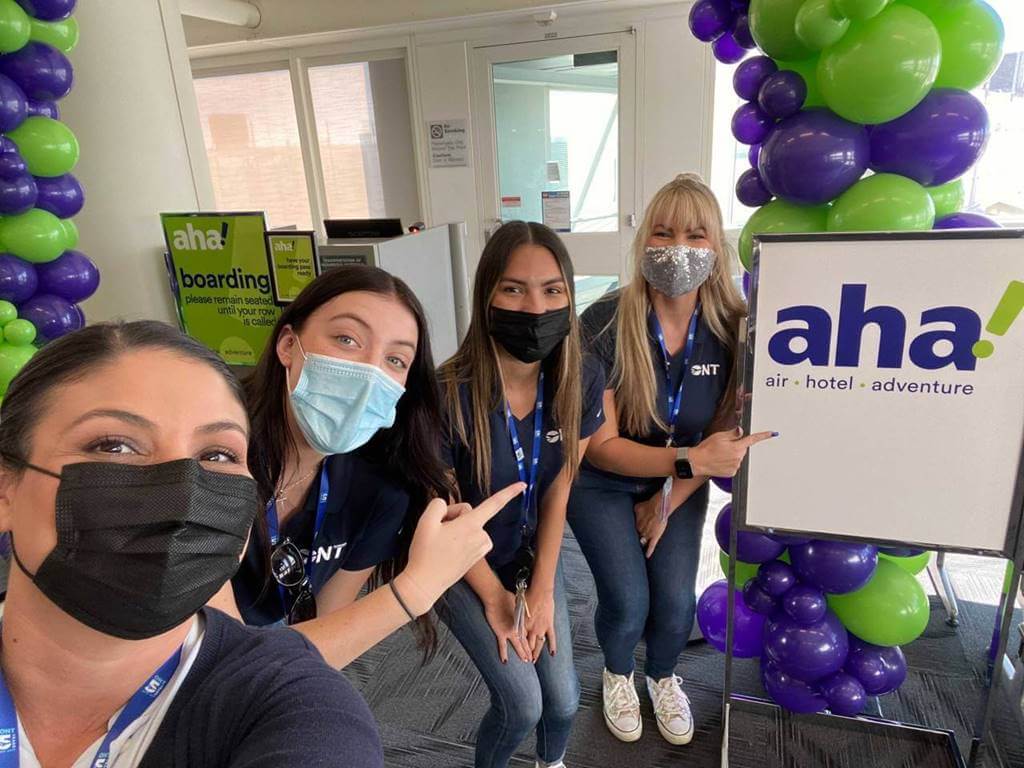 Features of Its Uniform
The following are the features of Aha! Airline's flight attendant uniform sets them apart from other airlines in the US today.
Aha! Airlines' flight attendant uniform colors are light green, purple, dark shades of blue, and a hint of black.
A black blazer jacket serves as the outer garment.
An insignia or wing badge (attached to the outer garment uniform)
A light green scarf
A skirt or pants
A pair of black formal shoes
Female Flight Attendant Uniform
The cabin crew members at Aha! Airlines are required to wear clean, well-pressed uniforms that are intended to preserve a relaxed, businesslike demeanor, given that they are the airline's representatives. Aside from their uniforms, the cabin crew members at Aha! Airlines undergo extensive training to ensure they possess the necessary skills and knowledge to handle any situation that may arise during a flight.
Below are the uniform pieces that make up their whole look, which is worn based on their uniform schedule.
Neck scarf (neckwear)
Blazer jacket
Insignia or Wing badge
Blouse
Vest
Skirts
Hosiery
Button Blouse
Wristwatch
Luggage
ID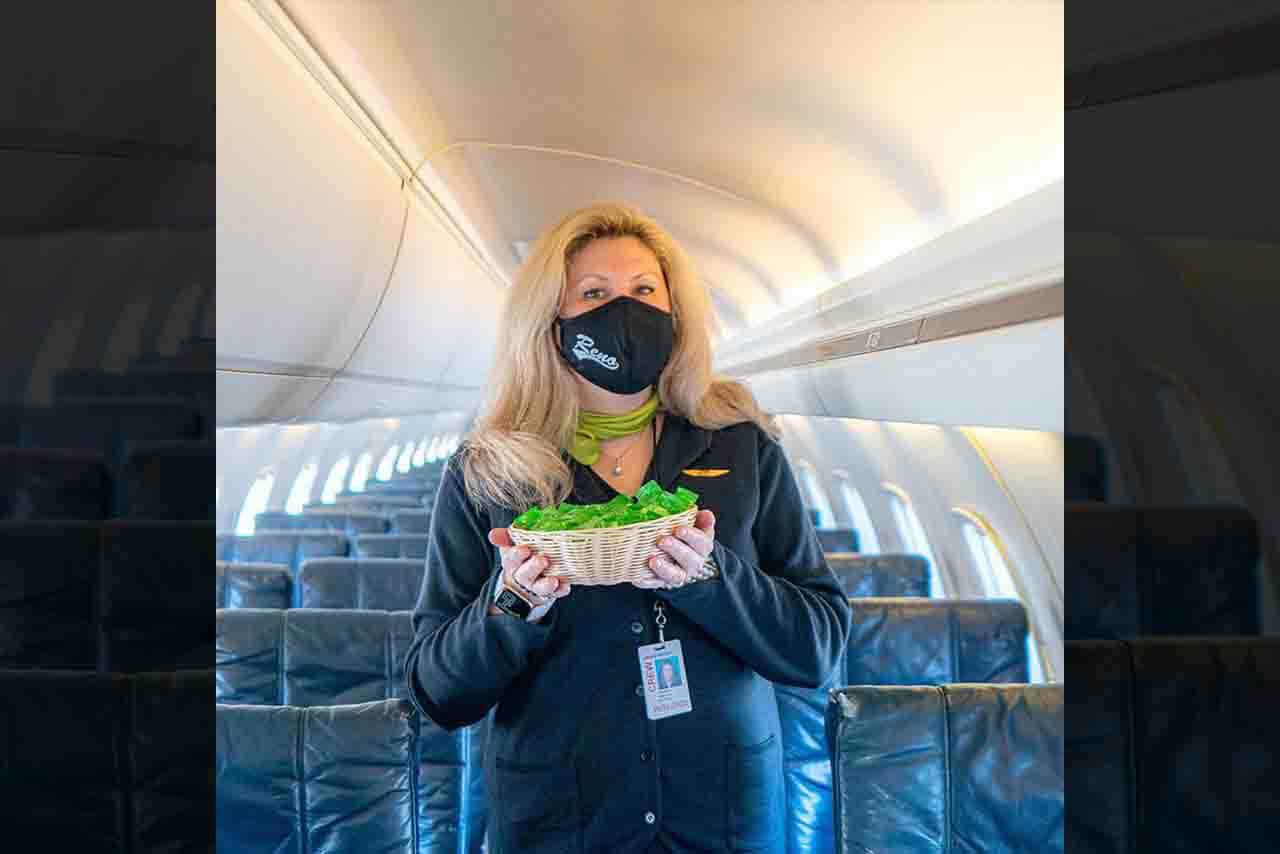 Male Flight Attendant Uniform
Male flight attendants at Aha! Airlines are also expected to maintain a neat appearance, with well-groomed hair and a clean-shaven face. They are trained to provide exceptional customer service, including assisting passengers with boarding, ensuring their comfort throughout the flight, and addressing any concerns or inquiries they may have.
Aside from these duties and responsibilities, they are expected to maintain a proper presentation of themselves and represent the airline's brand image at all times. This includes wearing the airline's uniform with pride and adhering to the company's dress code policies. Below are the uniform pieces they are expected to wear while on duty.
Blazer jacket
Insignia or Wing badge
Button Shirts
Vest
Slacks
Formal pants
Belt
Wristwatch
Tie
Luggage
ID
Uniform Accessories (Male/Female)
AHA! Airlines offer a range of accessories to enhance the elegant and sophisticated design of their flight attendant uniform. These accessories include the following:
Necklace
Scarves
Earrings
Wedding Ring
Wristwatch
With these accessories, AHA! Airlines ensure that their flight attendants look presentable all of the time, making a lasting impression on passengers.
Presentation and Grooming Policy
Flight attendants must maintain a formal appearance and efficient skills while providing services to passengers in the center of the aircraft aisle, reflecting their employer's image. Below are only some of the standards set for them to strictly follow.
Facial Hair or Mustache
The face must not be covered with hair, clothes, or any accessories unless it is required to wear a facemask or face shield. In like manner, facial hair or any mustaches must be neatly trimmed, and the face must be clean, especially for male flight attendants.
Tattoos, Piercings, Body Art
The airline strictly prohibits visible offensive tattoos or body art while wearing the company uniform, as it may attract disruptive attention from passengers, particularly minors. To maintain a proper and respectful environment, employees are required to cover any offensive tattoos or body art while on duty.
This policy ensures that all passengers feel comfortable and safe during their journey with us. By prioritizing the well-being of our customers, Aha! aims to provide a positive and inclusive experience for everyone on board.
Hands and Fingernails
FAs must be mindful of maintaining a clean hand every day, which is why they must wash their hands regularly. Proper hand washing is also a precautionary measure against viruses. Fingernails must also be clean, well-trimmed, and polished appropriately. Striking polish colors can be distracting for passengers, so FAS should stick to neutral or subtle shades.
Cosmetics/makeup
The airline company's policy mandates female flight attendants to wear light, contrasting makeup to align with the company's image. This policy promotes consistency, competence, and positive brand identity, enhancing customer experience and fostering pride among female flight attendants, who contribute to upholding the airline's standards.
Personal Hygiene
Both male and female flight attendants must maintain proper hygiene regularly. This is to secure a fresh and comfortable feeling while they are on duty. Maintaining proper hygiene is essential for flight attendants to provide a pleasant experience for passengers aboard the aircraft.
Important Notes to Remember
Flight attendants must wear their prescribed uniforms while on duty.
The flight attendant uniform must be clean and well-repaired.
Extreme uniform designs are strictly observed. They should follow the released uniform.
The uniform must be worn following the established standards.
The airline company discourages FAs from wearing the uniform for personal use unless it's an event recognized by the company.
Video: 100 Years of Flight Attendant Uniform
This video shows a brief history of the uniforms of flight attendants for 100 years. This also affirms the prescribed appearance that they maintain while doing their service. This also proves the importance of maintaining the set standards of the flight attendant image over the past decade.
Summary
In a nutshell, Aha! airline's flight attendant uniforms feature a vibrant color scheme that makes them stand out and recognizable from other FAs. The uniforms are also made from high-quality materials and are durable and comfortable, allowing flight attendants to perform their duties efficiently. More importantly, both male and female uniforms are designed for convenience, practicability, and professionalism.