Preparation is your greatest weapon when it comes to job applications. After all, no job is easy to get into. It requires investing a good amount of time, energy, and commitment. In this article, we're going to talk about the hiring process at Cape Air. As one of the most well-known airlines in the United States and around the world, it is constantly in pursuit of the next step toward success.
Also Read: What Happens During Cabin Crew Assessment Day
With that said, are you one of the many dreamers who wish to work at Cape Air? The feeling of nervousness as you prepare for your job application can be overwhelming at times, but the key is to be one step ahead of others. And one way to do that is by reading about the company that you're vying for. So, are you ready to reach your cabin crew dreams? If yes, then read on and good luck!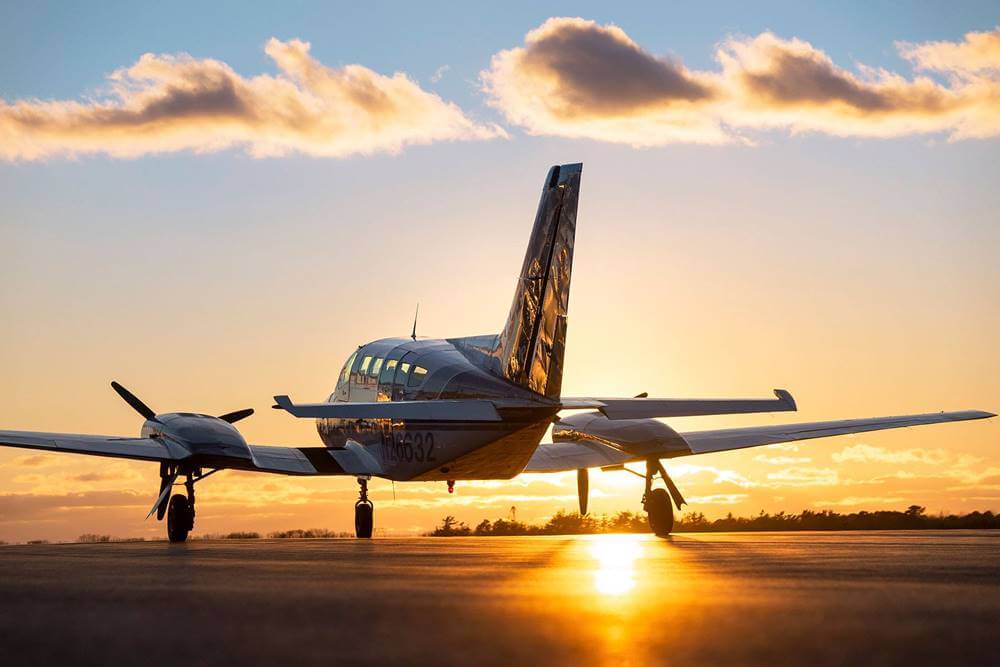 Overview
After it was established in 1988, Cape Air made its own history in 1989 by conducting its very first flight between Boston and Provincetown. By the 1990s, it had already started to gradually expand and offer flights to various places such as in New England. This also included routes to Florida, the Caribbean, Hyannis, and Nantucket. As the years passed by, Cape Air expanded more and more until they now carry over 500,000 passengers annually.
Additionally, they also have their mantra which is to always MOCHA HAGoTDI. This translates to "Make our Customers Happy and Have a Good Time Doing It." As an airline with a motto "We're your wings", Cape Air constantly assures a smooth flight and an unforgettable experience through their customer service.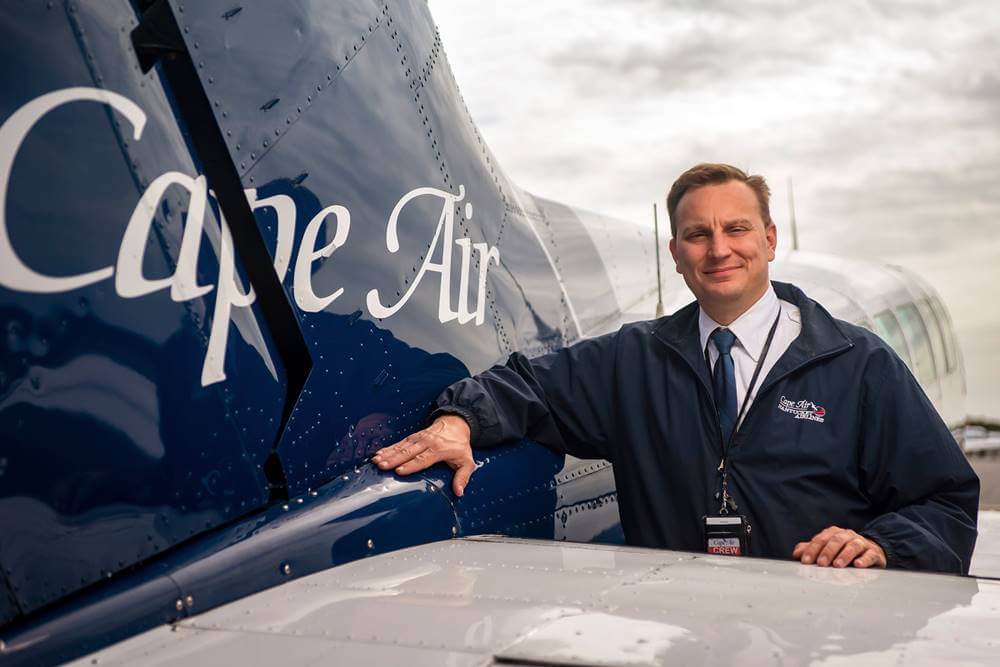 Responsibilities
No matter what job you have, there are always responsibilities that come with it. Here are your duties and responsibilities as a Cape Air flight attendant.
 Conduct safety checks before each flight
Greet your passengers warmly
Escort and assist your passengers with their luggage
Help them find and settle into their seats
Prepare and serve drinks and food to your passengers according to what is requested.
Take note of any medical needs, likes, and dislikes of passengers
Present emergency equipment and brief passengers on how to use the equipment
Monitor, manage and secure the cabin
Adhere to all aviation rules and regulations
Assist passengers and cabin crew during emergencies
Assist passengers with special needs (children, disabled persons, elders, etc.)
Attend briefings before each flight
Submit and prepare reports concerning flight incidents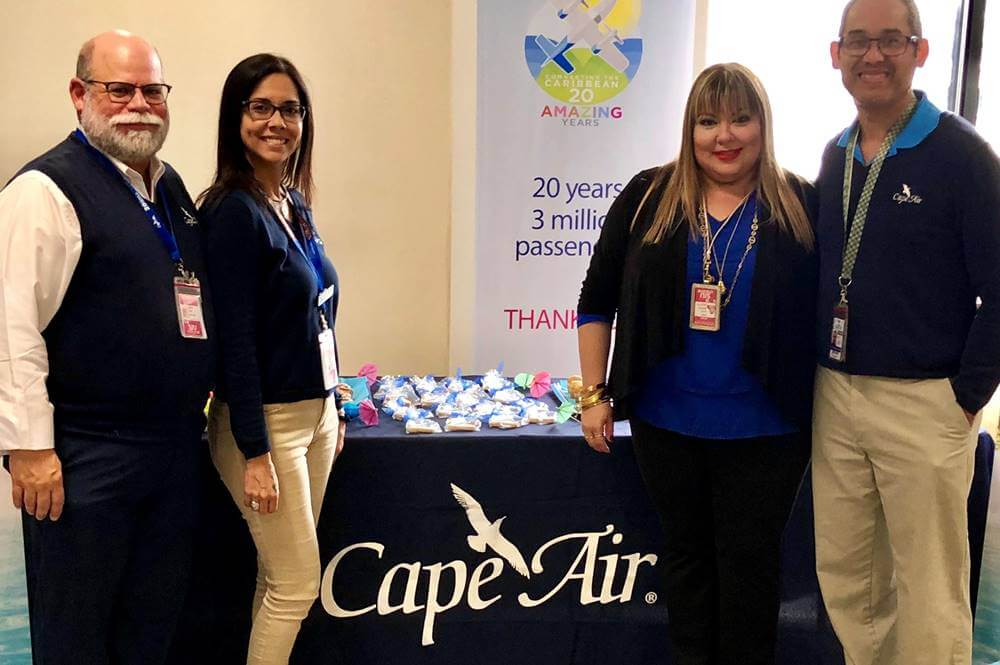 Qualifications
Every company sets its own standards when it comes to its employees. This is because they have their distinct values, preferences, and mottos that they endorse, and so they want their workforce to mirror it as well. Here are the qualifications to become a Cape Air Cabin Crew.
At least 18 years of age at the time of joining
Arm reach of 212 cm while standing on tiptoes
Minimum height of 160 cm
Must be able to lift up to 70 lbs.
Fluency in English (written and spoken)
No visible tattoos while you're in Cape Air  crew uniform (cosmetic and bandage coverings aren't allowed)
Can adapt to new people, new places and new situations
Presentable with impressive grooming skills
Height must be proportionate to the weight
Acne must be minimal or coverable by makeup
Must have a warm personality
Quick to act and responsive towards requests and customer's needs
Excellent communication and excellent customer service skills required
Ability to interact effectively with others
Ability to work independently and adapt to changing work priorities
Ability to communicate effectively, orally and in writing
Flexibility of schedule is a must
This position will often require working nights, weekends and holidays
Must exhibit exceptional knowledge of Cape Air and must embody the Cape Air MOCHA HAGoTDI spirit.
Extra notes:
It is an extra advantage if you have previous experiences in customer service or other related careers.
Being culturally aware is also a great perk since you will be serving different nationalities and will need to answer any questions regarding places of their destination.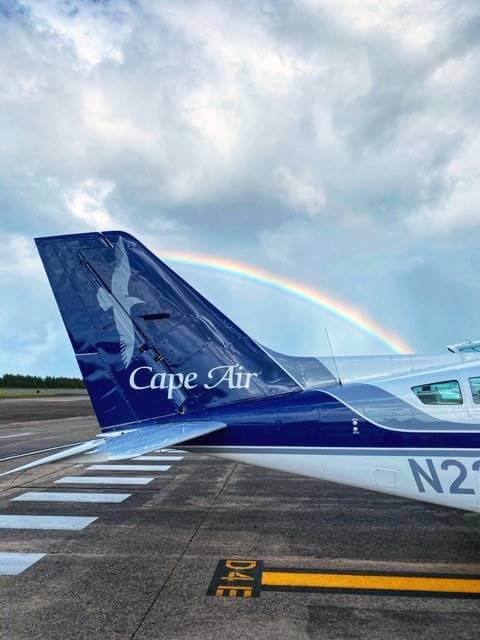 Monthly Salary of an Cape Air Cabin Crew
The starting salary of a Cape Air cabin crew is about $23,000 annually. However, depending on where you work, you can earn about $43,393 yearly. This means that your hourly pay amounts to $20.38. Just like how it works in any work environment, your salary is bound to increase depending on your position, how long you've worked at Cape Air, as well as bonuses and incentives that you will receive. In no time, your salary can reach up to $75,000 annually.
Additionally, here are the extra benefits that you will receive as a cabin crew member at Cape Air.
Health and Dental Insurance
Vision Care Plans
400K Retirement Plan
Paid Time Away From Work
Paid Holidays
Travel Privileges
Employee Assistance Programs
Gym Membership Discounts
Extra note: These benefits are subject to change and can be increased or decreased by the company depending on the circumstances.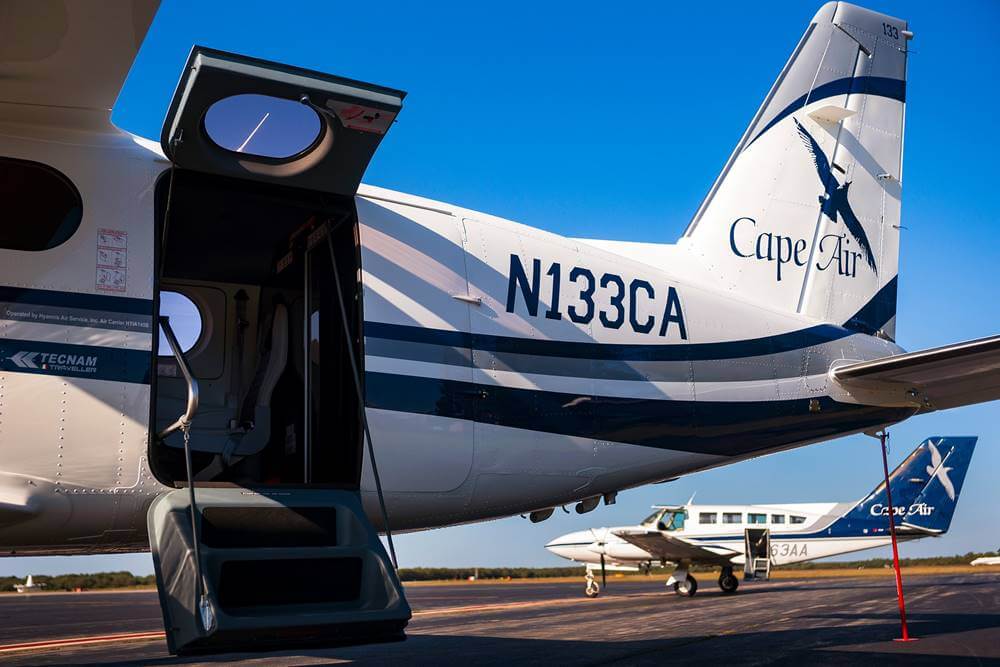 Document Requirements to Prepare
Of course, every job application requires important information and documents from you. Here is a short list of what you need to prepare for your application at Cape Air.
Updated Medical and Dental Records
Head and full-body photographs
Updated Resume/CV
For photographs, here are their given standards:
You should be wearing professional business attire (including a jacket and tie for men).
You should be standing facing straight towards the camera, with your hands down by your side.
You should be smiling with a large but natural smile (ideally showing teeth).
A white background is highly advisable.
The full-length photographs should measure 6×4 inches (15×10 cm), while the passport-sized photos should measure 45×35 mm (1.77×1.37 inches).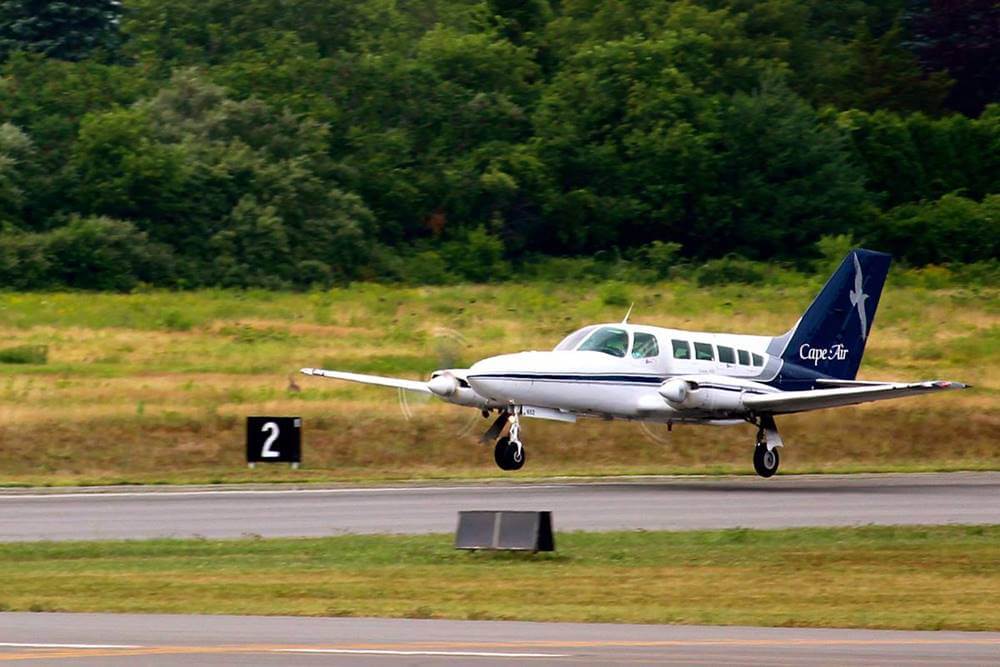 Where to Apply for a Job for Cape Air Online
To check for job vacancies and details, you can visit and view their website here. You can check it from time to time as they regularly post and update about vacancies. Click here to visit their website Career's Page.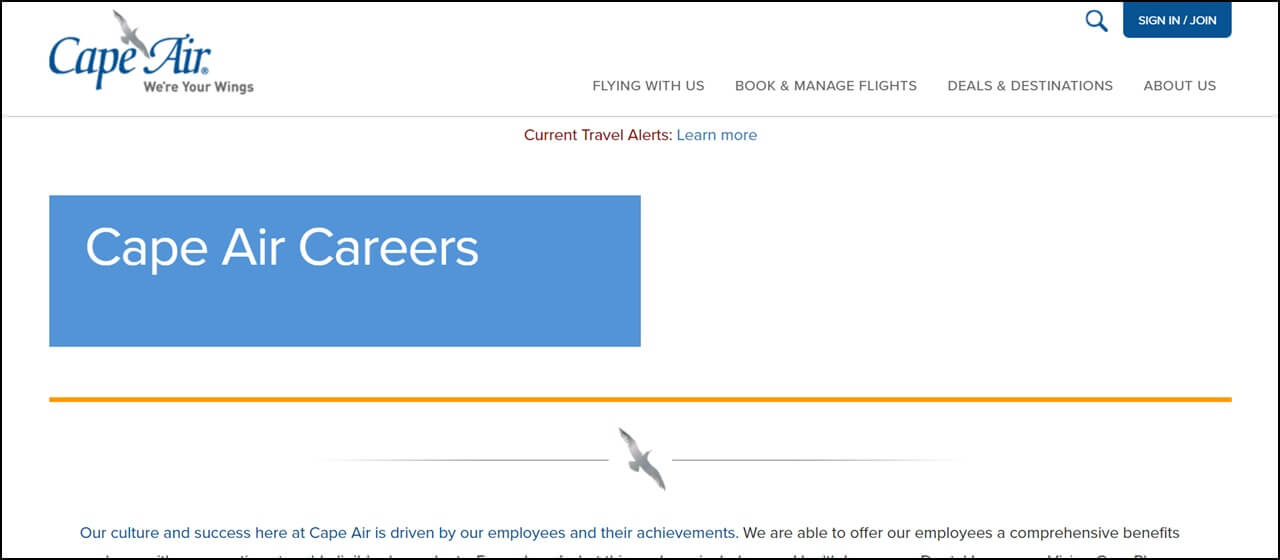 Alternatively, you can also check their LinkedIn profile for other announcements.
How to Become a Cabin Crew for Cape Air
At present, Cape Air only conducts its job applications online. Here is a step-by-step guide on how to apply.
Step 1: Log on To Website
Log on to Cape Air's website. Click "Careers". Once you have done this, you will be redirected to a new window where you can select what position you want to apply for. You can choose where you want to be based as well.
Step 2: Register
Before being granted the access to attach your necessary information and documents for your job application, you must first register. In doing this, you need to provide the following.
Name
Email Address
Mobile Number
Alternatively, you also have the option to log in using your Google, LinkedIn, or Facebook account. Click "Continue" once you have finished.
Step 3: Provide Important Information
You will now be redirected to a new window where you can attach your documents for your job application. You may also need to fill out a few necessary details.
Step 4: Wait for Confirmation and Notification from Cape Air
Since there are also other applications that they need to assess and evaluate, all you have to do now is wait to be notified. Once you have received your confirmation, other details will be provided to you.
Video: Cape Air Flight Journey
This video shows how flights at Cape Air are done. There are segments in this video where passengers are assisted, as well as how the whole journey goes. As an aspiring flight attendant or cabin crew member, this video will give you an idea on how you have to serve your passengers, as well as how you should be able to manage your in-flight duties.
Photos: Cape Air Flight Attendant Photos
Check out these beautiful and exciting pictures of Cape Air Flight Attendants. If you wish to be a part of this company, check out these photos to give you an idea about working for the airline:
Frequently Asked Questions
Below are common questions asked by applicants interested in the position of Flight Attendant for Cape Air.
1. How do I know if I passed the screening at Cape Air ?
You will receive a call, email, or text from the company informing you of the results of your application. After that, they will make arrangements regarding the next steps.
2. Do I have a chance to be hired at Cape Air  if I have visible tattoos I can cover with cosmetics?
Unfortunately, no. Tattoos are allowed as long as they are covered or hidden when wearing your cabin crew uniform.
3. Are they open to hiring any nationality?
Cape Air practices diversity and equality in their workplace. With this said, regardless of your nationality or race, you stand a chance at being hired.
4. How long is my first contract with Cape Air?
Usually, you have a 1 to 2-year contract with Cape Air , which can be subjected to extension once it expires.
5. Are jewelry allowed while working at Cape Air?
Yes, they are. But only to a minimum. For female cabin crew members, diamond stud earrings or pearl earrings are allowed.
6. How long does it take to be promoted?
Usually, it takes about a minimum of a year and a half up to three years before you can apply for promotion. But before that, you must apply for an extension first.
7. Will my salary increase?
Yes, it will. As your position upgrades, and depending on your flight per hour, it all plays a role in how much your salary will increase.
8. Can I still reapply if I get rejected the first time?
Yes, you can! As many times as you can, as long as you learn and improve each time. However, it is recommended that you give a 6-month allowance before reapplying.
9. Does age matter when it comes to applying?
As long as you meet the requirements and qualifications, there shouldn't be a problem.
10. Does Cape Air accept people who aren't fluent in English?
Unfortunately, no. This is one of the most important requirements that you have to meet.
Contact Information
CAPE AIR
Address: 2020 Hyannis Air Service, 660 Barnstable Road, Hyannis, MA 02601, USA
Telephone Number: 508-771-6944
Website: https://www.capeair.com/
Facebook: https://www.facebook.com/CapeAir
Instagram: https://www.instagram.com/capeair/
Twitter: https://twitter.com/capeair
LinkedIn: https://www.linkedin.com/company/capeair/