Emirates Airline has just released an amusing video staring its new brand ambassador, Jennifer Aniston.
The one-minute video commercial stars Jennifer Aniston, who is known for her romantic comedies and light-hearted films.
In the video, Aniston appears wearing a bathrobe and clutching a loofah and a bag of toiletries. She seems to be peeking inside the aircraft toilet.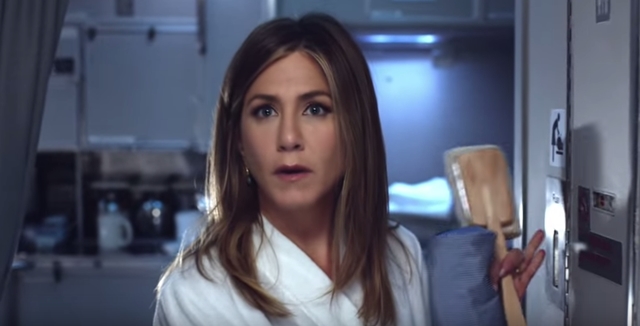 She then walks the aisle of the dimly lit plane while the rest of the passengers are sleeping. She then stumbles upon cabin crews asking for directions to the shower room or the bar.
When told that there's none on board, Jennifer says "Well I'm gonna look pretty silly dressed like this going to the bar."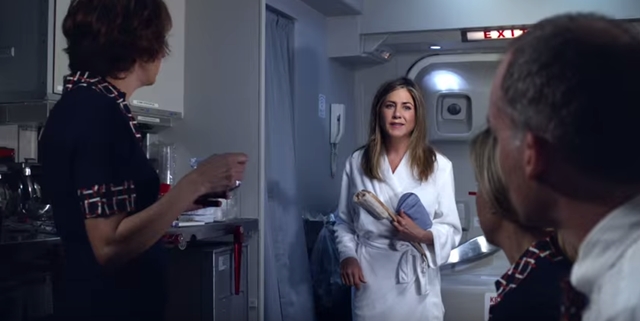 The flight attendants tell her they have hot towels and a bag of peanuts, Aniston mentions that the Emirates planes have showers and bars. She is then told "This isn't an Emirates plane, ma'am" and the rest of the flight attendants laughed at her.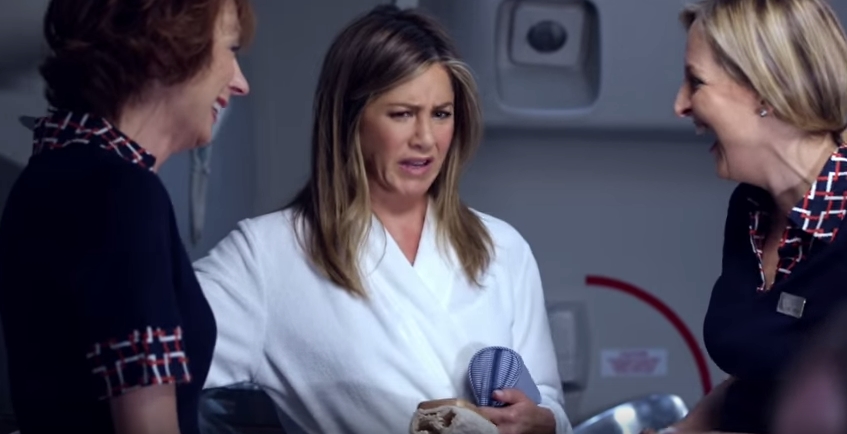 Aniston can be seen getting dizzy and looked like she's couldn't take the nightmare she's in. She suddenly wakes up in her own private suite at Emirates and feels relieved.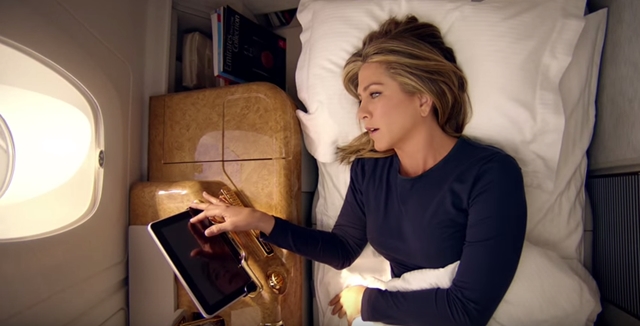 The next scene shows how a freshly showered Aniston is enjoying her drink in a bar while telling the bartender how nightmarish her dream was. "I was on a plane and it was nothing like this." She then tries to tell the bartender while smiling "Hey, is there someone we could talk to about maybe flying this around a little bit longer? Like maybe an hour?"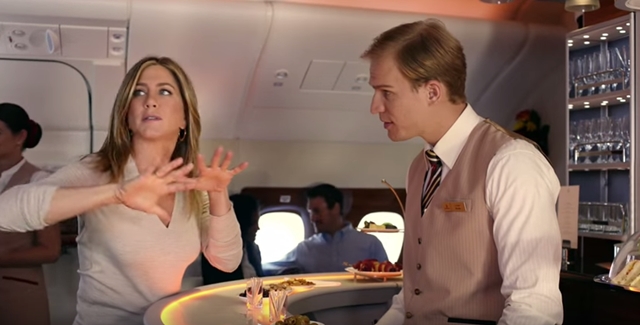 The video ad ends showing an Emirates plane flying up in the air with the tagline "Wake up to flying as it should be."
Boutros Boutros, Emirates' divisional SVP for corporate communications, marketing and brand, said "Jennifer Aniston's appeal and effortless connection with a global audience makes her the perfect choice for our campaign. As one of the busiest women in Hollywood, Aniston, like many of our customers, enjoys downtime only when she is travelling. At Emirates, we ensure the experience is an exceptional one."
Boutros mentions that to deviate from the usual airline ads, they decided to go with a humoruos approach to share the services and products offered on board Emirates. "We couldn't think of anyone better suited for the role than Jennifer Aniston and we wrote the script with her in mind."
Watch the video below and let us know what you think about Emirates new ad campaign.
Photo credit: Grabbed from the YouTube video