What do you do when you're ALONE and stuck in an airport? Shoot a music video! That's what happened to Richard Dunn when he found himself stuck in an empty airport in Las Vegas with only an iPhone.
Richard was given vouchers when he voluntarily agreed to be bumped off two 2 Delta Air Lines flights. That left him the whole night free until his next flight which was at 6am. He did not have time to go to a hotel and chose to spend the next few hours in the airport.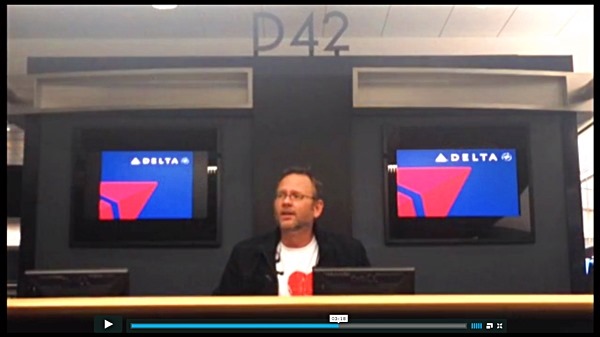 Richard in the airport (screenshot grab from the video)
Richard Dunn Lets Out Creativity in an Empty Airport
He only had his iPhone with him and with some creativity, he thought of filming an MTV video. Lip-syncing to Celine Dion's version of the Eric Carmen classic "All By Myself", he placed his iPhone in different locations to get different angles and compiled them into the music video you are about to see below.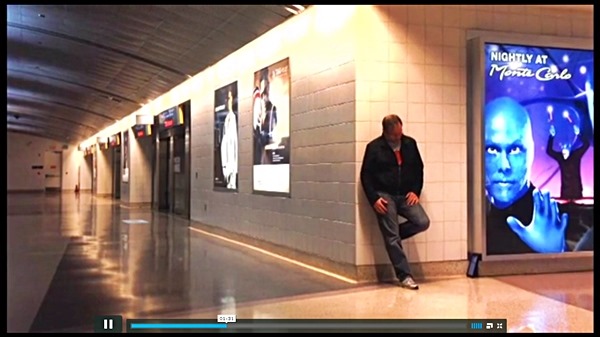 screenshot grab from the video
You cannot deny the creativity that goes especially with technical shots that usually require another person to hold the camera. He asked an airport staff for tape to stick the iPhone to a pole and placed it between luggage bags to act as a "tripod".
Check out the video of this guy filming a music video in Las Vegas' McCarran International Airport
Source: All by myself from Richard Dunn on Vimeo.
With some creativity, you might not realize what you can think of!