Jet2.com is a low-cost leisure airline based in the United Kingdom that offers scheduled and charter flights. It is the United Kingdom's third-largest scheduled airline, after easyJet and British Airways. Unlike many other airlines that cater predominantly to business travelers, this airline prioritizes leisure travel. It has carved out a niche for itself by providing a variety of services, such as flights, vacations, and bundle deals, with a strong emphasis on superior customer service. 
Also Read: Jet2 Flight Attendant Salary and Benefits
The airline offers various destinations throughout Europe and beyond, ministering to leisure and business travelers. The airline connects passengers to prominent tourist destinations, cultural destinations, and business hubs, making it a versatile option for various travelers. It has won numerous awards for its customer service, including being named the Best Short-Haul Airline at the Globe Travel Awards.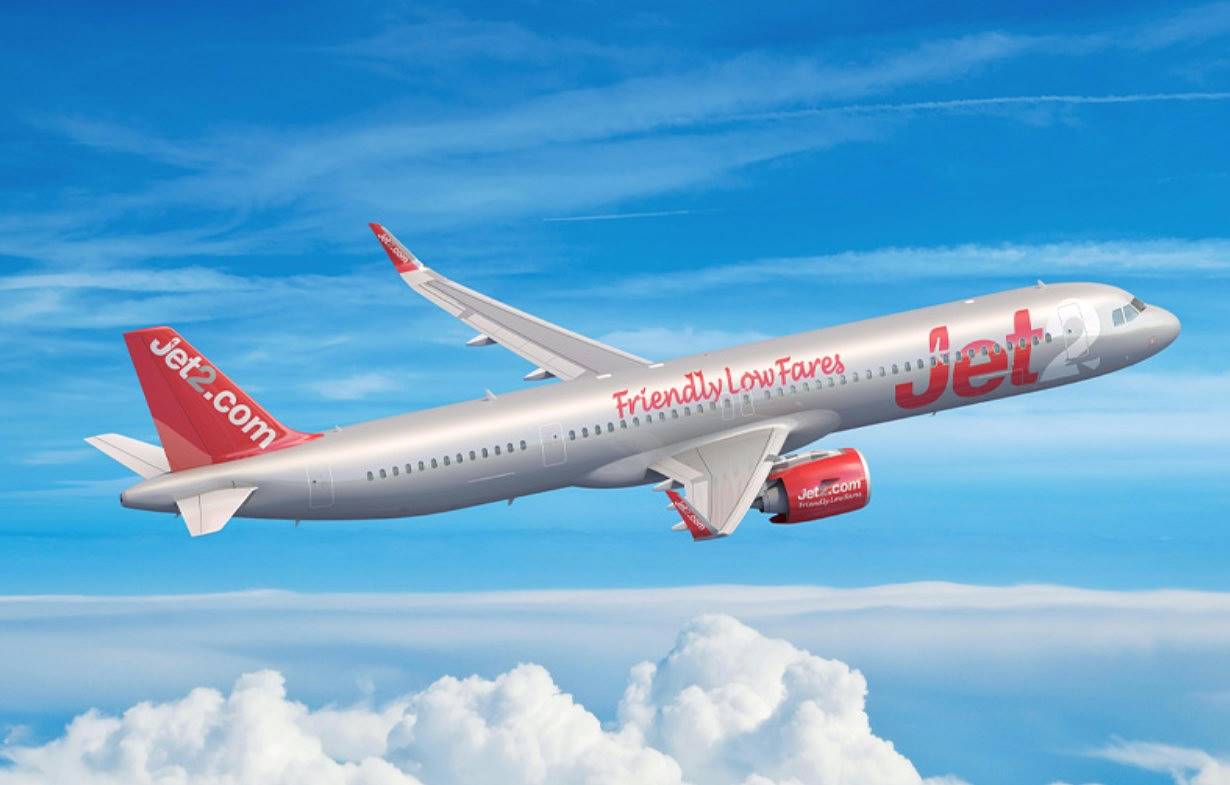 Quick Facts
Airline Name:

Jet2

Airline IATA Code:

LS

Headquarters:

Leeds, England

Founded:

1983

Number of Destinations:

65

Fleet Size:

119

Fleet Types:

Airbus A321, Airbus A330, Boeing 737, Boeing 737 NG/Max, Boeing 757

Location Hubs/Bases:

Belfast International Airport (Belfast, Northern Ireland), Bristol, Airport (Bristol, England), Birmingham Airport (Bickenhill, England), East Midlands Airport (Derbyshire, England), Edinburg Airport (Edinburgh, Scotland), Glasgow International Airport (Paisley, Scotland), Leeds Bradford Airport (West Yorkshire, England), Liverpool Airport (Speke, England), London Stansted Airport (London, England), Manchester Airport (Manchester, England), Newcastle Airport (Newcastle upon Tyne, England)
Brief History Overview
Philip Meeson, the current Executive Chairman of the Dart Group, acquired the airline in 1983 under Channel Express when it began operating commercial aircraft. Its parent company, Dart Group plc, purchased two Boeing 737s in 2021 in preparation for the launch of Jet2. From Channel Express, it rebranded as Jet2 in 2002 as a low-cost carrier, initially focusing predominantly on European destinations.
As a result of the success of its first route from Leeds Bradford to Amsterdam in 2003, the airline purchased additional aircraft to service other routes throughout Europe. In the succeeding years, itss expansion accelerated. It also entered the tour operating market, becoming the largest tour operator in the United Kingdom. Their dedication to customer satisfaction has contributed significantly to the development and popularity of the airline.
Products and Services
Scheduled Flights:

The airline operates flights to various destinations across Europe and beyond. Whether travelers are looking for beach getaways, city breaks, or business trips, its extensive route network caters to diverse preferences.

Jet2Holidays:

The company focuses on Spanish and Mediterranean vacations, providing ABTA and ATOL-protected package holidays that include lodging, transportation, luggage allowance, and round-trip flights to different vacation locations. 

Jet2CityBreaks:

It caters to those seeking immersive city experiences. Many packages include optional city excursions, allowing travelers to explore key landmarks, historical sites, and hidden gems with the guidance of experienced local guides.

Jet2Villas:

The airline company offers the allure of exclusive villa accommodations, providing travelers with a luxurious and private escape from the ordinary.

Twilight Check-In:

The airline offers a free service that allows passengers to drop off their checked baggage at the airport the night before their flight. It is a convenient option if a passenger is flying before midday and has already checked in online.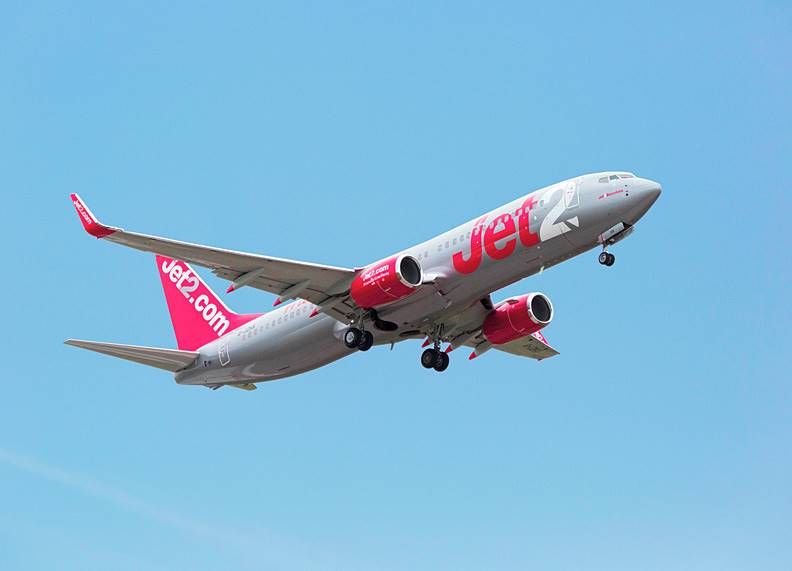 Work Culture
The company encourages collaboration and open communication between employees from different departments to ensure smooth operations and exceptional customer service. Its management seeks employee feedback to improve processes, services, and the work environment. It reflects a commitment to continuous improvement and involving employees in decision-making. The airline welcomes employees from various backgrounds and makes sure that there is a respectful and inclusive workplace.
They value their employees and acknowledge their contributions. Recognizing outstanding performance and demonstrating appreciation for hard work is a part of the company's approach to boosting employee morale.
Benefits for Employees
Contributory Pension:

The airline company offers pension plans to help employees save for retirement. With various options, they can contribute to the pension funds of employees.

Long Service Recognition:

Employees who reach significant milestones in their tenure, such as 5, 10, 15, or more years of service, may be honored with long service awards. These benefits acknowledge and reward the loyalty and dedication of employees who have contributed to the company's success over the years. 

Travel Discount:

Employees can access discounted or free flights for themselves and their immediate family members. This benefit applies to both work-related travel and personal trips. In addition to flight discounts, employees can receive special rates on holiday packages, including accommodations, transfers, and other services.

Employee Assistance Program:

EAPs provide employees with resources for managing personal and professional challenges, including counseling services and other forms of support.

Private Medical Insurance:

Private medical insurance typically covers a range of medical services, including consultations with specialists, diagnostic tests, surgeries, hospital stays, and treatments. It allows employees to choose their preferred hospitals, clinics, and specialists, giving them greater control over their healthcare decisions.

Flexible Working Arrangements:

The airline offers flexible work hours, allowing employees to choose their start and end times to accommodate personal commitments, such as childcare, education, or other responsibilities.
Video: A Short History of Jet2 From Its Launch in 2002
This video shows a historical timeline of the airline company. Its history started in May 2001 when Dart Group plc acquired two Boeing 737s to provide charter services. This aircraft inspired the launch of Jet2, which made Dart Group buy an additional eight aircraft. In just a year, the airline welcomed its 500,000th passenger and had its one-millionth passenger before the year ended. Because of this success, they added more hubs within the UK. Years after, they also launched package holidays for customers and travel agents. The airline continued flying people to different countries and areas of Europe and received several awards for their services.
Summary
From its early days as a small company, the airline has become a significant player with many services, such as Jet2Holidays, Jet2CityBreaks, and Jet2Villas. Every aspect of the company caters to a different kind of traveler, from cheap flights to all-inclusive vacations, city breaks, or trips to a luxury villa. The company's customer-centric approach, comprehensive service offerings, and focus on employee well-being made it a distinctive name in the travel industry. Their commitment to growth, safety, and customer happiness has led to a steady growth of its route network, which now includes cultural capitals, cosmopolitan hubs, and beautiful villa retreats.
Contact Information
Company Name: Jet2.com Limited
Address: Low Fare Finder House, Leeds Bradford Airport, Leeds, England, United Kingdom
Telephone No.: +44 203059 8336
Website: https://www.jet2.com/
Facebook: https://www.facebook.com/jet2/
Instagram: https://www.instagram.com/jet2pics/
Twitter: https://twitter.com/jet2tweets/