In these remote regions of Canada, transportation is more than a convenience. As one of the country's premier airlines, Canadian North plays a vital role in connecting the remote regions of the Arctic with the rest of the nation, ensuring that parts of these parts of the country continue to thrive.
Also Read: Canadian North Flight Attendant Requirements
Born out of the terrains of the Arctic, this airline not only stands for efficient transportation but also represents the spirit of the Northern region. As we dive into this article, we'll explore its rich history, operations, and vibrant work culture. 

Quick Facts
Airline Name: Canadian North
Airline IATA Code: 5T
Headquarters: Kanata, Ontario
Founded: 1989
Number of Destinations: 27
Fleet Size: 33
Fleet Types: Aérospatiale ATR 42, Aérospatiale ATR 72, Boeing 737, Boeing 737 Classic, Boeing 737 Next Generation
Location Hubs/Bases: Iqaluit Airport (Nunavut, Canada), Yellowknife Airport (Northwest Territories, Canada)
Brief History Overview
Back in 1946, First Air, then known as Bradley Air Services, took its first flight, all thanks to its founder Russ Bradley. While the name Bradley Air Services might sound old-school, it's still the registered title. The airline's humble beginnings started in Carp, Ontario, as a flight school. But by 1973, it had started regular flights between Ottawa and North Bay, Ontario, using a plane built for eight passengers.
Canadian North, on the other hand, was launched in 1989. It was a part of the larger Canadian Airlines International. Its mission is to serve the unique needs of the northern Canadian communities. This airline has some history behind it, having connections to older airlines like Nordair in the Eastern Arctic and Pacific Western Airlines out West. 
In 2019, First Air and Canadian North decided to team up. They settled on using the code 5T, leaving behind the old 7F code from First Air's earlier days. The First Air name was dropped, but its iconic plane design remained. In 2021, the entire operation was streamlined under the Canadian North brand, complete with a fresh and modern look on their aircraft.
Products and Services
Flights

– First and foremost, the airline offers flights to various destinations. Whether you're traveling for fun or work, their planes will get you where you need to go safely and comfortably.

Trip Packages

– If you're looking to have a complete travel experience, the airline has trip packages available. These bundles might include flights, hotels, and even tours, making your travel planning way easier.

Maintenance

– To ensure that every plane is in top shape, it has a dedicated maintenance crew. They check and fix planes regularly, ensuring safe and smooth flights for all passengers. This applies to third-party planes. 

Engineering

– Beyond just maintenance, Canadian North has a team of skilled engineers. They work on designing and improving aircraft systems, ensuring that the planes are always using the latest technology. Like its maintenance service, this is available for third-party planes. 

Maintenance Training

– This airline teaches others how to do it too. Through their maintenance training program, they help people learn the skills to keep aircraft in perfect flying condition.

SMS/QA (Safety Management System/Quality Assurance

– It has a system in place to manage safety (SMS) and ensure quality (QA). This means they always follow the best procedures to keep passengers and crew safe.

Learning and Development Center

– For those looking to dive deeper into aviation, the airline's Learning and Development Center offers courses and programs. Here, you can learn everything from the basics of flying to more advanced topics.

Flight Simulator

– With the airline's flight simulator, anyone can get a taste of the pilot life. It's a machine that mimics the experience of flying, perfect for training. 
Work Culture
At this airline, one of the standout perks is the flight benefits. Employees often talk about how awesome it is to have them. This isn't the only great thing. The team is genuinely fantastic, making the job enjoyable and feel more like a family. Plus, the pay and other benefits are pretty solid, which is always a big plus for any job.
However, like all places, it's not without its challenges. Employees sometimes have to work in different weather conditions, from scorching sun to freezing snow. Some also feel it's a bit tough to climb the career ladder. The union representation doesn't get the best feedback, and while the pay might be good, the working hours can be long. Some employees also wish they had a bit more support from their managers. But despite these challenges, the airline's culture is marked by its dedicated staff and the benefits they enjoy.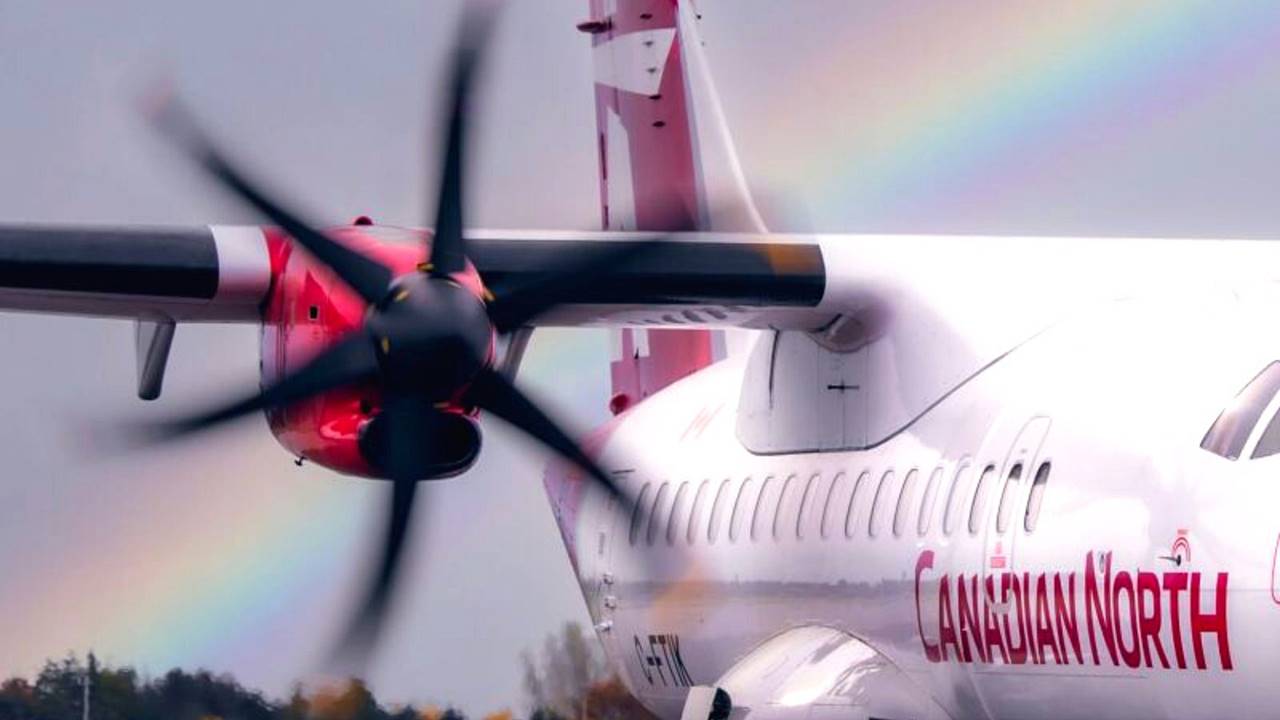 Benefits for Employees
Health, Dental, and Wellness Benefit

– Canadian North ensures its employees stay healthy and well by providing comprehensive health and dental coverage. These benefits cover medical expenses, dental procedures and even include programs to promote general wellness.

Free/Reduced Rate Flight & Cargo Privileges

– Employees can fly at little to no cost, and they also get discounts on shipping cargo, making travel and sending goods more accessible and affordable.

Retirement Plan

– This benefit ensures that once they decide to hang up their hats, they have a financial cushion to lean on during their retirement years.

Referral Program

– The airline values its employees' network and offers incentives for referring qualified candidates to join the team. By introducing skilled individuals, employees can help shape the airline's future and earn rewards for it.

Wage Increase Every 6 Months for First 2 Years

– It offers a wage boost every six months during an employee's first two years. This incentive encourages new hires to stay dedicated and grow within the company.

One-time Retention Payment of $1,500-$2,500

– To acknowledge the commitment of its staff, the company offers a one-time retention payment. Depending on certain criteria, employees can receive an extra boost of $1,500 to $2,500 just for their loyalty and dedication.

Inuktitut Language & Other Premiums

– Employees proficient in specific languages, like Inuktut, can receive special premiums, promoting multiculturalism and better communication with passengers.

Retention Programs

– Through various retention programs, it incentivizes employees to continue their journey with the company, ensuring that both the airline and its staff grow together.
Video: The Canadian North Fleet – Flying the Arctic
Canadian North Airlines stands as one of Canada's premier airlines with a distinct operational setup. They cater to the needs of passengers in the Northwest Territories and Nunavut using their impressive collection of 30 planes. Check out the video to learn more about it. 
Summary
By learning the history of this airline and its work culture, there's no doubt why its name is recognized in the Canadian aviation industry. It's a representation of the strength and spirit of the Inuit community. Serving the Northwest Territories and Nunavut with a remarkable fleet, the company is deeply rooted in its commitment to the people and their unique culture. It's about community, dedication, and the vast northern skies indeed. 
Contact Information
Company Name: Canadian North
Address: 20 Cope Drive, Kanata, Ontario
Telephone No.:  1-800-267-1247
Website: https://canadiannorth.com/
Facebook: https://www.facebook.com/CanadianNorthAirlines/
Instagram: https://www.instagram.com/canadiannorthairlines/
Twitter: https://twitter.com/CanadianNorth