If you want to work as a cabin crew member for Lufthansa Cityline, there are a few requirements you'll need to meet. First, you must be at least 18 years old and have a high school diploma or you have finished a vocational course. You'll also need to be able to pass a background check and drug test. In addition, you'll need to be able to speak German fluently and have a valid passport. If you meet all of these requirements, you'll be well on your way to becoming a Lufthansa Cityline flight attendant.
Also Read: Copenhagen Layover Guide: Best Things to Do in 24 Hours
Lufthansa Airline provides aviation service to Germany, connecting 85 destinations such as Milan, Stockholm, and London. In fact, they serve several million customers each year, carrying them to their destinations across Europe. A team of 2,200 employees make all of these 60 years of work possible.
On the other hand, flight attendants are given the obligation of adhering to the company's top-notch customer service and safety-first policy. They must be committed to ensuring that passengers receive a pleasant and comfortable flight experience.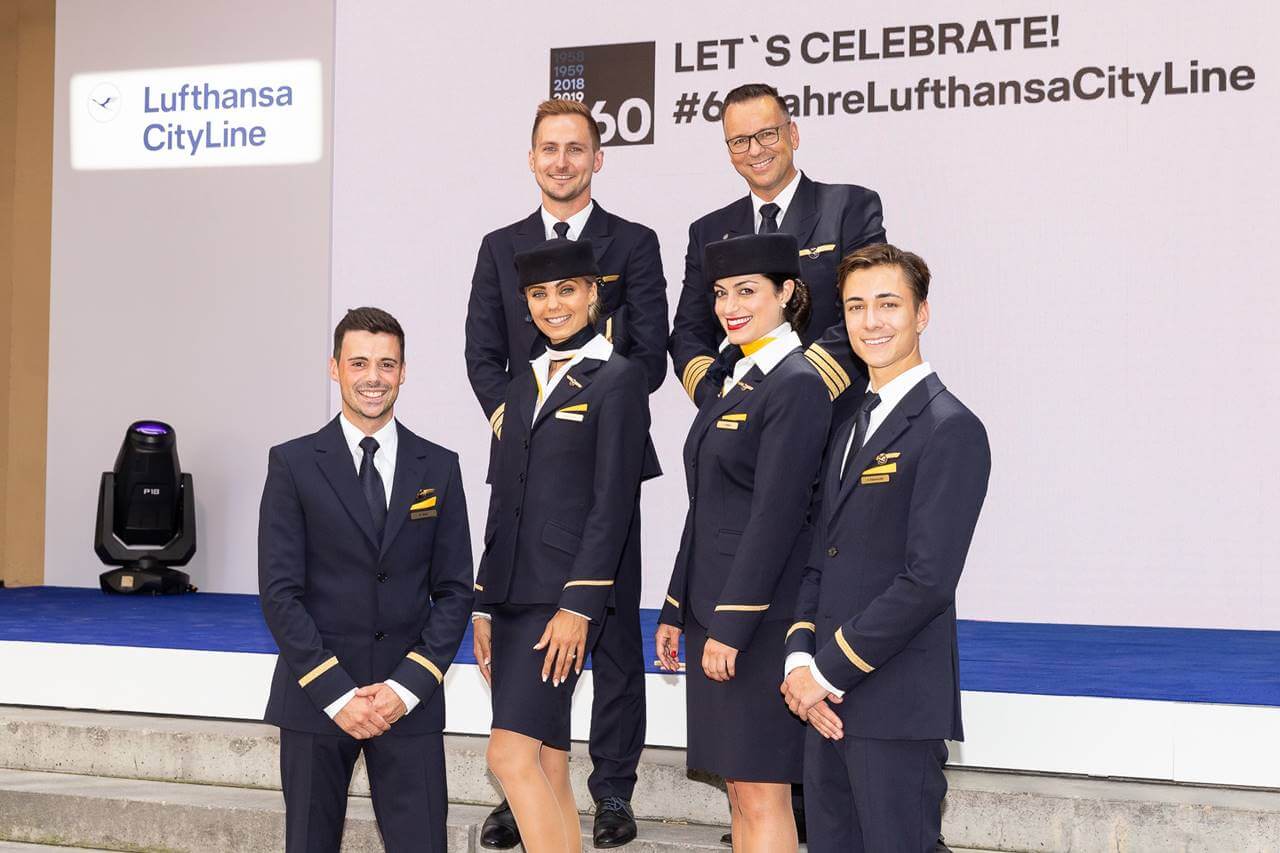 List of Requirements and Qualifications to Become a Lufthansa Cityline Cabin Crew
If you are hired as a flight attendant in Lufthansa Cityline, you are anticipated to serve all year round; with full-time flights from March to October and reduced flight time from November to February. This requires the utmost skill to handle and fully commit yourself to the role of providing excellent service, in the name of Lufthansa Cityline. Moreover, listed below are the qualifications you need to meet if you are planning to apply as a flight attendant:
At least a high school graduate or have finished a vocational training course
With at least 2 years of work experience
At least 18 years old
At least 1.60 m tall or 5'2.4 ft
Normal BMI
Visual acuity between +5  and -5 diopters
Fluency in English especially when communicating with passengers
Minimum level of B2 in German language skills
Impeccable etiquette and manners
Professional grooming
Essential swimming skills
Social Skills and amiability
Ability to work effectively as a leader and as a group member
Decisiveness and ability to work independently
Excellent communication and interpersonal skills
Flexibility to work on irregular schedules, holidays, and night shifts
Ability to manage and overcome stress
Valid Passport
Ability to comply with an aeromedical assessment and have positive results
Entrepreneurial thinking and ability to formulate innovative ideas
Cultural Awareness and Intercultural Competence
Access to DSL, Strong internet connection and a laptop that can run flash or other software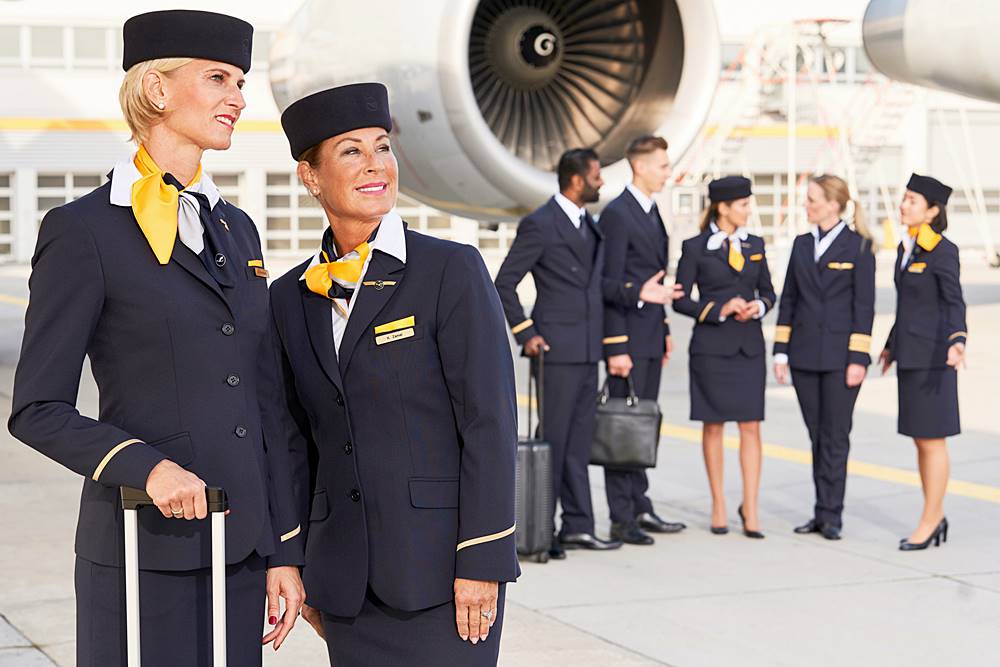 Application Process
Step 1: Fill out your online application
Visit their flight attendant website here – https://www.be-lufthansa.com/en/lufthansa/flight-attendant
And sign up with your account to access your Career Cockpit where you can monitor your application's progress, view your appointments, and schedule for your training period.
Please note that there are times when there are no available flight attendant job positions but you can still set up your account to be updated. If you have other concerns, you can send them a message at their address: cabinrecruiting.cityline(at)dlh.de.
Step 2: Prepare for the Selection Day
If you meet all the qualifications that Lufthansa is looking for, you will be invited to their Selection Day. You will receive this invitation 4 weeks prior to the Selection Day which is usually held in Frankfurt and Munich. At this event, your skills and aptitude will be thoroughly evaluated through an interview, simulation and an online questionnaire.
Step 3: Pass the Medical Aptitude test
Before your training, your medical aptitude will be assessed to ascertain that you are fit for the flight attendant position
Step 4: Book your preferred Training Date
Depending on the schedules released by Lufthansa, you can book your training date on your Career Cockpit at most 3 months prior, depending on your availability. During the training, you are required to have your own wifi and laptop.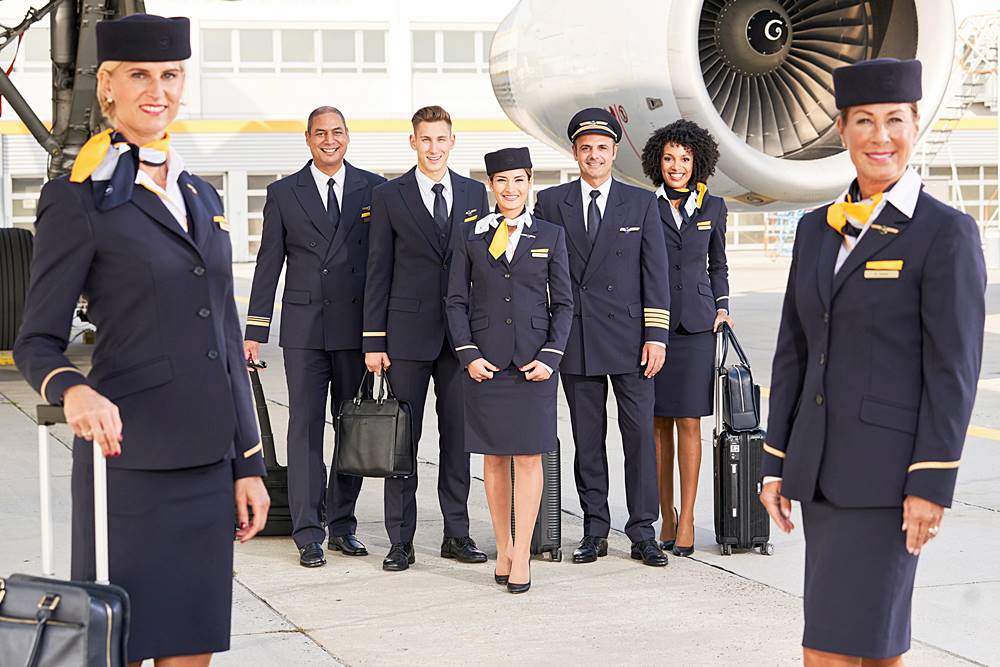 Salary & Benefits
Starting salary of  € 1,491.00 per month
12.9% shift compensation
Travel packages and discounts for employees and their families after the probationary period
Flight Attendant uniform set provided by Lufthansa Cityline
Savings account provided by Lufthansa with € 40 grant per month
13th-month pay
Holiday pay such as during Christmas and New Year
Financial remuneration during the 7-week training with € 500 every month (pro rata)
Vouchers or discounts for hotel, car rentals and other accommodations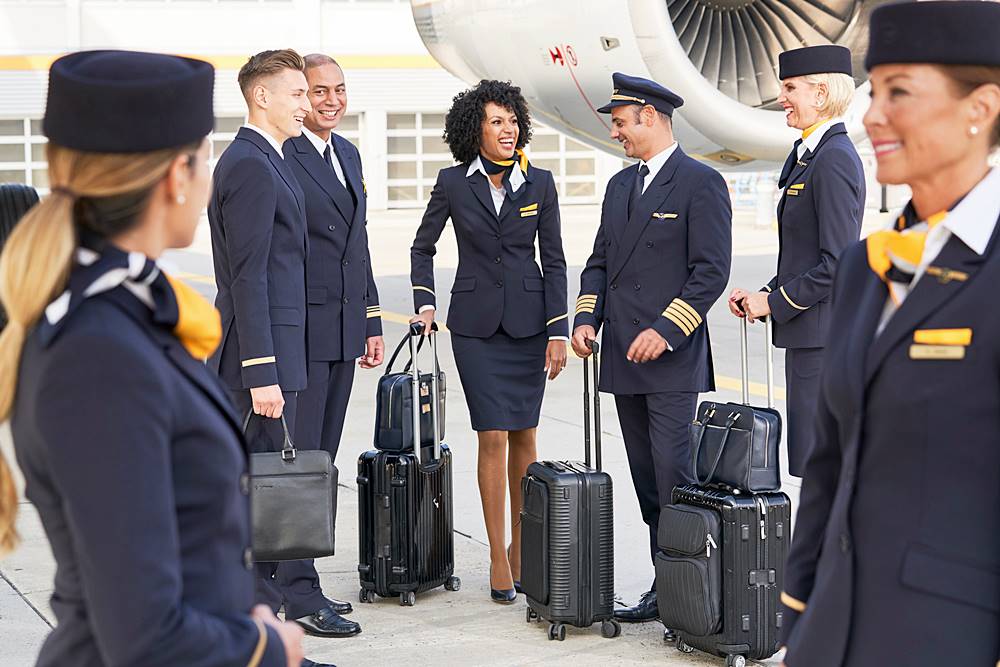 Video: What Do Flight Attendants in Lufthansa Cityline Have in Common?
You can watch this short series of interview clips of flight attendants in Lufthansa Cityline:
Candidates for the Flight Attendant job have varying backgrounds— from background experience in clinics to hotel management and other customer service-related work. Nonetheless, they all have one thing in common. Everyone in the interview spoke about their genuine passion to serve and work with people. They see the flight attendant job as a key to both growing their careers and enriching their personal and social life.
Photos: Lufthansa Cityline Airlines Cabin Crew Uniforms
Check out these pictures of Lufthansa Cityline crew so you can see what they look like in uniforms:
Frequently Asked Questions
Here are some common questions about the requirements for ITA airlines flight attendants.
1. Does Lufthansa Cityline accept applicants with tattoos?
Applicants who have visible tattoos or multiple piercings are not qualified to be accepted in Lufthansa Cityline. Also, they are stringent in implying their employee's professional appearance as flight attendants reflect the face of Lufthansa.
2. Where are the bases of Lufthansa Cityline Airline?
Lufthansa's headquarters is in Munich Airport in Germany. In addition, they have a fleet of 50 with 2 more aircraft being ordered to accommodate their expanding aviation service.
3. What languages should I learn when applying to Lufthansa Cityline?
Applicants should be proficient in writing and communicating in English as well as have at least level B2 in German language skills. Multilingual candidates have an advantage when applying as flight attendants for Lufthansa Cityline.
4. What is the duration of the flight attendant training program?
Eligible applicants should participate in the 12-week training program in which they will be able to complete 3 trainee flights. The weekly training will have schedules from Monday to Friday and on some Saturdays. Moreover, this will be fully funded by Lufthansa with a € 500 monthly allowance.
5. When can I start my training once I am promoted from the interview?
Depending on Lufthansa's needs, they will have monthly training offers to flight attendant candidates who are available at that particular time.
6. How long is the probationary period if I get accepted as a flight attendant in Lufthansa Cityline?
The probationary period for employees of Lufthansa Cityline will last for 6 months. After this period, they will be eligible for multiple benefits such as travel packages and flight discounts given to the employees and their families.
7. Can I request a postponement of my scheduled training?
Yes. In your Career Cockpit, you can postpone your training and select a new schedule at least 8 weeks before the program starts. In addition, 2 consecutive postponements will lead to disqualification.
8. Does Lufthansa Cityline fund their employees' uniforms?
Yes, they will provide the flight attendant uniform set. However, flight attendant candidates should be able to buy shoes and suitcases that are also suitable to the company's grooming policy and dress code
9. Does Lufthansa schedule training during the Christmas holiday?
Yes, the training period can also cover the Christmas holiday and New Year's eve, depending on which month it has started.
10. Does Lufthansa Cityline provide insurance for their employees?
Yes, you are already insured starting from the first day of your training. You can choose the insurance company of your preference and you can request them to send the membership certification to this email address: recruitingservicecenter@dlh.de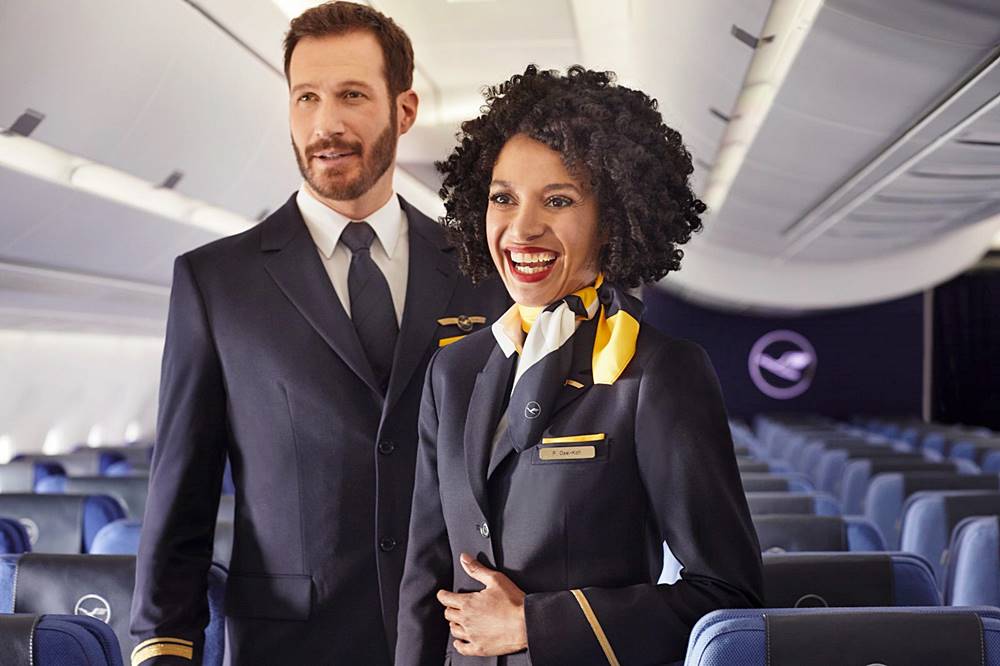 Summary
The Lufthansa Cityline Airlines Cabin Crew Uniforms are very professional and attractive. They accept applicants that have tattoos as long as they are not visible, and applicants must be proficient in the English and German languages. The training program is extensive and you are paid during training. You are also insured from the first day of training. The probationary period is six months long, and you may be scheduled to work during the Christmas holidays.
Since Lufthansa Cityline is based in Germany, they are seeking qualified applicants who can fluently communicate in both English and German. Upon submitting your application on their career website, you will be invited to the selection day where your skills are evaluated. If you passed all the recruiting processes, you will then proceed with the 12-week training period where you will gain all the necessary skills.
If you have the qualities to become a cabin crew, submit your application and good luck!