Award-winning Australian actress, Nicole Kidman is the new face of Etihad Airways. Last March 14, 2015, the airline company held a press conference in the United Arab Emirates unveiling their latest global campaign "Flying Reimagined" with Nicole as their brand ambassador.
Peter Baumgartner, Etihad Airways Chief Commercial Officer said "Etihad Airways is constantly pushing boundaries, taking inspiration from the world to provide a superlative in-flight experience for our guests.''
"We are rewriting the rule book and reimagining flying by breaking away from convention and leading the way in innovation, design, style and hospitality."
"This new campaign has succeeded brilliantly in bringing our unique brand and service ethos to life on film, in print and on digital channels."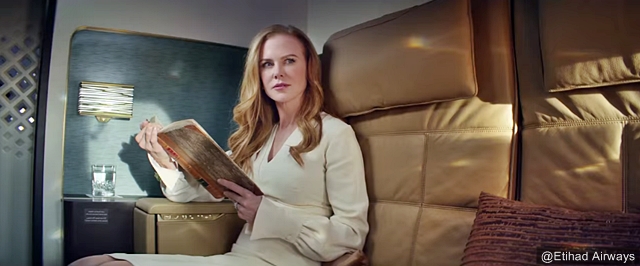 "Nicole Kidman, as a globally respected artist, was the perfect voice and face for our story, and embodies worldly sophistication, intelligence, originality, and elegance — values which form the foundations of the Etihad brand."
Nicole Kidman is indeed the epitome of elegance and class and Etihad made no mistake of finding only the best to become the face their company.
Nicole regularly travels around the world with her husband and young daughters Sunday Rose and Margaret. During a recent interview with a television network, Nicole said "I'm passionate about flying, I love planes and I love that they give us the chance to be somewhere very quickly."

In the video ad campaign, you will see the Australian actress clad in a red dress looking comfortable as ever as she lounges in the the extravagant A380 aircraft's three-room luxury suite.
When asked for her initial reaction upon learning she will become Etihad's ambassador, she said "I still get excited about getting on the plane, I'm one of those people that gets excited to fly and when they asked me to shoot on The Residence I was like "Yes please". I couldn't wait to see it."
Nicole Kidman even joked that she spends so much time in the air that planes have become her second home.
The team responsible for this wanted an epic campaign that doesn't loose its touch of intimacy and they pulled it off by choosing Nicole to endorse one of the best aircrafts in the worldy as well as incorporating every detail of the luxurios A380.
Watch Etihad's "Flying Reimagined" campaign here…
Since Etihad Airways is Abu Dhabi's national airline carrier, it is imperative that the country is showcased throughout the commercial. The team behind the ad campaign made sure to incorporate Abu Dhabi's rich cultural heritage and Arabian hospitality. The prominent architectures that are unique to Abu Dhabi are also present in the commercial, showing scenes from Yas Hotel and Al Bahar Towers.
Here's Nicole Kidman's voice-over, which outlines Etihad Airway's vision:
"Occasionally, people come along who were not content at simply moving things along. They want to take things further. Tear up the plans and start again. Then, take another great step. They will see the future and knock down the walls to reach it. Insist a dream is possible. Overcome all indecision and take a running jump into the unchartered. Bored by the reinvention of the superficial kind they want more. Because their goal isn't to improve on what has been done before but to totally reimagine it."
So what do you guys think of Etihad Airways' latest ad campaign?
Photo source screengrabbed from YouTube ad video