It's time for another interview, this time with a former flight attendant. Meet Anne of Denmark who had worked as a cabin crew for 11 years and has now setup her consultancy company called FlightPlanME.com. She left the profession because she felt her body couldn't keep up with the shift work schedules anymore.
Despite leaving the lifestyle she's accustomed to for the past decade, her passion to share everything that she has learned as a flight attendant continues to live on. With that, she wanted to help aspiring cabin crews to pass the tough recruitment process and get to enjoy the amazing perks associated with the job. Thus, setting up her own company, which is geared towards helping interested applicants pursue their passion. This goes to show that there's more to being a cabin crew once you leave the industry. Check out the interview below.
Cabin Crew Profile: Interview with Anne Mortensen of FlightPlanME.com

Can you tell us more about yourself?
Born and brought up in Odense, which is the 3rd largest city in Denmark, I am now 38 years old and married to Gordon who I have known since I moved to London at the age of 20. I fell in love with London (as my dad said in his wedding speech to us: "that city was your first love"). I originally moved there because I aspired to become an actress, but that's a different story altogether.
Where is your airlines based?
My first airline was based out of London Stansted & the second was based in Dubai.
How did you become a cabin crew? How many times did you apply?
I started out to become cc when I worked at a Virgin cinema owned by Richard Branson in London Haymarket and saw the internal vacancy list. I went along to their interview in Crawley but didn't get very far in the process. I also left there very confused regarding what they were looking for in their crew. I then got interviewed for a few of the UK-based charter airlines until I found an ad for a 'smaller' airline with which I landed the job. My second airline interview was 3-4 years after I'd left my first airline in the UK to study at university back in Odense. For this cabin crew job interview I travelled from Denmark to Malta, and fortunately I did get the job on my first application.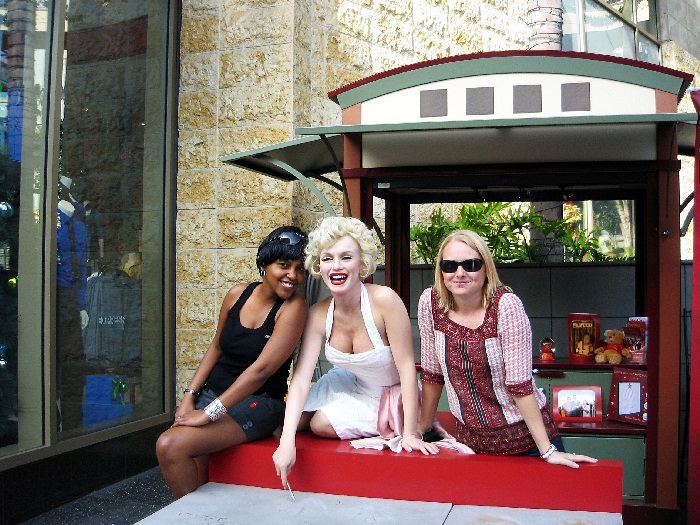 Why did you apply for this job? – Based on your answer, were those goals justified?
I applied because of my passion for travel, seeing new places & meeting interesting people. My second flying job out of Dubai certainly lived up to those expectations and goals.
What's the best thing about the job?
Definitely seeing all those new cities all the time or re-visiting favourites and being paid for it. Also staying in pretty high standard hotels and being able to sightsee whilst other people are working away 9-5 in office jobs.
What's the worst/hardest thing about the job?

Flying at night/early morning especially if you weren't able to sleep properly prior to your flight.
Any favorite place/s that you always visited in your flights?
In New York I always went past the ground zero site to see the progress (it also happened to be just across from one of my favourite shops), and in Sydney I always went for a walk around Sydney Opera House – in fact the whole harbour area is just magical.
Why did you leave the cabin crew life?
After having done shift work for 11 years I felt my body 'falling apart' and never being able to recover properly. I also wanted to pursue the idea of setting up a consultancy to help prospective cabin crew succeed at the tough recruitment days run by the Middle East airlines. And that's now what I do full time.
Has your cabin crew background helped in fulfilling a career in other fields? How?
I am still working in this field as I have set up my own independent cabin crew consultancy to help aspiring people become a part of the amazing lifestyle. But I have a lot of friends around the world who after leaving crew life having secured amazing jobs in event management for instance.
What are your tips to cabin crew applicants?
Tips to aspiring crew would be to do lots of research about the respective airline you wish to apply for. Gain experience in the customer service field and spend a little bit extra on photos and the clothes you wear to the interview (they like to see how you would look in their uniform and that you take pride in your appearance). You don't need to spend excessively on brands – there are lots of items/suits you can purchase at high street stores.
How about tips to existing cabin crews?
The main tip is to stay or get fit. I found doing exercise like Yoga or Pilates really helped. These are forms of exercise you can do any where – at your base where classes are generally flexible these days and also in your hotel rooms around the world. Don't forget to sight-see: it reminds you of when you first started flying and why most people do this job.
Can you tell us more about your business. What you do and why you're doing this…

I have set it up the consultancy, FlightPlanME, with my husband Gordon who is a trained actor and corporate role-play facilitator. We want to help/guide aspiring cabin crew to land their dream job. We offer our one-day interview preparation course in cities around Europe where we provide un-biased information about what the cabin crew job entails and while you can get a lot of information online, we also allow candidates to practise the group exercises and interviews that airlines put them through and coach them on the best technique, how best to prepare themselves as well as a few NLP (neuro-linguistic programming) techniques to physically and mentally give them an advantage in such a nerve-wracking situation. We believe that actually getting the opportunity to practice and gain confidence as a result, is crucial to having the right mental approach to the assessment process.
——————-
Connect with Anne
Blog: http://www.flightplanme.com/#!blog/c1jqw
——————–
*Photos provided by Anne.
Thanks so much for the interview Anne!
Are you a flight attendant or know someone who is one?
We're on the lookout for cabin crews who want are kind enough to share their stories about their profession. If you want to be featured, drop us a line at admin@cabincrewhq.com.