Out of the many jobs in the world, serving other people, traveling, and having the luxury to enjoy various sceneries are only a few of the many perks of being an airway cabin crew. However, before landing a position to enjoy those perks, there are a lot of preparations and processes you must go through. Sure, applying for a job has its nerve-wracking feeling, but every job application is always a risk. All you have to do is to increase your chances of making it through.
In this read, we're going to talk about the hiring process in Qantas Airways. As Australia's number one airline, it has committed itself to being fast-growing and consistent in providing its customers with the best experience. Towards the journey to success, one of the greatest strengths that a company can have is its staff and crew. After all, quality service requires a high-quality crew.
Do you have what it takes to work at Australia's number one airline?? Read on to find out, and good luck in reaching your airline cabin crew dreams!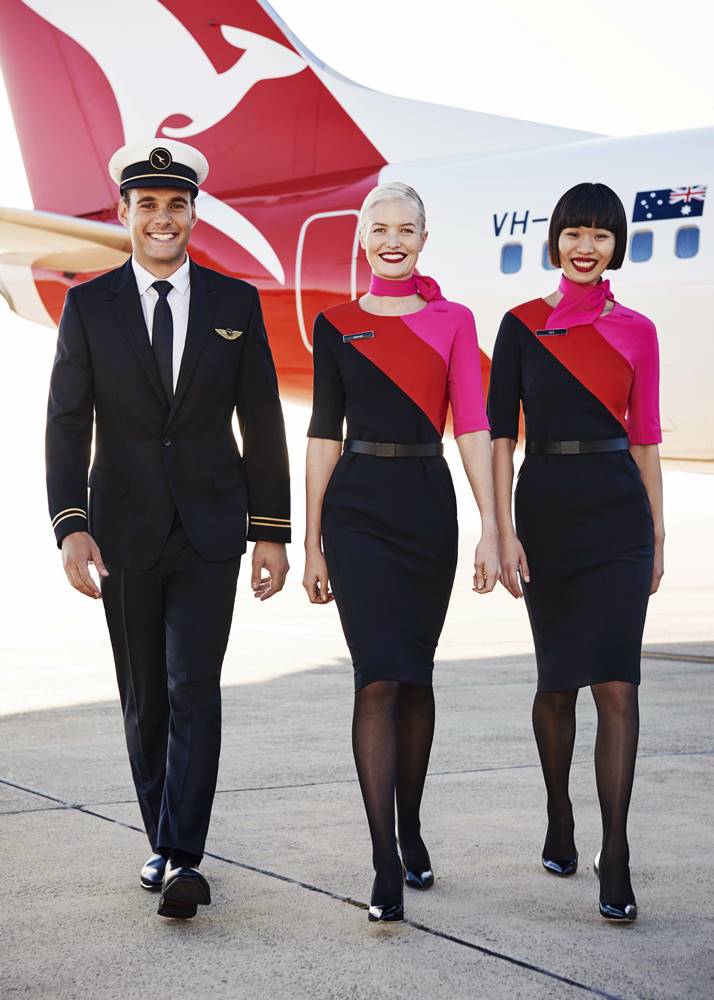 Overview
Famous for its nickname as "The Flying Kangaroo," Qantas Airways is an acronym from its original name, Queensland, and Northern Territory Aerial Services. It was founded in November 1920 and has continued to serve passengers from around the world ever since.  Additionally, Qantas Airways is one of the ten largest airlines globally and is considered the second oldest one.
Moreover, it is also Australia's number one airline, as it connects Australia to 81 destinations in over 40 countries worldwide. Qantas Airways also offers domestic services in both Australia and New Zealand, making it the number one choice of the people there. At present, it operates several regional airlines in Australia and has made partnerships with a budget start-up in Singapore. It serves and carries more than 30 million passengers making it part of the highest-ranking Australian Airlines, landing in the 36th spot in the world's best.
At present, it has 22,000 employees who are all committed to serving passengers and providing them with the best in-flight experience throughout their journey. With safety and security as one of the values they continue to uphold, Qantas Airways does what it can to provide it to their staff and passengers.
Responsibilities
Each job has its own set of duties and responsibilities, and having an idea about what your job requires from you would help you adjust quickly in your work environment. Qantas Airways values providing its passengers with a smooth flight experience, and to do this, how you fulfill your responsibilities will play an important role. These are your responsibilities as a Qantas Airways flight attendant:
Attend and pay attention to the details in your briefing.
Take note of any important information regarding the passengers that will board the flight.
Be understanding towards your customers, and consider whether they are regular passengers or first-time passengers.
Do safety checks before each flight, and check for anything that may cause a passenger to feel uncomfortable.
Greet your passengers in a friendly, approachable way.
Manage situations in a calm, organized manner.
Practice being culturally aware and practice sensitivity towards your passengers who may need extra assistance.
Offer food and beverages to your passengers, and keep in mind if they have specific requests, likes, or dislikes.
Brief and explain to your passengers the various safety procedures in case of an emergency.
Update your passengers about their flight status and answer any questions in the pilot's place.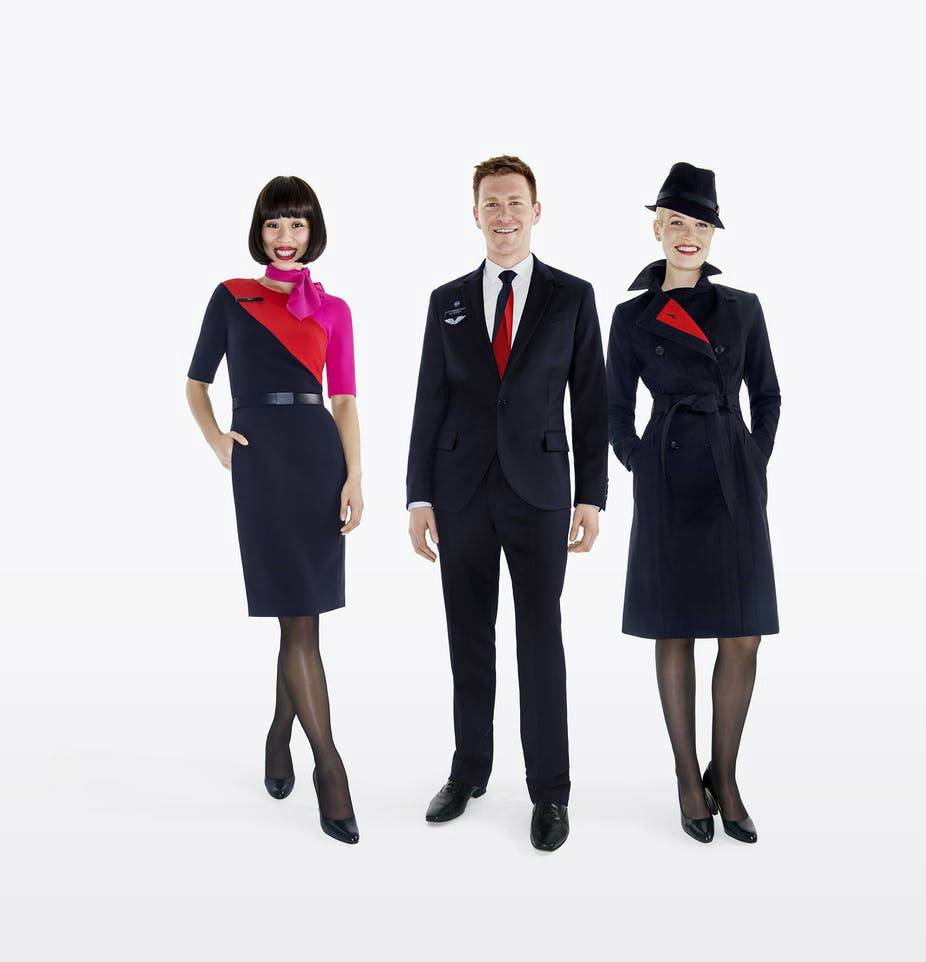 Qualifications
There is always a specific set of traits and qualifications each company is looking for. To ensure that the service they provide lives up to their values and standards, they have to reflect it in the qualities of their staff as well. If one of your goals is to work at Qantas Airways as a cabin crew member, then having an idea of the qualifications you have to meet can help you prepare for or work on it. These are the qualifications to become a Qantas Airways Cabin Crew.
Must be a minimum of 18 years of age
Height should be between 163 – 183cm (but there are times when the minimum height is 153 cm)
Must have Australian or New Zealand permanent residency, and a passport ensuring unrestricted access to all Qantas ports of call with at least 12 months validity
For UK applicants, you must hold the legal right to live and work in the UK.
Good to an excellent level of fitness
Must be able to swim 50 meters while fully clothed and must be able to float in water for 3 minutes.
Must hold a current Senior First Aid Certificate with a validity of 12 months during the time of application
Extra notes:
Must have the willingness to relocate, as required, to any location
An experience in Food and Beverage service is an advantage
Fluency in at least one of the following priority languages ensures a strong advantage for Qantas Airways' International cabin crew positions: French, German, Italian, Spanish, Thai, Mandarin, or Cantonese. This would do great help when it comes to assisting your passengers with service and safety information.
Document Requirements to Prepare
As you prepare for applying Qantas Airways, these are the documents that you need to organize and bring:
Updated CV/Resume
Head and full-body photographs
Dental and Medical Records
If you are hired, you will then be asked to provide background checks and medical assessments. You will also be subjected to answer a series of questionnaires.
In a previous post, we have shared the basic requirements of Qantas, including the other qualifications they also prefer. Apart from the physical restrictions, you must also possess Australian or New Zealand residency and a passport with unrestricted access to the countries where Qantas fly into.
Where to Apply for a Job for Qantas Airways Online?
When job vacancies and positions are available, Qantas Airways immediately posts them on their Qantas Careers Opens external site. Additionally, you will also be able to access it via their LinkedIn profile. The choice is up to you when it comes to deciding on your preferred base. You will be able to see the site and career opportunities at Qantas Airways by clicking the links below:
Careers at Qantas: https://www.qantas.com/us/en/about-us/qantas-careers.html
Cabin Crew Opportunities: https://qantas.wd3.myworkdayjobs.com/Casual_Cabin_Crew_Opportunities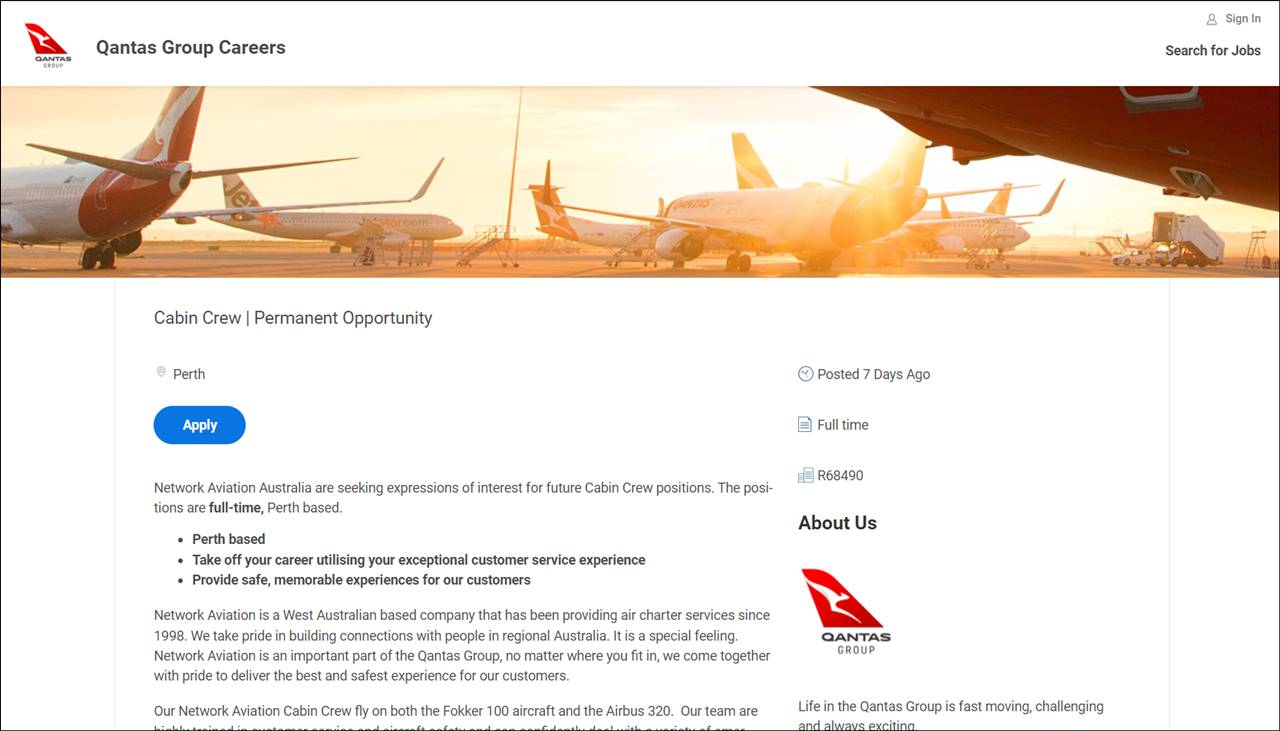 How to Become a Cabin Crew for Qantas Airways
Since we have mentioned that you are required to possess permanent residency in New Zealand and Australia, bear in mind that you are also required to relocate and stay in that particular country for good. Living in a nearby country doesn't work as well since you must be flexible with the working hours and latecomers are never tolerated in this kind of business.
Also, take note that your expenses for relocating are not and will not be shouldered by the company which is why you need to think about it carefully. Here are the steps to become a flight attendant for this airlines:
Step 1: Submit your application
You will be asked to submit an up-to-date resume and answer a short questionnaire around the role requirements. Therefore, when preparing for your application, it is best to update and check your resume. However, it is essential to note that you have to create an account with Qantas Airways to sign in and update your requirements if necessary.
If you're feeling a little lost as to what your resume should contain, you can focus on listing your achievements, skills, experiences, and other strengths to show that you're an asset to the company. After that, your resume and answers will be reviewed. Then, all you need to do is wait for a call from the company to inform you if you're shortlisted or not. If you're successful, you will be required to attend their assessment day. Other details and information will also be provided to you.
Extra note: During the assessment day, you will be required to provide the company with credible references, background checks, and medical and dental assessments and clearance.
Step 2: Attend Assessment Day
The assessment day is one of the most critical parts of your application process. This step is where you will be scrutinized from head to toe. The assessment day will also be evaluated based on your skills, experience, and personality.
Assessment day in Qantas Airways tends to be very competitive, so you should come prepared and ready to perform well. It is usually composed of different parts: interviews, psychometric assessments, employment references, background checks, and checking of your residency, citizenship, and visa requirements.
Usually, the application for the cabin crew position is coursed through their website or LinkedIn page. This application consists of submitting an updated resume and answering some short questionnaires for further evaluation by the company. You are also required to disclose your skills and experiences as a part of the first step.
As soon as you've completed the application, your answers will be reviewed by the hiring personnel. If you've been successfully chosen as a candidate, they will reach out to you for further evaluation and will ask you to join the assessment days. Of course, Qantas Airways will tell you all the necessary details including the date, venue, and the documents that you need to bring.
Interviews
Interviews provide the space and time for you to get to know Qantas Airways and vice versa. This part of assessment day is where the recruiters gauge your personality and understand Qantas and the position you are applying for.
Usually, they use the Behavioural Event Interview questions, which focus on having an idea of how you responded to or handled specific situations or events in the past. This will give them an idea as to how you are going to handle situations in the future.
Psychometric assessments
Psychometric tests are given to aspiring candidates for the Human Resources team to have an idea about your suitability for the job you have applied for. Out of the many candidates eyeing the same position as you are, conducting assessments like this can help them distinguish one applicant from another.
The different types of tests that may be administered to you include verbal reasoning, numerical reasoning, abstract reasoning, and other personality tests.
Employment reference and background checks
The last part of the assessment day is conducting background checks on you. As a company that aims to be number one and prioritizes safety and security, all Qantas employees must go through various security checks.
After passing their assessment test, you will be asked for you some other information for your background checking and medical clearance right away. The process doesn't really take too much time as Qantas values theirs and other people's time as well. If they like you, they'd hire you in an instant!
As a leading provider of air travel, safety and security are what Qantas Airways values. Other details will be disclosed as you move along your recruitment process. In the event of not passing these checks, your job offer will automatically be forfeited.
Additionally, these are the requirements that you should bring with you during this process:
Valid passport
Copy of your CV and cover letter
Pen and notepad
Makeup or lipstick to refresh or touch-up appearance
Other notes:
Be punctual. Showing the recruitment team that you possess this trait is a good start to have a great first impression on the managers.
Always be self-aware, and act gracefully. Remember that assessment day places importance on how you present yourself.
Practice answering the interview questions that might be asked of you.
Research and read about your potential future company and job roles! This will help you answer questions related to Qantas Airways.
Step 3: Accomplish Your Training Program Requirements
Once you make it through the first steps, you are now a step closer to serving passengers at Qantas Airways! The third step you need to complete now is to accomplish your training program requirements. Like the other airlines, newly-hired cabin crew members and flight attendants have to undergo proper training first. This is to hone your skills, expand your knowledge, and improve your customer service skills in general before letting you serve other passengers.
During your training program, you will learn about and cover different topics. This involves learning about customer service, aviation first aid, aircraft, and personal safety and emergency procedures. During your training, there will also be numerous written practical tests that you need to pass.  Additionally, you will also be required to perform and learn about tasks and skills such as these:
Lifting a 28kg aircraft window exit
Dealing with emergencies and situations in a smoke-filled simulator
Swimming and assisting passengers in the water
Descending an escape slide nine meters above the ground
Fighting fire while wearing a full face mask
Controlling and dealing with passengers in panic situations
Evacuating and tending to passengers with disabilities and special needs during emergencies
Monthly Salary of a Qantas Airways Flight Attendant
The salary of a Qantas Airways Flight Attendant depends on seniority and other factors. The starting salary starts at A$40,268 per year and eventually goes up to A$31,893 per year for the highest level of seniority. The average Qantas Flight Attendant yearly pay in Australia is approximately $58,042, following the national average.
Video: Working as a Flight Attendant in Qantas
In this video, Jordan, a vlogger, shares what it's like on a flight attendant's day. This 12-minute video features how they greet, serve, and assist their passengers and how they organize themselves throughout the flight. This video also explains how passengers are assisted and comments on Qantas Airways' service quality.
Disclaimer: This is a video uploaded by a flight attendant vlogger who shared his experience being a cabin crew member of Qantas Airways. Take note that every crew has a different experience, but this will help give you an idea what to expect when you work for Qantas Airways.
Photos: Qantas Cabin Crew in Uniforms
Check out these pictures of Qantas male and female flight attendants in uniform so you can get an idea what it's like to work for this company if you apply for a position here:
Frequently Asked Questions
Now, here are some common questions and their corresponding answers regarding the job and the application process:
1. Can I apply for a location that is far from me?
Yes, you may. However, we strongly encourage you to apply to a base that you really want to work in. Also, make sure that you will be able to commit to your chosen location for 12 months.
2. Can I ask for feedback if I'm not successful?
Qantas Airways cannot provide individual feedback. However, you can always be guided by their general guidelines and assessment tools.
3. Can I reapply if I'm not successful?
Yes, you may. But it is required that you put a 12-month interval before reapplying for ample time to prepare.
4. Can I apply for an extension of my contract once I get hired?
Yes, you may.
5. Will my relocation to a different base be compensated?
Unfortunately, no. This is why you are encouraged to choose a base you can work for before filing your application.
6. Are they open to hiring any nationality?
As of the moment, Qantas Airways prioritizes hiring candidates who can live and work legally in the UK or those who have permanent residency in New Zealand.
7. Will I get adequate training?
Yes, you will. Before officially serving as a cabin crew member or a flight attendant, you must complete your training.
8. How else can I stand out?
Aside from noting your work experience needed for applying, you can stand out by making an excellent first impression during the assessment day and showcasing your skills and knowledge indicated in the qualifications.
9. Does passing assessment day guarantee that I will continue up to the interview?
The assessment day is only the second step towards being hired. You still have to go through and complete your training program.
10. What happens after I get hired?
Aside from undergoing training, you'll be serving flights assigned to you and have the privilege of applying for a promotion or an extension.
Summary
Qantas Airways will open opportunities for you if you are a good fit. However, take note that just like any other aviation company, they don't just give anyone a job. You must prove your skill and your worthiness.
So it is important that you prepare ahead of time if you wish to work as a cabin crew for Qantas Airways. Keep in mind that you will be working with different kinds of people from all over the world so it is important to not only look presentable but also act professionally at all times. We hope you find this guide helpful.
Contact Information
Qantas Airways
Address: Qantas Airways, 10 Bourke Road, Mascot NSW 2020, Australia
Telephone Number: +61 2 9691 3636
Website: https://www.qantas.com/
Facebook: https://www.facebook.com/Qantas/
Instagram: https://www.instagram.com/Qantas/
Twitter: https://twitter.com/Qantas
Youtube: https://www.youtube.com/user/Qantas
LinkedIn: https://www.linkedin.com/company/qantas/