One of the most popular airlines in the Philippines is Cebu Pacific Air. Here's a guide on how to become an airline flight attendant with this company. Take note of the steps, requirements, qualifications, and tips of the hiring process below.
Also Read: 5 Common Answers to "Why Do You Want to Be a Cabin Crew?"
Cebu Pacific Airlines from the Philippines is looking to hire cabin crews to support its expansion plans and growing fleet. Cebu Pacific is the biggest low-cost airline carrier in the Philippines and they are looking for people who will be responsible for the security and safety of their passengers.
"We are looking for fun and dynamic individuals to join our expanding Cebu Pacific family. These career opportunities can pave the way for unlimited travel benefits, competitive compensation packages closer to home, and annual performance bonuses. We encourage everyone to join us in providing high-quality service all over the world," said CEB VP for Marketing and Distribution Candice Iyog.
Don't miss out on this opportunity to travel and join this leading airline from the Philippines and enjoy several perks such as unlimited travel benefits, medical coverage, annual performance bonus while working in an environment with young, dynamic, driven, and fun-loving people.
Also Read: How to Answer: Why Do You Want to Work for our Airline?
Before you apply, be sure you meet the set qualifications as a cabin crew so as not to waste time.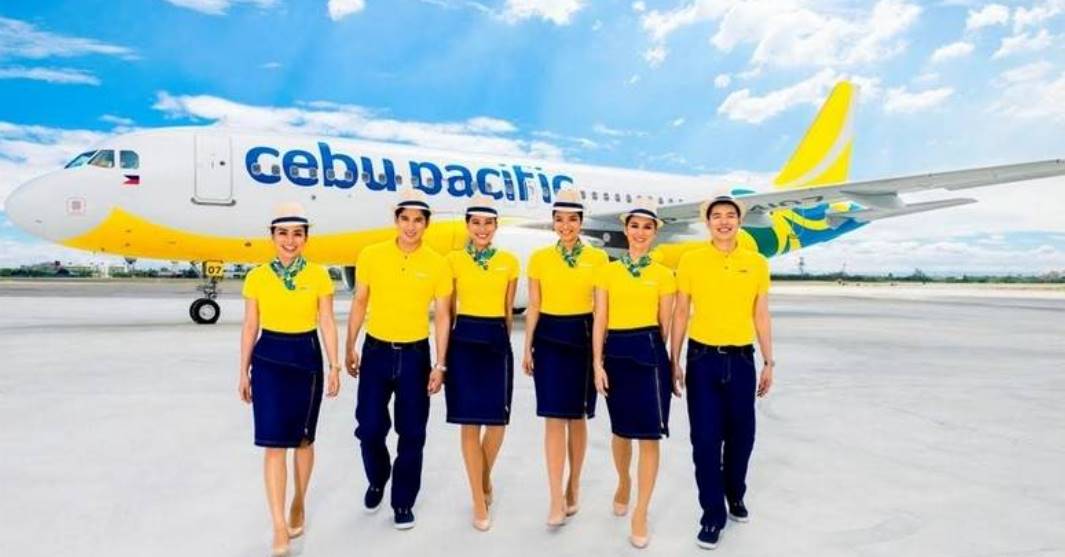 Overview
Cebu Pacific has flown over 100 million passengers from the last 19 years and flies to more than 60 destinations in Asia, Australia, and the Middle East.
If you have excellent customer service skills and a pleasing personality, you might want to give it a shot in applying for this position at Cebu Pacific Air. Applicants are expected to be able to guarantee the safety of their guests while onboard the aircraft.
They are also expected to make it a fun, memorable, and pleasant flying experience for their guests. If you think you are this person, then go out and apply at the scheduled job event dates listed below.
Responsibilities
Guarantees the safety of guests onboard the aircraft
Ensures that guests have a fun and pleasant flying experience
Qualifications
Take note of the job events and the requirements indicated below to ensure that you meet the criteria when you apply for the job.
Age: 18-25 years old
Height: Female: Minimum 5'3″ ; Male: Minimum 5'7″
Weight: Proportionate to height
Clear complexion, good eyesight, and catchy smile
Education: College Level
Proficiency in English and Filipino languages
Dynamic personality
Willing to be assigned outside Metro Manila
Has a valid Philippine Passport
Requirements
Here's a list of document requirements you need to prepare and bring during your flight attendant interview:
Updated CV with 2×2 picture
Wear Business attire (preferably sleeveless blouse with blazer, below-the-knee skirt, no stockings)
How to Apply for Cebu Pacific Flight Attendant Job Online
In order to look for a job online as a cabin crew for Cebu Pac, you can visit the Careers Page of the airline company through their website here – https://jgsummit.darwinbox.com/ms/candidate/a610f788ec3e0b/careers
Step 1: Go to the Careers Page of Cebu Pacific.
Step 2: Search for the "Cabin Crew" position/job role.
Step 3: Click the "Apply" button. You will need to register an account.
Step 4: Follow the application steps.
Step 5. Submit your application online and wait for a response from the Cebu Pacific team.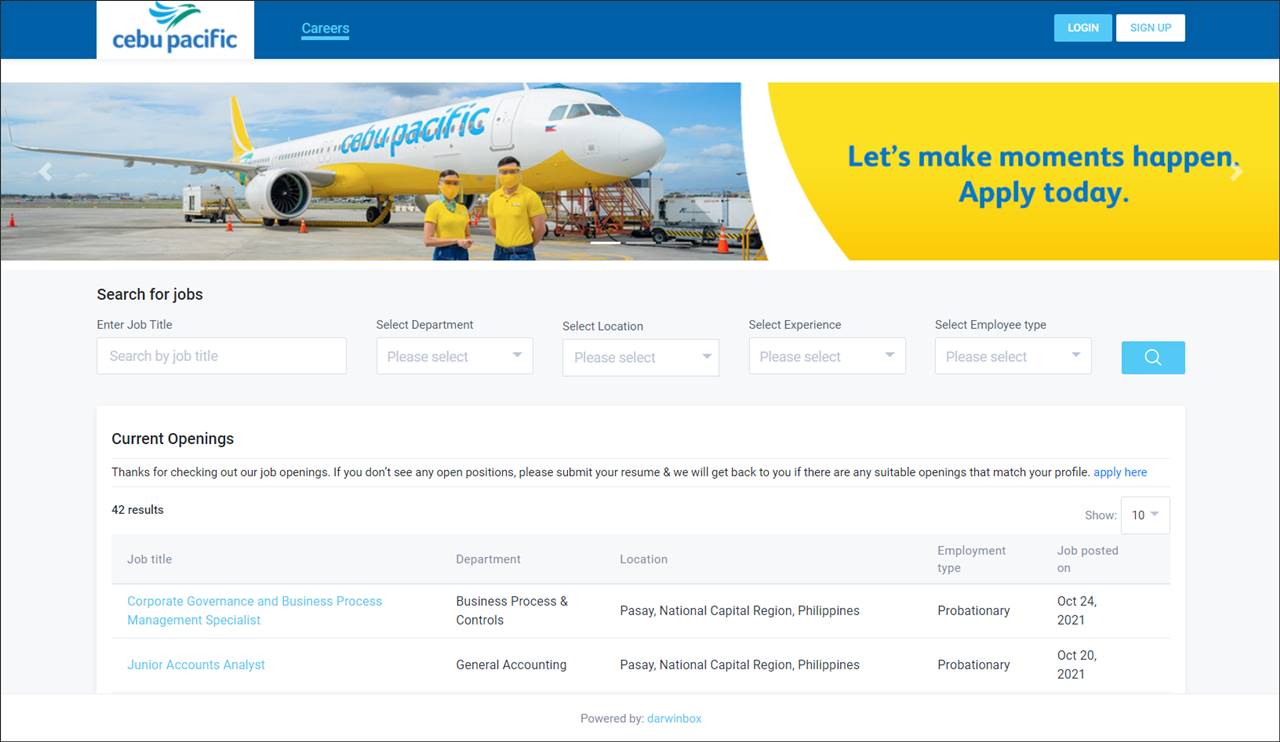 Here is an example of the recruitment page and job description for the Cabin Crew title for Cebu Pac. Please visit this page for details on the next recruitment exercise.
Job Title: Cabin Crew
Basic Qualifications:
At least a height of 5'3 for females and 5'7 for males.
Must be 18 years and above. SHS graduates and college undergraduates are welcome to apply.
No visible tattoos.
Proficient in the Filipino and English language.
Willing to be assigned outside of Metro Manila.
APPLY HERE
How to Get a Job in Cebu Pacific via Mass Hiring / Open Day Process
There will be cabin crew open day events or walk-in interview processes every now and then. So you need to stay up-to-date with the company and save their website on your browser to know the latest updates if they will be conducting a mass hiring in your city/province.
Step 1: Follow the social media pages and website of Cebu Pacific.
Step 2: Once they post an announcement for the cabin crew open day, prepare your resume and documents.
Step 3: Wear the proper attire required for the application day. Usually, it is Business Casual attire.
Step 4: Go to the Open Day mass hiring event and Submit your application.
Step 5: If you pass the walk-in interview, there will be an assessment and next steps of the interview process. You need to pass these events in order to become a flight attendant for this airline.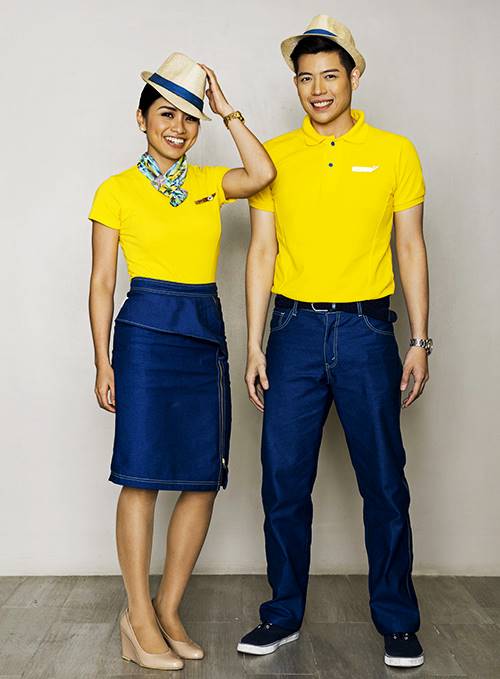 Training Process for Cebu Pacific Cabin Crew Job
Once you have passed all the interview and screening stages for the job, you will then be assigned a day and schedule for your flight attendant training. You will also be required to undergo a medical exam as well as submit your documents.
The training will be for about 2 months at the main office of Cebu Pacific. You will need to pass the training exams and you will be given 3 chances. If you do not pass any of these exams/drills, and you have used up the 3 lifeline chances, then sadly you will not push through with the training.
After the initial training, you will start working in the flight cabin as an Intern Flight Attendant. You will be assisted by a cabin crew lead throughout the operational flight. So you need to learn as much as you can during this process.
After the internship will be your final exam called – Check Ride. This is a practical test with an oral examination with your managers. This is the last step and once you pass this, you will have earned your wings to become a Flight Attendant for Cebu Pacific.
So as you can see, the hiring and training process is quite a challenge and only the best will be able to earn their wings.
Monthly Salary of Cebu Pac Flight Attendant
The monthly average salary of a Cebu Pacific airline cabin crew is PHP 52,000 to PHP 58,000 per month.
In case you are wondering what is the salary and benefits of a crew for this airline, here's a guide to help you. The information posted below is based on a video shared by a cabin crew on her YouTube vlog.
Disclaimer: Information is an estimate only.
The salary of a crew in Cebu Pac is NOT fixed as it depends on the Basic Pay plus the Flying Time Pay. Here are the details:
Basic Pay (Fixed Salary) – PHP 14,300 (starting salary)
Flying Time Pay – PHP 350 per hour (with Average Flying Time Range of 70 to 90 hours per month)
so to give a sample computation, PHP 14,300 plus (70 hours x PHP 350) = PHP 38,800
Layover Allowance (Per Diem) – USD 50 per night
Based on the computation above, the minimum salary you can probably get in Cebu Pacific is PHP 38,800 per month plus Layover allowance.
Other Things to Note about Salary
Transportation Allowance – PHP 300 per flight duty
Airport Standby Pay – PHP 65 per hour (average 6 hours per standby schedule)
Meal Allowance – PHP 60 – PHP 80
Commission – PHP 1000 – PHP 2000 (average per month)
So these are the factors that affect the salary of a Cebu Pac flight attendant. Check out this video below. The salary information is on the 5:11 minute mark.
Again, based on the info given by the vlogger, the average monthly salary she gets in a month is PHP 52,000 to PHP 58,000 per month
Benefits as a Cabin Crew for Cebu Pacific Air
As we've already mentioned the salary has an average salary of about PHP 52,000, it is time to know what are the benefits you can get if you are an employee of Cebu Pacific. Please check out the following details below:
13th Month Pay – as per Philippine employment law
Paid Sick Leave and Paid Annual Leave
Retirement Benefit Program
Medical Plan
Group Life Insurance
Annual Bonus – based on profit-sharing based
Shopping Allowance – given every quarter (PHP 2000)
Christmas Shopping Allowance (PHP 1200)
Travel Benefits
Travel Benefits
Crew can stay abroad during flight layovers for 1-3 nights with per diem allowance, some international destinations include Sidney, Melbourne, Japan, Taipei, Singapore, Hong Kong, Jakarta, Kuala Lumpur, and other available international flights
Unlimited domestic flights (pay only for the terminal fees and taxes less than PHP 500)
FREE 6 international flights per year (pay only travel taxes)
FREE 6 round trip flights per year for dependents (domestic or international flights)
Video: Cebu Pac Flight Attendant Recruitment Process
This video shared by a flight attendant for Cebu Pacific shows her experience and tips about how she landed her job in Cebu Pacific. She highlights some important details about the recruitment stage for this airline.
Some of the important tips include the things you need to prepare before you apply
1. Take care of your skin. Recruiters will look at your skin as it needs to be presentable.
2. Do your research – core values, mission/vision of the company, grooming standards, etc.
3. Prepare your credentials – resume/CV properly highlight
4. Practice your communication skills – as you will be introducing yourself, it is important to practice how you speak.
Check out the full video below
Photos: Cebu Pacific Cabin Crew Uniforms
Check out these pictures of Cebu Pacific flight attendants in uniform so you can get an idea what it's like to work for this company if you apply for a position here:
Frequently Asked Questions
Below are some common questions and answers about the job and applying to become a flight steward/stewardesses for Cebu Pacific:
1. Is it difficult to apply as a crew for Cebu Pacific?
So long as you meet the qualifications and you pass the screening exams, you can easily apply as a crew. It is difficult in the sense that you will be applying together with many applicants, and the airline will only select a few candidates during their open days.
2. Do I need to have perfect teeth to work as a cabin crew?
It is not mentioned that you should have perfect and complete teeth. But take note that you should have a presentable smile.
3. Do I need to be beautiful to get hired as a crew?
No, beauty is subjective to the person. You just need to be presentable as this is a customer-facing role.
4. What is the height requirement to apply for Cebu Pacific?
5'3″ for women, 5'7″ for men
5. Do I need to be a college graduate?
Being a High school graduate is a minimum requirement. It's still good to finish a degree.
6. Do I need to have perfect vision?
No, because you can just wear contact lenses. Glasses and contact lenses are allowed when you fly as a cabin crew for Cebu Pac.
7. Do I need to speak English well?
Yes, you need to be fluent in English as a crew because you will be studying and training with English materials. You will also be handling different customers other than Filipinos. So you should be able to communicate in English.
8. How difficult is the training in Cebu Pacific?
This is a safety and flight job role, so you need to pass all the training exams. If you fail three times in the training, you will be out of the job.
9. Do I need to know how to swim to become a crew?
Knowing how to swim is an advantage. But it is not the main requirement. Still, you should be willing to learn because swimming is part of the training process.
10. Will I get a salary during training?
There's a minimum amount for the training allowance. But it will not be enough to cover your daily expenses. You will also only get the training allowance after you pass the training.
11. How many days off do I get in a week?
The standard is 2 days off per week.
12. Is the salary of a flight attendant big?
The salary of a flight attendant in Cebu Pac is much bigger compared to entry-level jobs in most Philippine industries.
13. What's the disadvantage of working as a cabin crew?
You cannot expect to have a fixed schedule. You might miss out on special occasions (birthdays, holidays with loved ones). So you have to take care of your body during flight duty hours as you need to have a sleeping pattern regardless of the hours of duty.
Summary
If you're interested in a career as cabin crew for Cebu Pacific Airlines, please follow the steps and guidelines above. Cabin Crew members are the backbone of any airline so it's important that you are qualified for the job positions.
So these are the tips, application process, salary and benefits, and other details about being in this job in the Philippines. We hope you have found this guide helpful as you pursue your journey as a crew for this airline.
Contact Information
Cebu Pacific Air
Address: Cebu Pacific Building, Domestic Airport Road, Barangay 191, Zone 20, 1301 Pasay City, Philippines
Telephone Number: +1-8555-232722, +63 02 802 7000
Website: https://www.cebupacificair.com/
Facebook: https://www.facebook.com/cebupacificair/
Instagram: https://www.instagram.com/cebupacificair/
Twitter: https://twitter.com/CebuPacificAir