If you're looking for data about Cham Wings and how you can apply to be one of their cabin crew members, this article has all the information you need to get started. Here, we covered a quick overview of the article, qualifications, requirements, and the step-by-step guide to apply.
Also Read: How to Answer: Why Should We Hire You?
It can be scary to start a new chapter of your life without knowing what you're getting into. If this is you, you won't have to worry, for we're here to help you. We have gathered all the necessary information regarding Cham Wings Airlines to help you discover whether or not this company would be your next chapter in life.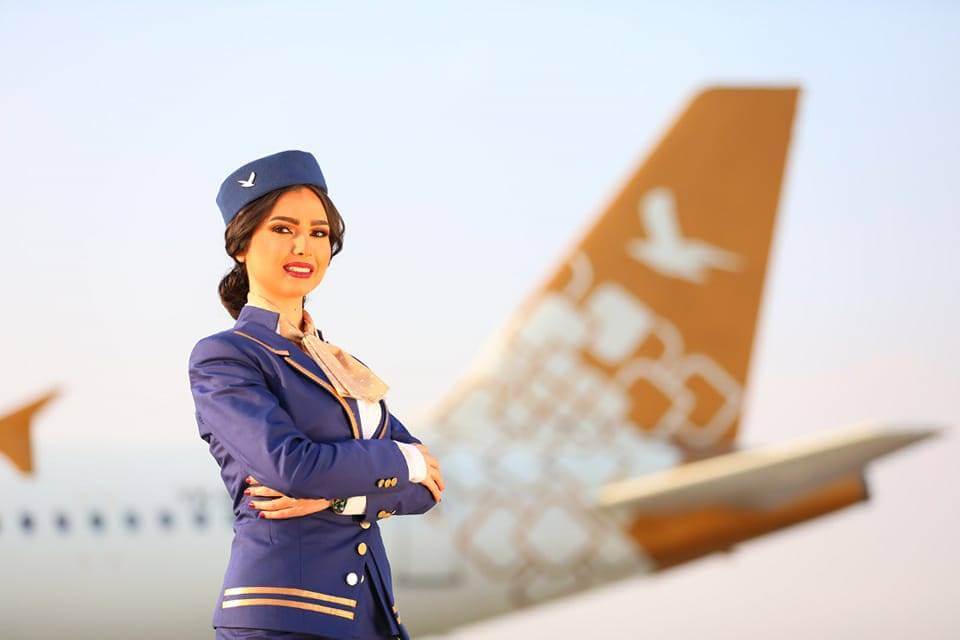 Overview of Cham Wings Airlines
Issam Shammout, an enterprising Syrian businessman, founded Cham Wings Airlines on July 9, 2006, and became Syria's first private airline. Damascus International Airport serves as the airline's primary hub. On September 23, 2007, the airline received an Aircraft Operators Certificate (AOC) from the SCCA, also known as the Syrian Civil Aviation Authority. Even though the AOC came in second place after Syria's main state airline, Syrian Air, the AOC only allowed the company to perform non-scheduled commercial flights.
On March 3, 2008, the business purchased one MD aircraft and flew its first trip from Damascus to the Baghdad International Airport. In 2008, a newbie called Syrian Pearl Airlines hit the scene with the following shareholdings: Cham Holding 69 percent, Syrian air 25 percent, and Aqeeq Aviation/Aquila Holding 6 percent.
Cham Wings could not make a profit flying only commercial flights, despite Syrian Pearl never starting its operations. Following the crisis in Syria in 2012, the company ceased operations. But despite all this, the company was able to bounce back from this difficulty and is currently a strong airline located in Syria.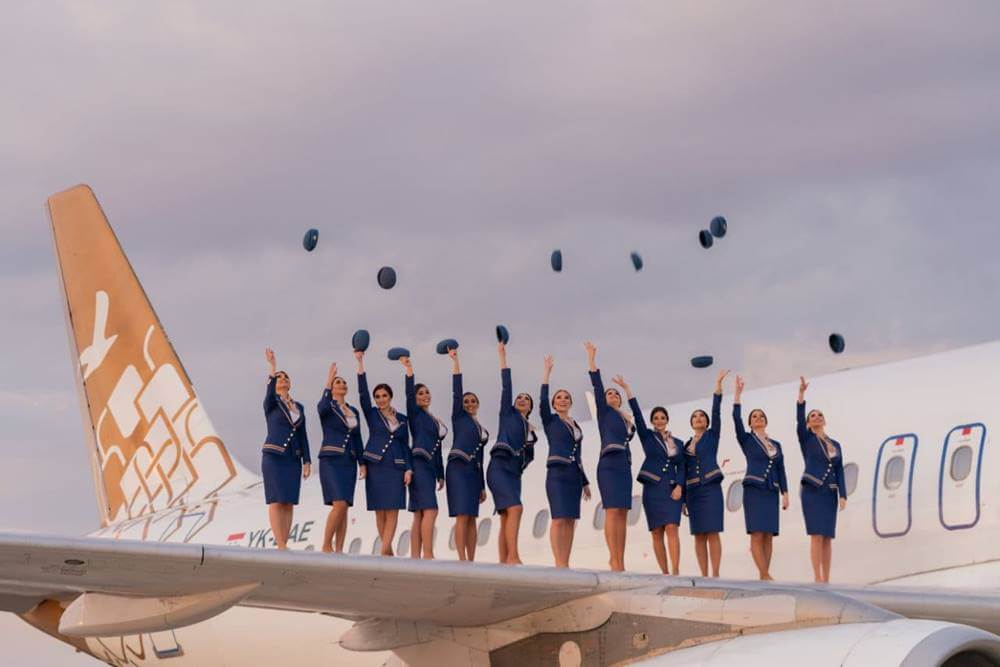 Responsibilities
The first thing you have to do when considering a job is to look at the tasks. Your job responsibilities will be a telltale sign of whether or not this job is the perfect fit for you. So, before doing anything or turning in any applications, be sure you understand each of the job responsibilities. Here are some of the responsibilities of a Cham Wings Airlines flight attendant.
You'll be tasked with serving passengers their meals
Informing passengers of the safety protocols every flight
Filling out an in-depth report after every flight
Cater to every need of your passengers
Greet passengers with a smile on your face
Be able to adapt to situations and act accordingly
Ensure that the passengers are comfortable
Be available when passengers need assistance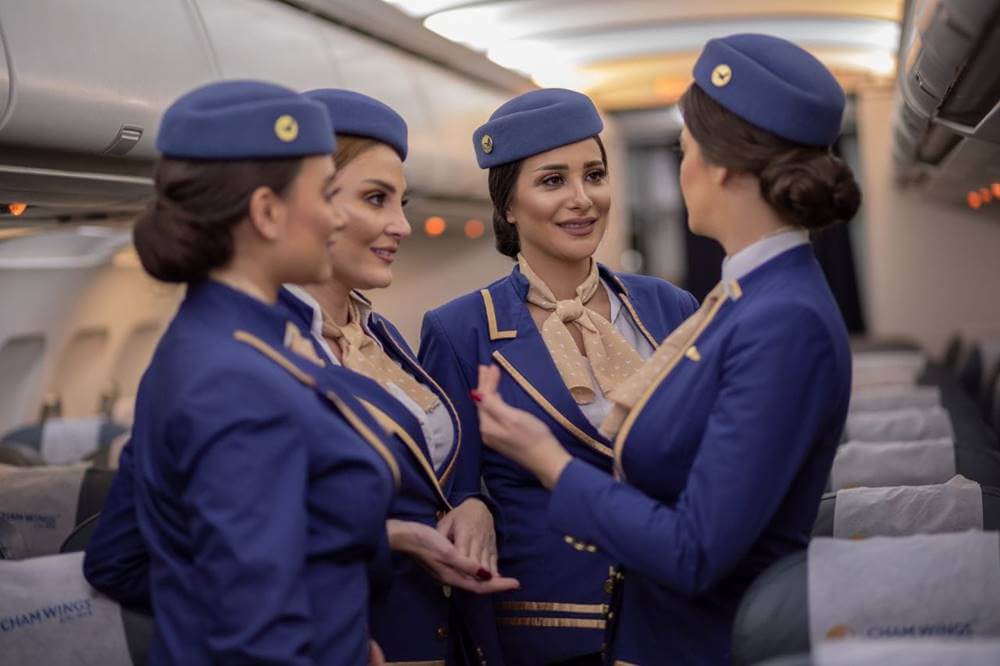 Qualifications
Qualifications when it comes to cabin crew members can be lengthy. And before applying, we want to make sure that we check all the boxes. Of course, we don't want to waste our time applying if we believe we can't reach the qualifications. So, before you start filling out applications, we have to make sure that you're qualified for this job that you're eyeing.
Never been found guilty of a crime.
Personal presentation, style, and image should be excellent.
There are no visible body piercings when wearing the Cham Wings uniform
Interpersonal and communication abilities should be strong.
There are no visible tattoos while wearing the cabin crew outfit (bandages and cosmetic coverings are not permitted)
Fluent in English, both verbally and in writing.
The ability to communicate in another language is considered advantageous.
Must have a valid passport
Must be comfortable in the water and able to swim with a flotation device.
A minimum level of accredited secondary education or equivalent is required.
You should be at least 21 years old.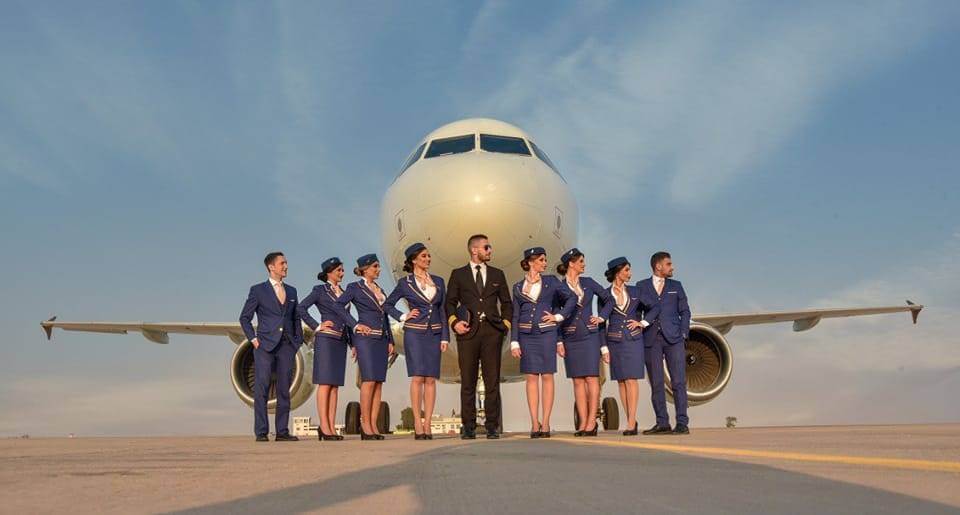 Document Requirements to Prepare
With the qualifications stated above, the next thing you have to do to secure your application would be to gather the document requirements. When doing this, make sure that you are able to complete all the documents that they are asking for. This is because it's possible for delays in processing your application if it's incomplete or filled with false information. So, be careful when completing this part.
Updated CV
Birth certificate
Updated medical and dental records
A valid passport
Where to Apply for a Job for Cham Wings Airlines Online
It's important to stay updated, so be sure to constantly look at their company's website. The link below will direct you to Cham Wings Airlines' careers website, where you can stay informed on any job vacancies, new rules in the application, and so much more.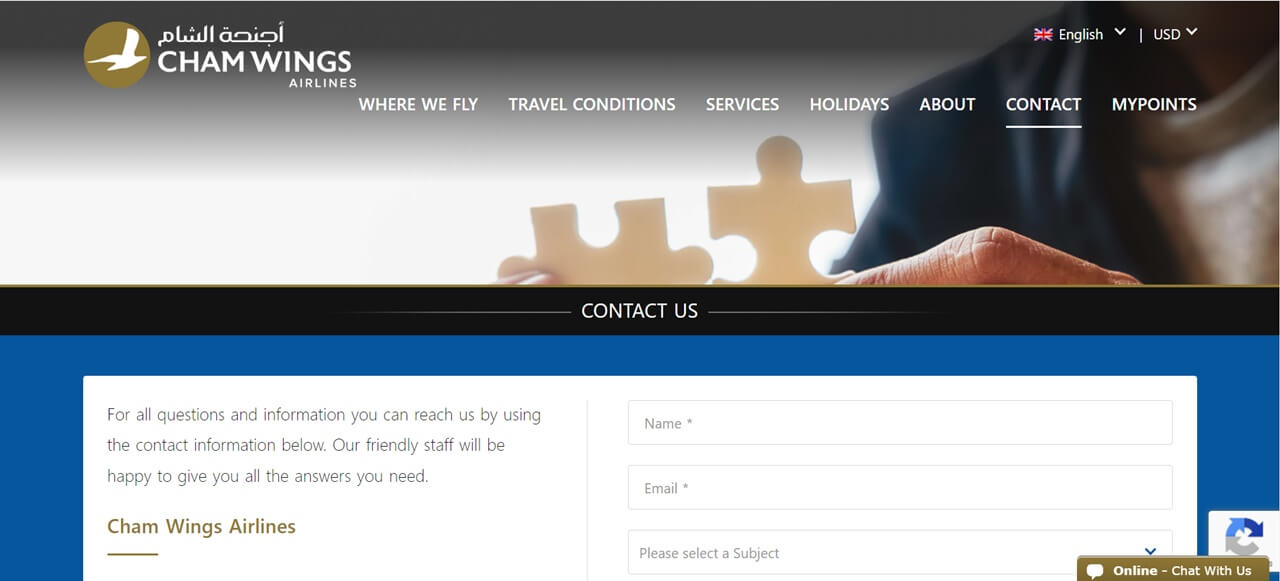 How to Become a Cabin Crew for Cham Wings Airlines
Step 1: Prepare your CV
According to the company, their requirement for application would be an updated CV. So before applying, make sure to polish your CV to have a higher chance of getting accepted.
Step 2: Send your CV
Once you're done with your CV, you may send it to Cham Wings Airlines. According to their official website, you are to send your updated CV to hr@chamwings.com. Once sent, you'll have to wait for them to get back to you on whether or not you're moving on to the next stage of the application process.
Step 3: Wait for further updates.
If you have reached this part, it means that you were able to pass the first part of their exam. If you are, they'll be sending you a list of instructions, and you'll start there. They'll be giving you an idea of what you're going to be doing in the upcoming interviews, what you have to bring, etc.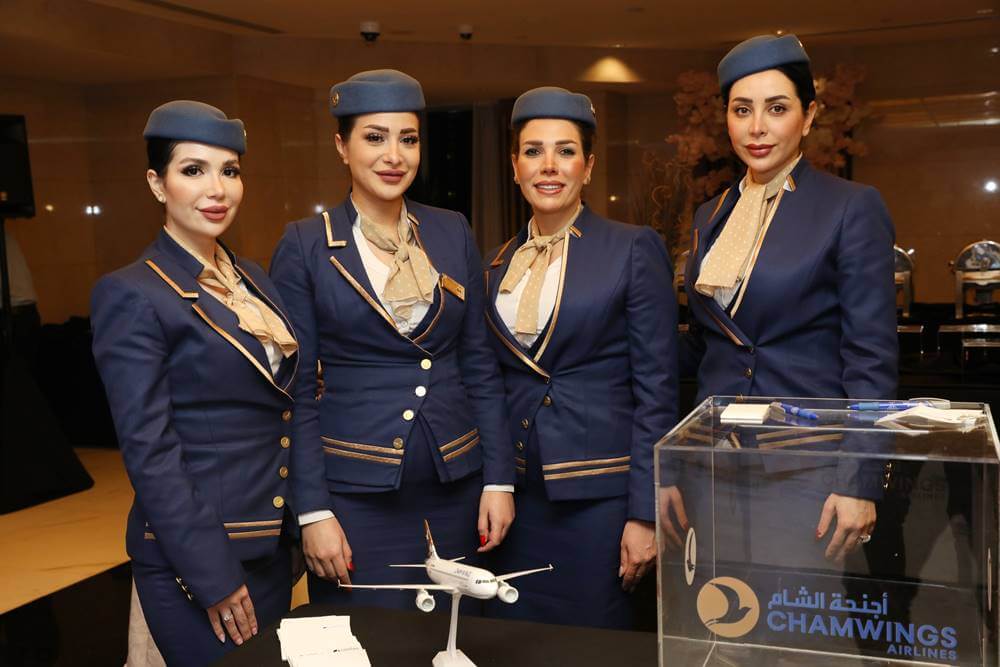 Monthly Salary of a Cham Wings Airlines Flight Attendant
One of the last things that we will be discussing in this article would be the monthly salary of a Cham Wings Airlines flight attendant. Cham Wings Airlines flight attendants make about $1500 a month. For many, the pay can determine whether or not they'll be taking the job. While this may sound like a dream job, it's essential to look at the salary. Ask yourself questions such as does it reach your requirements? Would it be able to pay your bills?
Doing this would give you an idea of whether or not the job would be able to support your way of living. Of course, it is also important to remember that the amount stated here is the base pay. Your salary can increase if you put other factors such as position. They also have benefits like:
Family benefits
Travel benefits
Meet new people all over the world
Medical and dental insurance
Free flights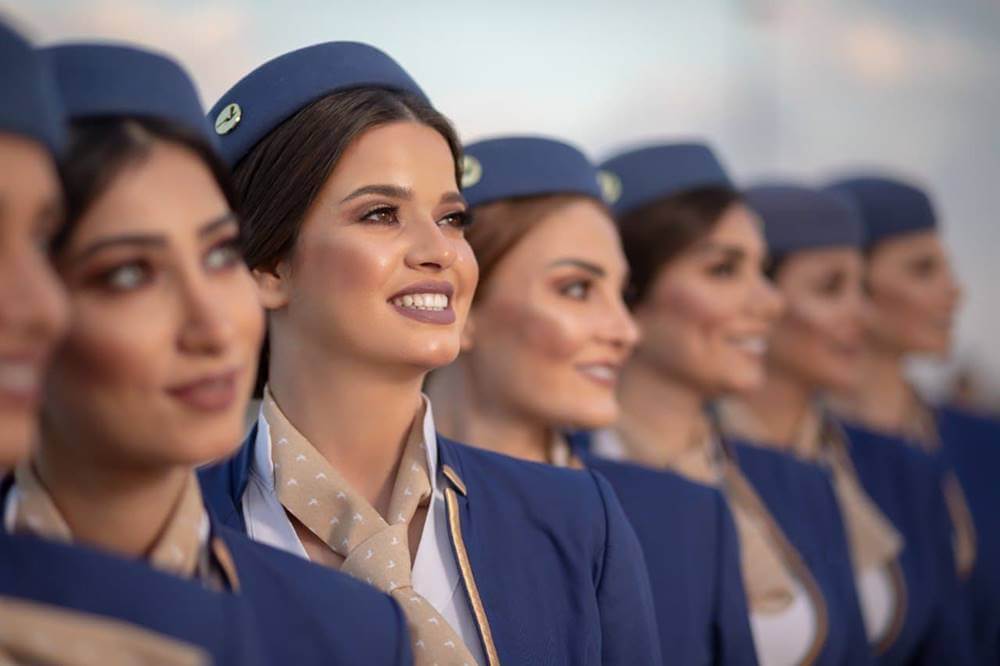 Video: Cham Wings Airlines Birthday Surprise to a Passenger
As a flight attendant, one of your responsibilities would be to keep your customers happy. In this video, you'll get to see how Cham Wings Airlines goes the extra mile to celebrate the birthdays of passengers. The video shows the cabin crew giving the celebrants special mentions along with a cake and a small gift from the airline.
Photos: Cham Wings Airlines Flight Attendant Photos
Check out these beautiful pictures of Cham Wings Airlines Flight Attendants in uniform. If you wish to picture yourself being a part of this company, check out these photos to give you an idea about working for this airline:
Frequently Asked Questions
Now here are the frequently asked questions about Cham Wings Airlines and the application process for the company's flight attendants:
1. What is the minimum height required to apply in Cham Wings Airlines?
You should be at least 158 cm or 5 feet 2 inches.
2. Are tattoos and piercings allowed?
They must not be visible when you wear the Cham Wings cabin crew uniform.
3. Does Cham Wings give out benefits to its employees?
Yes, the company gives out benefits to its employees, such as travel perks, medical and dental insurance, free flights, and more.
4. Can my salary increase working in Cham Wings Airlines?
Yes, your salary can increase depending on your position, benefits, etc.
5. Where can I send my application to Cham Wings Airlines?
You can send your application to hr@chamwings.com.
6. What is the minimum age requirement to apply to Cham Wings Airlines?
You should be at least 21 years old.
7. Am I required to be fluent in a specific language?
Yes, you must be fluent in speaking and writing in English. Knowing other languages is also considered to be a plus.
8. What is the minimum educational attainment required in Cham Wings Airlines?
You have to have at least secondary education or an equivalent of this to be able to apply.
9. Does Cham Wings Airlines require you to be able to swim well?
Yes, the airline does require you to be able to swim by yourself without any help.
10. Where can I visit the company's career page?
You can visit Cham Wings Airlines' careers page by going to https://chamwings.com/contact-us/.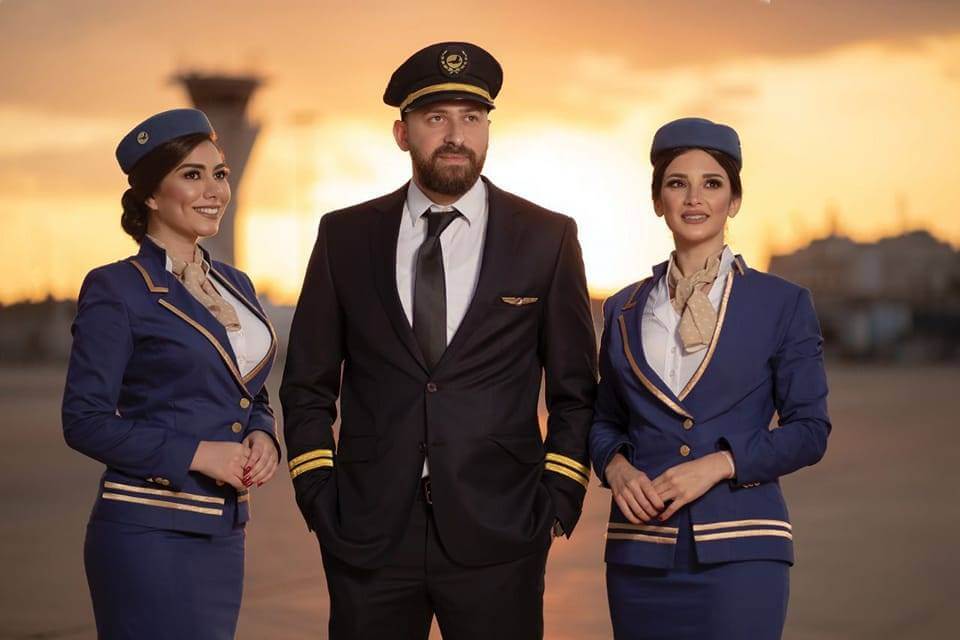 Summary
No job is easy, which is why the grind is important. While one company may not work for you, it doesn't necessarily mean that the next one wouldn't either. The important thing is that you never give up, and you continue to improve yourself for your well-being. And with time and patience, you'll eventually reach that dream you've always wanted to achieve.
On the other hand, if you think you have what it takes, don't be afraid to reach for it. No opportunity is permanent, so be sure to get it while you can. Joining the airline and transportation industry can bring you many good things in your life, so be sure to grab whatever you can. With that, we wish you luck if you decide to go through with reaching your dream job.
Contact Information
CHAM WINGS AIRLINES
Address: Fardos Street – Damascus – Syria
Telephone Number: +963 11 21 58 111
Website: https://chamwings.com/
Instagram: https://www.instagram.com/cham_wings.airlines/
Twitter: https://twitter.com/chamwings?lang=en
LinkedIn: https://www.linkedin.com/company/chamwings-airlines