If you're looking to work as a cabin crew for Daallo Airlines, feel free to check out this guide that details all the information you need to know from the qualifications, requirements, as well as a simple walkthrough regarding the cabin crew application process.
Also Read: Understanding Cabin Crew Roster and Flight Attendant Schedule
Daallo Airlines is considered the national carrier of the Republic of Djibouti and offers vital air flights that link Somalia and the rest of the world. As a cabin crew in this company, you get the opportunity to travel and get a glimpse of various places and cultures. But beyond that, it's also your duty to ensure passenger safety and comfort at all times.
If you believe that being a Daallo Airlines cabin crew is the right fit for you, read on as you get to discover all the things you should know about becoming a flight attendant in this company.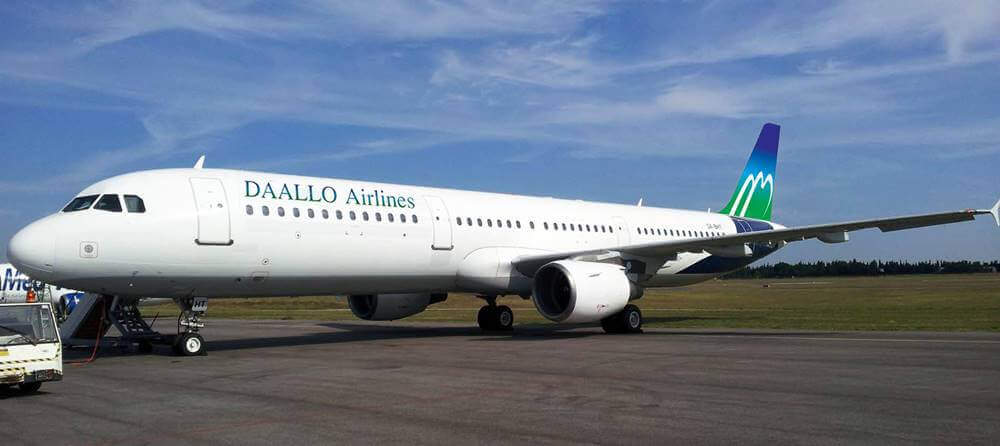 Overview of the Daallo Airlines
Founded in 1991, Daallo Airlines is a Somali-owned airline located at Dubai Airport Free Zone in Al Garhoud, Dubai, United Arab Emirates. It's also Daallo group's flagship company and is largely known for being one of the best-known companies within Djibouti and Somalia. Apart from being the Republic of Djibouti's national carrier, it also serves the region of East Africa with flights bound to the Middle East, with particularly significant leverage in the passenger traffic from these countries.
Its main hub is situated at the Djibouti-Ambouli International Airport, operating majorly on scheduled services in the Middle East and the Horn of Africa. As of February 2021, it provides flights to limited destinations like Addis Ababa, Dubai, Jeddah, Mogadishu, Djibouti, Hargeisa, Somalia, Nairobi, Galkayo, Bosaso, and Garowe. Previously, however, it also catered flights bound to Europe, having served Paris-Charles de Gaulle and London-Gatwick.
With over 27 years of experience in the aviation industry, Daallo Airlines makes sure to put customer safety and security at the forefront of its priorities. Its decades-long operations are a testament to its constant desire to serve passengers and has since then made a name of its own in the industry. Furthermore, it also garnered special recognition by being nominated as a showcase success story in Africa in the book titled "Entrepreneurship in Africa: A Study of Success."
Daallo Airlines' success paved the way for its expansion to various destinations in Europe, the Middle East, as well as some places in both Eastern and Central Africa. It prides itself on its strong, intimate knowledge about the needs of the region alongside its constant investment in resources that led to its deserved success.
Beyond that, the company is also reputable for its great record in corporate responsibility by being supportive of various community programs and projects in the region that it serves. They go the extra mile to operate flights for Umrah and Hajj pilgrims while also participating often in medical and relief supply efforts within Africa.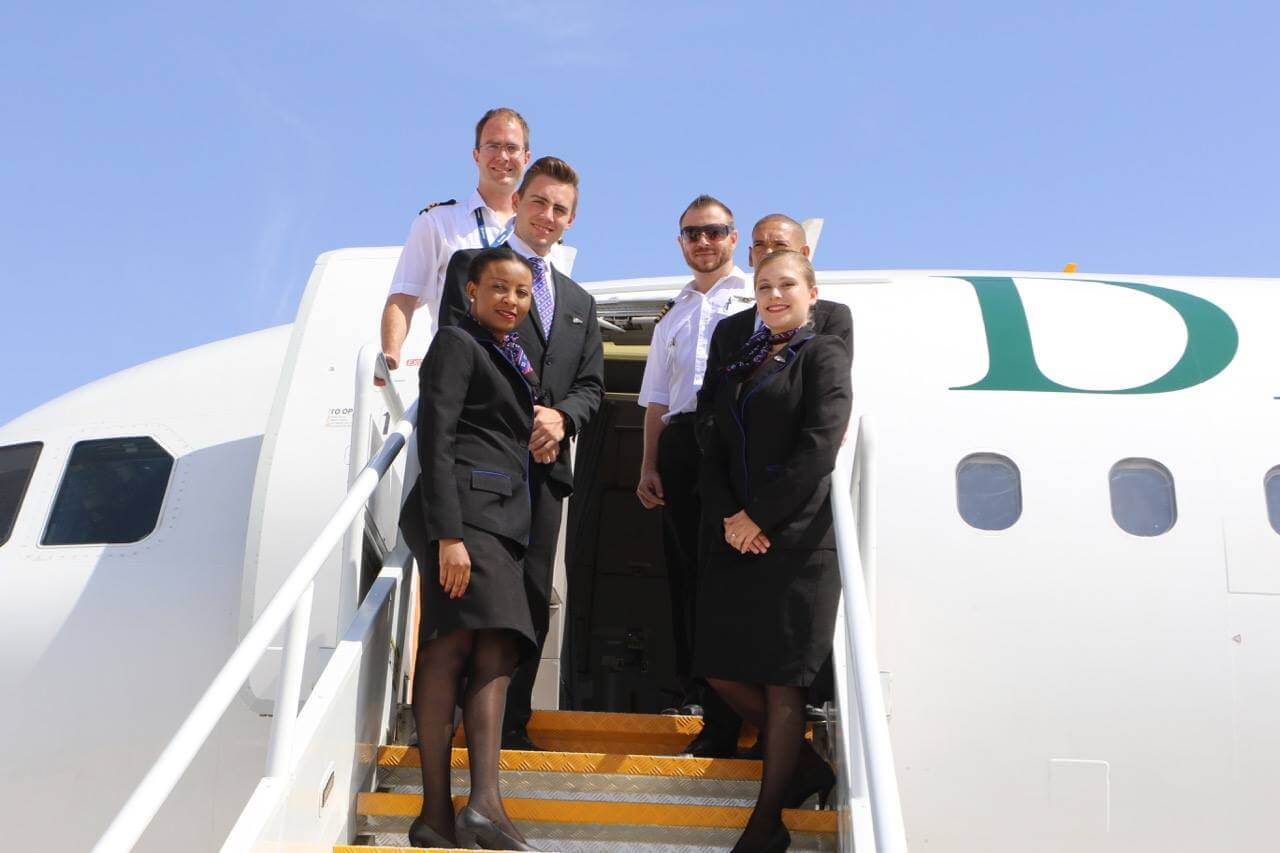 Responsibilities
Daallo Airlines puts customer satisfaction at the center of its goals as a company with a heart for extending service and assistance to people across the globe. Because of this, the airline ensures that its staff and cabin crew are well-equipped with the skill-set and knowledge to best deliver such services.
As a flight attendant, you get to be the face of the airline — knowing this is vital because your responsibilities are aligned with the company's core mission and vision. By working in a reputable company such as Daallo Airlines, it's essential to keep in mind your responsibilities as a cabin crew, since what you do will consequently affect the image of the airline you are working for.
As a cabin crew in Daallo Airlines, here are your responsibilities:
Ensure passenger security and safety before take-off.
Prepare and deliver beverages and food
Zealously assist and engage with patrons before they board the plane
Support crew members and travelers in cases of emergency
Comply with the aviation requirements, guidelines, and governance
Inspect and oversee the passengers, cabin, and facilities before, during, and after departure for the sake of safekeeping
Direct customers to their respective seating and checks carry-on items to ensure they meet the requirements
Render special assistance to disabled passengers, unaccompanied minors, as well as the elderly
Communicate the emergency safety procedures to passengers and show them how to use and where to find the necessary equipment
Qualifications
Before applying as a flight attendant for Daallo Airlines, you'll first need to check whether or not you pass the required qualifications. Since Daallo Airlines is considered among the best-known companies in the region, they tend to set firm standards when recruiting new staff onboard their growing team. This helps ensure that their cabin crew will be efficient in carrying out their duties and will serve passengers to the best of their ability.
To have the chance of being hired, you must pass the qualifications listed below:
Minimum 18 years old
Good secondary education
Bachelor's degree (recommended but not often required)
Knowledge of other languages is an advantage
Previous experience of dealing with the public as well as medical training is an advantage
Pleasing appearance and deportment
Genuine interest and ability to communicate and deal with people
Good health, eyesight, and hearing
Good numeracy skills to perform currency calculations and provide accurate change
Clear handwriting for keeping records and writing reports
Good sense of humor, mannerly, and patient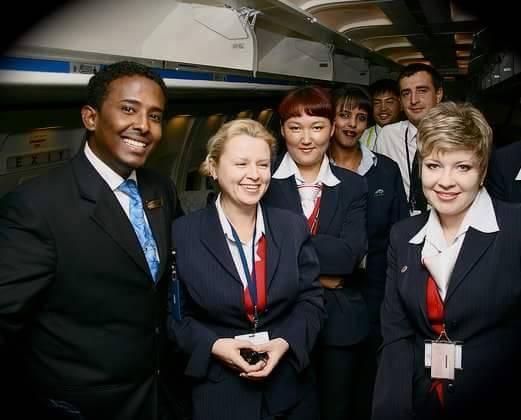 Document Requirements to Prepare
To ensure that you get through the entire application process without hassle, here are the necessary documents you should prepare beforehand:
Updated CV or resume
High School Diploma
Valid Passport
Updated Dental and Medical Records
Head and full body
Professional business attire for men and women
Where to Apply for a Job for Daallo Airlines Online
You can check for available job vacancies and further details on Daallo Airlines' career page and LinkedIn profile. You can also see important announcements alongside other information about how to apply Daallo Airlines cabin crew hiring.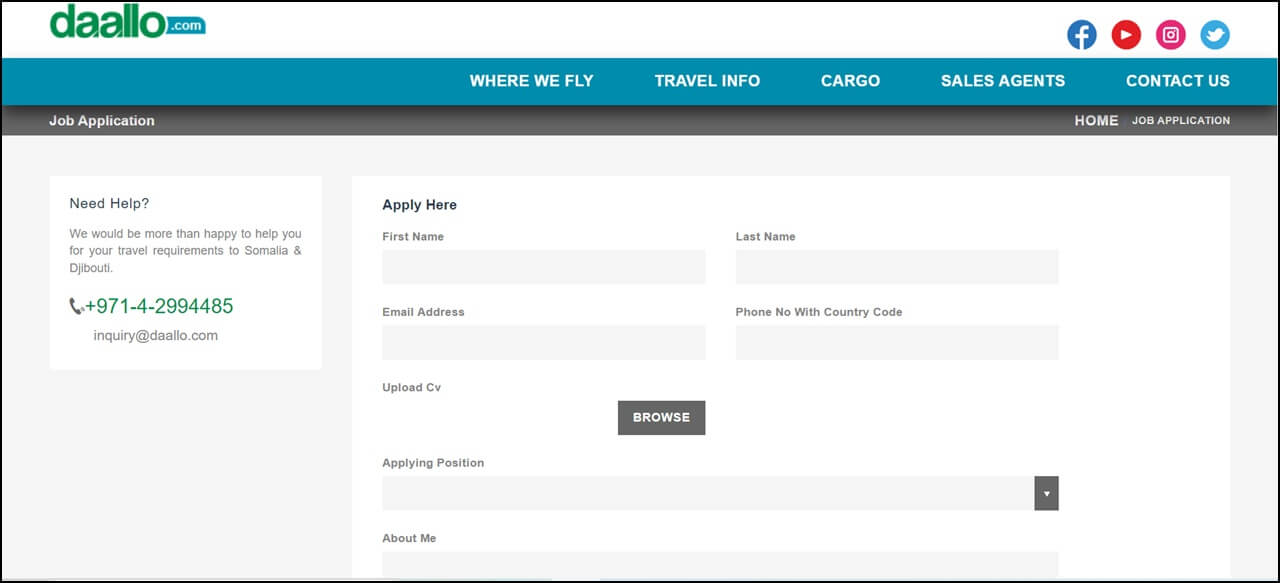 How to Become a Cabin Crew for Daallo Airlines
You now know where you can apply to become a cabin crew member by visiting their official online job portal above. With that being said, here are the following steps you need to follow to apply for Daallo Airlines flight attendant position.
Step 1: Submit the Online Application
The company usually goes through the initial parts of the cabin crew application process online. For this, you will need to access their official website and go to their career page. There, you will see a form that you will need to fill out with the necessary information and documents to pass the first stage. This includes your name, email address, phone number with country code, updated resume, as well as the position you're applying for in the company. You will also need to input some essential things about yourself in the online form.
If you want to ensure a smooth process during the first step, then it's important that you already have the required documents beforehand.
Step 2: Resume Evaluation
After you have already submitted your basic information, the company will then take its time to evaluate your resume. Your resume is considered one of the most vital documents that can determine whether or not you will be hired as a Daallo Airlines flight attendant. The recruitment team will have to carefully assess if you meet their established qualifications for a cabin crew member and if you possess the characteristics they're looking for in a candidate. Keep in mind that there are specific traits that every airline is looking for in a job candidate, so make sure to do your research and present those qualities if you want to have a clear chance of getting hired.
Step 3: Orientation regarding Conditional Offers
Even though you've made it through the first initial steps, that doesn't mean that you're already guaranteed to land the job. Usually, the company briefs you of the setup of the work environment and also presents conditional offers you'd typically expect once you do get hired. This usually involves your working hours, salary, place where you'll be designated, and other compensations you may receive for your service.
This is also where adjustments or concerns can be discussed and settled for both parties. Once you're through with this step, all you have to do is to expect the company to reach out to you again via your contact details such as phone number or email address.
Step 4: Interview 
When the company does reach out to you, then it's time that you proceed to one of the most nerve-wracking parts of the job-hiring process: the interview. Often, the company will have two parts of the interview process: a phone interview and a face-to-face interview. These questions can consist of the history of the airline itself or other questions related to the position you're applying for. For this, make sure that you're well-equipped with the necessary information so you'll be able to answer every question smoothly. Don't forget to be honest when answering certain questions you don't know — it's better than pretending that you do.
Face-to-face interviews, on the other hand, are a portion where you'll need to put extra effort into your appearance and personality. While it's important to be knowledgeable of the answers to the potential questions that the company may throw at you, how you answer each query is taken into consideration as well. The recruiters will be carefully evaluating the way you carry yourself, so it's vital that you leave a good first impression during the interview.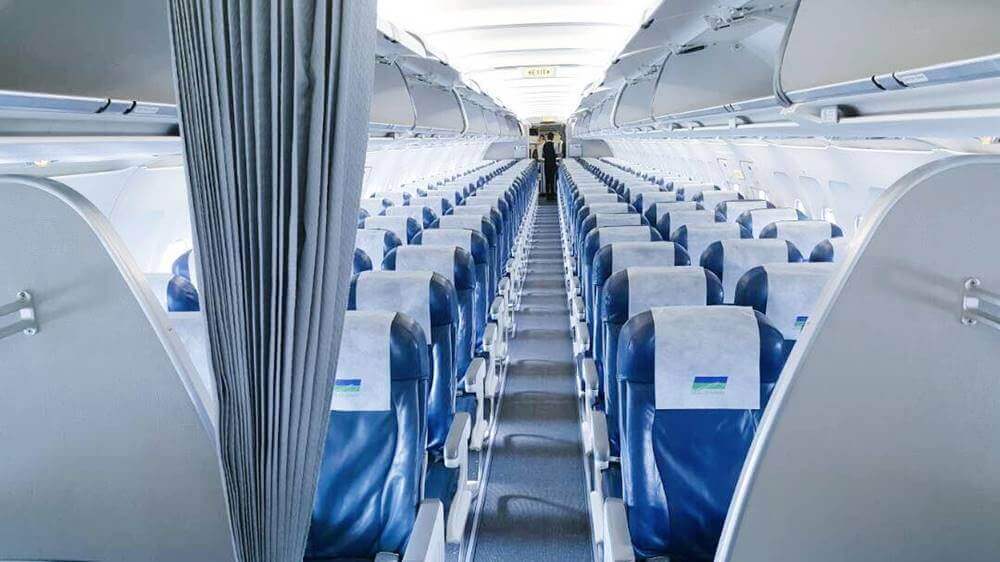 Monthly Salary of a Daallo Airlines Flight Attendant
There isn't much information available regarding the monthly salary of working as a flight attendant in Daallo Airlines. Nonetheless, flight attendants in Somalia typically earn 177 000 SOS on average. More specifically, salaries range from about 86 900 SOS (lowest) to 277 000 SOS, which is the highest.
This average monthly salary is already inclusive of transport, housing, and other benefits that come with the job position. It's also quite important to remember that the salaries of flight attendants vary exponentially depending on skills, education, location, or experience.
Video: 20 Things Flight Attendants Can't Do at Any Price
The luxury that comes with being a flight attendant also entails great responsibilities to abide by. The video below particularly talks about some rules that cabin crews must follow at all costs, including things they should avoid doing while they're performing their duties.
Some of these things include:
Not being allowed to wear heavy perfume
Not being allowed to slouch
Not being allowed to sleep while on duty
Male crew members being restricted to having beards
Female crew members not allowed to go bare-faced
No slouching
Abiding by strict height restrictions
While being a flight attendant is a noble job, you should still keep in mind that you're also responsible for ensuring that your passengers are secure, safe, and comfortable. This way, they can experience a flight free from stress, hassle, and inconvenience.
Disclaimer: This is a video uploaded by a popular YouTube channel shared her experience being a cabin crew member. Take note that every crew has a different experience, but this will help give you an idea what to expect when you work for Swissair.
Photos: Daallo Airlines Flight Attendants in Uniform
Check out these photos of Daallo Airlines Flight Attendants in uniform to give you an idea what it's like working for the airline.
Frequently Asked Questions
Below are the most common questions for people interested in the position of Flight Attendant for Daallo Airlines:
1. Is there a height requirement for males and females?
Yes. Airlines usually vary with their height standards, but females are required to be about 5'3" on average, while males need to be at least 5'5" pr 5'7".
2. Does Daallo Airlines have a specific weight limit?
For this, the height and weight limit should be proportionate. To determine if you have accurate measures, you can check your BMI and identify if you have the right figure. Moreover, if you want to secure a career as a flight attendant, you also have to ensure that you have an appealing appearance and that you are fit enough.
3. Does Daallo Airlines hire job candidates with tattoos?
They will usually consider applicants who have tattoos as long as they're not visible or can be concealed when you're wearing your working uniform.
4. I have a mole on my face; will I get accepted?
Sure. Having a mole in your face does not get in the way of your responsibilities of being a flight attendant at Daallo Airlines.
5. Is there an age limit to becoming a Daallo Airlines cabin crew?
Daallo Airlines only consider applicants who are at least 18 years of age and above. Most of the flight attendants typically retire when they turn 50 or 51.
6. What are the questions asked during cabin crew interviews?
Some of these questions may have to do with the company you're applying for. Also, the recruiters may also ask you about why you want the job in the first place, as well as reasons why you think you're appropriate for the job. Make sure that you answer the questions as honestly as possible and prepare for potential queries that may be asked during the interview.
7. Do I need to be a college graduate to be a flight attendant at Daallo Airlines?
While having a bachelor's degree is a bonus, it's not typically required. Nonetheless, having experience in further education pursuits will definitely be an advantage in the hiring process.
8. Should flight attendants know how to swim?
Yes. When you get hired, you will undergo a training process where you will learn everything you need to know about becoming a flight attendant. Knowing how to swim is an important skill for flight attendants, with airlines generally requiring you to swim at least 25 meters unassisted.
9. Are there physical requirements for the job?
Definitely. Being a flight attendant means you have to spend long periods either walking or standing. You also need to be fit enough to be able to assist passengers with luggage alongside their other needs.
10. What skills are the most important when becoming a Daallo Airlines cabin crew?
If you want to become a flight attendant for Daallo Airlines, you need to be able to communicate well since you will have passengers asking various questions about the flight as well as other concerns. You also need to possess good customer service skills since you will be serving them with drinks, food, and also assist them with their carry-ons or luggage.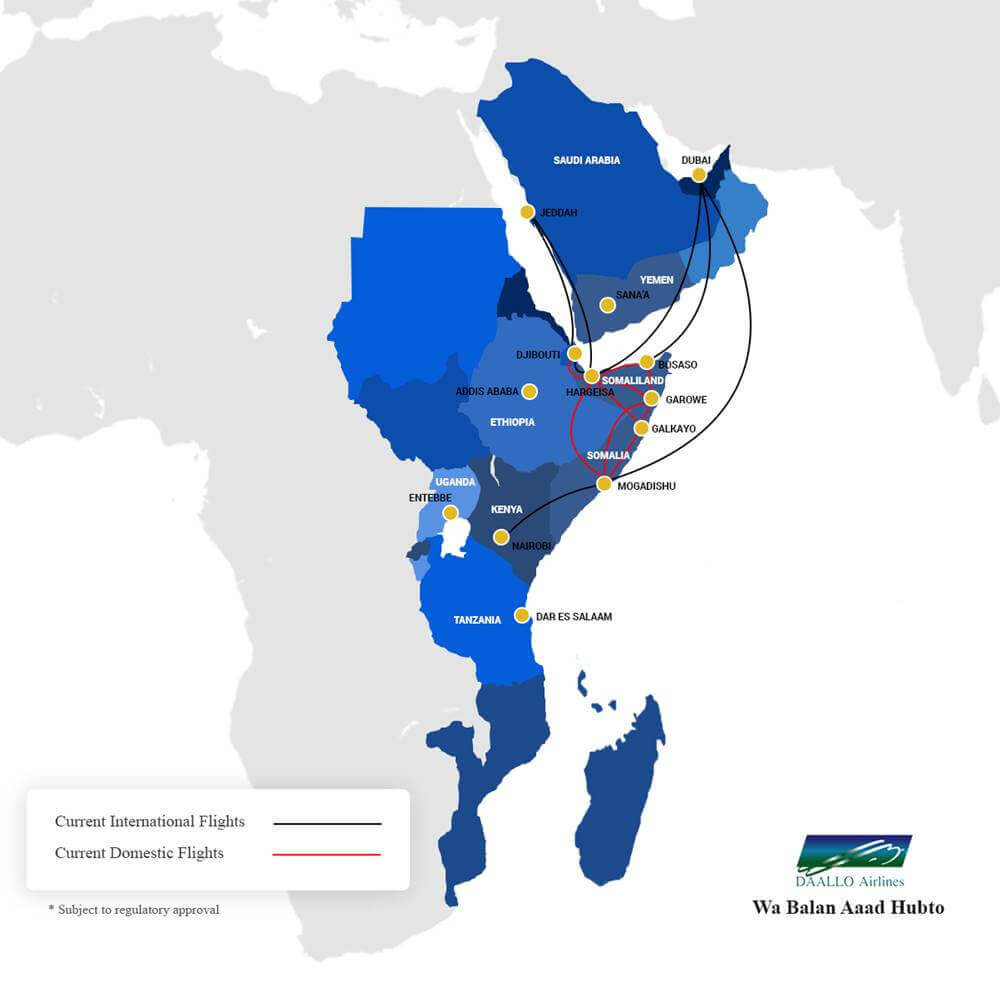 Summary
This is the general process regarding how to apply for Daallo Airlines Cabin Crew Hiring. IN order for you to secure the job of your dreams, you will have to put in the necessary effort required for you to stand out and be given a chance to be considered as a potential candidate for the job. Moreover, it's also vital to remember that before diving headfirst into the decision, you should be well-acquainted with the gravity of responsibilities you need to undertake. You have to remember that your priority is the safety of your customers above all else while keeping them satisfied and comfortable.
Securing the job of your dreams is a privilege to most, so if you want to maximize your chances, preparation and hard work are a must. Companies often abide by their standards to ensure that they only hire the best employees under their wing, and being able to meet their requirements is an effort you have to persevere for.
Contact Information
DAALLO AIRLINES
Address: Dubai Airport Free Zone, J-21 P.O. Box 293515, Dubai United Arab Emirates (main headquarters)
Telephone Number: +971-4-2994485
Fax: +971-4-2994486
Website: www.daallo.com
Facebook: https://www.facebook.com/flydaallo/
Instagram: https://www.instagram.com/daallo_airlines/?hl=en
Twitter: https://twitter.com/flydaallo?lang=en