Have you been searching for an article that can answer all your application questions about cabin crews? If yes, then look no further, for this is the article for you. Getting as much information as possible about an airway you're interested in applying for isn't easy. But lucky for you, we have put together all the information you'll need to apply to Thai Airways. We'll be talking about responsibilities, step-by-step process application, document requirements, salary, and many more.
Also Read: Venice Layover Guide: 24 Hours in Venice Itinerary
Whether it's your first time applying for a cabin crew position or not, it pays to be an explorer in this field. You'll get a lot of experience even if you are just submitting your applications. One thing that you must always do is to ensure to do a background check of the company where you are applying for. This way, you can check if you will meet the requirements and qualifications, and as well as see if the compensation is worth it.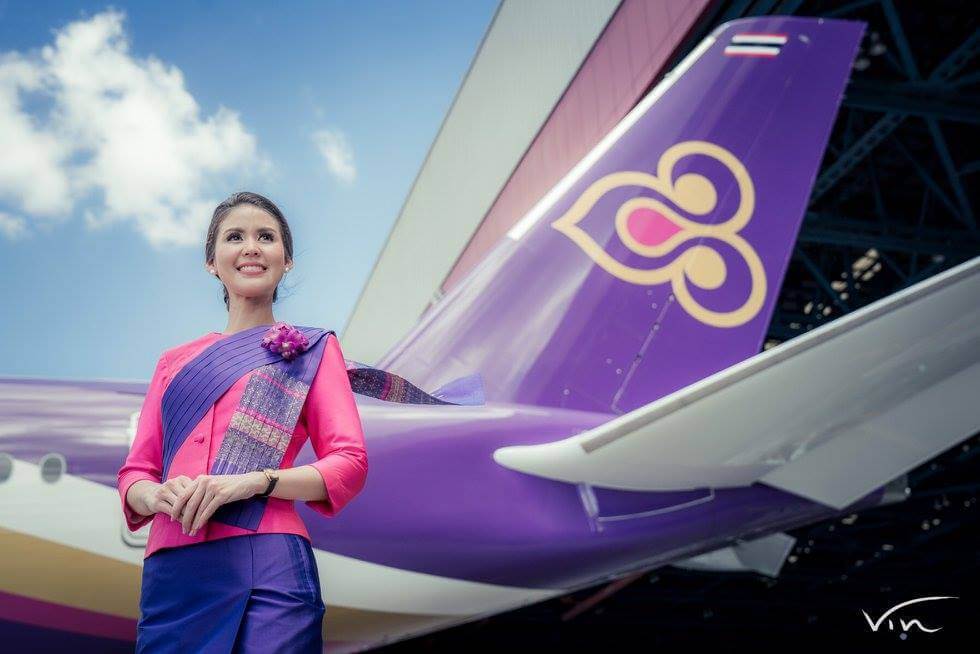 Overview of Thai Airways
Thai Airways is Thailand's official airline, with flights to more than 101 sites in 37 countries across the globe. From its bases at Suvarnabhumi Airport (BKK) as well as Phuket International Airport, the airline operates flights (HKT). Thai Airways currently has Boeing 787-9/787-8 Dreamliner, Boeing 777-300ER, Boeing 777-200ER, Airbus A350-900, and Airbus A320 class airplanes in its fleet.
Thai Airways and Thai Smile, the Thai Regional Airline, fly to about 100 locations around the globe in collaboration. Similarly, the airline operates flights with big global carriers such as Lufthansa, All Nippon Airways, Air New Zealand, Air Canada, Emirates, Pakistan International Airlines, Turkish Airlines, and others through codeshare agreements.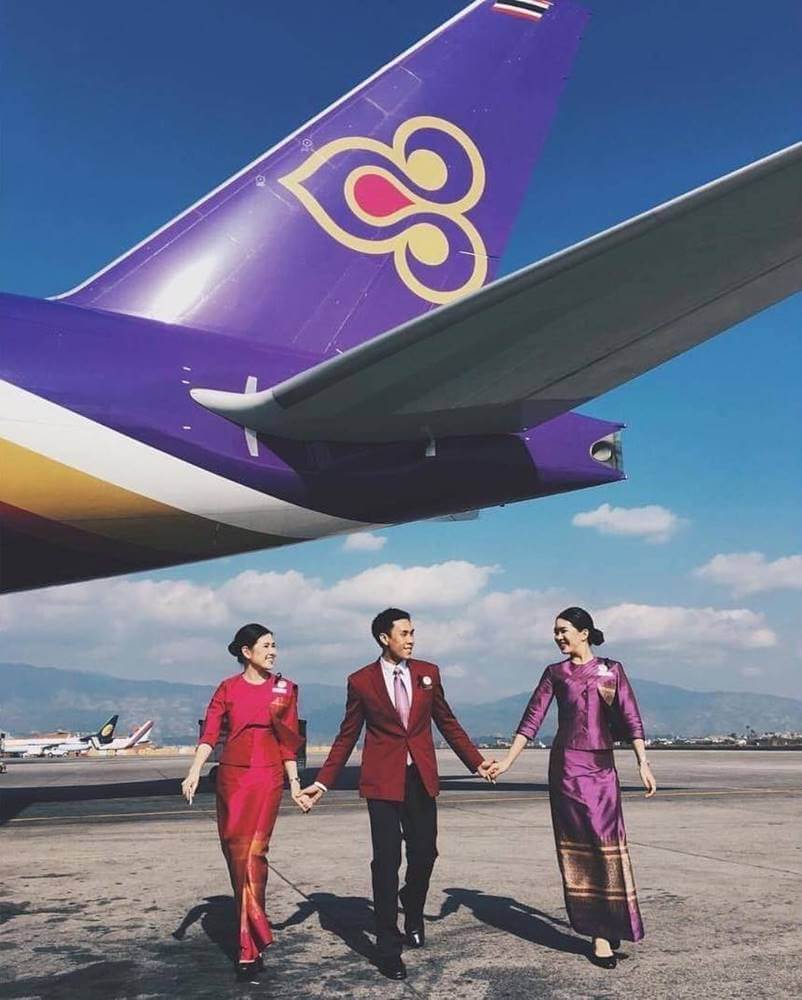 Responsibilities
Whatever the job, the responsibilities can sometimes be lengthy. Sadly, this applies to flight attendants as well. A flight attendant is required to oversee plenty of things. Thus, versatility is a quality that the hiring committee looks for. Before you start your application process, be sure that you're willing to complete the responsibilities that the company would ask of you.
If you're a little confused about the responsibilities of a Thai Airways flight attendant, you don't have to worry, for we have listed down some of the things you'll have to do as their employee.
Addressing every passenger as they board and disembark from the plane.
You should show passengers to their seats, and special attention should be paid to certain passengers, like the elderly or crippled.
Offering snacks and meals
Examine the status of emergency supplies and data for passengers and the availability of both.
Displaying safety precautions and emergency supplies
Performing first-aid procedures
Dealing with unforeseen circumstances
Distributing newspapers, journals, and in-flight amusement to passengers
Pursuing sales targets and offering refined duty-free products
After finishing a journey, write up a flight report.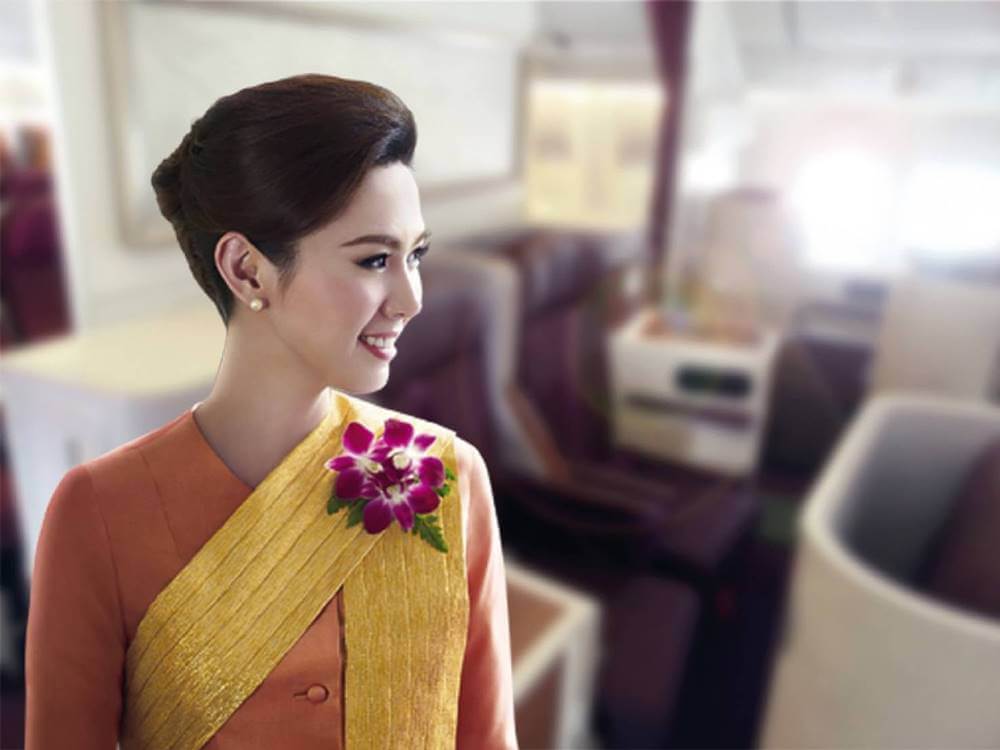 Qualifications
One of the most challenging things during the application process would be the qualifications. Usually, qualifications can make or break your application. The hiring committee, of course, would choose those they believe are the most qualified for the job. This is why it's vital to ensure that you reach all the qualifications.
Here are some of the qualifications that you should take note of. Having these qualifications can significantly increase your chances of getting the job, so remember them.
A bachelor's degree in any area is required for applicants.
The Ministry of University Affairs must grant academic accreditation.
For abroad grads, the Ministry of Education will be necessary.
Applicants must have an IELTS score of 5.5, a TOEFL score of 500, or a TOEIC score of 600.
It is required to be fluent in English (writing, reading, and speaking).
It's a plus if you can communicate in another language.
It is necessary to be in good health and to be able to see clearly without the need for glasses.
Interpersonal and communication skills are required.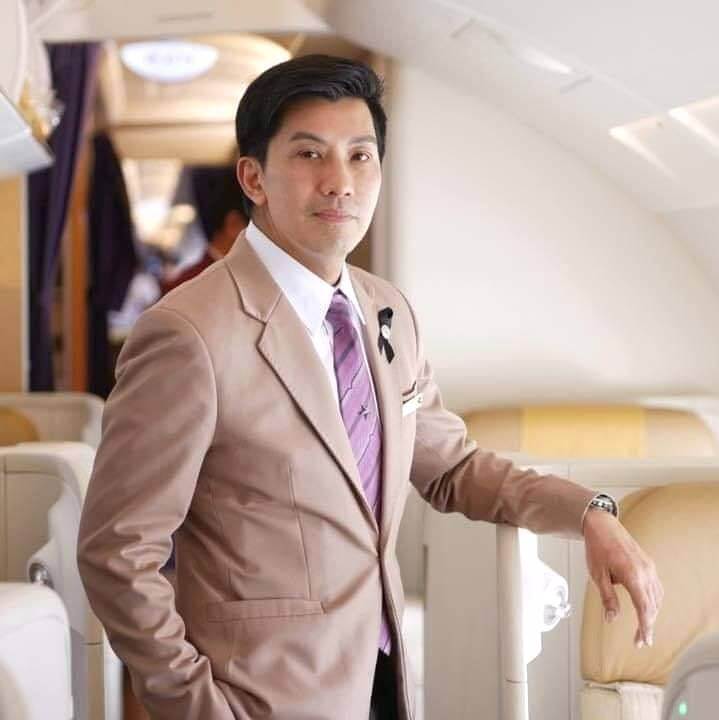 Female Thai Airways Flight Attendants
Female applicants have to be Thai nationals and single.
You are required to be at least 160 cm tall.
You should be at least 18 years of age.
The BMI (Body Mass Index) must be within the normal range.
They must be able to swim continuously for at least 50 meters. Freestyle is required.
Male Thai Airways Flight Attendants
Male applicants have to be Thai citizens who are not required to serve in the military.
You should be at least 165 centimeters
You should be at least 18 years of age
The BMI (Body Mass Index) must be within the normal range.
You must be able to swim for at least 100 meters without stopping. Freestyle is required.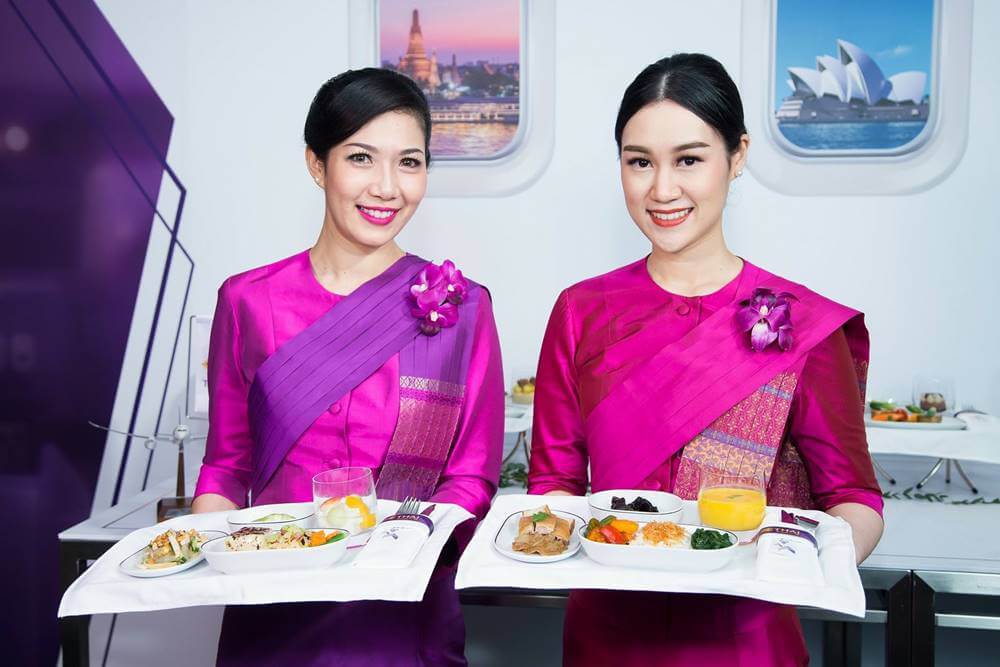 Document Requirements to Prepare
Once you've taken note of all the qualifications and responsibilities and are still on board with your decision to apply, you can complete the next step: Document requirements. When preparing your document requirements, always make sure that they're complete, as it's possible to get rejected just because of missed requirements. In a way, this is also the first test as to whether you can follow instructions or not.
Birth certificate
Application form
Valid passport
Bachelor's degree
Updated dental and medical records
Where to Apply for a Job for Thai Airways Online
If you believe you have what it takes to be the newest cabin crew member of Thai Airways, you can click the link below to view their website. Be sure to regularly view their website to stay updated on any changes regarding applications and the like.
How to Become a Cabin Crew for Thai Airways
You now know where you can apply to become a cabin crew member by visiting their official online job portal above. With that being said, here are the following steps you need to follow to apply for Thai Airways flight attendant position.
Step 1: Online application
The first step to becoming a Thai Airways cabin crew would be submitting your online application. Make sure to submit all the necessary documents to lessen processing delays.
Step 2: Personal tests and evaluation
If your application has been chosen, they'll invite you to do a series of tests such as English language tests, psychometric tests, role plays, group discussions, and more.
Step 3: Final interview
If you pass the second stage, you'll be called in for a final interview. Here the hiring committee would get to know you more about your skills and see whether or not you'll be a perfect fit for the position.
Step 4: Pre-employment checks
Once you've passed all the tests conducted, the company will do one last review of your application, such as background checks, criminal records, and other necessary things. If passed, you'll officially become a Thai Airway flight attendant.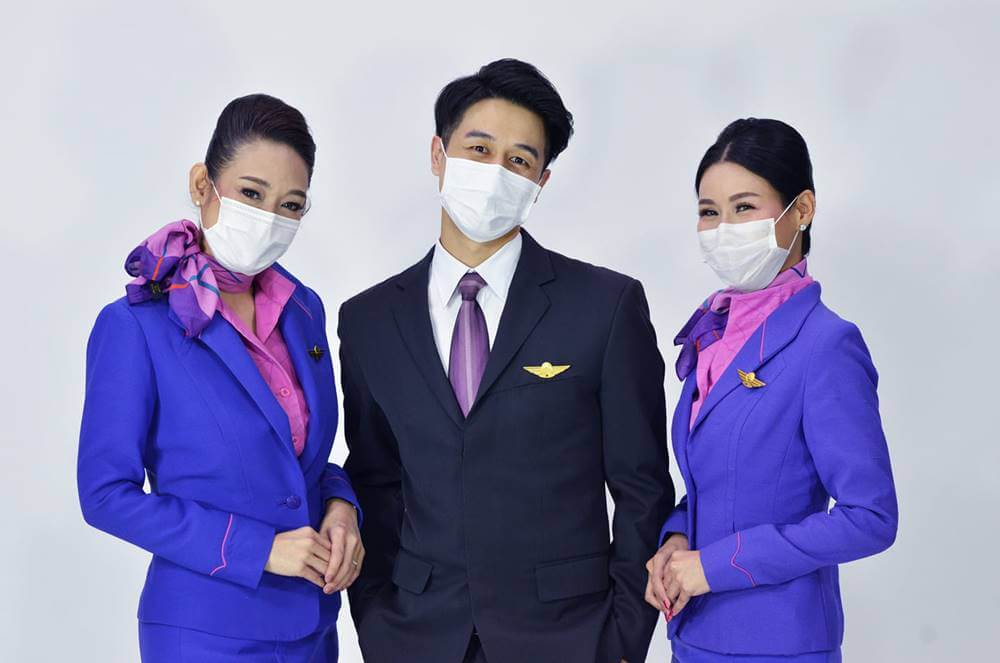 Monthly Salary of a Thai Airways Flight Attendant
One of the most important things you'll have to look at when finding a job is the salary. You have to make sure that it's feasible. Sometimes, salary might define everything. If you think that the salary is something you can work with given your capabilities and responsibilities, congratulations! As a Thai Airways flight attendant, the most basic pay you can get would be $1500 a month.
Aside from this, the company also offers plenty of benefits to its employees. As a Thai Airways flight attendant, they can give you the following:
Personal and Professional Development
Infrastructure for Transportation
Discount on travel
Job Training Center
Wellness and Health Insurance Package
Employee Discounts in a variety of fields
Retirement and financial plan
Vacation and sick days are both paid
Soft Skill Development
Video:  Thai Airways Flight Attendant Training
Are you interested in knowing what their cabin crew training comprises? In this video, Thai Airways gives you a glimpse of what it's like to be a flight attendant in their company. The video contains sample clips of past training flight attendants had. They have practice situations such as fire training, door training, cabin simulations, etc.
Photos: Thai Airways Flight Attendants in Photos
Check out these beautiful pictures of Thai Airways Flight Attendants in uniform. If you wish to picture yourself being a part of this company, check out these photos to give you an idea about working for this airline:
Frequently Asked Questions
Here are some of the frequently asked questions from other applicants that may help you increase your journey's success rate:
1. What is the minimum age allowed to apply in Thai Airways?
The minimum age to apply to this airline would be 18 years old.
2. What is the maximum age allowed to apply in Thai Airways?
Applicants should be no older than 24 years old.
3. What is the minimum height allowed when applying to Thai Airways?
You should be at least 160 centimeters for women, while for men, you should be at least 165 centimeters.
4. Is there a minimum or maximum weight required when applying to Thai Airways?
There are none as long as your weight is in proportion to your height.
5. What languages are you required to be fluent in?
You have to be fluent in English, but other languages such as French, Italian, German, and Korean will be considered a plus.
6. Does my civil status matter when applying to Thai Airways?
Unfortunately, yes. Thai Airways requires its employees to be single and never legally married.
7. What is the minimum educational attainment required when applying to Thai Airways?
You must at least have a Bachelor's degree or something equivalent to this.
8. Are you required to know how to swim?
Yes, it is required that you can freestyle and continuously swim at least 50 meters for women and 100 meters for men.
9. Does Thai Airways allow tattoos?
They have to be covered by the uniform.
10. Does Thai Airways give benefits to its employees?
Yes, the company gives benefits.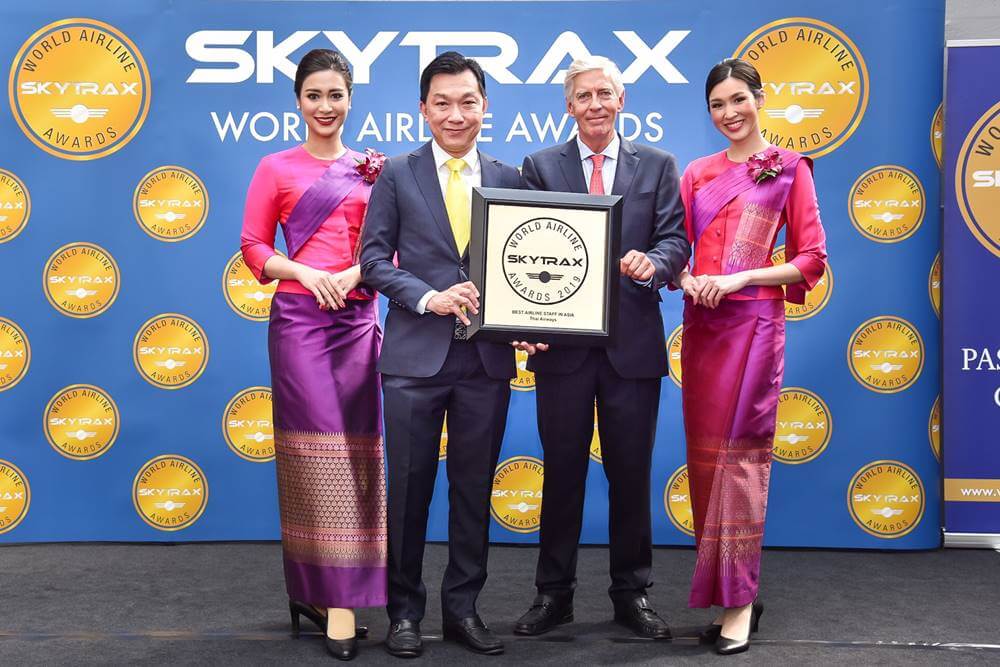 Summary
Looking for a job isn't easy and landing the position of your dreams is even more challenging. While reaching your dreams can seem like a goal that could never be achieved, reaching it is possible as long as you never give up and always remain hardworking in anything you do. This goes the same when you're applying for a cabin crew position.
If you think that you have what it takes to reach this dream career of yours, then don't be afraid to take that jump and send in your application. Saying this, we hope that we were able to answer any of your questions regarding applications at Thai Airways. We wish you luck as you go and pursue your lifelong dream.
Contact Information
THAI AIRWAYS
Address: 89 Vibhavadi Rangsit Road, Chattuchak, Bangkok 10900 Thailand
Telephone Number: (66) 2545-1000
Website: https://www.thaiairways.com/
Facebook: https://www.facebook.com/ThaiAirways/
Instagram: https://www.instagram.com/thaiairways/?hl=en
Twitter: https://twitter.com/ThaiAirways
LinkedIn: https://www.linkedin.com/company/thai-airways-international
YouTube: https://www.youtube.com/c/ThaiAirways/videos