If you plan to become a cabin crew for Scoot airliness, please follow the guidelines outlined in this article as it includes a beginner's guide to airline's background, the qualifications needed for its cabin crews, employee benefits, and the necessary documents for the application among other things.
Also Read: Copenhagen Layover Guide: 24 Hours in Copenhagen Itinerary
While the idea of flying 36,000 feet above air can be daunting, for some, it is a dream. Cabin crews await the moment where they can personally provide their service once the words ''prepare for take-off please'', is said. In the aviation industry, just like its passengers, its workers want to find the perfect airline to take flight. Fortunately, we got you covered with Singapore's low-cost airline, Scoot.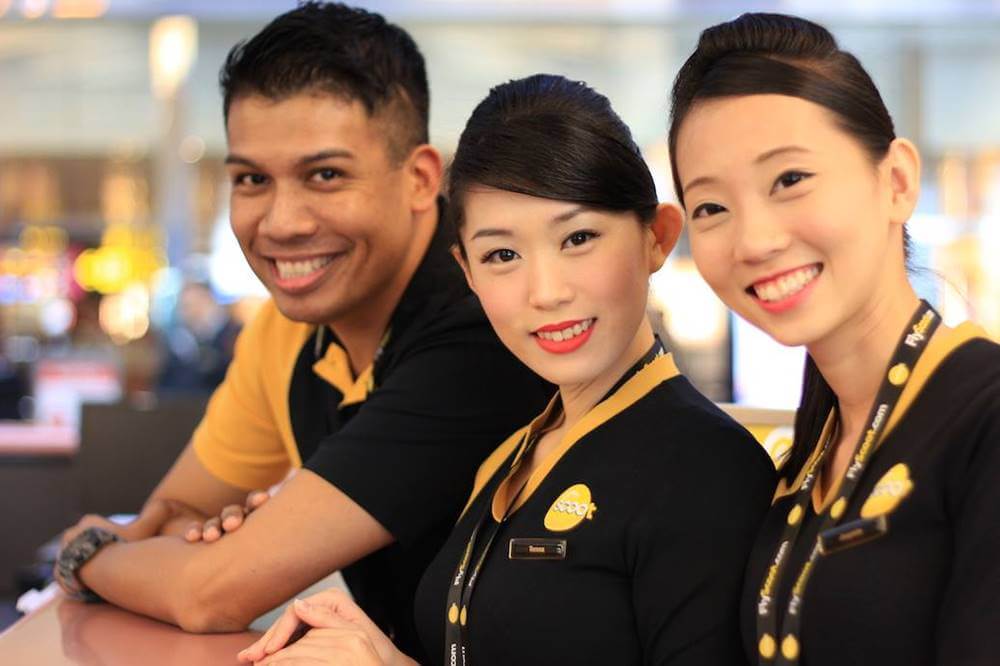 Overview of Scoot
Announcing the formation of a low-cost subsidiary airline to serve medium- and long-haul routes, Scoot Tigerair Pte Ltd, also known as Scoot, was established as a Singaporean low-cost carrier and a Singapore Airlines affiliate. It first took flight on June 4, 2012, with its routes coming from Singapore to Australia, China, and India.
For anyone who wants to go onboard with Scoot Flight, they currently have 67 job openings. The company is on the lookout for talented individuals who not only take their passengers safely to their chosen destination but are also committed to their work of providing customer service with a passion like no other.
Responsibilities
As a cabin crew, there are plenty of duties in store for you. Here are some things you'll need to do:
It is your responsibility to lessen your passengers' travel anxieties by providing excellent customer care and comfort away from home.
 Professionalism requires that you must always be punctual and polite and that includes welcoming passengers on board and directing them to their seats.
However, it's not all the time that the flight is smooth sailing, there are instances where emergencies happen in which you have to be alert and:
 Perform security and safety exercises.
You'll also be attending a pre-flight briefing in which you have to be attentive and inclusive to that is special cases of passengers like passengers requiring wheelchairs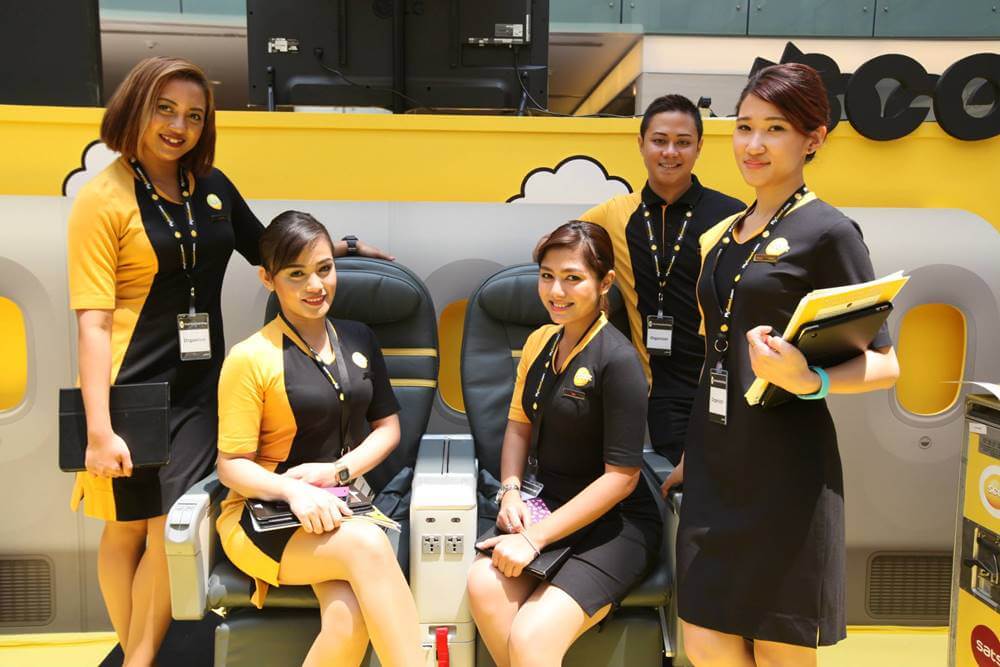 Qualifications
Applicants should be 20-35 years of age
Females must be at least 158cm tall and males must be at least 165cm tall for safety and security reasons.
Completing a 6- to 8-week cabin crew training course that includes swimming is required.
Maintain the SEP's freshness.
Has a stable Hearing, vision, and mental health
All cabin crew members must pass an AOCR-mandated pre-employment medical examination.
At least 4 GCE 'N' Levels with Credit in English are required; fluency in other languages is advantageous.
You must also be legally entitled to work in Singapore and this entails that your criminal record will not get in the way of your application.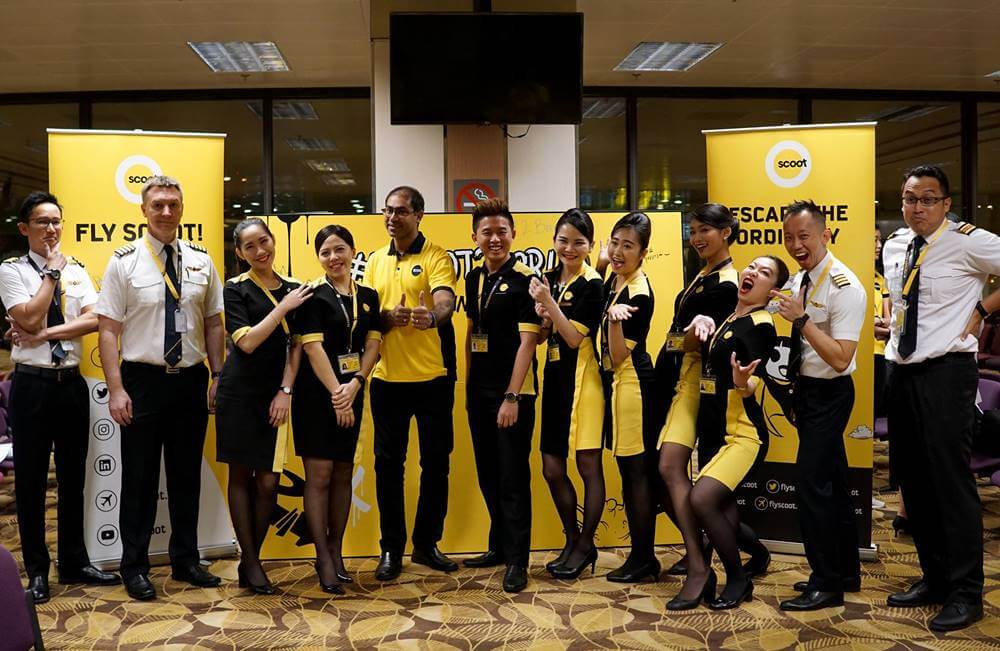 Documents Requirements to Prepare
Here are the following documents to prepare when applying as a cabin crew for Scoot. Make sure you complete these three after you submit your application online. More often than not, you will need to submit them also during the initial interview process.
 a copy of your curriculum vitae
academic diplomas
 full-body photograph
Where to Apply for a Job for Scoot Flight Online
If you want to file in your application, their website, flyscoot.com, is one click away. Their available job positions are open for viewing. Head for the ''Roles and opportunities'' section. If you want additional websites to check, you may also lookup JobStreet.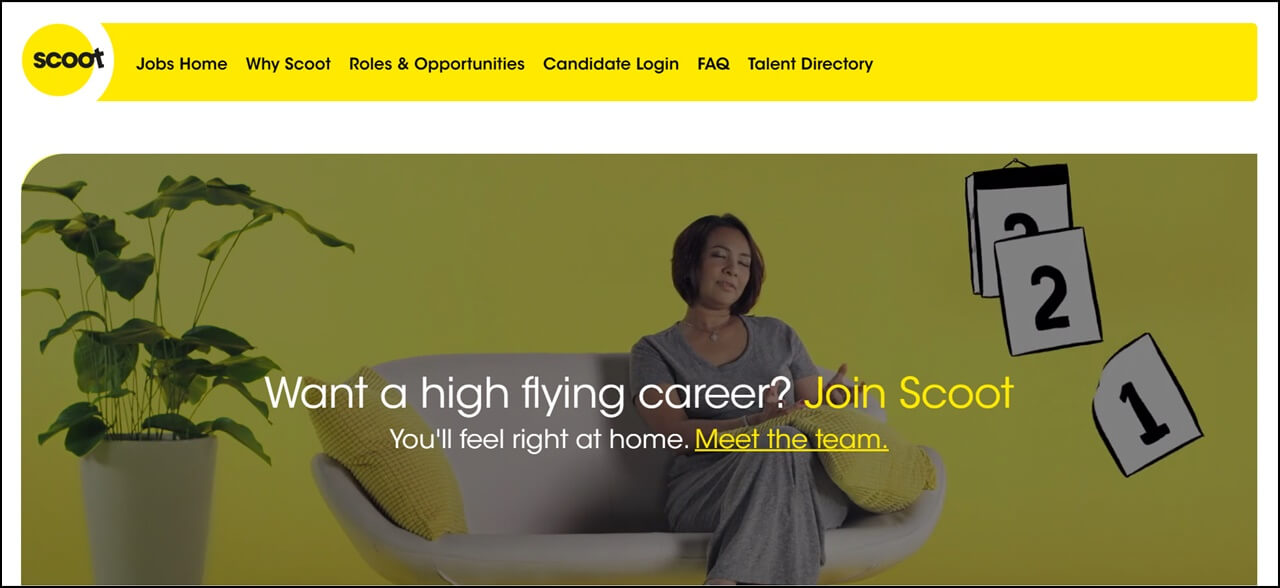 How to Become a Cabin Crew for Scoot
For health safety measures, applicants are urged to apply online, however starting last January 1, 2022, employees who have been vaccinated or who have recovered from COVID-19 within 270 days can return to work which means applicants can apply on-site If they are fully vaccinated.
Step 1: The first step for your application process requires that you send them your online application
Step 2: Provide the necessary documentation and personal information.
This includes providing a copy of your curriculum vitae, academic diplomas, and a full-body photograph.
Step 3: If you are selected for further consideration, you will be required to complete an online exam that includes a series of short tests and questions. You may be asked to complete a video interview before the assessment day, however, this isn't always the case.
Step 4: The evaluation day is divided into several stages. To begin, an assessor will go over the documentation you were asked to bring with you. After that, they'll inspect your height and scars to see whether you satisfy their requirements. Following these inspections, you will be required to take a timed English test.
Make sure you study beforehand to get that high score. Fortune favors those who are ready.
Individual presentations are then given. You'll be divided into groups of about ten people and instructed to choose a random word from an envelope. After that, you'll get two minutes to speak about the topic and present it to your group.
Lastly, a one-on-one interview is the final element of the assessment day. This entails the interviewer acting out several scenarios to see how you would react and handle them. In addition, based on your CV and experience, the interviewer will ask you a series of questions.
Do your research. You should come prepared rather than get caught in surprise. If all else fails, link your answer with having your passenger's welfare as your topmost priority while also aligning it with the vision of your company.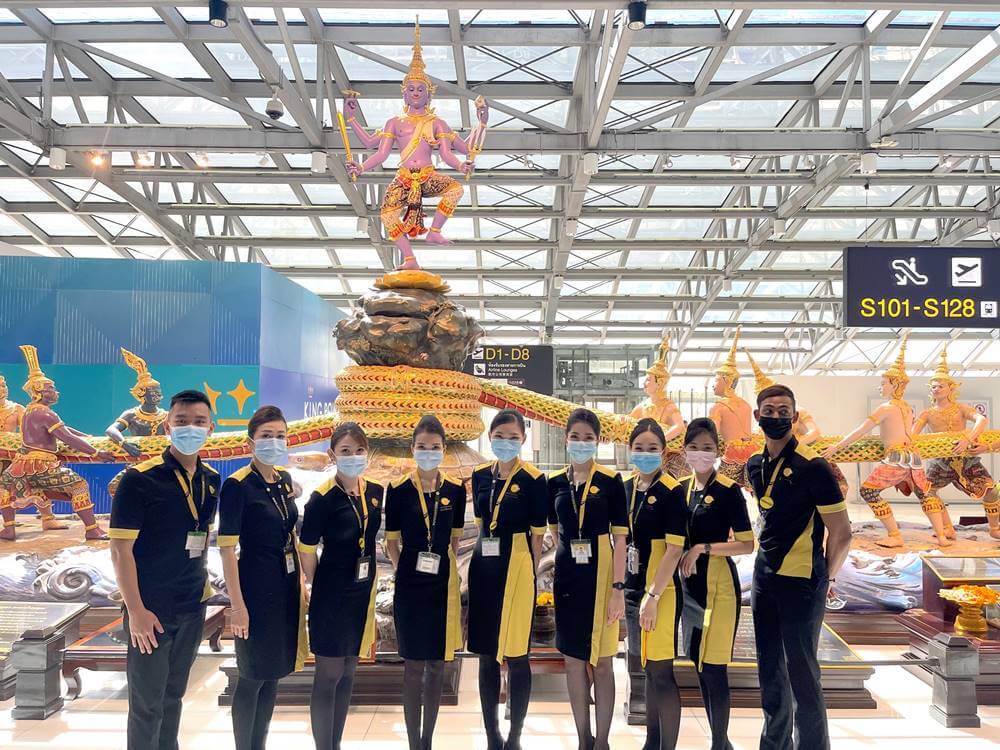 Monthly Salary of a Scoot Cabin Crew
Other than a healthy working environment and a meaningful work experience, there are several perks with working for Scoot Flight.
The average monthly compensation for Scoot Cabin Crew is SGD 1,800. Scoot's cabin crew pay ranges from SGD 700 to SGD 3,500 per month. This pay estimate is based on 50 Scoot Cabin Crew salary report(s) provided by employees or statistical methods. When bonuses and other benefits are taken into account, a Scoot Cabin Crew member can expect to earn an average monthly salary of SGD 2,050.
Video: 20 Questions You've Always Wanted to ask a Flight Attendant – Scoot
Here in this video, we'll have a glimpse of the aviation world as Flight Attendant Amanda walks us through the common questions that people in her line of work usually get. She answers technical questions like if baggage size restrictions apply to cabin staff and personal ones like her favorite destination. She also narrates her flight shenanigans by retelling her experience onboard.
Disclaimer: This is a video uploaded by a flight attendant vlogger who shared her experience being a cabin crew member. Take note that every crew has a different experience, but this will help give you an idea what to expect when you work for Scoot.
Photos: Photos of Scoot Flight Attendants in Uniform
Check out these beautiful pictures of Scoot Flight Attendants in uniform. If you wish to picture yourself being a part of this company, check out these photos to give you an idea about working for this airline:
Frequently Asked Questions
Now here are the frequently asked questions about Scoot and the application process for the company's flight attendants:
1. How long did you train to be a cabin crew?
Ensuring that passengers are attended to by high-spirited and warm-hearted cabin crews, the company makes sure that the employees also thrive in a fun environment. To bring out their individuality to the surface, the cabin crews would undergo a 6- to 7-week training program.
2.Who will you be working with?
Cabin crews will be under the tutelage of Supervisors — either a Complex Leader or a Crew-in-Charge.
3. Where is your office located?
4 Airline Road, Changi Airport Singapore 819825
4. What was the job interview like?
There are several stages involved, like a medical test, personality test, and English proficiency test. There is an assessment for group dynamic, and a one-on-one interview.
5. How much time will it take for Scoot to process your application?
The time it will take for your online application to be processed will be about 2-4 weeks and you will be notified for every stage.
6. Is Scoot open to hiring fresh graduates?
Yes, depending on the recruiting requirements.
7. Are there any part-time positions in Scoot?
They occasionally have part-time or contract employment available; keep an eye on their career site: flyscoot.com for job vacancies
8. Why should I apply for Scoot?
It has a lot of benefits. Employees (and 5 of their nominees) are entitled to UNLIMITED staff travel tickets when working for an airline. A lot of people wake up and go to their job with a sense of dread, but here in Scoot Flight, not only will you earn but you'll also have fun while having a sense of fulfillment whenever you see the look of contentment on your passengers' faces.
9. How can I prepare for the job interview?
Do your research on what the job entails, a background check on your company, and on different situations a cabin crew usually encounters during a flight.
10. What do cabin crews usually do during an emergency?
Your job is not limited to exuding energy, warmth, and safety because this job demands more. Precarious situations are inevitable. In times of emergency, cabin crews are expected to direct and assist passengers through emergency procedures, such as exiting a plane after an emergency landing.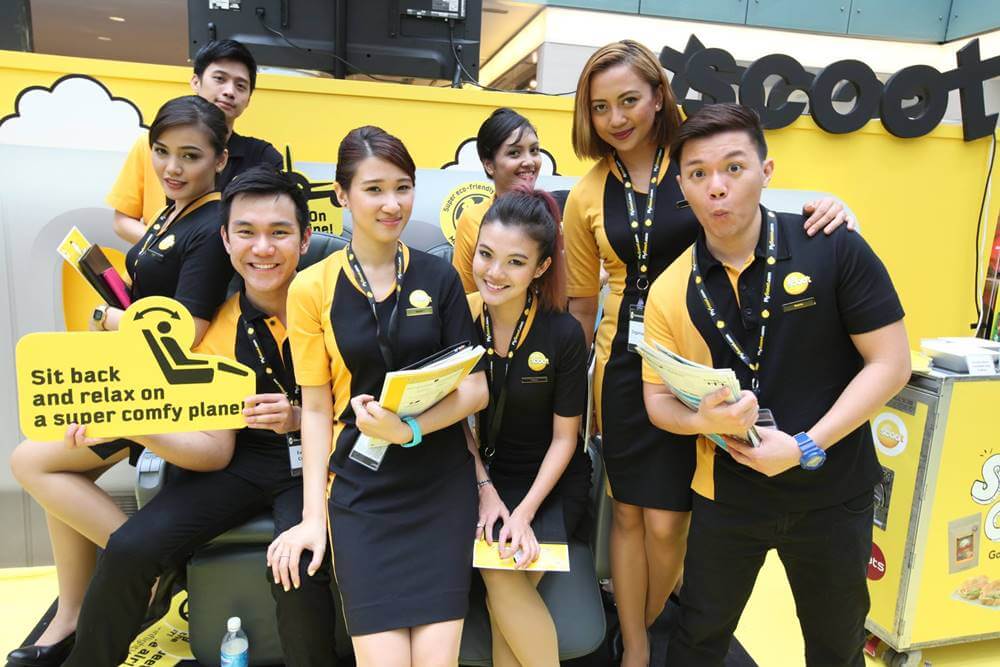 Summary
If your career path includes being a cabin crew in a reputable airline that provides physical and mental health care not only to the passengers but to its employees as well, then Scoot Flight might be the one for you.
Contact Information
Scoot
Address: 4 Airline Road Changi Airport Singapore 819825
Phone numbers: SINGAPORE +65 3138 4047 |  AUSTRALIA+61 2 9061 7088 | CHINA 4000 280 219 | GREECE 008 0012 7333
Website: https://www.flyscoot.com/en/support/contact-us
Facebook: https://www.facebook.com/flyscoot/
Instagram: https://www.instagram.com/flyscoot/
Twitter: https://twitter.com/flyscoot