According to Eastern Airways, becoming a flight attendant is an exciting and rewarding career that offers the opportunity to travel the world while meeting new people every day. But what are the requirements for applying as a crew member? Keep reading below for more information about how you can apply as a flight attendant for Eastern Airways!
Every job in the world requires hard work and determination. Being a flight attendant is no exception. As a flight attendant, you would need to require the skills of many careers. While this may sound overwhelming, you do not have to worry, for we will be here with you every step of the way.
If you are interested in landing the job of your dreams, being the most knowledgeable version of yourself that you can be, this article would be the perfect answer to all your questions. Thanks to this airline, now's the ideal time to book quick and problem-free UK fights.
An airline well-known for flying to and from the United Kingdom's major airports along with a number of thoroughly chosen European locations, Eastern Airways might be looking for a person like you. If you think you have what it takes to be the next flight attendant working in Eastern Airways, keep reading this article, and we wish you luck as you forge a path into the job of your dreams.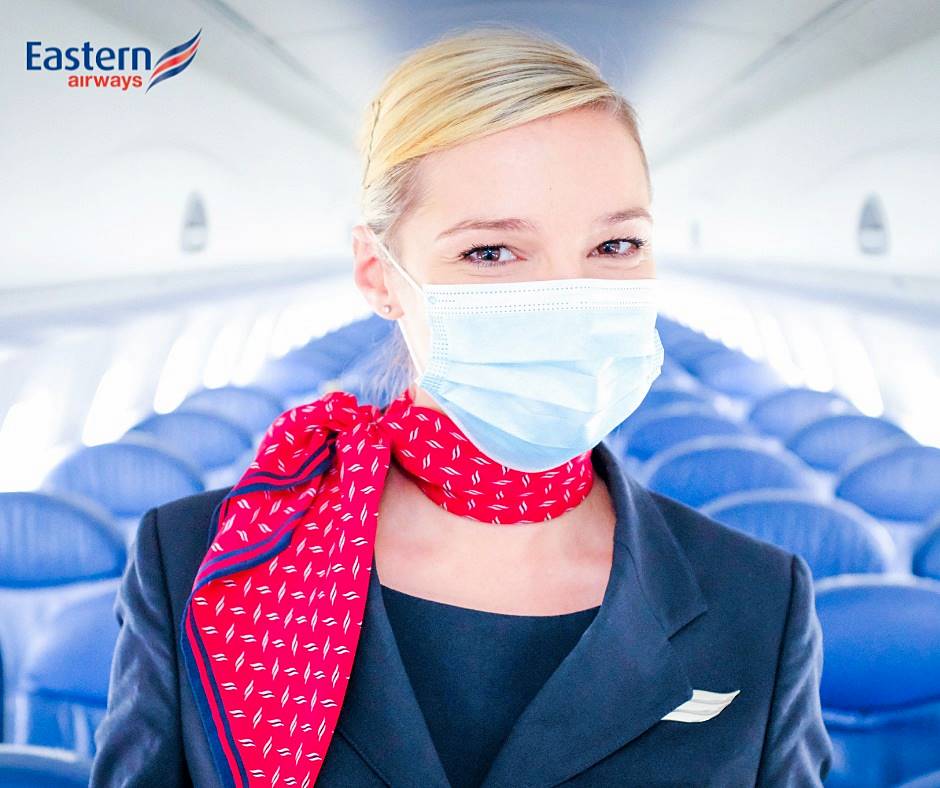 Overview
Eastern Airways, formerly known as Air Kilroe Limited, is a British regional airline situated at Humberside Airport in North Lincolnshire, near the village of Kirmington. It offers all domestic, foreign, and private charter services, and its scheduled route network is used by approximately 800,000 people each year.
It is known as one of the airlines in the United Kingdom responsible for providing a number of flights to routes and some of their most popular airports. Eastern Airways practices convenience, speed, and a hassle-free experience, all in the short span of your flight travel. With that said, the company's travel experience is simple and elegant, harkening back to a time when flying was enjoyable, exciting, and a part of the adventure to anticipate.
With just about 635 employees, Eastern Airways is a company intensely focused on the needs and the experiences of both its employees and customers. Ensuring that all this is properly followed, this airline is sure to live up to its company's name and practice all the values it wants to uphold.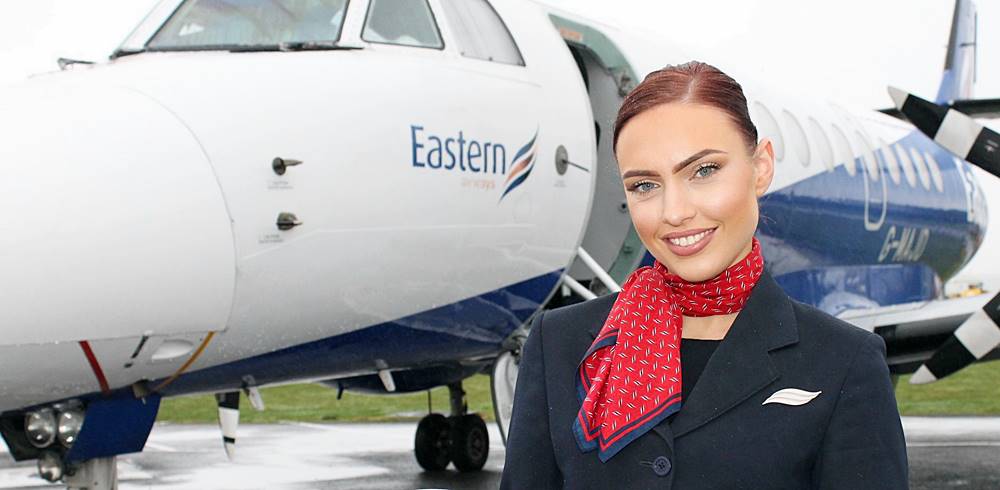 Responsibilities
Being a flight attendant comes with being knowledgeable and having the skills in those particular areas. While this varies with each airline, the general requirements to become a flight attendant are more or less the same when it comes to the responsibilities of a flight attendant working in Eastern Airways.
If you wish to be a part of the company's team, you should first know what exactly being a member would mean. What are your responsibilities? What should you be aware of? And the like. With that said, here are some of the duties that you would have to follow:
All cabin inconsistencies and operational issues should be reported to the pilot in charge for recording purposes.
Work with pilots, maintenance, and cleaning staff to ensure that the plane is exceptionally clean and polished.
Before each flight, conduct a preflight inspection of all cabin equipment.
Passengers should be briefed on cabin management systems like leisure, high bandwidth systems, and phone capabilities.
Assist adults and children with seating, especially travelers with disabilities and youngsters who require restraint devices.
Maintain a thorough understanding of all service methods and products for the aircraft to which they are assigned.
Maintain the cabin's safe and clean environment at all times.
Maintain the designated aircraft's bedding and locker room.
As requested by the owner, coordinate and shop for interior components.
Menus and weather cards should be planned and printed.
All meals and beverages should be planned, ordered, shopped for, prepared, and served.
Create and manage standard stock for the aircraft cabin, lavatory, and galley, as well as source vendors.
Prior to each flight, ensure that the aircraft is prepped correctly.
Update customer profiles, post-trip reports, catering reports, and other paperwork as needed.
On your assigned aircraft, create and maintain an aircraft-specific manual.
Organize your expenditure accounts.
Attend and keep up to date on all mandatory training, including annual recurrent safety, medical, and business Indoc training.
As needed, additional responsibilities may be necessary.
You may also be in charge of the work or a part-time cabin staff member on a training contract.
Internally and externally, represent Jet Eastern Airways as a single firm to industry associations, regulatory bodies, and the General Dynamics network.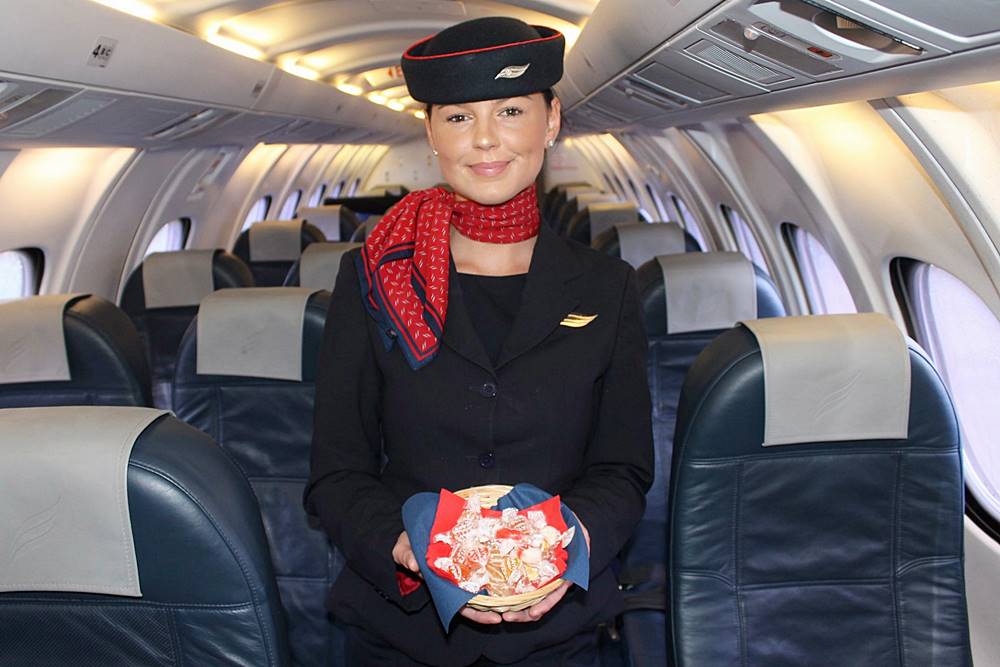 Qualifications
Now that you have understood what an Eastern Airways flight attendant would be doing, you have to check and make sure that you are qualified enough to apply for the position.
This company promises to ensure their customers that their travel is stress and hassle-free. To keep up with that promise, they have to make sure that the people that they are hiring are qualified enough to fulfill the promises made to their customers. This is why they require strict qualifications to become a cabin crew member such as:
To participate, you must be at least 18 years old
​​Must be willing to travel throughout the United Kingdom and Europe
Ability to work alone effectively as a single cabin crew member
Excellent team player
Self-motivated
Previous customer service experience is a plus
Clean appearance
Weight and height are in proportion
Adaptability and flexibility
Have your own transportation
Possess a valid driver's license.
The ability to be able to report to your base within 90 minutes
Have access to the internet
Have the right to live and work in the United Kingdom, or be qualified to do so
Document Requirements to Prepare
To ensure that you have met all the requirements, you would have to submit some documentation. Here are some of the paperwork that you would have to prepare:
Your updated Resume
Application Form
Legal Passport
References from past employers
Updated Medical and Dental records
Criminal records
Information on your right to work in the United Kingdom
Information on your current compensation, including any benefits you are entitled to
To help guide you on what it is exactly your photographs should show about you, you should take note of the following:
It is strongly recommended that you choose a white background.
Should be dressed in formal business clothing
It would be best if you were standing upright in front of the camera, hands by your sides
It would also help if you also were smiling naturally
Where to Apply for a Job for Eastern Airways Online?
You can apply for the position you are interested in by taking a look at the careers page on their website here – https://www.easternairways.com/careers
You may also check out the company's Linkedin page here – https://www.linkedin.com/company/eastern-airways-uk-ltd
Here, you would stay informed on any changes that might happen, any important announcements, and the like. Below is a screenshot of the Careers page for the cabin crew jobs at Eastern Airways: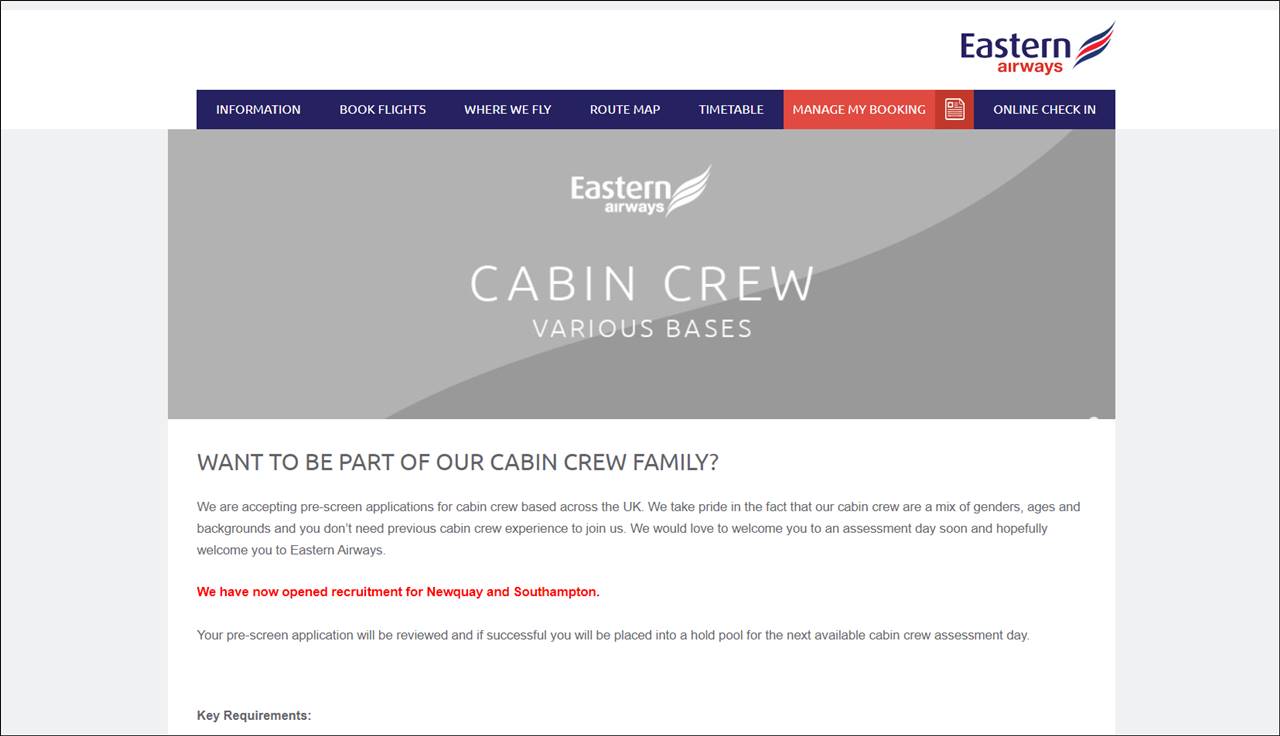 Eastern Airways careers page
How to Become a Cabin Crew for Eastern Airways
Here's a step-by-step application guide to working for Eastern Airways airlines:
Step 1: Accomplish the Online Application
The first step to applying for Eastern Airways' cabin crew would be answering their online application form. When you are in this process, you have to make sure that the information you are putting down is correct and accurate.
Keep in mind that the company would also ask for proof such as ID and personal records, which is why you have to keep your information as accurate as possible. Take note that the company also does not accept CVs and postal applications, so you would have to watch out and make sure you are following all of their instructions properly.
Step 2: Prepare the necessary documents
In line with your online application, you would also have to submit the necessary documents that they are requesting online. Ensure that everything they ask down, from photo formats, certificates, and proofs, are accurate as this sometimes makes or breaks your application.
Step 3: Send in your application online
Once you are sure you have completed every requirement they have asked of you, it is time to submit all of them online. Before submitting, make sure that your email is well-drafted, free of grammatical errors, as well as follows their email requirement.
You may submit your online application at cabincrew.recruitment@easternairways.com. Also, be sure to have made your email's subject your complete name. After submitting your application, you will have to wait for any more feedback or concerns from them.
Monthly Salary of an Eastern Airways Flight Attendant
Now that you have understood everything you need to apply, such as qualifications, requirements, and the step-by-step process, it is time to know if what the company is offering would fit your requirements. This means knowing if the salary would be able to pay for all your monthly needs.
As a flight attendant, you would be given multiple benefits such as salary, bonuses, and flight privileges. Some more of the benefits would include:
Pet Insurance
Life Insurance
Home Insurance
Long Term Care
Health and Wellness
Video: Flying with Eastern Airways
This video will give you a glimpse of how the cabin crew is in Eastern Airways. While it does not necessarily focus on the job, but instead the customers, the clip would show you their do's and don'ts, how they usually act, and a lot more.
https://www.youtube.com/watch?v=JCOozH3aJbQhttps://www.youtube.com/watch?v=K6yh53BQlM8
This will give you an idea of what it would be like working inside the plane. You woill gain much-needed insights on how to be the best cabin crew member in their company as you can.
Photos: Eastern Airways Cabin Crew in Uniform
Check out these beautiful pictures of Eastern Airways flight attendants in uniform. If you wish to imagine yourself being part of this company, check out these photos to give you a glimpse of working for this airline:
Frequently Asked Questions
Here are some common questions and answers about the hiring process in Eastern Airways:
1. What is the minimum height requirement to be a cabin crew member?
According to their application, you must be at least 4 feet 8 inches or 142.24 centimeters.
2. What is the maximum height requirement to be a cabin crew member?
As said in their application form, you must be no taller than 5 feet 7 inches or 170 centimeters. Keep in mind that your weight must also be proportionate to your height.
3. Can they accept me even if my application is incomplete?
Unfortunately, one of Eastern Airways' requirements for application would be to submit a complete and accurate application form. Failure to follow through with this would result in automatic rejection.
4. Where will I submit my application form?
You will submit your completed application form online at cabincrew.recruitment@easternairways.com, and do not forget to use your complete name as the subject title.
5. Do they have any minimum age requirements when it comes to applying?
When applying, the company requires the applicant to be at least 18 years of age. This means that those interested that do not reach the minimum age would automatically not be allowed.
6. Do they accept CVs or postal applications?
Please note that they do not accept both CVs and postal applications. All applicants must submit their forms online at cabincrew.recruitment@easternairways.com.
7. Does Eastern Airways provide benefits to their staff?
The company does provide some benefits such as health and wellness, life insurance, home insurance, pet insurance, and long-term care.
8. Do I need past cabin crew experience to apply?
No, you, in fact, do not need past experience to apply.
9. I am not qualified to live in the United Kingdom. Can I still apply?
Based on the company's requirements, you must have the right to live and work in the United Kingdom or be qualified to do so. They would be asking for proof as well, so those who are not eligible are not allowed to apply.
10. Are tattoos allowed?
In the company's application form, there is a section where they would ask about an applicant's tattoos. If you answer yes to any of the questions, you will be asked to send photos and wait for their feedback.
11. Are they open to hiring any nationality?
The company is, in fact, open to hiring from any race. This is also asked about in their application form.
Summary
After reading through this article, we hope you get a better idea of how you can work for Eastern Airways. If you genuinely believe that you possess the qualities that this company needs, it is best that you try your best and attempt to apply for one of the positions. If this is the career for you, best to believe that a spot will open up, and you would be able to live out the job you would always like to have.
Moreover, despite the lengthy process, this job is sure to make your time in it worthwhile. Even if it may seem as if your priority is just your customers, do not forget that the company also considers its employees. With that said, we hope that you have learned valuable information through this article, and we extend our good luck wishes to you as you apply for one of the most memorable jobs you could ever have.
Contact Information
EASTERN AIRWAYS
Address: Eastern Airways Schiphol House Humberside Airport Kirmington DN39 6YH
Telephone Number: 01652 680600
Website: https://www.easternairways.com/
Facebook: https://www.facebook.com/EasternAirways/
Instagram: https://www.instagram.com/easternairwaysuk/?hl=en
Twitter: https://twitter.com/easternairways
LinkedIn: https://www.linkedin.com/company/eastern-airways-uk-ltd