Eva Air is looking for cabin crews and if you wish to apply for the position. Please follow the guidelines we've outlined below. We share the qualifications, requirements, step-by-step process in applying as a crew, and other tips.
Once you know what your recruiters are looking for in a candidate, then you'll be able to stand out by living up to those expectations. Have you long dreamt of being a flight attendant or a cabin crew? Or do you simply want to experience the application process? If yes, then this article is for you!
Now, we're going to talk about the hiring process in EVA Air. Are you ready to apply? Are you excited to get to know your future potential airline? Read on, and good luck in reaching your airline cabin crew dreams!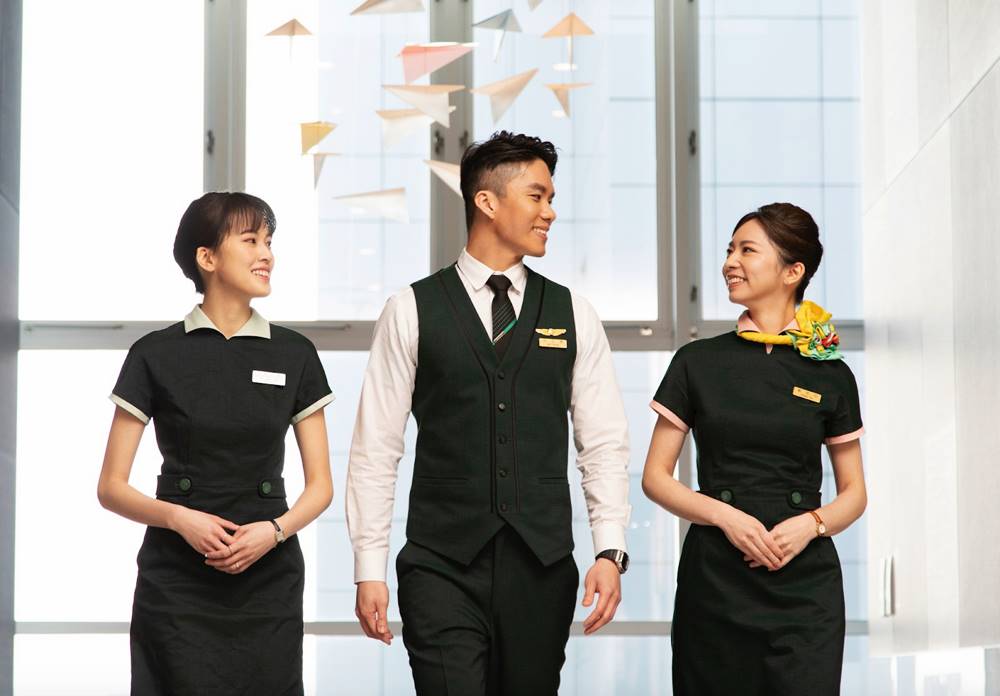 Overview
Founded on March 8, 1989, Evergreen Airways or EVA Airways Corporation has been in service for 32 years. This 5-star airline which is based in Taiwan prides itself as the second-largest Taiwanese airline after China Airlines. With a slogan of "Sharing the World, Flying Together," Eva Air has a fleet size of 86, offering flying to 62 destinations (40 of them being international destinations in Asia, Australia, Europe, and North America). In 2019, it ranked 6th among the "World's Top 10 Airlines."
This 2021, Eva Airlines also bagged several awards, such as the safest airline according to AirlineRatings.com in Australia and JACDEC in Germany. In addition, it was also awarded by the Business Traveller (from the UK) as Best Business Class White (Silver Medal), Best Business Class Sparkling (Bronze Medal), and Best Presented Business Class Wine List (Gold). These awards, among many more, earned EVA Airways its remarkable reputation in terms of customer service quality.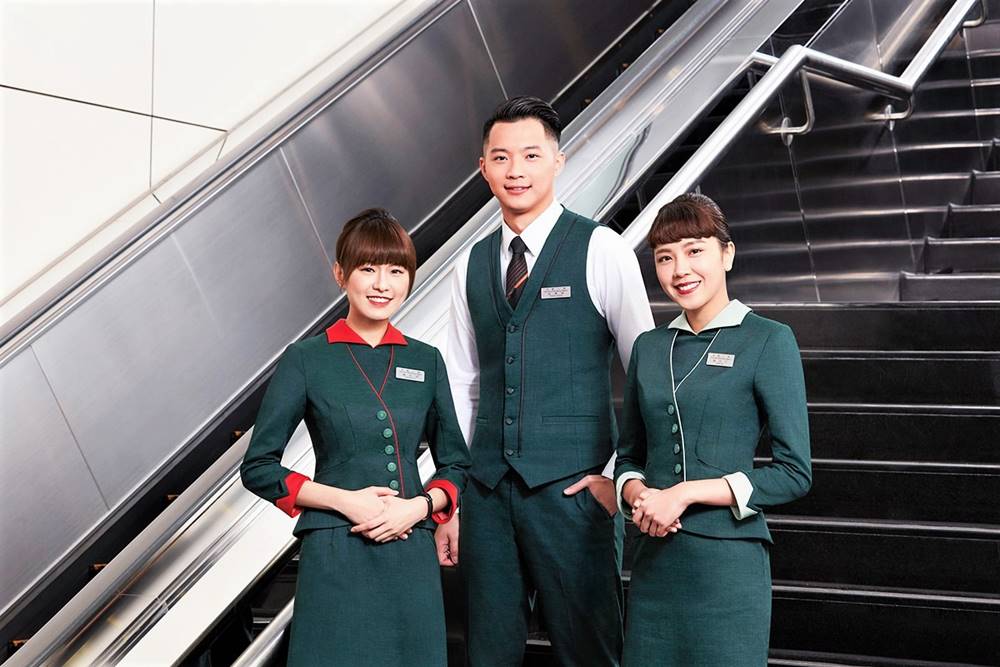 Behind every successful corporation is a set of values that they continue to uphold. For EVA Air, these are the things they prioritize above all. First is comfort and luxury. It had always been their goal to ensure that their passengers experience a hassle-free flight. This is where their phrase "5-Star Service from the Ground Up" comes in. By living up to this principle, they consistently earn ratings which earned them the title of being one of the world's safest and best airlines.
The colors you choose for your company say a lot about your goals, while how you design your logo reflects what you want to be known for. For example, EVA Air uses dark green, which signifies durability, and orange, which stands for technological innovation. As for their logo, the globe symbolizes stability and reliability, and its position means service innovation. All of these goals and these traits are something they have continuously worked on throughout the years.
As a fast-growing company continuously pursuing development and innovation, are you up for the challenge? Are you ready to do what it takes to get in? Then read on, and good luck!
Responsibilities
One of the best ways to contribute to EVA Air's reputation and image is doing your duties well. One large corporation may be composed of more than a thousand staff and constituents, but one person can always make a difference. You can make a difference. The first step towards being able to provide quality service to your passengers. As a flight attendant, these are your responsibilities:
Conduct safety checks before each flight
Greet your passengers warmly
Escort and assist your passengers with their luggage
Help them find and settle into their seats
Prepare and serve drinks and food to your passengers according to what is requested.
Take note of any medical needs, likes, and dislikes of passengers
Present emergency equipment and brief passengers on how to use the equipment
Monitor, manage and secure the cabin
Adhere to all aviation rules and regulations
Assist passengers and cabin crew during emergencies
Assist passengers with special needs (children, disabled persons, elders, etc.)
Attend briefings before each flight
Submit and prepare reports concerning flight incidents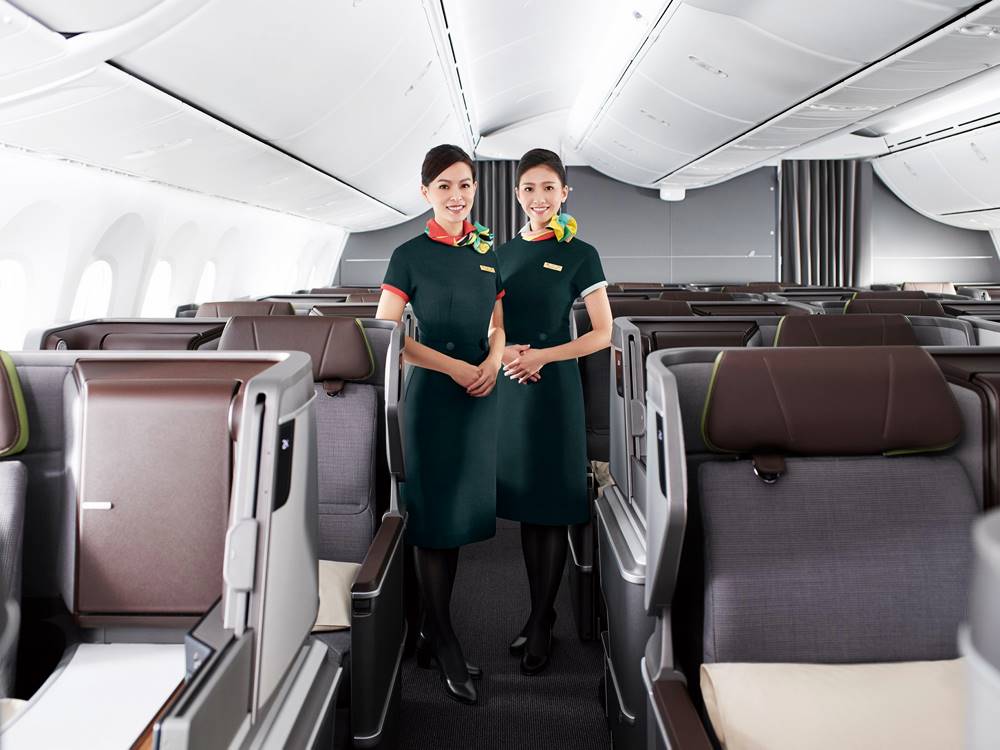 Qualifications
Before landing a job as an EVA Air Cabin Crew member, you must first possess the qualities that will contribute to the objectives of EVA Air. Of course, you will always have competition no matter what position you dream of or how much you want it. But it's nothing you should worry about, as long as you are knowledgeable about what to focus on about yourself. Here are the qualifications to become an EVA Air Cabin Crew:
At least 160 cm in height.
Minimum age of 18 to 21, and the maximum age is 31
Your weight should be in proportion to your height
Fluent in speaking and writing both English and Thailand languages (being fluent in Mandarin or Taiwanese is an advantage)
Good health
Good to excellent eyesight (contact lenses are allowed)
Must know how to swim
Valid passport
Either of the following:
TOEIC (Test of English for International Communication) score is 500 or above
TOEFL ITP (Test of English as Foreign Language Institutional Testing Program) score is 450 or above
TOEFL iBT (Test of English as Foreign Language Internet-Based Test) score is 45 or above
IELTS (International English Language Testing System) score is 4.0 or above
Extra Notes:
Being punctual and having previous experience in customer service is an advantage. Additionally, having a pleasant aura as well as appearance would also increase the chances of standing out. It is also best to have excellent communication skills as well as a clear speaking voice.
Document Requirements to Prepare
Updated CV/Resume
Head and full-body photographs
Valid Passport
Updated Medical and Dental Records
Where to Apply for a Job for EVA Air Online?
Since its job hiring in 2019, Eva Airways has also started to accept online applications. You can do it in three steps, which we will discuss further below. To start, you can go to EVA Air's official career website here – https://www.evaair.com/en-global/about-eva-air/careers/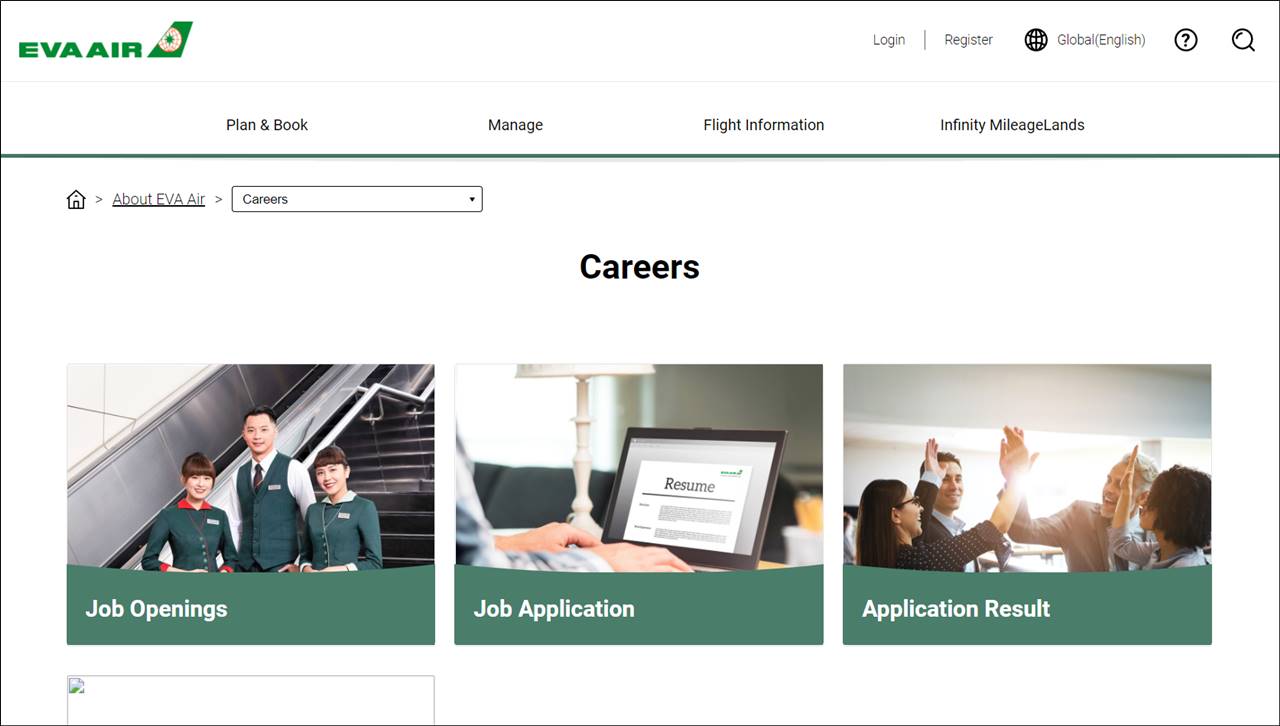 How to Become a Cabin Crew for EVA Air
Step 1: Apply through accessing the EVA Online Application Link. You may download the EVA Air application form here:
https://www.evaair.com/en-us/_download-files/job-application-forms/pilot-application-form-en.html
Step 2: After accessing the application link and downloading your application form, you must register through the portal that will appear. Once finished, an application number will be given to you. You can find the registration portal by clicking on this link:
https://eservice2.evaair.com/EVAE/signin.aspx?Crew_Type=2
Step 3: Continue filling out the form and submit it once you are done.
You can check out and browse through job vacancies or openings here:
https://www.evaair.com/en-us/about-eva-air/careers/job-openings/cabin-crew/
Monthly Salary of an EVA Air Flight Attendant
The starting salary of an EVA Air Flight attendant ranges from 1,200 USD up to 1,609 USD per month.  about $1,609 per month. If you aren't informed yet, flight attendants will be based in Vietnam except during their working and flying time (you have a monthly day off of 10 -12 days).
The usual destinations of your flights will be to America, Europe, Asia, and on the other flights operated by Eva Airways.
Video: EVA Air Crew Experience at Work
In this 11-minute video, you will get a glimpse of what it's like working and flying at EVA Air. This clip is one of their recent videos showing how they have adapted and made adjustments due to the pandemic.
In the middle to the later part of the video, you will see how cabin crew members and flight attendants tend to the passengers. You will also be able to observe how they put great importance on the safety and security of everyone.
Disclaimer: This is a video uploaded by a flight attendant vlogger who shared his/her experience being a cabin crew member of EVA Air. Take note that every crew has a different experience, but this will help give you an idea what to expect when you work for EVA Air.
Photos: EVA Air Cabin Crew Uniforms
Check out these pictures of EVA Air flight attendants in uniform so you can get an idea of what it's like to work for this company if you apply for a position here:
Frequently Asked Questions
Now, here are some common questions and their corresponding answers regarding the job and the application process:
1. Is there an age requirement for applying as a flight attendant or cabin crew member?
Yes, there is. A minimum of 19-21 years of age and a maximum of 31 years of age.
2. Does nationality matter when it comes to the hiring process?
Depending on where you are applying and what is qualifications are needed, your nationality may play a role in your selection or rejection.
3. Are they allowed to hire males as flight attendants?
EVA air had always hired females and maintained an all-female cabin crew and flight attendants for the longest time. But in 2019, and for the first time, they are now accepting male flight attendants.
4. Will I receive adequate training?
Yes, you will. It is part of EVA Air's process to prepare and brief your first before letting you serve and fly with passengers.
5. Is it okay if I have a failing score on the tests required?
There are other tests and requirements you might be able to pass and get a higher score. However, it is better to give scores that adhere to the provisions EVA Air has set.
6. Can I still reapply if I get rejected the first time?
Yes, you can! As many times as you can, and as long as you still possess the qualifications needed from you.
7. Is it okay if I am not fluent in English?
Fluency in English and Taiwanese is one of the strengths you can offer to the airline, so it would be better to work on your fluency first.
8. Will my salary increase?
There are a lot of factors which are going to affect your salary. This includes incentives, hourly pays, and it will also depend on what position you are. Seniority plays a role in how much you earn, so your salary will likely increase in time.
9. Are tattoos allowed?
There should be no problem as long as it cannot be seen once you wear your uniform.
10. What if I don't know how to swim? Does that mean I am automatically rejected?
Not necessarily. You will be taught how to swim during your training, but it would be advantageous if you already know how to swim.
Summary
One of the most important questions to ask yourself when it comes to your dream job is, "How far am I willing to go?". After all, no position in the world can be kept without hard work.
You always have to prepare for it, which requires a lot of time, energy, and passion. All that you've been through and everything that you are will be put to the test during your job application process. This is because many others also dream of one job, one position out there in your dream company. Do you know what you can do? Be one to two steps ahead of them.
To have an advantage over your competitors, reading about your potential future company and job would help a lot. But aside from that, working on and assessing yourself would also do you good too.
Contact Information
EVA Air
Address: No. 117號, Section 2, Chang'an E Rd, Zhongshan District, Taipei City, Taiwan 10491
Telephone Number: +886 2 2501 1999
Website: https://www.evaair.com/en-global/about-eva-air/about-us/
Facebook: https://www.facebook.com/evaairwayscorpen/
Instagram: https://www.instagram.com/evaairways/
Twitter: https://twitter.com/EVAAirUS
Youtube: https://www.youtube.com/user/EVAAIRVIDEO
LinkedIn: https://www.linkedin.com/company/eva-airways