Discover how you can apply as a cabin crew for Fiji Airways through this comprehensive guide. This guide will tell you everything you need to know from the requirements you need to sort out, cabin crew responsibilities, as well as the steps involved in the hiring process.
Fiji Airways is a 4-Star airline that has a reputation for being among the top carriers in the region. It has bagged several awards for its relentless dedication to providing quality customer service and has since been open to welcoming people into the crew that can share their vision.
Also Read: Venice Layover Guide: Best Things to Do in 24 Hours
If you're interested in applying as a flight attendant for Fiji Airways, this article lists essential information that can help you through the entire process. Make sure to read and follow the steps necessary for you to secure the job of your dreams!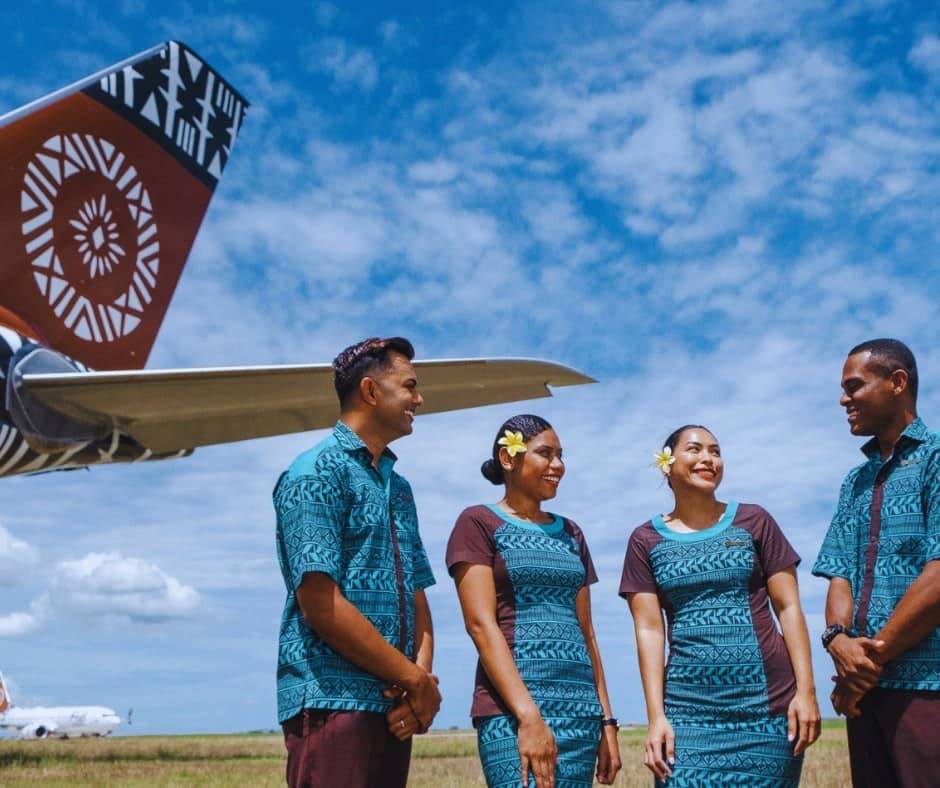 Overview of the Fiji Airways
Formerly called Air Pacific, Fiji Airways is the Republic of Fiji's national carrier and is mainly owned by Fiji's National Provident Fund. Its headquarters is currently based at the Nadi International Airport, operating both international and domestic flights across Australia, the Pacific, New Zealand, Asia, and North America.
Fiji Airways was first founded in 1947; however, it commenced its first commercial flight operations in 1951. The airline services flights to over 23 cities and 13 countries from its hubs and possesses an extended network of roughly 108 international locations via its codeshare partners. As Fiji's flag carrier, Fiji Airways employs over 1000 employees in their team and brings around 64 percent of visitors who fly to the region, generating estimated revenue earnings of over $390m.
As a certified 4-star airline, Fiji Airways takes pride in its past and its bright future. Because of this, the airlines constantly strive to offer customers convenient, high-quality service to make sure they have an unforgettable and stress-free time during their flights.
Beyond this, Fiji Airways also values its cabin crew team and staff, emphasizing the importance of teamwork and discipline as they work towards the airline's main goals. As an equal opportunity employer, it also opens its doors to anyone who is more than willing enough to take on the challenge of being part of the Fiji Airways cabin crew and what it has to offer.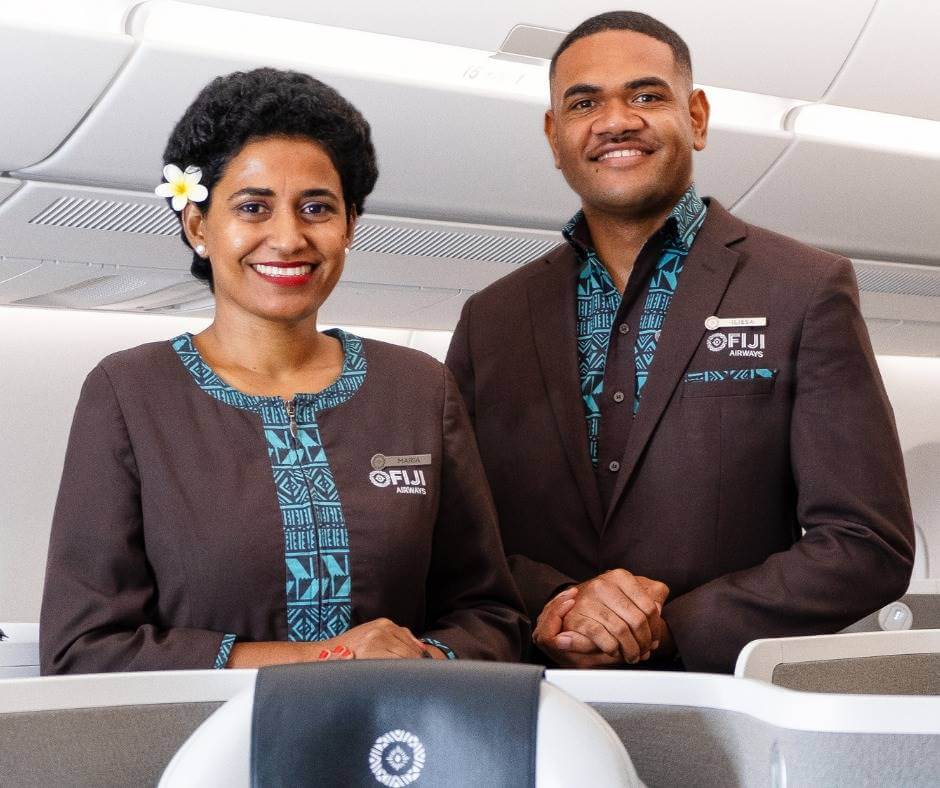 Responsibilities
Many tend to see the surface-level perks of being a flight attendant, but it's more than just the luxury of getting to travel to different places. Being a flight attendant entails serious responsibilities, considering the fact that you have to be in the frontlines in terms of welcoming and interacting with passengers and making sure they receive the best service possible.
Apart from that, you're also tasked with ensuring customers' safety and convenience at all times. As a customer-centric airline, Fiji Airways always makes sure that its team is equipped with the right skills to deliver their jobs efficiently. Not only are you responsible for looking out for the passengers' flight experience, but you're also basically representing the company in the manner by which you conduct yourself towards others.
This makes it all the more important for you to know the responsibilities you need to shoulder once you become Fiji Airway's flight attendant. Here are some of them.
Ensure guests' medical safety and well-being according to the Health and Safety measures
Manage and execute inflight customer standards on all flights
Write reports on safety-related and passenger-related incidents
 Determine passengers' concerns and deliver appropriate service recovery or action when necessary
Ensure customer satisfaction and comfort at all times
Perform all assigned tasks on the ground and in the air in compliance with standard regulations and operating procedures
 Adhere to the airline's grooming guidelines and performance standards
 Render exceptional onboard experience by exemplifying Fiji Airways' dedication to world-class inflight service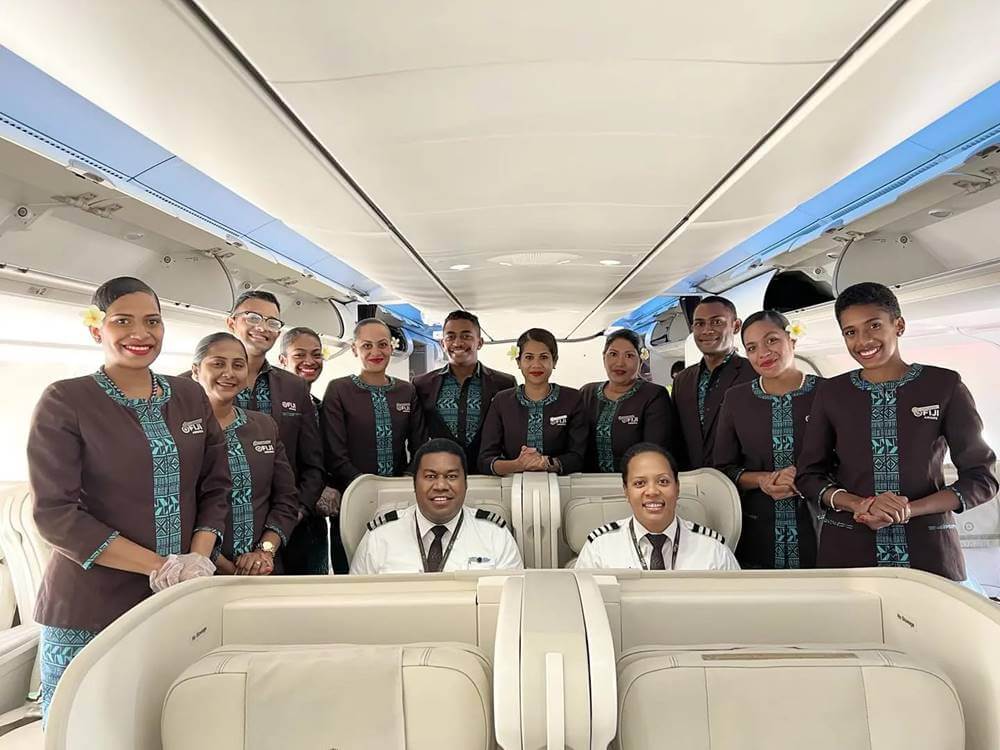 Qualifications
Fiji Airways has coveted prestigious awards for good reason – and that is because they've been consistent in offering passengers quality services and comfortable flight experiences. It's also this same reason why the airlines take great consideration in choosing which employees get to successfully make it onto their team. The best candidate for the job will have to meet the established criteria or qualifications in order for the recruiters to determine how efficient you can work as a cabin crew for the airlines and if you're competent enough to follow through with the responsibilities it entails.
Here are the qualifications you need to pass to become a cabin crew for Fiji Airways.
Minimum 18 years old
Must be a citizen of Fiji
 Fluent in both oral and written English
Competent in swimming
Must be at least a high school graduate
 Must be physically fit
Experience in aviation is an advantage
Must be willing to work 24/7 during holidays or weekends
Must not have a criminal record or international jurisdiction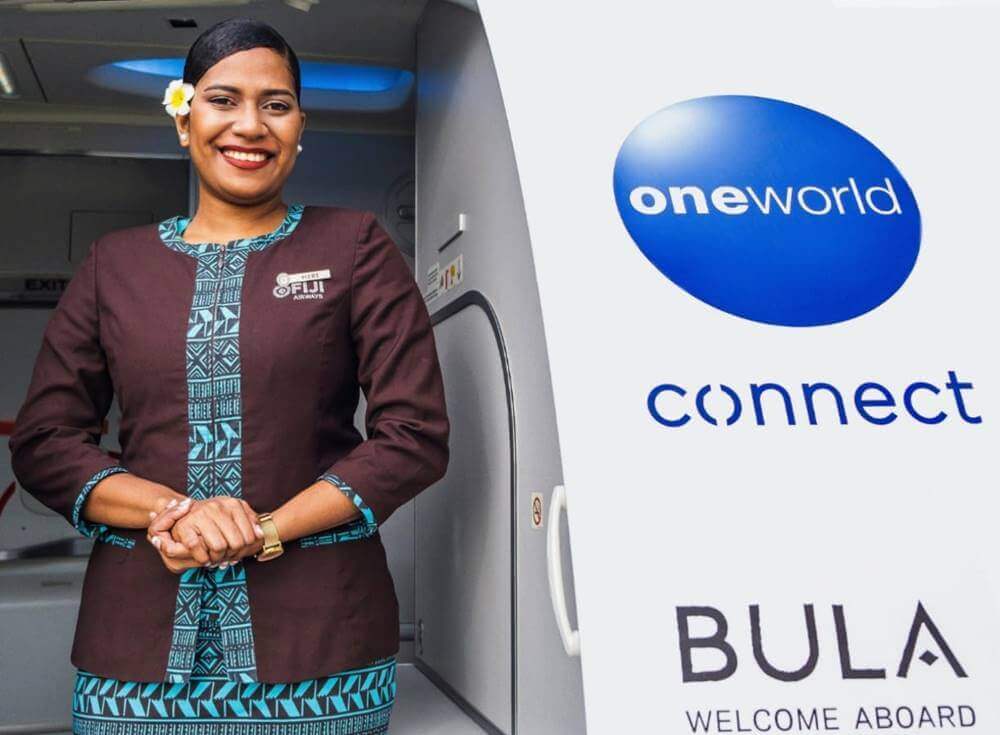 Document Requirements to Prepare
Now that you know what the qualifications and responsibilities of a flight attendant are, you can proceed in preparing all the required documents for your application. Make sure to bring all the necessary documents during your day of application to prevent delays or errors throughout the process. These documents are vital such that it gives the recruiters a glimpse of your skills and potential capabilities and will ultimately determine if you're a right fit for the company from the get-go.
For this, you'll need to prepare:
Updated resume/CV
 Certified copy of the highest educational certificate
Form 7 (Year 13 Pass) or any equivalent, or Form 6 results
COVID-19 Fully vaccinated card
Fijian Passport biodata page
 Full-length colored photograph in business attire
Transcripts or certificates of other qualifications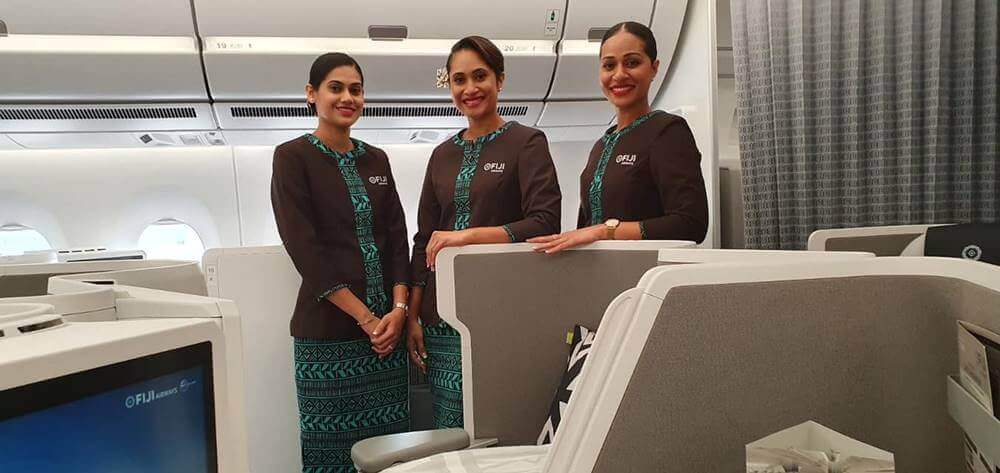 Where to Apply for a Job for Fiji Airways Online
You can apply for a job vacancy on Fiji Airways online by visiting the website's official career page. This will show you a list of the current job vacancies that the airlines offer and which ones you can apply for. All you'll need to do is fill out an online application form, and submit it.
It's also recommended to keep posted on any upcoming announcements regarding job hiring or other important stuff via the airline's social media pages. This helps you stay updated with recent changes in schedule or basically any information that can help increase your chances of getting hired.
You can also try applying directly through its LinkedIn page.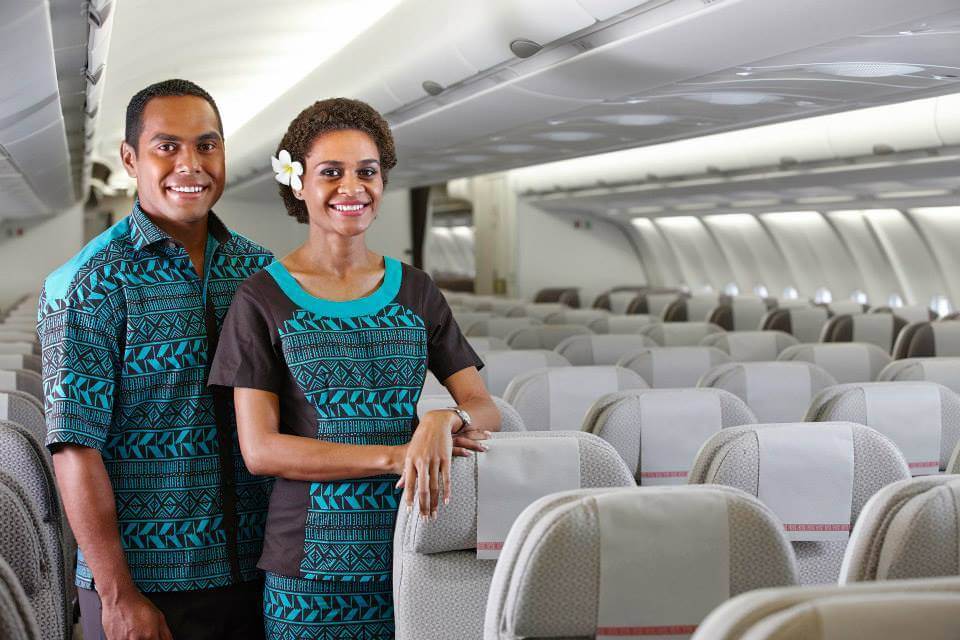 How to Become a Cabin Crew for Fiji Airways during Open Days Events
Aside from the online application, you may also apply for a job for Fiji Airways during its Open Day events. However, you may need to secure a date for your on-site application before proceeding. Check out the airline's social media for information about their upcoming open-day events to keep you posted.
Regardless, here is the step-by-step process for applying.
Step 1: Prepare the required documents.
Before going to the venue, make sure that you have all the required documents intact and ready alongside your accomplished application form. This will be the first phase of the job application process. Bring a swimming change as well.
Step 2: Attend the open recruitment date.
Free your day once there is a confirmed date and venue that matches your schedule. The open-day hiring process is generally composed of several stages, which is why it's best to arrive early. In these stages, job candidates are further narrowed down before they move to the next part of the recruitment.
The day generally involves registration, submitting required documents, height and weight confirmation, swimming, group exercises, and test.
Step 3: Final Interview.
The competition in this industry is quite tough, so you immediately need to amp up your game during the early stages to secure an interview because not everyone clears past the second stage. If you're lucky enough to be shortlisted, you can proceed to the interview, which lasts around 25-40 minutes on average. You'll be contacted regarding the interview dates. Once this is over, they will reach out to you for the results through email.
Monthly Salary of a Fiji Airways Flight Attendant
A flight attendant in Fiji Airways makes a monthly average of 3 060 FJD ($1 384.66), including several perks and benefits. The salary can also range from roughly 1 410 FJD ($638.03) or 4 680 FJD ($2 117).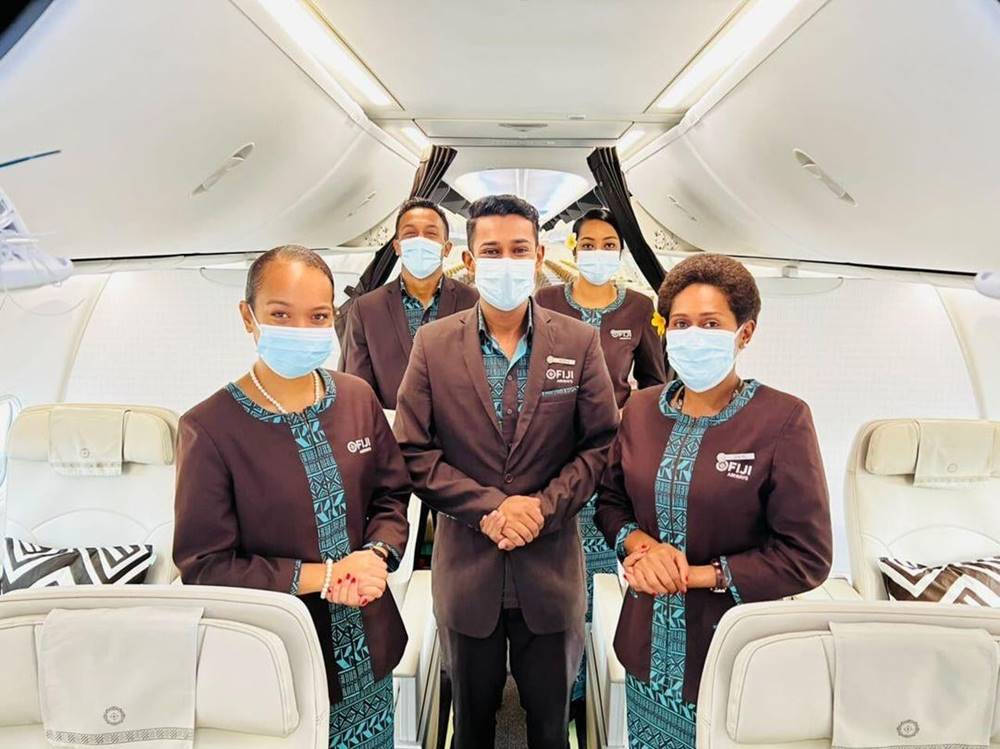 Video: Fiji Airways Aviation Academy
Due to the continuous growth of Fiji Airlines, the company has decided to establish their very own Fiji Airways Aviation Academy so they don't have to send pilots out the country for training in order to keep up with the high demand for this role. They have also enhanced cabin crew training facilities to simulate real life scenarios flight attendants experience onboard.
The aviation industry is a vital part of Fiji's economy, with the airline currently flying to over 23 different countries. The academy will provide training for both aspiring commercial pilots as well as those who want to fly for fun. The academy will also prepare cabin crews in delivering world class service and safety needs due to its high end training facilities.
Photos: Fiji Airways Flight Attendant Photos
Check out these beautiful pictures of Fiji Airways Flight Attendants in uniform. If you wish to picture yourself being a part of this company, check out these photos to give you an idea about working for this airline:
Frequently Asked Questions
Below are common questions applicants have when applying for the role of flight attendant for Fiji Airways.
1. Is Fiji Airways a good airline?
Yes. Fiji Airways is a 4-Star airline known for its high-quality staff service and airport and onboard products.
2. Who owns Fiji Airways?
Fiji Airways is majorly owned by the Fiji government at 52%, while Qantas holds a 46% stake in it.
3. How to apply as a cabin crew on Fiji Airways?
There are two ways you can apply as a cabin crew on the airlines: online or during open-day events. Visit Fiji Airways' career page for more information here.
4. Where is Fiji Airways' main headquarters located?
Fiji Airways' main headquarters is based at the Nadi International Airport.
5. How much are flight attendants paid on Fiji Airways?
The monthly average of a Fiji Airway flight attendant's salary is estimated to be 3 060 FJD or $1384.66.
6. What are my responsibilities as a cabin crew?
As a cabin crew, you're tasked to deliver quality service and ensure the safety of onboard passengers. You also are responsible for writing incident reports, overseeing emergency situations, and attending to customers' concerns at all times during flights.
7. What are the documents needed to apply as a Fiji Airways flight attendant?
You'll need an updated CV/resume, passport, vaccination card, two passport photos, and Form 7, among many others.
8. Is previous experience necessary before applying?
Not necessarily, though the company considers it an advantage.
9. Is there a grooming protocol?
Yes. Fiji Airways adheres to performance standards and specific grooming guidelines.
10. How old should I be to apply?
You should at least be 18 years old to apply as a flight attendant.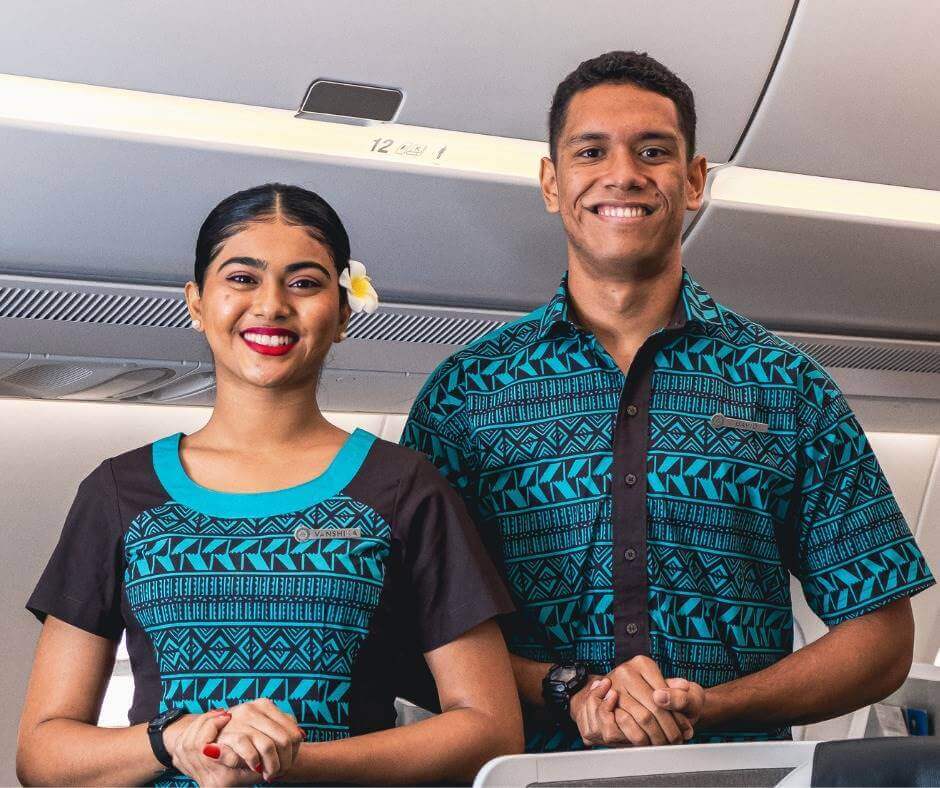 Summary
Before applying for a job, it's important to have prior research regarding the steps involved in the hiring process and what you need to prepare beforehand. Considering the job of a flight attendant is never easy, you'll need to make sure that you submit the required documents and follow the important details to increase your chances of getting hired. Hopefully, this guide will help you determine whether you're cut out for a cabin crew position at Fiji Airways and what to expect when you're hired.
Contact Information
FIJI AIRWAYS
Address (of main headquarters): Nadi International Airport
Telephone Number: +679 672 0888
Website: https://www.fijiairways.com/en-us/
Facebook: https://www.facebook.com/fijiairways/
Instagram: https://www.instagram.com/fly_fijiairways/?hl=en
Twitter: https://twitter.com/FijiAirways