In case you wish to work as a flight attendant for flydubai, please follow the steps and guidelines below. We have gathered the details, qualifications, and step-by-step process on how you can become a crew for this airline.
In every job application, one of the most important steps is how you prepare for it. No one goes to battle without the right weapon, the same as no one rushes their application especially if it's in a well-known company. Everyone is free to dream, no matter how high or impossible it is. But do you know what sets one person apart from another? Whether they work towards that dream or not. If one of your goals is to land a good job as a flight attendant, then it's going to take a lot of time, energy, and effort. It can even be draining in some way. But that's how every job application goes.
To land the job you have long set your eyes on means you were able to stand out. After all, other people are allowed to have the same dream as you and to apply for the exact job that you want. It is up to you how to be different. For that to become possible, you need to know what your dream company is looking for and work towards meeting those qualifications. The earlier you read and know about it, the better.
And the more you know, the greater your chance of acing the various stages of your application process. Additionally, working on yourself works wonders too! If you are aware enough of your strengths and weaknesses, then you know how you can improve yourself. Are you eyeing landing a job at Flydubai airlines? Is being a flight attendant or cabin crew member the path for you? Read on to find out.
In this article, we're going to talk about the hiring process at Flydubai Airlines. Every airline is looking for something or someone to live up to their values. Do you think you're one of them? If yes, read on, and good luck in reaching your airline cabin crew dreams!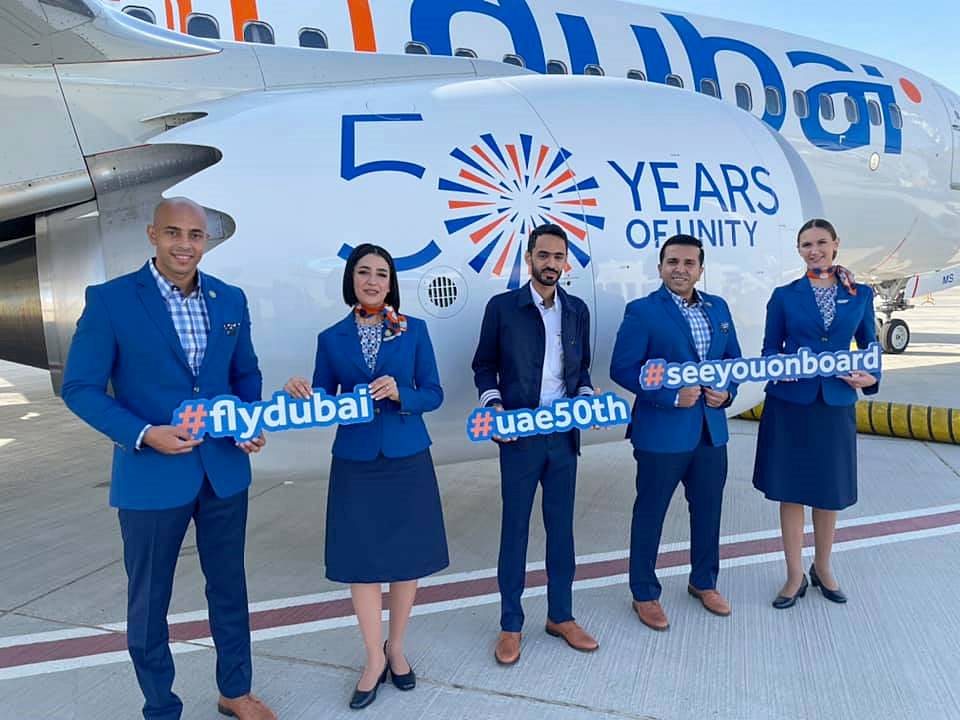 Overview
Founded in 2009, Flydubai Airline offers flights to more than 90 destinations in 44 countries. Within five years since launching, it had already made a wide network of flight and services, as well as earned the title of second-largest carrier flying out of Dubai International Airport. Additionally,  it is one of the youngest yet fast-growing airlines.
Currently, Flydubai is made up of more than 4,000 colleagues from 128 countries, because one of the things they value the most is diversity. A lot of the principles and values they have come from Dubai, a city filled with variety and wonder. True to its slogan "Get Going", Flydubai has already opened up routes across Africa, Europe, Central Asia, the GCC, the Middle East, the Indian Subcontinent, and Southeast Asia. More than the expansion of routes they offer, they also place great importance on giving their passengers greater options and a smoother flight experience.
The brand colors and logo of a company say a lot about them. With the livery colors of orange and blue, Flydubai aims to give the passengers a glimpse of how breathtaking Dubai is. Orange, for them, represents Dubai's warm climate and its hospitable people while blue represents its clear seas and blue skies. A part of their logo which contains free-flowing bands symbolizes the coastline of Dubai, which is never the same every day, yet majestic in every way.
Despite being one of the youngest operational airlines, Flydubai makes sure that it keeps up with excellent customer service and hassle-free flights. It is a company that continuously aims for growth and prioritizes giving the best to its passengers. Are you ready to do what it takes to get in? If yes, read on, and good luck!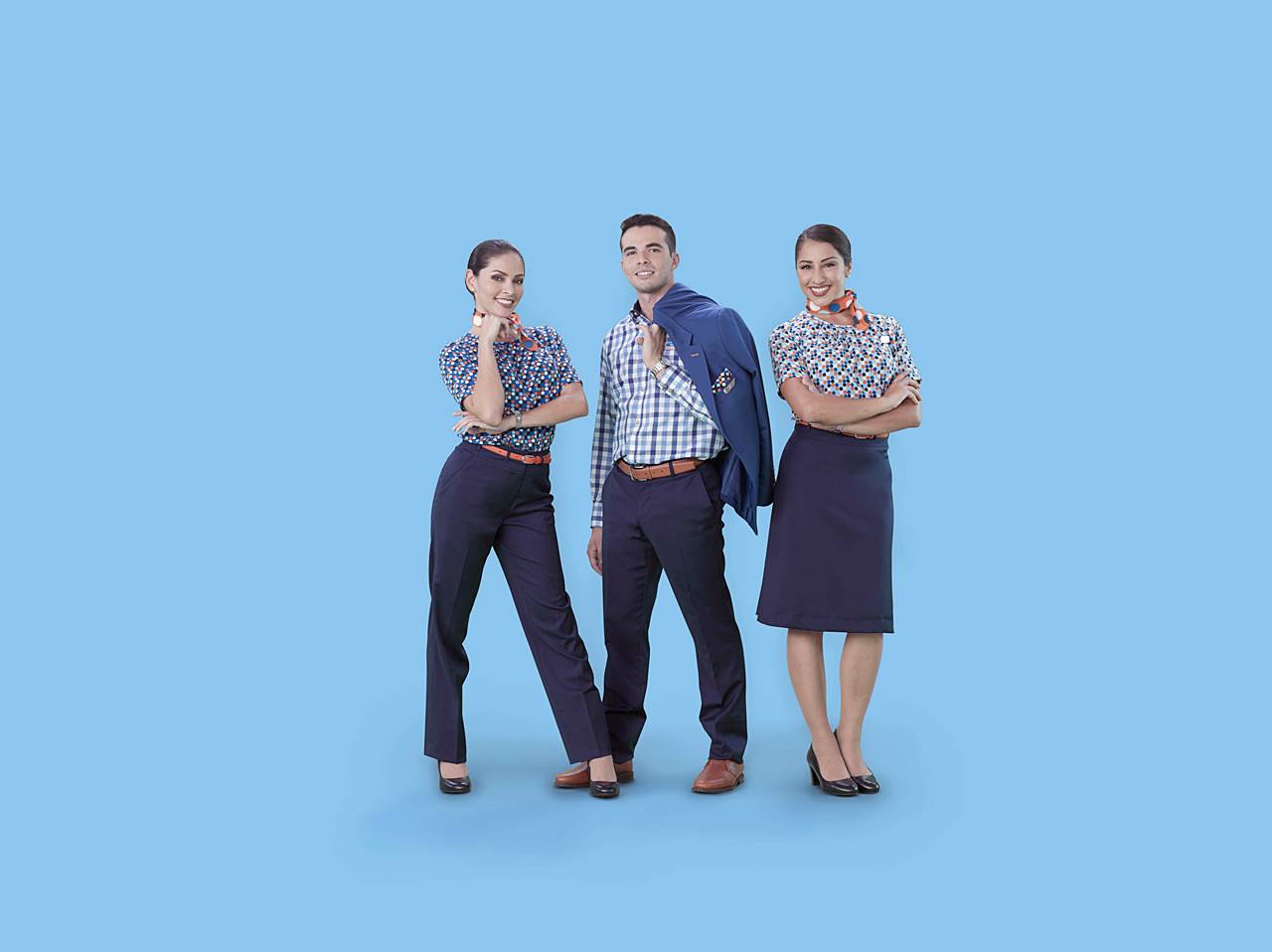 Responsibilities
Flydubai airline takes pride in providing a safe and secure journey to its passengers. Hand in hand with ensuring a smooth flight, bringing excellent customer service is also one thing that they consistently provide. If one of the positions you've been eyeing is working as a flight attendant at Flydubai, then you should be well-aware of the responsibilities that go with it. As an employee, you carry the name of the company you work for, and you can greatly impact its image. As a flight attendant, these are your duties and responsibilities:
Conduct safety checks before each flight
Greet your passengers warmly
Escort and assist your passengers with their luggage
Help them find and settle into their seats
Prepare and serve drinks and food to your passengers according to what is requested.
Take note of any medical needs, likes, and dislikes of passengers
Present emergency equipment and brief passengers on how to use the equipment
Monitor, manage and secure the cabin
Adhere to all aviation rules and regulations
Assist passengers and cabin crew during emergencies
Assist passengers with special needs (children, disabled persons, elders, etc.)
Attend briefings before each flight
Submit and prepare reports concerning flight incidents
Qualifications
Every job has its requirements, and you have to possess the qualities that the company is looking for in order to have a chance to be hired. Some qualifications are subject to change, while some have been strictly implemented over the years. Whatever the situation may be, it is important that you learn about what is expected of you so that you can prepare for it. Flydubai aims to be the best, and one of the ways to do that is to fill their workforce with individuals who can live up to their values and standards. Here are the qualifications to become a Flydubai Airline Cabin Crew:
Must be a minimum of 21 years old
Minimum height should be 5'2''
Should be physically fit
No visible tattoos and body piercings
Weight should be proportionate to height
Educated to high school level
Fluent in English, both spoken and written (fluency in Arabic or another language would be a great advantage)
Equipped with the right character to deal with passengers professionally
Must not have bad acne (should be coverable or unnoticeable with makeup)
Can adapt to new people, new places, and new situations
Thrives in a fast-paced and changing environment
Excellent personal presentation, style, and image
Willing to become culturally aware
Must have a valid passport which allows traveling freely
Must have good communication skills
Must have the knowledge when it comes to wearing a flotation aid/life jacket. (Plus, you will need to climb into a survival raft from the water)
Education and Experience
Having a high school diploma is essential
International aviation experience is an advantage
1-year experience in customer service or sales is an advantage
Document Requirements
In preparation for your application process, here are the document requirements you need to prepare:
Updated CV/Resume
Head and full-body photographs
Valid Passport
Updated Medical and Dental Records
For your photographs, here are the usual standards you may want to keep in mind:
Should be wearing professional business attire (including a jacket and tie for men).
Should be standing facing straight towards the camera, with your hands down by your side.
Should be smiling with a large but natural smile (ideally showing teeth).
A white background is highly advisable.
The full-length photographs should measure 6×4 inches (15×10 cm), while the passport-sized photos should measure 45×35 mm (1.77×1.37 inches).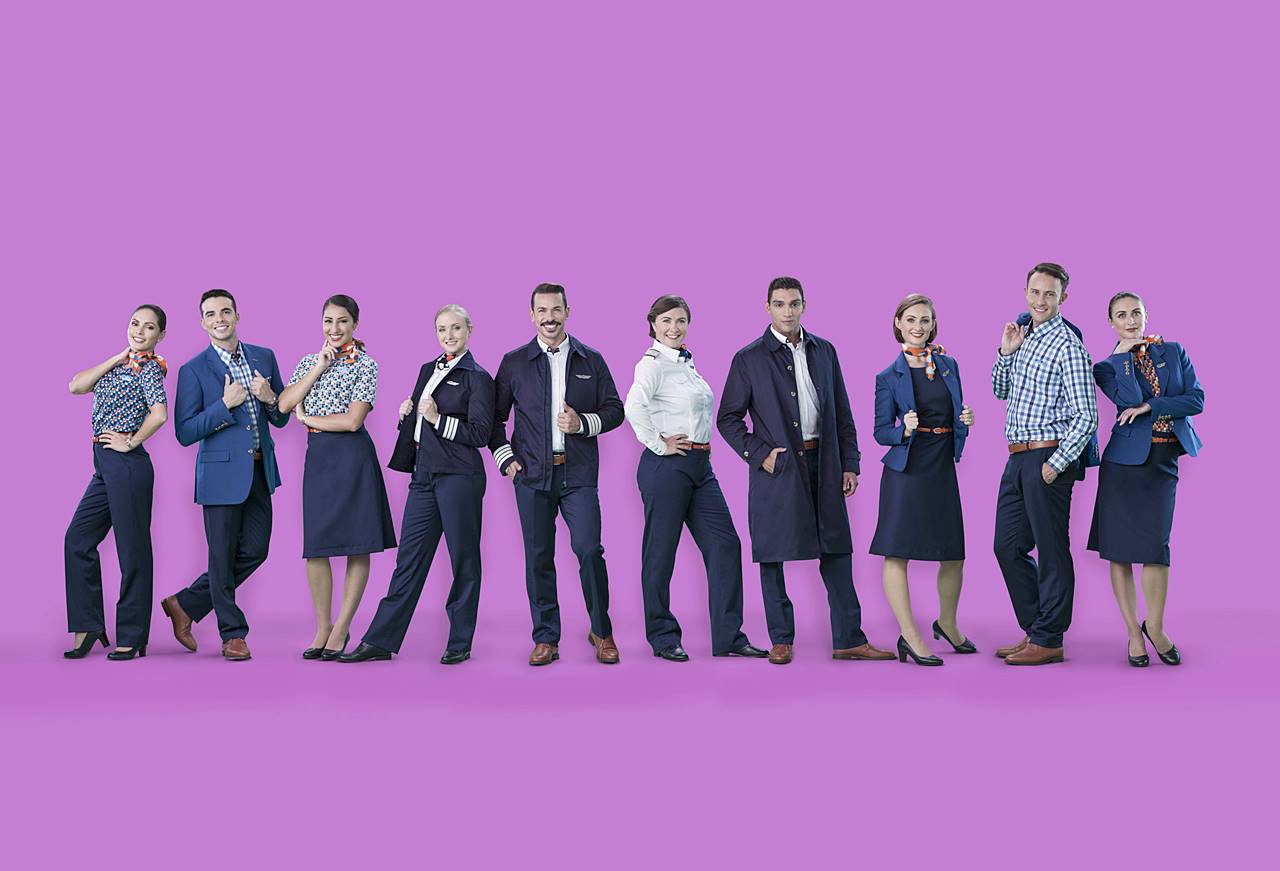 Where to Apply for a Job for Flydubai Airline Online?
To check for job vacancies and details, you can visit and view their website here.
https://careers.flydubai.com/search-and-apply/
How to Become a Cabin Crew for Flydubai
Check out this Step by Step Process Application on the recruitment process in flydubai:
Step 1: Submit Online Application
Once you have prepared the documents required, and if you meet the qualifications that Flydubai is looking for, you can start filling out your application form online. First, create your candidate profile on their career site, which will require you to answer various required information. Once that your candidate profile is created, proceed with uploading your resume and other relevant documents. You will also be asked to answer a series of questions concerning the role requirement.
Step 2: Undergo Online Assessment Test
After you have accomplished the first step, a link with a series of online tests will be sent to you. This consists of tests to gauge your work behavior, logical thinking, multitasking, and verbal reasoning. You may opt to try answering various practice questions first for a heads up.
Step 3: Video Interview
The third step is undergoing a video interview. This is a chance for the company to get to know you. In this part of the application process, your responses to a set of questions will be recorded. This will help the managers check whether you are fit for the job position you are applying for or not.
Step 4: Application Review
The application review is the second to the last step of your application process. In this stage, your application form, tests results, and your performance in the earlier stages will be carefully evaluated. Whether or not you meet the minimum role requirements will also be considered. If successful, then you will be invited for the assessment day.  If you successfully meet our criteria you will be invited to their assessment day.
Step 5: Assessment day
The assessment day usually starts with checking if you meet the minimum requirements such as height, tattoo, and overall dress code. It also consisted of presentations about Flydubai, individual tests, as well as group activities, and roleplay exercises. At the end of the day, you will be subjected to a competency-based interview.
All in all, the assessment day requires evaluating your skills as well as your appearance from head to toe. Remember to wear business attire, and bring all important documents with you. How you present yourself matters because assessment day is a way for recruiters to gauge whether or not you are fit to work at Flydubai.
You will constantly be updated or notified via email on the status of your application. Keep the faith!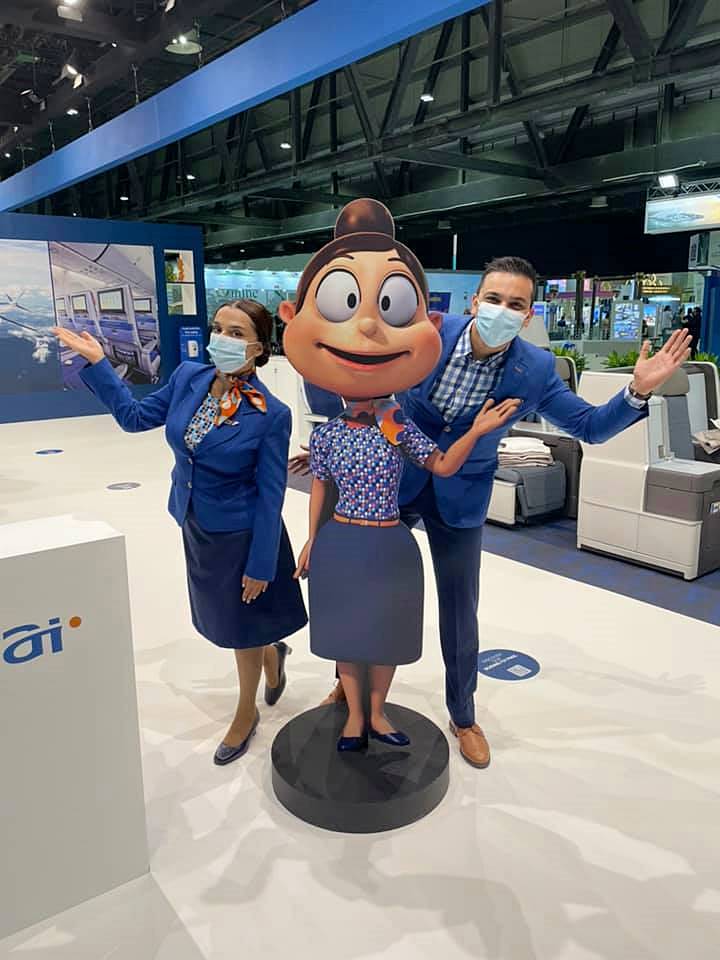 Monthly Salary a Flydubai Airline Flight Attendant
The basic salary of a Flydubai Airline flight attendant starts at AED 6,990 or USD 1,903.09 and will increase depending on rank, extra flight hours, and other factors. Seniority plays a big role in the amount of salary a flight attendant receives.
Once you're hired as a Flydubai Airline Flight Attendant, you have to go through training first. Expenses when it comes to training are covered by your training Bond, which amounts to USD 2,650 for the first year. Additionally, being a flight attendant at Flydubai also has its benefits such as:
Housing allowance + Transportation allowance: AED 6,990 or USD 1,903.09
Variable Flying pay: Avg. Monthly AED 3,360 or USD 914.79 (Based on the average of 80 flying hours)
Medical Insurance
End of service
Paid Leave of 30 days per year
Annual Leave Ticket Monthly Benefits
Video: FlyDubai Work Environment
In these videos, you're going to get a glimpse of what it's like to work at Flydubai Airlines. It features a few of their flight attendants and cabin crew members which explains why it's a good choice to apply for and work at Flydubai. The second video serves as a guide for aspirants such as you.
The four-minute video is a compilation of tips, experiences, and other information that is essential to know when it comes to being a Flydubai flight attendant. It includes the interview process, the application process, and details such as salaries and benefits.
Disclaimer: These videos were uploaded by flight attendant vloggers who shared her experience being a cabin crew member of Flydubai. Take note that every crew has a different experience, but this will help give you an idea what to expect when you work for Flydubai
Photos: flydubai Cabin Crew in Uniform
Check out these beautiful pictures of flydubai flight attendants in uniform. If you wish to imagine yourself being part of this company, check out these photos to give you a glimpse of working for this airline:
Frequently Asked Questions
Here are some common questions and answers about the hiring process in flyDubai:
1. Is it okay if I am only fluent in English?
Yes, it is. Interviews, training, and assessments are conducted in English. However, being fluent in Arabic would put you at a great advantage.
2. Do I have a chance to be hired if I have visible tattoos I can cover with cosmetics?
Unfortunately, no.
3. Are they open to hiring any nationality?
Flydubai caters to a diversity of nationalities, so as long as you meet the minimum requirements, then you stand a chance.
4. Will I get adequate training before I serve on flights?
Yes, you will. Once you pass the application process, you are required to undergo a training process which is covered by Flydubai Airline. This will help you become familiar with how you should serve your passengers.
5. Will the results of my personality test affect my chances of being hired?
Yes, it will. Various tests are administered throughout the application process because it is an important factor in determining if you are fit for the job position that you want.
6. Is jewelry allowed?
Yes, they are. But only to a minimum. It is important to always look neat and presentable, so as much as possible, your jewelry should be kept minimal to none.
7. How long does it take to be promoted?
Usually, it takes about a minimum of a year and a half up to three years before you can apply for promotion.
8. Will my salary increase?
Yes, it will. As your position upgrades, and depending on your flight per hour, it all plays a role in how much your salary will increase.
9. Can I still reapply if I get rejected the first time?
Yes, you can. But it is recommended to apply after a six-month interval so you can prepare for your reapplication.
10. Does age matter when it comes to applying?
As long as you meet the requirements and qualifications, there shouldn't be a problem.
Contact Information
flydubai
Address: Flydubai Campus, E611, Emirates Road, Al Warsan 3, P.O. Box 353, Dubai, United Arab Emirates
Telephone Number: +971529941972
Email: skywards@flydubai.com
Website: https://www.flydubai.com/en
Facebook: https://www.facebook.com/flydubai/
Instagram: https://www.instagram.com/flydubai/?hl=en
Twitter: https://twitter.com/flydubai