Is being a flight attendant your dream career? If yes, you won't want to miss out on this golden opportunity to be part of Garuda Indonesia's cabin crew. Check out this guide we made that contains everything you need to know about how to apply for Garuda Indonesia cabin crew hiring. This includes essential information from the qualifications, responsibilities you'd expect from the job, and the requirements you need to prepare beforehand.
Also Read: What is the Difference Between Cabin Crew and Flight Attendant?
Dubbed as the World's Best Regional Airline by Skytrax, the heart of Garuda Indonesia airline lies in its excellent customer service. Because of this, you should be prepared to meet the specific qualifications that the company looks for in recruits to have greater chances of being hired.
If you think that being a Garuda Indonesia flight attendant is the right choice for you, make sure to use this information well as you pursue your long-awaited career journey!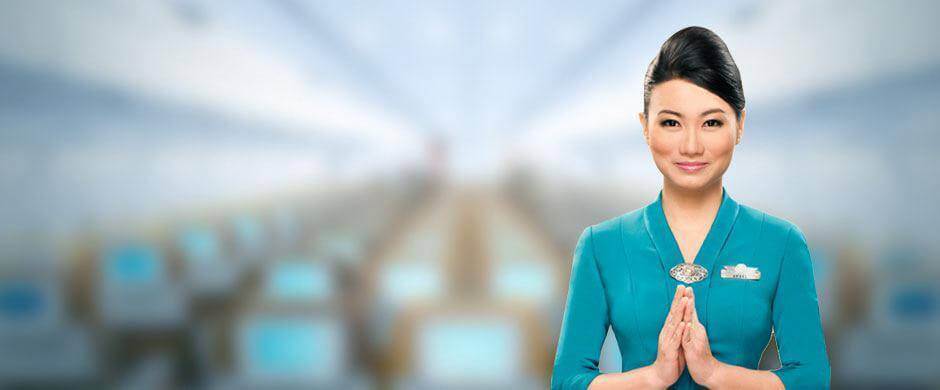 Overview of the Garuda Indonesia
Garuda Indonesia is a member of the SkyTeam alliance and Indonesia's national flag carrier. Established in 1949 under its previous name 'Garuda Indonesian Airways,' the company has since then serviced flights to over 90 destinations across the globe and has been operating 600 flights daily. Apart from seamlessly connecting travelers to various destinations, Garuda Indonesia also travels to a wide range of exotic destinations in Indonesia at the same time.
The company mainly prides itself on serving passengers their renowned "Garuda Indonesia Experience" that aims to highlight the country's richly diverse culture and the unparalleled hospitality of Indonesians. The airline offers three kinds of flight classes: First Class, Business Class, and Economy Class.
With plenty of notable and deserved awards such as 'The World's Best Cabin Crew' and '5-Stars Airline,' Garuda International consistently maintains its stellar track record through its ongoing transformation programs with the aim to offer more convenient and high-quality services to passengers. More than anything, Garuda prioritizes customer satisfaction and improved flight experience for all.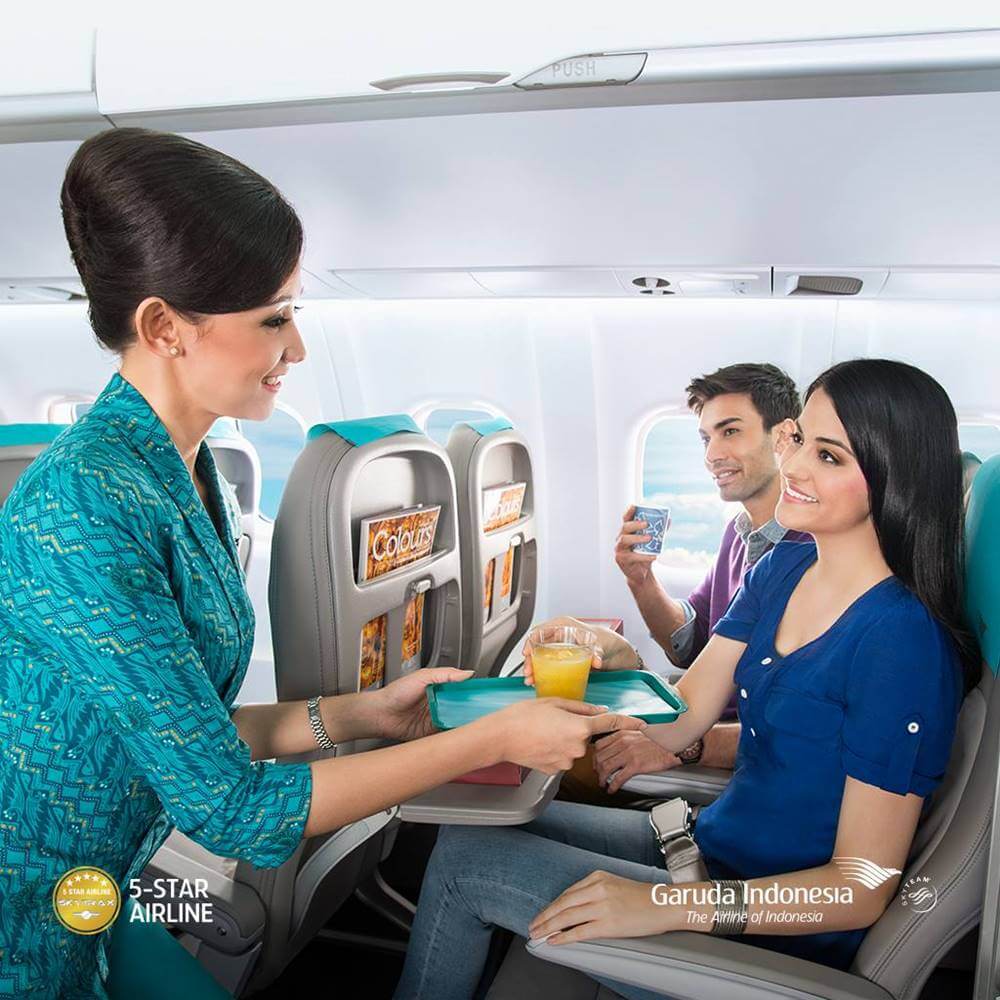 Responsibilities
As a flight attendant, you experience the luxury of traveling to new and diverse destinations, as well as have the chance to meet different people along the way. However, there's more to the exciting nature of the job; as a flight attendant, you're also endowed with many responsibilities to keep track of. From ensuring the safety of the passengers to rendering assistance and tending to concerns or questions, being a part of the cabin crew is a challenging and demanding job to pursue.
As a Garuda Indonesia flight attendant, you must be able to prove that you're ready to take on the responsibilities that come with the job, especially since you're also representing the company name and reputation at the same time.
To give you a brief overview, here are the responsibilities you should expect from becoming a flight attendant in Garuda Indonesia:
Brief airline passengers about the flight rules of Garuda Indonesia
Conduct pre and post-flight checks
Assist passengers during deplaning
Check the safety of airline equipment, aircraft cleanliness, and ensure that all seat pockets are up to date with meals and stock are ready on board.
Attend to Garuda Indonesia passengers' comfort and safety
Welcome passengers and direct them to their respective seats
Inform airline passengers of the safety procedures of the aircraft while making sure that all hand luggage is stored securely
Make announcements on behalf of the cabin crew and answer passengers' queries.
Serve refreshments and meals to passengers.
Manage emergency situations
Prepare necessary flight reports.
Ensure safety and health of airline passengers at all times
Manage Garuda Indonesia's airline's cabin system and equipment
Provide medical care and advice to passengers
Provide passengers with relevant information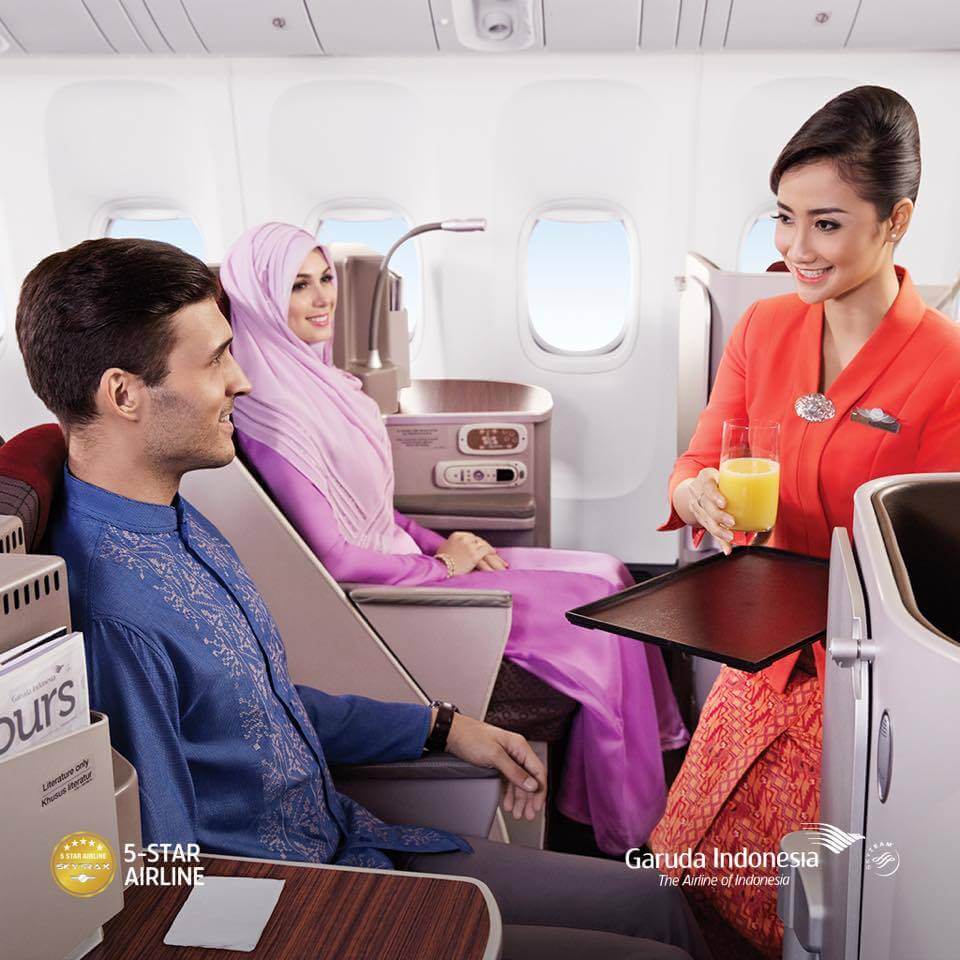 Qualifications
As a reputable company known for delivering top-notch customer service through the years, Garuda Indonesia makes sure that its staff are well-trained and equipped for the responsibilities they have to undertake. Because of this, the hiring process is hinged on strict qualifications and standards that reflect what the company looks for in its employees. This way, the airline can guarantee that it only hires the most skilled candidates to ensure the quality of its services.
As much as any job establishes its set of qualifications, Garuda Indonesia also has its own. To be hired, here are the necessary qualifications that can help increase your chances of landing the job.
Minimum age of 18-26 years old
Must be fluent in spoken and written English
Mastery in other foreign languages is a plus
Should have a least 157.5 cm height with the weight being proportional to the height
Must have a pleasing personality
Unmarried
Perfect eyesight
6/24 vision in each eye
Good health
Fair complexion
Document Requirements to Prepare
Apart from knowing the responsibilities and qualifications needed to land a flight attendant job in Garuda Indonesia airline, it's also important to know the needed documents beforehand. Preparing the required documents weeks ahead of your application will prevent any unnecessary delays that may harm your chances. Here are the documents you need to prepare:
Updated CV/Resume
Indonesian passport/valid passport from a relevant country
Photocopy of latest education certificate
Photocopy of birth certificate
Photocopy of Identity card
Photocopy of Family card
Colored photo with red background (1 full body with postcard size and 1 with 3×4 size)
Further education/Additional school courses are an advantage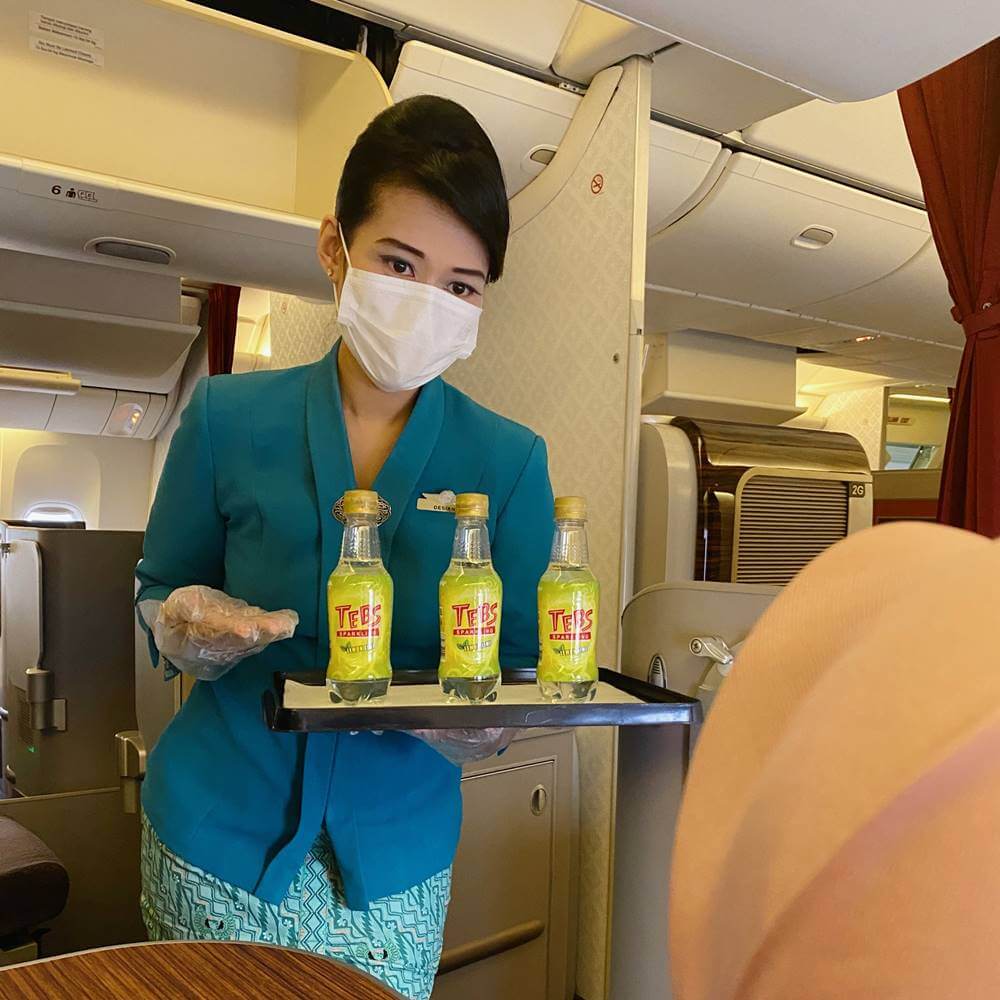 Where to Apply for a Job for Garuda Indonesia Online
You can apply as a flight attendant for Garuda Indonesia by visiting their careers page at their official website. On this page, you'll find essential information or details related to the position you're applying for and some important announcements about hiring events.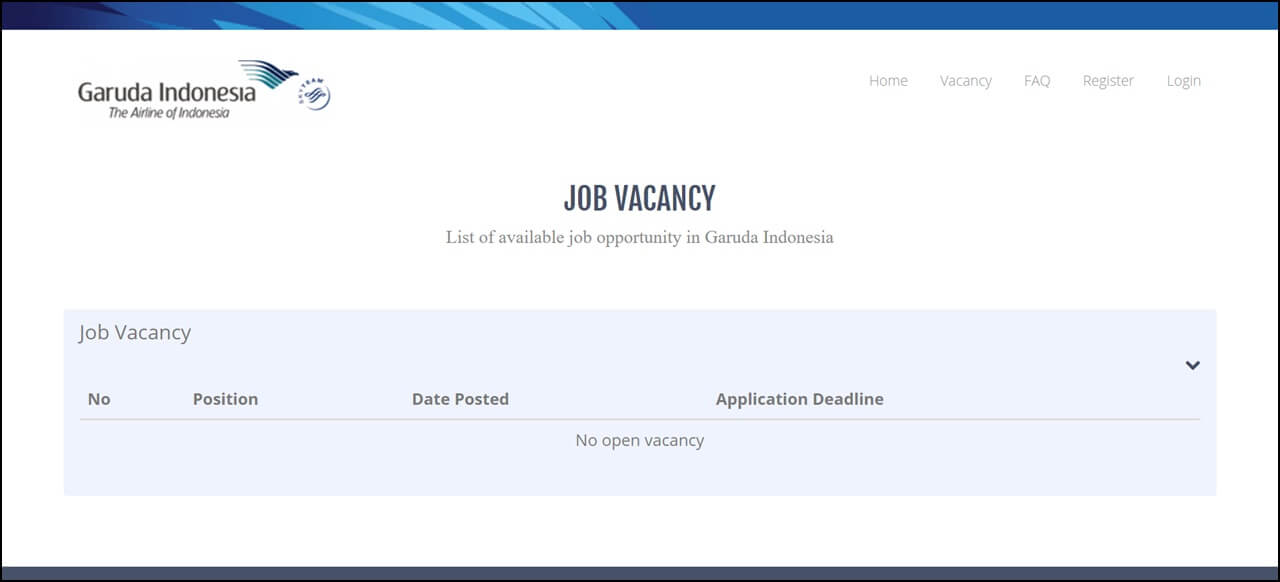 You can also apply HERE.
How to Become a Flight Attendant for Garuda Indonesia
Online application for Garuda Indonesia's cabin crew is relatively easy. For this, you must only follow these simple steps.
Step 1: Visit the airline's Careers Website.
To apply, you must first go to www.garuda-indonesia.com and then visit their Careers page. Their Careers page is where you'll find all sorts of job vacancies you can apply for.
Step 2: Select the Garuda Indonesia Airlines Careers Flight Attendant Link
When you're on the Careers page, you'll see different cabin crew positions open for hiring. Since you'll be applying as a flight attendant, click on the link that directs you to the flight attendant application.
Step 3: Click on the Garuda Indonesia Airlines Flight Attendant Employment Jobs Profile.
Here, you will see all the necessary details linked to the job as well as some information about the requirements and responsibilities.
Step 4: Fill in the Garuda Indonesia Airlines Flight Attendant application form.
After reviewing the job profile and details, fill in all the needed information in the application form, which you will submit alongside other requirements.
Step 5: Click on submit.
Once done, you'll only need to submit your application and wait for a few seconds until your application has been received.
Step 6: Print your application form or wait until the airline reaches out to you.
After verification, you can now print your application form, which you can use in the future should the company conduct open-day events. Otherwise, simply wait for the company to contact you via your contact information to brief you of the next steps in the hiring process. Usually, these involve several selection stages such as:
height/weight measurement & appearance test
English test
Background and Competency Check
Medical Examination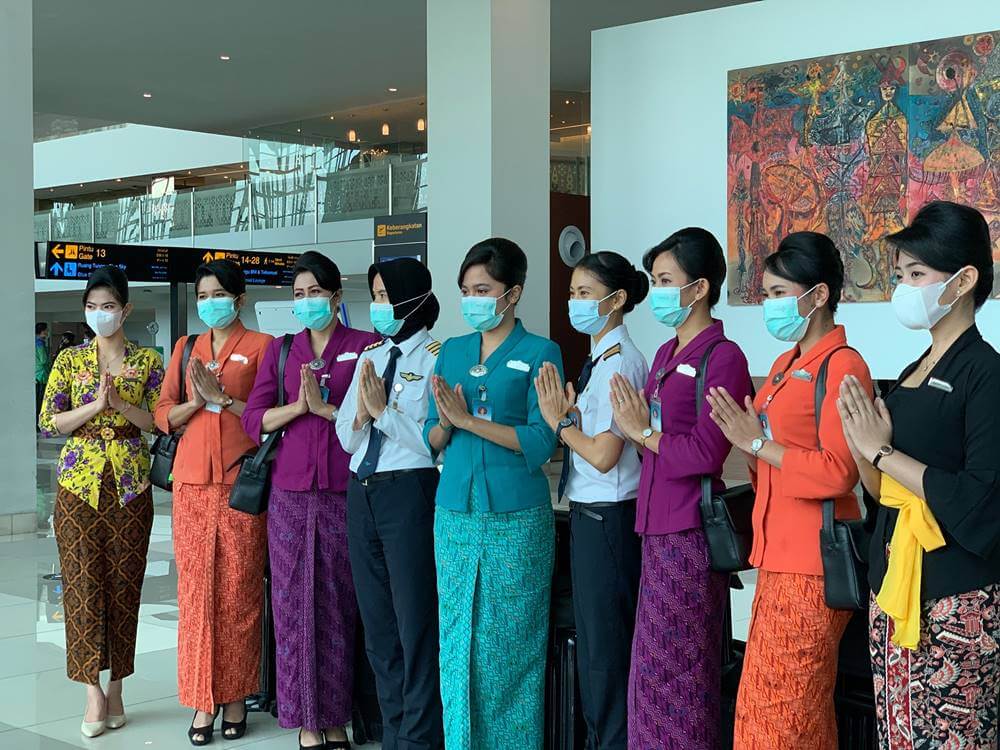 Salary of a Garuda Indonesia Flight Attendant
A Garuda Indonesia flight attendant earns about IDR 10,773,412 per year. This salary is already inclusive of a great salary package alongside benefits and convenient perks such as transport, housing, and more. You also receive additional compensation or bonuses throughout the duration of your job.
Video: A Day in the Garuda Indonesia Crew Training Center
This 15-minute video gives you a short, yet comprehensive sneak peek on a regular day in Garuda Indonesia's Crew Training Center. Here, you'll learn the kind of staff training that the crew undergoes, especially what makes the airline a 5-star airline with commendable customer service. There are:
Crew initial training classes
Etiquette classes
Social training
Trainee practicing outside classroom
Emergency Drills
Wet Drill with weather simulation
Disclaimer: This is a video uploaded by a flight attendant vlogger who shared his experience being a cabin crew member. Take note that every crew has a different experience, but this will help give you an idea what to expect when you work for Garuda Indonesia.
Photos: Garuda Indonesia Flight Attendant Photos
Check out these beautiful pictures of Garuda Indonesia Flight Attendants in uniform. If you wish to picture yourself being a part of this company, check out these photos to give you an idea about working for this airline:
Frequently Asked Questions
Now here are the frequently asked questions about Garuda Indonesia and the application process for the company's flight attendants:
1. What is the average salary of Garuda Indonesia flight attendants?
Flight attendants of Garuda Indonesia typically earn IRD 10,000,000 per year.
2. How do I get hired as a flight attendant of Garuda Indonesia?
You must meet all the necessary qualifications to land a cabin crew job in Garuda Indonesia Airlines. Some of these include having a minimum age of 18-26 years old, a height requirement of 157.7 cm with proportionate weight, a pleasing personality, and more.
3. Where is Garuda Indonesia based?
Garuda Indonesia is located at Jakarta's Soekarno-Hatta International Airport.
4. Is being a Garuda Indonesia flight attendant difficult?
Being a Garuda Indonesia flight attendant is challenging since you have to meet the qualifications undergo several selection tests and strict training before you get slated for the job.
5. Do Garuda Indonesia flight attendants wear jewelry?
At most, flight attendants are only permitted to wear at least one pair of earrings, which should be discreet and small.
6. Why are there height requirements for flight attendants?
There are usually height requirements to ensure that cabin crew members are able to reach stashed emergency equipment that is placed in high places on the aircraft.
7. How long does it take to become a flight attendant?
Training usually lasts for a span of three to six weeks. However, it can take months or years for one to successfully get into a training program since the industry is a cut-throat field.
8. How many days off do flight attendants typically get?
They only get about 12 to 18 days off on average per month or approximately 150 days annually.
9. What kind of problems do you usually encounter as a Garuda Indonesia flight attendant?
Due to the demanding and public nature of the job, there are instances where flight attendants contract minor illnesses such as colds caused by jet lag or long hours of work.
Summary
Being a flight attendant comes with many responsibilities you must perform well at, especially since you oversee passenger safety and security. Despite the challenging nature of the job, a Garuda Indonesia flight attendant will prove to be rewarding as long as it's in your heart to meet new people, serve customers, or tend to their concerns, all while getting the luxury to discover and travel to beautiful destinations.
If you can envision yourself working as a flight attendant at Garuda Indonesia, make sure to follow all the necessary steps listed above and comply with all the requirements needed for the hiring process.
Contact Information
Garuda Indonesia
Address: Soekarno–Hatta International Airport, Tangerang, Banten, Indonesia
Telephone Number: (62-21) 23519999
Website: www.garuda-indonesia.com
Facebook: https://www.facebook.com/garudaindonesia/
Instagram: https://www.instagram.com/garuda.indonesia/?hl=en
Twitter: www.twitter.com/IndonesiaGaruda