For aspiring flight attendants who want to work in an airline that is rich in culture, then maybe it's time to look into Loganair, Scotland's very own national airline. This is one of the top, long-standing airlines from way back in 1962. This is why it has enough credentials to be considered a good place to both work and fly through.
Also Read: Do I Really Need to Know How to Swim to become a Cabin Crew?
If you're one of those who want to be a part of Loganair's cabin crew member but don't know how to, then this article will be your holy grail.
In the following sections, we will talk about the whole application process, as well as what you will need to be qualified until the very last stage of the interview. We will also go through some FAQs to better help you navigate the scope of the job.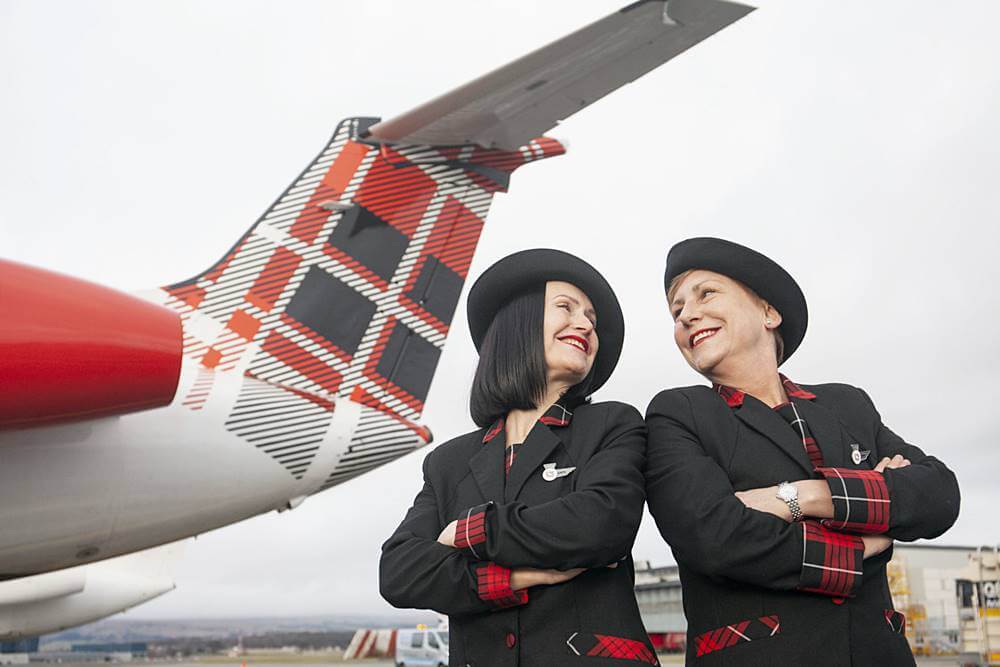 Overview
Loganair Airline has been around since 1962. It was founded by Willie Logan and was then based in Scotland.
At present, they are deemed as the biggest regional airline in the entirety of the United Kingdom. They also have around 40 aircraft with flights revolving around Europe, the British Isles, and Scandinavia.
As a flight attendant, you can expect the airline to provide more than a thousand flights weekly and serve about 1 million passengers throughout the year. These statistics back up the fact that Loganair is indeed one of the top airlines in the UK.
In terms of working environment, Loganair is also popular for providing good and equal yet sustainable benefits to all of its staff members.
Responsibilities
Here are the responsibilities of a Loganair flight attendant:
Provide a welcoming environment for passengers throughout the flight
Be an approachable and warm host for passengers
Answer to guests' needs and concerns throughout the flight
Implement flight safety standards and walk the whole flight through it
Communicate effectively with passengers and other cabin crew members
Coordinate with the higher-ups in terms of flight issues
Showcase leadership during a flight
Create an enjoyable flight, no matter the time and condition
Ensure that all company policies and standards are met in a flight
Orient passengers about the current status of the flight, including proximity, travel hours, delays, and likes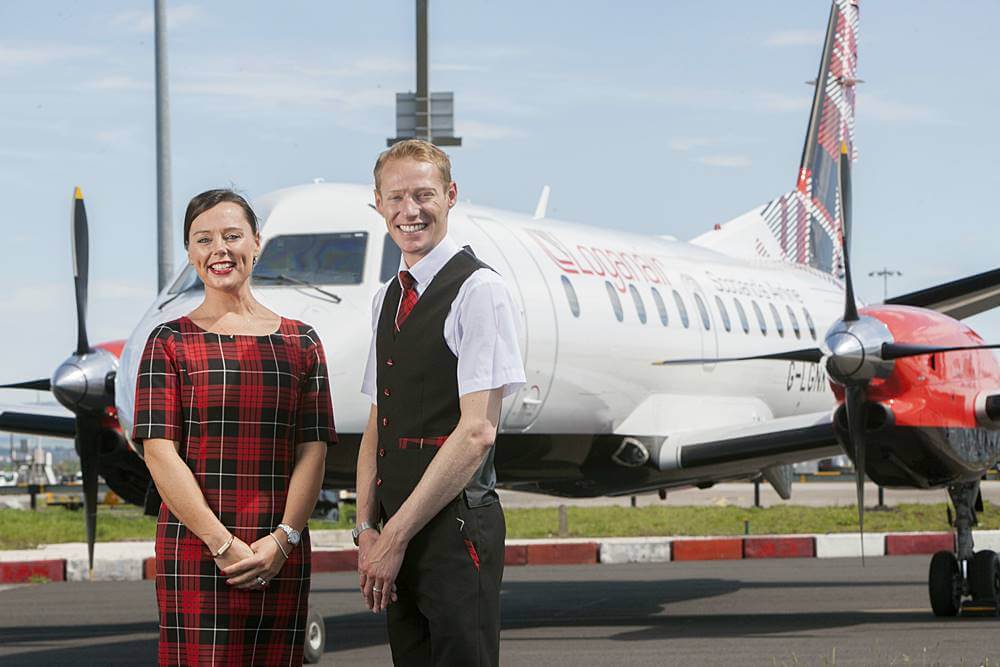 Qualifications
For qualifications in terms of becoming a Loganair cabin crew, see the following list:
Should be at least 18 years old
Should be 5'2" or higher in height
Must be legally allowed to live and stay in the UK
Must know how to swim
Must be physically and mentally healthy
Should have exemplary skills in providing customer service
Should have a pleasing personality
Must have a good sense of hygiene
Should not have visible tattoos or piercings when the uniform is worn
Should be willing to relocate once accepted
Document Requirements to Prepare
Initially, you will only need to prepare these documents upon application:
10 years' worth of employment history
Copy of a clean criminal record
DOT Fingerprint
Approved drug screening test
If you pass the first screening and turn to the next stages, note that the interviewers may ask you for more personal documents, including but not limited to your birth certificate, college diploma, and likes. You will be oriented about this once you pass, though, so you won't have to worry about missing a document.
Where to Apply for a Job for Loganair Online
You can apply as a cabin crew member for Loganair online through their careers page here – https://www.loganair.co.uk/info/careers/.
Below is a screenshot of the Careers Page: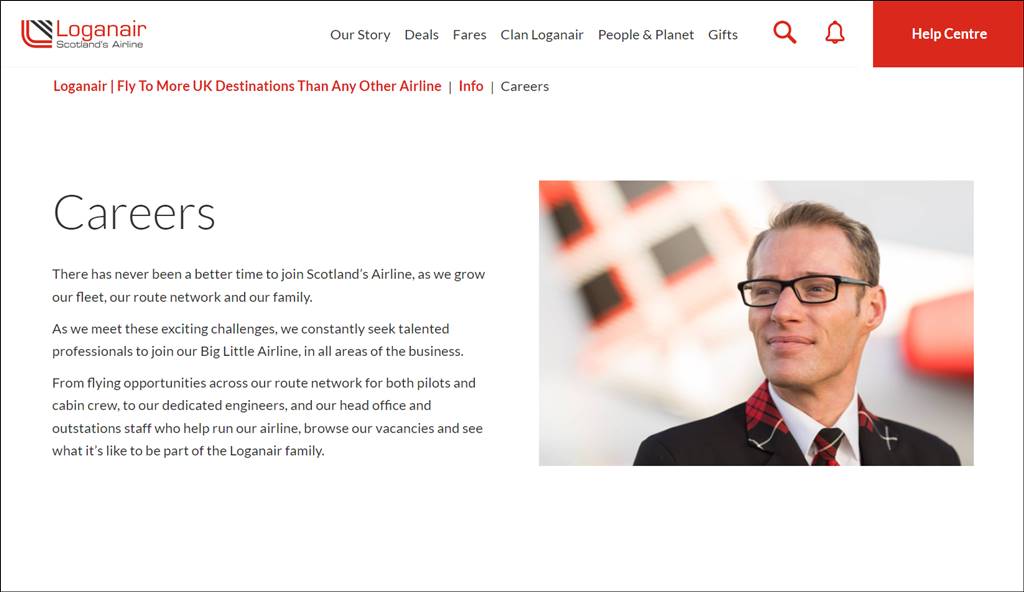 On this page, you will be able to see an overview of the job descriptions of the company's needed careers. The current job vacancies are also posted here, so you won't have issues in being updated with Loganair.
How to Become a Cabin Crew for Loganair
Since you will first be applying for Loganair through online means, you can expect that the application process will be convenient. For a guide, here is a step-by-step overview of what you need to do:
Step 1: Head on to Loganair's careers page. You can find this at https://www.loganair.co.uk/info/careers/. This will let you see if there are currently open positions for flight attendants and cabin crew members.
Step 2: Create a profile for Loganair Cabin Crew Jobs. This will let you access the page where you can submit the requirements and contact information for the application process.
Step 3: Accomplish the given application form. This task involves giving out personal details, including your name, contact details, background, and likes.
Step 4: Submit the application form and wait for results. Make sure that you enter the correct contact details before submitting your form since that is where the company will contact you if ever you pass the initial screening.
On another note, it will be best if you print your application form for your own copy. This may also be asked once you get called in for an interview.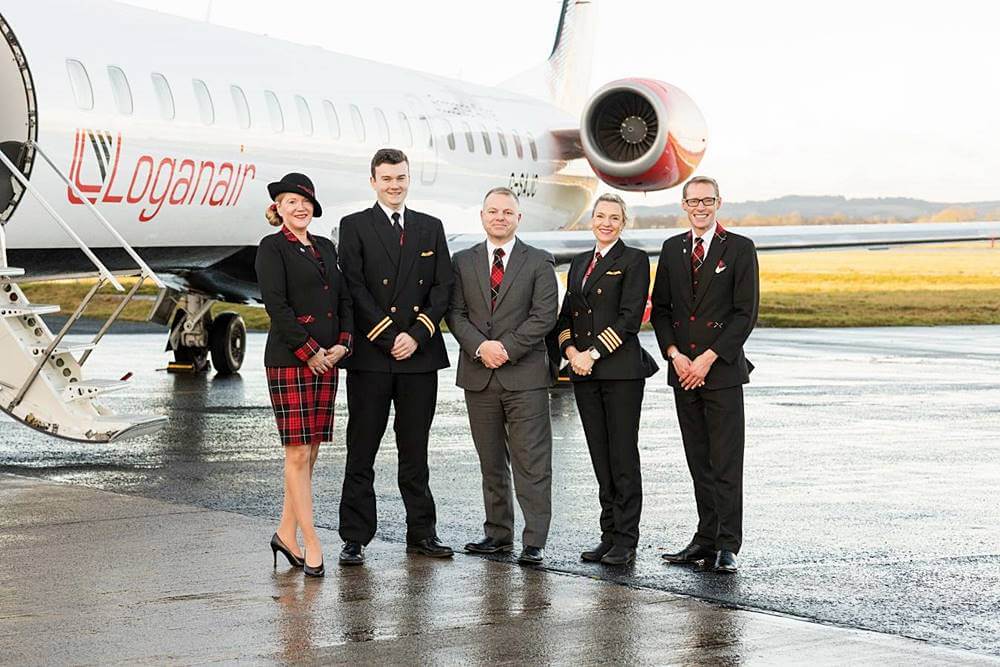 Monthly Salary a Loganair Flight Attendant Makes
The base salary offered by a flight attendant in Logainair amounts to around £18,000. However, annual reports only come up to £16,200. This means that monthly, you can expect to earn £1,350 to £1,500. This will depend on your current position in the company.
Nevertheless, Loganair offers a below-the-average pay when compared to other airlines. This is understandable considering that we're talking about a regional airline, though.
Benefits
Apart from the monthly salary that you will get, here are the other benefits that you can expect to gain by working with Loganair:
Flight travel opportunities and discounts
Paid annual leaves
Opportunity for securing a permanent and full-time employment contract
Post-employment training
Chances of being qualified for development programs
Retirement benefits
Video: Loganir Flight Review
In the video, a vlogger that goes by the username of "Aviation18" reviews the flight experience that they had with Loganair. This is a helpful video even for aspiring Loganair flight attendants since you will get a good view of what it's like flying with the airline.
Here are some things that the host reviewed throughout the video:
Quality of the plane's takeoff
Quality of the customer service provided
Total-experience until landing
Condition of the airline's aircraft (seats, environment, atmosphere)
Overall Scotland flight route
So far, Aviation18 has had positive reactions to the offers of Loganair. Several other users in the comments also backed the ideal observations provided by the host. This means that you can expect to have a favorable flight experience once you start working as a flight attendant in the said airline.
Disclaimer: This is a video uploaded by a flight attendant vlogger who shared her experience being a cabin crew member. Take note that every crew has a different experience, but this will help give you an idea what to expect when you work for Air Loganair Airline.
Photos: Loganair Cabin Crew in Uniform
Check out these beautiful pictures of Loganair flight attendants in uniform. If you wish to imagine yourself being part of this company, check out these photos to give you a glimpse of working for this airline:
Frequently Asked Questions
Here are some common questions and answers about the hiring process in Logan Airways:
1. Is Loganair strict in terms of flight attendant applications?
Like any other, you can expect Loganair to stick by their rules, specifically in terms of looking for their specific requirements in applicants.
Although there is little information as to whether the airline is tight with deadlines in document submissions and other applicant-related matters, it's still common work ethics to work according to strict requirements in deadlines. Not doing so can lead to the interviewers getting the wrong impression of you.
2. What age do I need to be to apply as a flight attendant in Loganair?
You need to be at least 18 years old before you can be qualified to apply as a flight attendant in Loganair. There is no specified maximum age requirement, so feel free to try submitting requirements as long as you're past 18.
3. What skills do I need to have as a flight attendant?
In particular, Loganair is looking for people who have exemplary skills in bringing out the smiles of others, helping passengers enjoy traveling and being knowledgeable about safety standards and how to implement them. If you have all of these, then you already have a high chance of being accepted.
When we talk about general flight attendant skills, however, refer to the following list:
Ability to work under pressure
Must be physically capable of doing heavy tasks like lifting, swimming, and likes
Has exemplary skills in customer service
Must have skills in working with other people
Should be detail-oriented
Basically, you should have versatile skills and other relevant ones that will help you deal with people 24/7.
4. Do I need to have a college degree to be a flight attendant?
Loganair requires applicants to have proof that they were able to complete both secondary and college-level education. They don't specify the kind of degree needed, but as long as you pass their examination and screening, it's a given that you have the chance.
If you don't have a college degree, then you may look into other airlines that don't require one. This is possible since a number of flight companies don't limit their findings to college graduates. Of course, you should still keep in mind that having a degree will give you a more significant advantage.
5. Does Loganair require applicants to have previous work experience?
It is one of Loganair's requirements for flight attendants to have a 10-year employment history. This means that you must be able to provide 10 years' worth of working experience. If you're a new graduate or just starting out in your career, you should try applying as long as you have a clean background.
6. Can I apply to Loganair if I have a tattoo?
You can apply to Loganair if your tattoo won't be physically visible if you're wearing a uniform. This is the same with piercings. You may still be considered, though, if the tattoo can still be covered by concealing products.
7. What benefits can I get from working at Loganair?
Some benefits that you can get from working at Loganair include travel opportunities, paid leaves, permanent employment, and other career development opportunities. Another thing, you will also get access to a healthy working environment because of the sustainable conditions offered by the company.
8. Is it hard to be a flight attendant at Loganair?
It's hard to be a flight attendant in general. No matter if you will be working for Loganair or other airlines. You will be working alongside busy schedules and heavy training sessions. Thus, you need to be prepared for a seemingly difficult working environment, especially in your early days.
9. How much is the salary of a Loganair flight attendant?
On average, Loganair offers £18,000 as a base annual salary, but reports state that a cabin crew member in the company earns an average of £16,200. This is what you should expect once you get accepted.
10. Does Loganair offer flexible work schedules for cabin crew members?
Unfortunately, you can't expect flexible work schedules if you work with Loganair. This is the same with other flight companies since you will be basically working from early in the morning to late in the evening. It's most especially true during your early days as a flight attendant.
11. Will Loganair provide training sessions if I get accepted as a flight attendant?
One of the many good things about working for Loganair is that they will provide all the learning resources and training programs to get you prepped up for the job. Note, though, that you will only be qualified for this if you already have the travel documents to go in and out of the UK legally.
Summary
As you can see, applying to Loganair can be done smoothly as long as you have the right requirements and qualifications. Although it isn't necessarily easy since we're still talking about a full-time career with heavy responsibilities tied to it, you can rest assured that it won't be as complicated as you think.
Some more important notes to remember to include duly taking care of your application form from start to finish, providing the right contact information, and being presentable if asked for a physical interview. These will highly increase your chances of standing out among the other applicants. Watching videos and reading online blogs about similar experiences will also be a big help.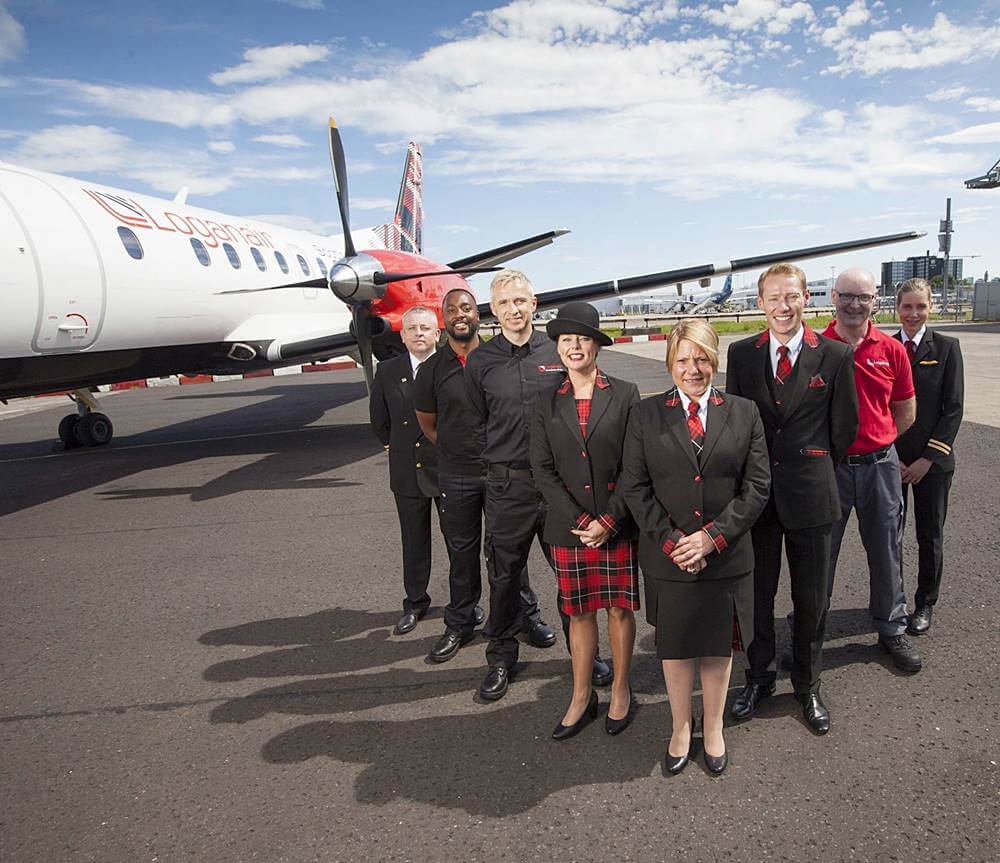 Contact Information
Loganair
Address: Lightyear Building, 9 Marchburn Drive, Glasgow Airport PA3 2SJ
Telephone Number: 00 44 141 642 9407
Website: https://www.loganair.co.uk/
Facebook: https://www.facebook.com/FlyLoganair/
Instagram: https://www.instagram.com/flyloganair/
Twitter: https://twitter.com/flyloganair/