If you're interested in a career as an airline cabin crew member, Oman Air is currently accepting applications. Here's what you need to know about the hiring process and how to apply.
Also Read: Do I Really Need to Know How to Swim to become a Cabin Crew?
Many airlines across the world attract those who want to become cabin crew attendants. Some of the options include companies that have flights globally, but others are domestic airlines situated within the borders of countries. Some flight attendants seek to join the cabin crew of an airline that has both, to fulfill their dreams and career aspirations.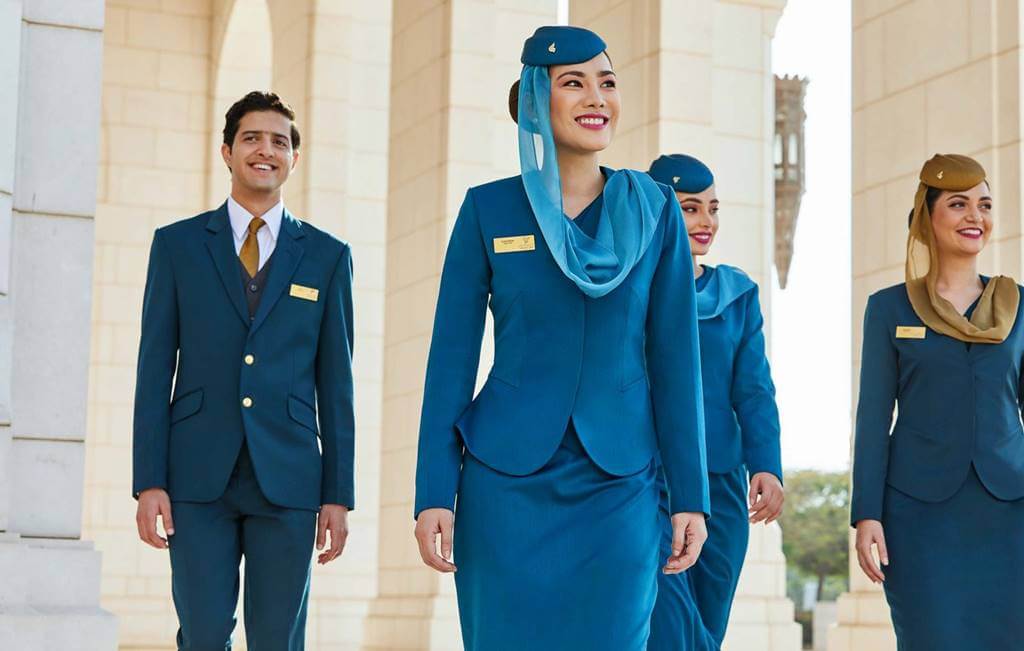 Overview of Oman Air
Oman Air is based in Muscat, the capital city of Oman. The country is in a strategic location, with entry points close to Europe, Asia, and Africa. The airline serves as a national resource for Oman, with the Omani Government owning a huge chunk of the company. Despite being the national airline, Oman Air operates across different territories.
One of their most prominent service areas is the Middle East. Countries in this area are covered by the airline, with many two-way flights and terrestrial trips. In recent years, they have expanded to include India, as well as neighboring countries in Asia and Europe. Initially, flights chartered by Oman Air were operated by Gulf Air. But the Omani Government's withdrawal from Gulf Air prompted a change in operations.
Nowadays, Oman Air is one of the leading flight providers worldwide. The airline sets itself apart from competitors through innovative marketing strategies, aesthetically pleasing interior and staff uniforms, as well as top-notch onboard services. Coupled with an organized management, Oman Air stays on top of things as it continues to innovate itself.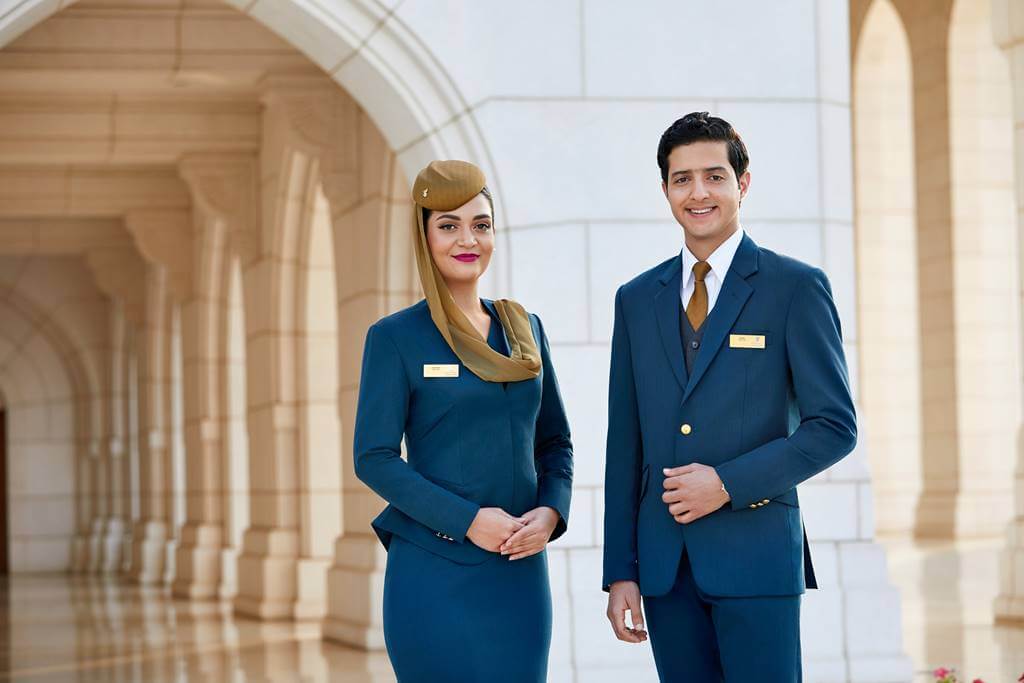 Responsibilities
Being part of the cabin crew requires one's close attention and continuous motivation. While living a life onboard a plane, there are many things that should be at the forefront of a flight attendant's priorities.
An Oman Air flight attendant has the following responsibilities:
Information dissemination. A flight attendant is in charge of informing passengers about the emergency and safety protocols inside the plane. These must be followed during all the stages of a flight.
Adherence to protocols. Flight attendants must follow all procedures in the airline's safety manual. These protocols ensure the safety and wellbeing of all crew members and passengers.
Cabin safety. Flight attendants must ensure that they follow all tasks distributed to them by their superiors, especially regarding cabin safety.
Quality and safe service. Flight attendants should also provide safe and reliable services for passengers. These services aim to satisfy and provide the passengers a comfortable experience onboard.
Safety and risk assessment. They are also in charge of checking if passengers are safe aboard the plane.
First aid management. As flight attendants, they also have to know first aid support. In times of a crisis or emergency, they must be able to provide support to any injured passengers.
Maintenance and preliminary housekeeping. Flight attendants must ensure that cabins are clean, and passengers have clear access to the washroom. They must also check the overhead bins and ensure that emergency exits are visible and accessible to everyone onboard.
Inclusive care and management. All Oman Air flights must be accommodating to passengers that need special assistance. In addition, flight attendants should ensure that passengers do not smoke onboard. Seat belts must also be always fastened.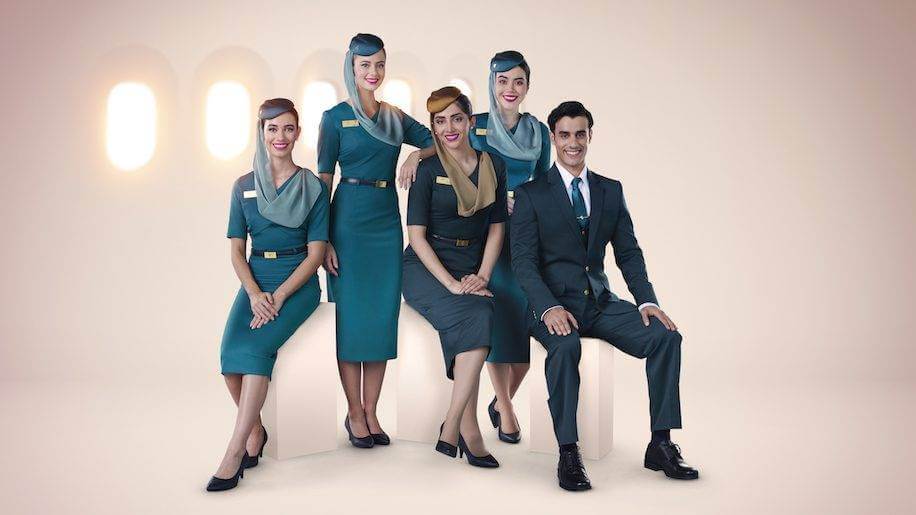 Qualifications
Like all job positions, Oman Air has a few qualifications to filter their candidates. The selection process must adhere to these qualifications to preserve the order and quality in the cabins of the airline.
Candidates must have a college diploma in any discipline, preferably from the past two years.
Fresh secondary school certificates may be accepted depending on other factors.
An approved cabin crew license is also considered.
Omani male and female candidates must be aged 18 to 35. Males have to be at least 165 cms in height, while females have to be at least 157cms. Foreign national women may also apply, although the age limit begins at 21.
Proficiency in Arabic language, as well as spoken and written English. Foreign languages are also welcome.
They must be medically fit.
Good interpersonal skills are also a must.
Document Requirements to Prepare
The following requirements must be prepared:
Curriculum vitae
College diploma or transcript of records, as necessary
Medical clearance
Other requirements will also be asked once shortlisted.
Where to Apply for a Job for Oman Air Online?
From time to time, Oman Air has job vacancies. These vacancies may include positions in the cabin crew. Their Careers page may help you navigate your job options carefully. The company advises you to wait for a response within a six-week timeframe.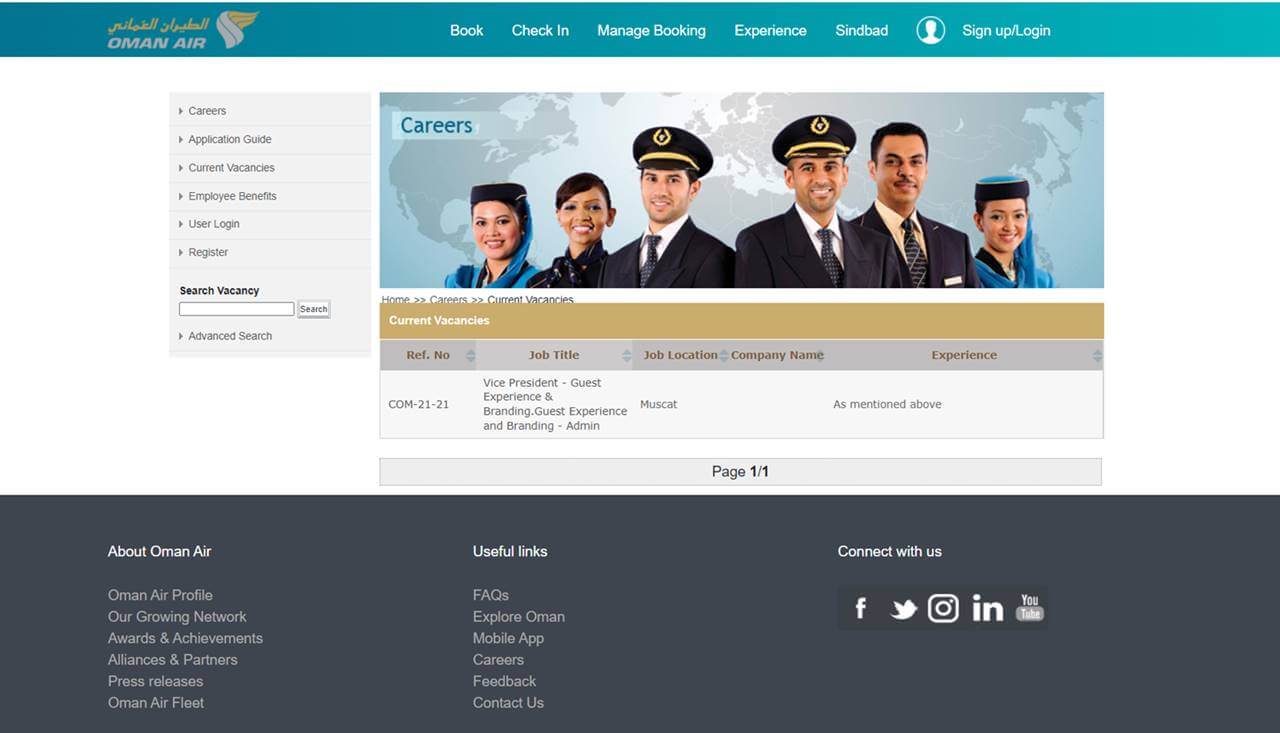 How to Become a Cabin Crew for Oman Air
To become a cabin crew member for Oman Air, there is an application process you must follow.
Step 1: The first thing to do is watch out for job openings in Oman Air's website. There are times when they are advertising a job on the Careers page.
Step 2: They have a user registration portal for interested parties. This will allow you to send in your credentials and directly apply for the job in a few clicks. Create a profile and browse through the interface.
Step 3: After signing up through their website, wait a few weeks before a response. The usual lead time is within six weeks.
Step 4: If shortlisted, you will receive a call for a meeting. The meeting will serve as further assessment of your capabilities as a flight attendant.
Step 5: After the initial assessment, you will be subjected to another set of interviews. These will include a psychometric analysis, a presentation of skills, and an appointment with the assessment center.
Step 6: A specific job simulation will also occur. After all of these assessments, a response is sent to the candidate within three weeks. Make sure to prepare for the simulation to get the highest chance of securing a slot. It is important to be in top shape. Otherwise, you might come across as unready.
Step 7: When finished with the assessments, you will be contacted for Referee details if you make the cut. If you are on hold or unsuccessful, you will also receive a notice.
Step 8: You will undergo a series of medical checks to be validated. These are done to ensure that it is safe for you to be onboard. In addition, you will also be contacted for security checks.
Step 9: Once the clearances have been issued, contract signing can now proceed. Once contracts are in place, you may begin your journey as a cabin crew member for Oman Air!
Video: Tips to Apply as a Flight Attendant for Oman Air
Here's a helpful video guide of a female crew of Oman Air as she discusses tips and recommendations on the procedures when applying as a crew for this airline:
Becoming a flight attendant is something that many people dream of, but there are specific aspects of it that are foreign to regular citizens. If you are interested in becoming a flight attendant aboard the planes of Oman Air, then it can help to know the many things that are included in a regular routine.
Expect to encounter the following:
Protocols that have to be followed everyday
Schedules that might affect your sleeping cycle
Influx of passengers on several flights
Disclaimer: This is a video uploaded by a flight attendant vlogger who shared her experience being a cabin crew member. Take note that every crew has a different experience, but this will help give you an idea what to expect when you work for Oman Air.
Photos: Oman Air Cabin Crew in Uniform
Check out these pictures of Oman Air airlines flight attendants in uniform. If you wish to imagine yourself being part of this company, check out these photos to give you an idea about working for this airline:
Frequently Asked Questions
Here are some common questions and answers about the hiring process in Oman Air airways:
1. Does Oman Air travel within Oman only?
Even though the name might suggest otherwise, Oman Air has flights in other neighboring territories. These include Asian countries and even a few areas in Europe.
2. Are flight attendants required to meet a certain height?
Yes. Male candidates have to be at least 165cm. Women have to be at least 157cm.
3. Do flights have adequate safety mechanisms for both passengers and crew members?
Yes. Crew members are protected by company policies, and all flight attendants must have knowledge of first aid training to be of help in emergencies.
4. Does Oman Air have job openings frequently?
Job openings happen whenever the company lacks manpower. These are posted on their website.
5. Do flight attendants have uniforms?
Yes. Like all airlines, Oman Air implements a distinct uniform code for its flight attendants. The design is a distinct but minimalist look, with the actual clothes made out of comfortable materials.
6. Will attendants receive training for emergency situations?
Since flight attendants have to be knowledgeable in situations that require emergency help, all cabin crew members will undergo training.
7. Do flight attendants have to attend to passengers with special needs?
Of course. Like many upstanding companies, Oman Air values inclusivity and equity within its premises. Flight attendants have to uphold that commitment by being accommodating stewards.
8. Are passengers allowed to smoke within planes?
No. Smoking in the plane poses a threat to everyone onboard. Flight attendants have to secure the premises and ensure that nobody lights a cigarette while onboard the plane.
9. Does Oman Air allow flight attendants to work onboard if they have an illness?
Flight attendants with preexisting conditions have to be cleared for work by a medical officer. Otherwise, they are not permitted to work on a plane.
10. Does Oman Air hire walk-in applicants?
No. Oman Air prioritizes individuals who apply through their website. They put up job openings there for easier access and secure applications.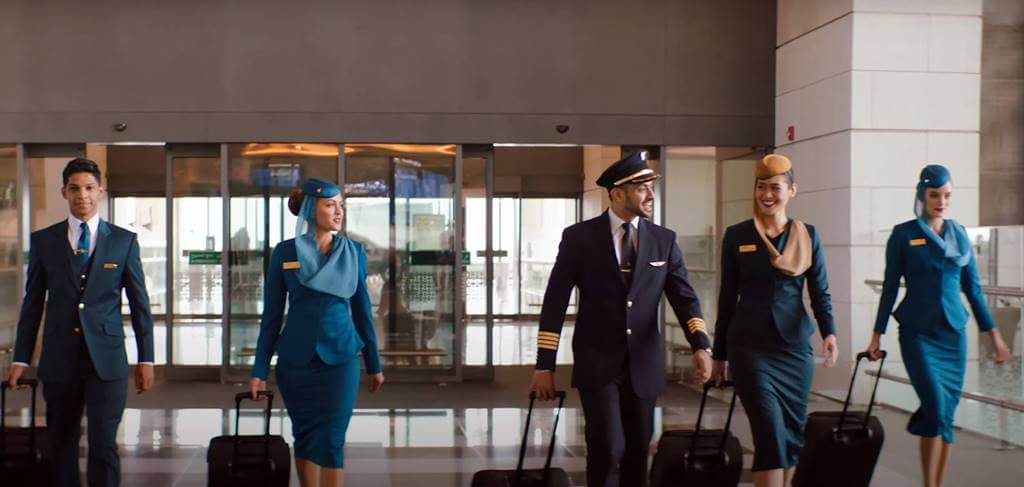 Summary
Overall, Oman Air is a reputable airline that has built a name for itself. It continues to grow and expand as a business. Likewise, their flight attendants are top-of-the-line workers who have the best qualifications possible. To apply for a job, make sure to use the channels provided by the company on their website.
Contact Information
Oman Air Airline
Address: P.O. Box 58, P.C.111, Muscat International Airport, Muscat, Oman
Telephone: 23952325
Website: https://www.omanair.com/
Facebook: https://www.facebook.com/omanair
Twitter: https://twitter.com/omanair
Instagram: https://www.instagram.com/omanairofficial/