Learn about Pacific Coastal Airlines' cabin crew hiring process through this guide we created below. If you're interested in being a flight attendant for this airline, this article details everything from document requirements, eligibility criteria, and some additional tips you need to keep in mind along the way.
Also Read: New York Layover Guide: 24 Hours in New York Itinerary
Pacific Coastal Airlines is a British-Columbia-based airline known for honoring the motto of 'People Friendly, People First.' Having received numerous recognition and awards over the years, the airline strives to uphold safety as its first priority, ensuring that everyone remains comfortable during their travels. The airline constantly provides equal employment opportunities for all and fosters a positive workplace that puts prime value on loyalty, collaboration, and accountability. If being a flight attendant for Pacific Coastal Airlines sounds like the right career choice for you, read on to understand what steps you should take to get hired.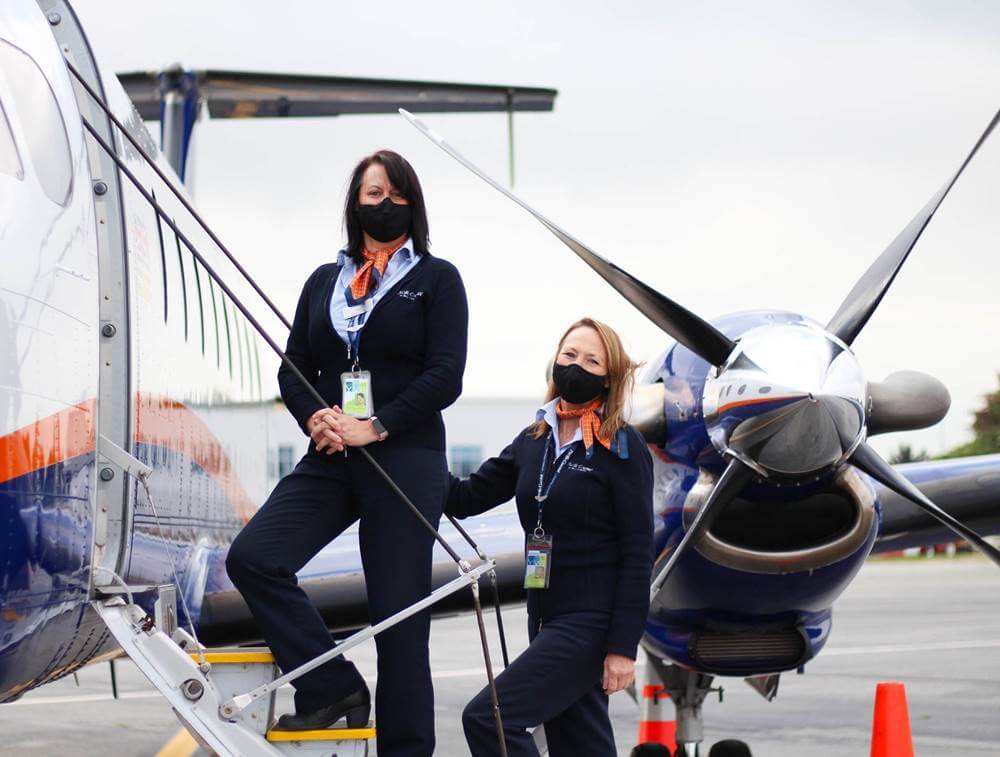 Overview of the Pacific Coastal Airlines
Founded by Daryl Smith, Pacific Coastal Airlines is a privately operated and owned regional airline based in British Columbia. Its main headquarters is located in Vancouver International Airport's South Terminal and schedules regular flights to over 65 destinations within the British Columbia area. The airline currently ranks as the third-largest airline based on landings and take-offs and is the sixth-largest operational airline at the Vancouver International Airport based on the total outbound seats alone. Its affiliate airline, Wilderness Seaplanes, also connects to additional destinations along the British Columbia south coast.
The airline puts a premium on customer service and safety and fully complies with the rules and regulations established by Transport Canada. Moreover, it also administers a comprehensive and thorough internal safety process in every flight operation and ensures that every employee is equipped to oversee the safety and security of flight passengers.
Pacific Coastal Airlines remains dedicated to its involvement with its partner communities, supporting various local organizations and charities throughout the years. Since then, it has garnered many awards from different organizations because of its tireless efforts and great service.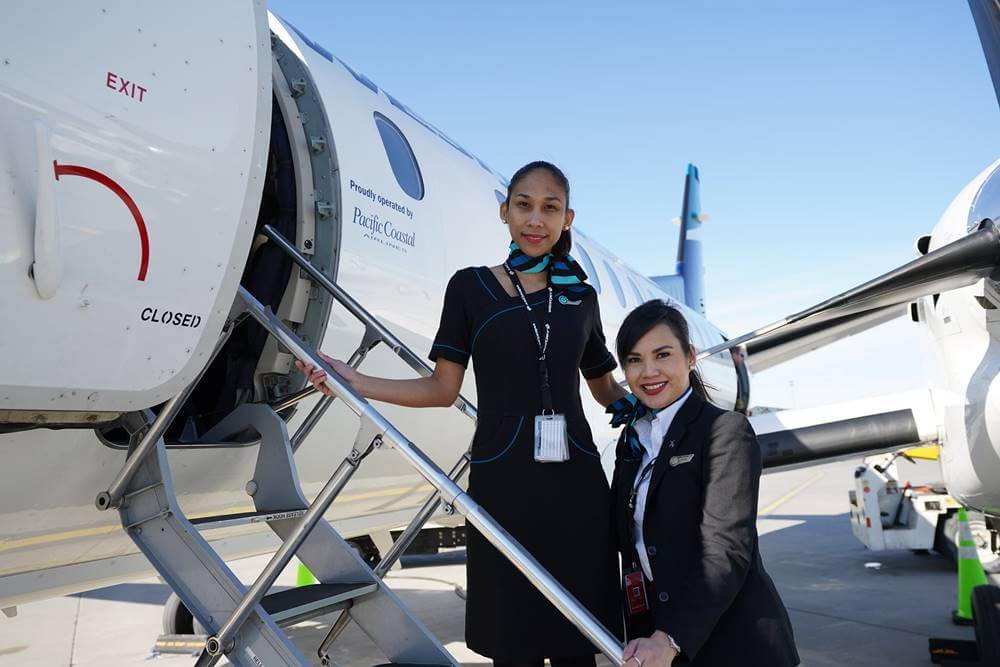 Responsibilities
It's vital to understand that being a flight attendant comes with serious responsibilities. Because of this, you must first understand the different tasks and duties you're assigned once you become a flight attendant for Pacific Coastal Airlines. As a flight attendant, you're given the responsibility to make sure that the passengers are safe and secure, attend to their concerns, serve food and beverages, and submit reports, among many others. Knowing your responsibilities as a flight attendant will provide you with a glimpse of what you need to expect once you're successfully hired for the position.
That said, here are your responsibilities as a Pacific Coastal Airline flight attendant.
Regularly attend pre-flight briefings regarding flight details.
Ensure passenger comfort, security, and safety at all times
Make sure that all flight safety equipment is checked before departure and monitored during the duration of the light.
Welcome and greet passengers politely and professionally.
Explain flight safety procedures, demonstrate how to use emergency equipment, and direct in-flight passengers during emergency situations
Make announcements as required.
Render service of snacks, meals, or beverages to passengers
Answer passengers' queries and concerns about flight and attend to their needs, especially those with special needs
Administer first aid to in-flight passengers or coordinate efforts in first aid when necessary
Submit necessary reports regarding cabin conditions, including any medical problems that may have transpired during the flight
Enforce and follow standard operating procedures
Operate emergency and safety equipment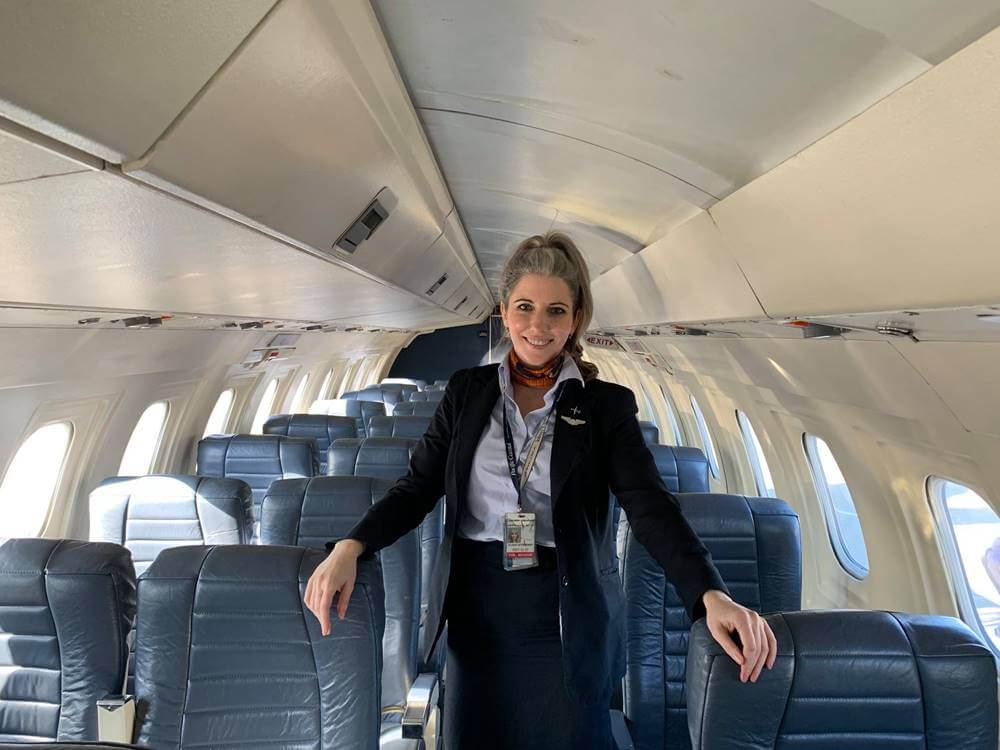 Qualifications
Pacific Coastal Airlines considers itself an equal-opportunity employer, offering job positions to skilled individuals who show a promising desire and dedication to take on the work. It strives to maintain a respectful and inclusive atmosphere that welcomes diversity. It remains committed to its policy of non-discrimination and encourages applications from eligible individuals regardless of religion, race, color, disability, nationality, gender identity, and more. At the same time, it fosters a friendly corporate culture alongside plenty of benefits and perks that can appropriately compensate its employees.
But before you get to experience all of these, you must first show that you are qualified for the job. Pacific Coastal Airlines has its own set of eligibility criteria that makes it easy to determine whether a job candidate is suitable for a job vacancy. Because of this, you need to make sure that you meet all of the qualifications before submitting an application. Here are some of its qualifications:
Must have at least one year of experience in customer service
Must be 21 years old or order
Must be at least 157.5 cm. Weight should also be proportionate to height.
Must be comfortable with working in close proximity to public and in confined spaces
Must be capable of lifting up to roughly 50 pounds
Must be able to accomplish an intensive initial training program
Must be willing to travel far away from home at any day and any time
Must have excellent skills in communication
Must have the ability to stay calm under pressure and act decisively during stressful situations
Must have the ability to manage conflicts in a professional manner
Must work well even when unsupervised in various settings and environments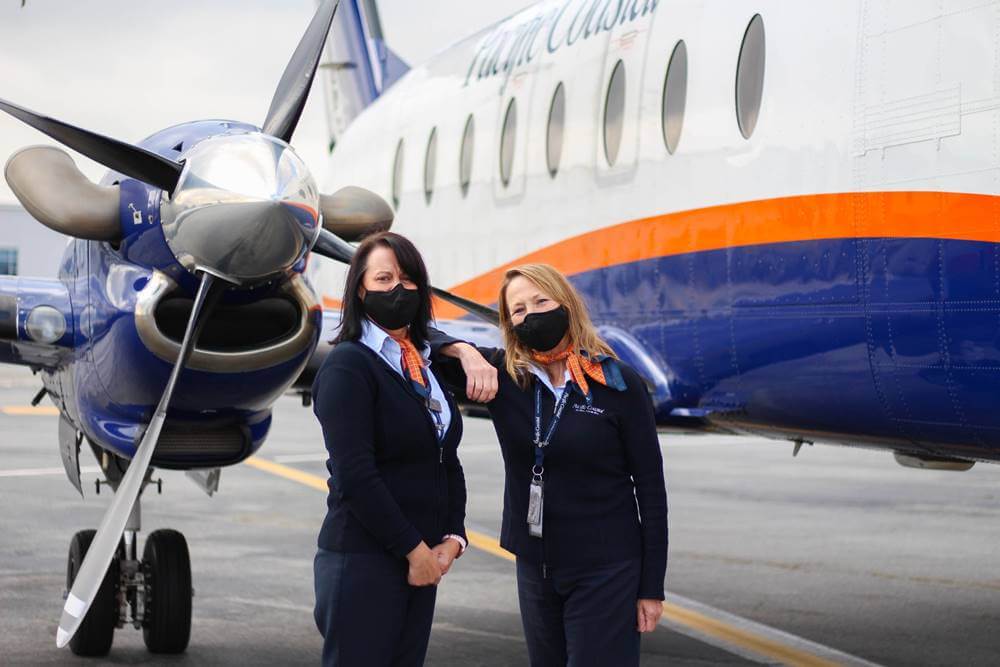 Document Requirements to Prepare
One of the most important parts of job applications is the document preparation process. This is because your documents are necessary for recruiters to evaluate whether you're the right fit for the job. This is where they'll have an ample background about your previous work experiences, your productivity level, as well as what kind of person you are professionally. Make sure that you prepare all the needed documents promptly to avoid any further delays in the hiring process. You need to have:
Resume/updated CV
Valid Canadian passport
Restricted Area Identity Card issued by transport Canada
High School Diploma or an equivalent examination from an institute or school
Where to Apply for a Job for Pacific Coastal Airlines Online
You can apply for a job at Pacific Coastal Airlines online by visiting their Career page. Upon visiting the airline's official website, you only have to click on the Careers tab, which will then redirect you to its Career page. Here, you will see plenty of information about their employee programs, perks, and benefits. To apply, browse the job posting for a list of job vacancies and apply for your desired position from there.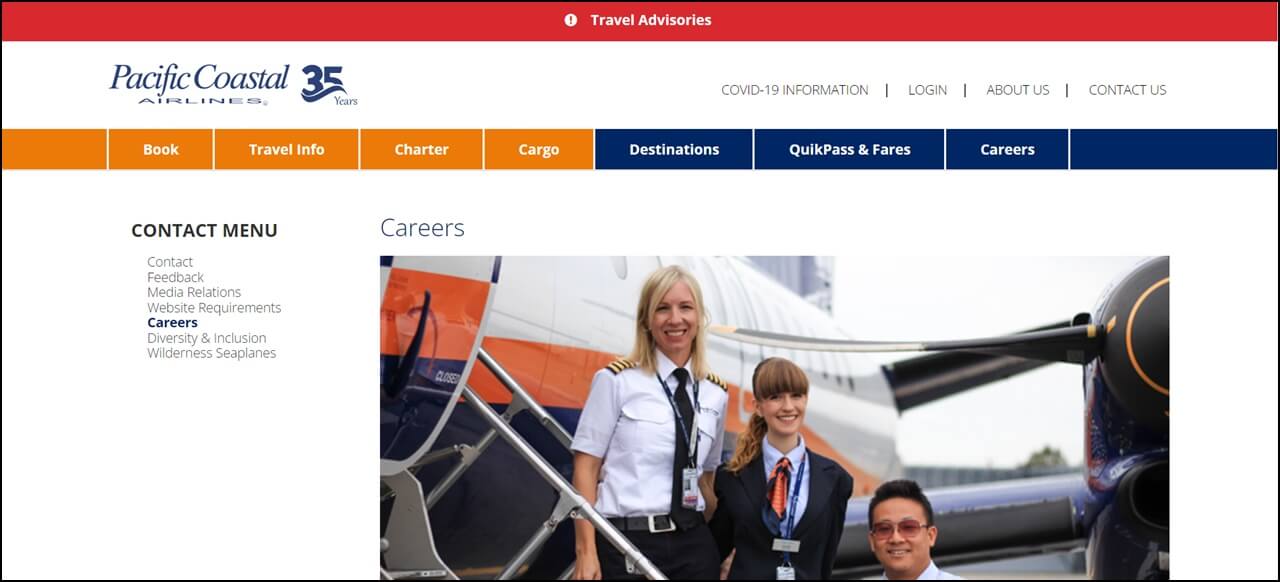 How to Become a Cabin Crew for Pacific Coastal Airlines
Below is a step-by-step guide on how to submit your application on your way to become a cabin crew for Pacific Coastal Airlines:
Step 1: Visit the official page of Pacific Coastal Airlines. Click on the Careers tab.
Visit the airline's official website HERE. On the homepage, you will immediately see a banner of tabs. Click on Careers. This will redirect you to the airline's career page.
Step 2: Browse the list of job postings.
At the bottom of the page, you can see a hyperlink to the airlines' job posting page. This will show you the currently vacant positions that the company is hiring for.
Step 3: Select the job you want to apply for.
After seeing the listing, select the job position you wish to apply for. On the page, you will see the different sets of responsibilities, qualifications, and needed skills that the company is hiring for a flight attendant. Make sure to read through this information thoroughly before proceeding to the next step.
Step 4: Fill out the application form.
At the bottom, there is an application form that you will need to fill out. This will include basic information such as your full name, contact details, and more.
Step 5: Click Apply Now. 
Once you finish answering the application, click Apply Now. Wait until the company reaches out to you for further instructions for the proceeding steps.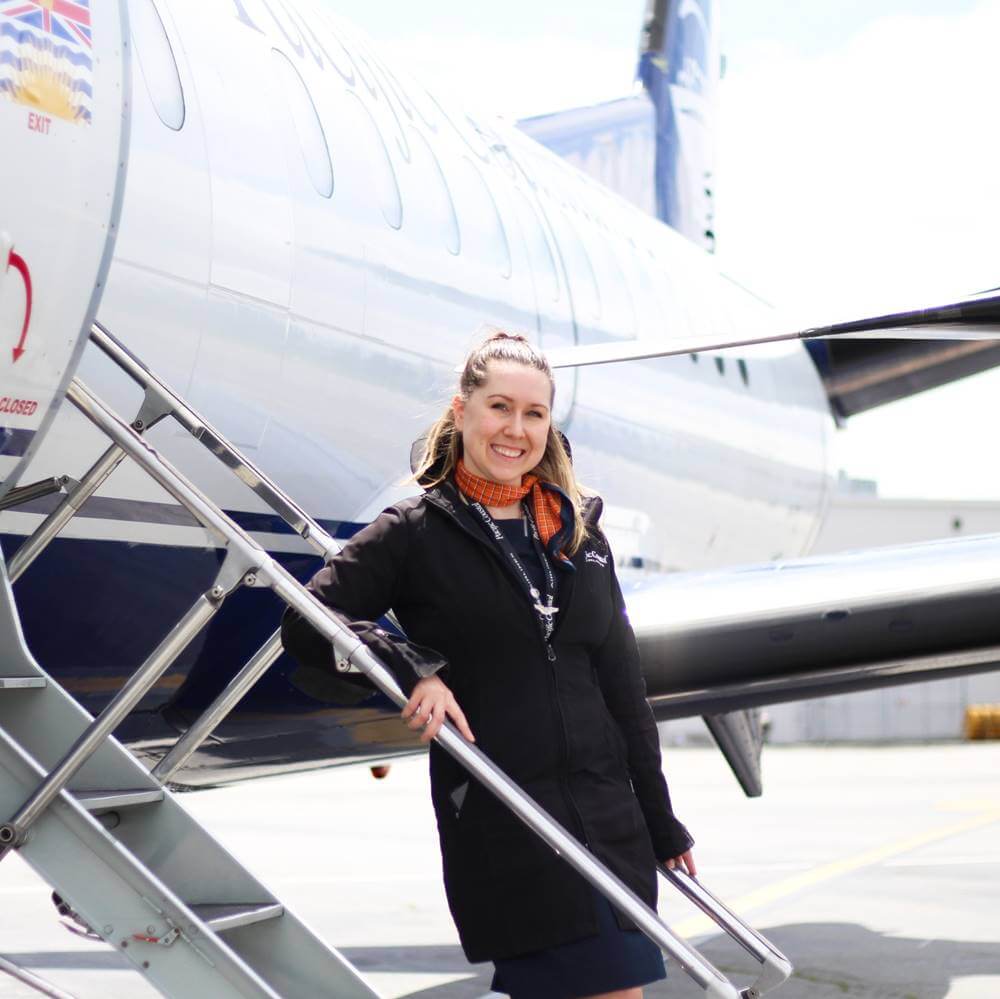 Monthly Salary of a Pacific Coastal Airlines Flight Attendant
According to Glassdoor, the average monthly salary of a flight attendant in Pacific Coastal Airlines is $2 713. Salaries can also range from approximately $2 627 to $6 116 every month. This salary is already inclusive with great industry travel perks and benefits such as a full health benefits package, paid sick days, travel medical coverage, employee & family assistance program, corporate discounts, and more.
Video: Meet Pacific Coastal Airlines CSA and Pilot, Niyamat
This short Facebook video by Customer Service Agent and Pilot Niyamat shows her sharing her experiences in working for Pacific Coastal Airlines. Niyamat shares the company's commitment to diversity and maintaining a positive workplace welcome to all. This short video can offer you an insight into what it's like working for the company as a flight attendant through the testimonies of other employees who work there.
Disclaimer: This is a video uploaded by a flight attendant vlogger who shared her experience being a cabin crew member. Take note that every crew has a different experience, but this will help give you an idea what to expect when you work for Pacific Coastal Airlines.
Photos: Pacific Coastal Airlines Flight Attendants in Photos
Check out these beautiful pictures of Pacific Coastal Airlines Flight Attendants in uniform. If you wish to picture yourself being a part of this company, check out these photos to give you an idea about working for this airline:
Frequently Asked Questions
Here are some of the frequently asked questions from other applicants that may help you increase your journey's success rate:
1. How old do I have to be to apply for Pacific Coastal Airlines?
You need to be at least 21 years of age or older in order to be eligible to apply for the airline company.
2. What skills should I have to become a Pacific Coastal Airlines flight attendant?
Some of the skills you will need to become a flight attendant for Pacific Coastal airlines are exceptional communication skills, the ability to manage stressful situations and conflicts calmly, and a proportional height and weight.
3. Is work experience a must before applying?
While work experience isn't required in the application process, the company deems it an advantage if you have previous work experience in the customer service field.
4. What documents should I prepare?
Besides your valid passport and updated resume, you will also need a Restricted Area Identity Card issued by Transport Canada and a high school diploma.
5. Is a college degree required for the application?
According to the qualifications, the airline only requires applicants to submit a high school diploma. However, the company will appreciate those who have degrees and advanced educational experiences.
6. Are there any perks and benefits?
Of course. Working in Pacific Coastal Airlines offers access to plenty of benefits related to housing, traveling, discounts, medical health coverage, and more.
7. Where is its main headquarters located?
The main headquarters of Pacific Coastal Airlines is located in Vancouver International Airport's South Terminal.
8. What are my responsibilities as a Pacific Coastal Airlines cabin crew?
As a flight attendant of Pacific Coastal airlines, you are assigned the responsibility of making routine pre and post-flight checks, ensuring passenger comfort and safety, as well as delivering beverages and meals to passengers.
9. What are the qualifications for a flight attendant of Pacific Coastal Airlines?
To qualify, you'll need to be at least 157.5 cm tall, and your weight should also be proportionate to your height. More than that, you must also be capable of lifting about 50 pounds.
10. How much does a flight attendant in Pacific Coastal Airlines earn?
As a flight attendant in Pacific Coastal Airlines, you can expect to earn a monthly average of $2 713.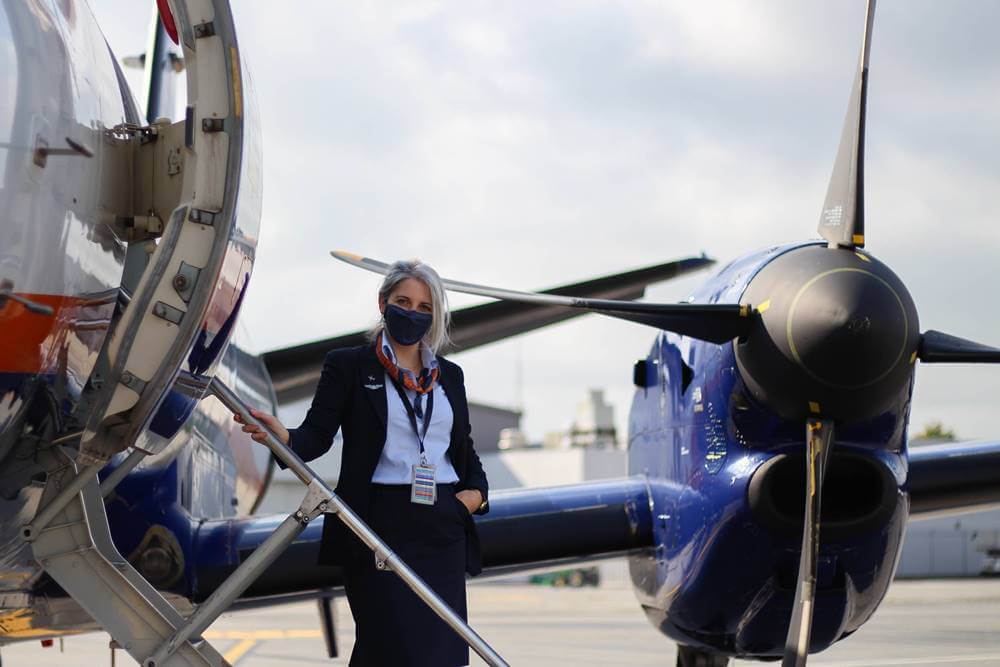 Summary
Being a flight attendant for Pacific Coastal Airlines is a great opportunity because of how the company commits itself to diversity and makes sure that employees are well-compensated. To increase your hiring chances, make sure that you fully understand the responsibilities that come with the job and promptly comply with the needed requirements and qualifications. By doing so, you can guarantee to land the career path you want.
Contact Information
PACIFIC COASTAL AIRLINES
Address: (of main headquarters) Vancouver International Airport's South Terminal
Telephone Number: 1-800-663-2872
Website: https://www.pacificcoastal.com/
Facebook: https://www.facebook.com/PacificCoastalAir/ 
Instagram: https://www.instagram.com/pacificcoastalair/ 
Twitter: https://twitter.com/PacificCoastal