Go First, formerly known as GoAir, is an Indian ultra-low-cost airline headquartered in Mumbai, Maharashtra. It began operations on November 4, 2005, and has an all-economy fleet of Airbus A320 aircraft. The Wadia Group, an Indian commercial giant, owns it. It was the fifth largest airline in India in 2017, with an 8.4% passenger market share.
Also Read: A Day in the Life of a Flight Attendant
Go First operate 330 daily flights to 36 destinations, including 27 domestic and nine international destinations, from its bases in Mumbai, Bangalore, Kolkata, Delhi, Chandigarh, Hyderabad, and Kannur. To be part of this Indian ultra-low-cost airline, here's what you need to have!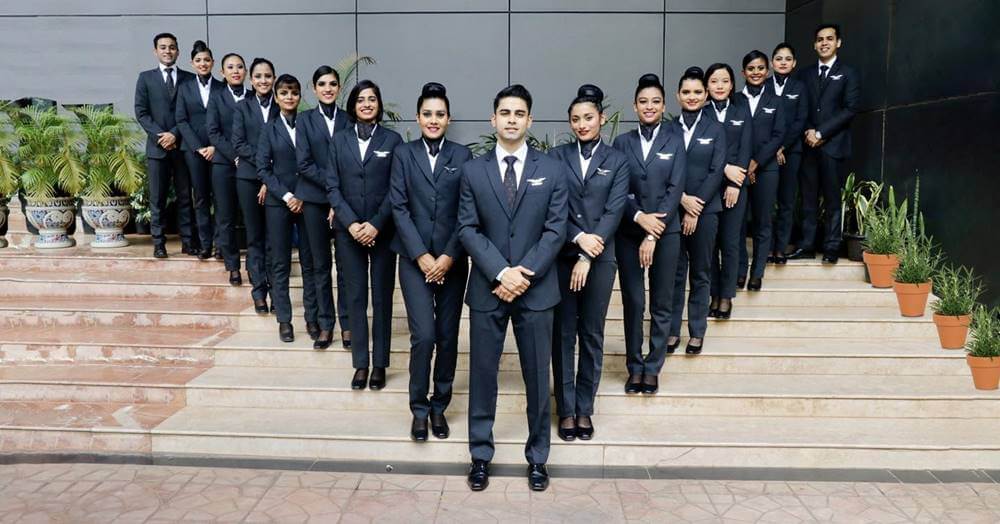 List of Requirements and Qualifications to Become a go First Cabin Crew
18 to 27 years (Experienced crew- up to 35 years).
The minimum height is 156 cm.
BMI Range 18 – 22.
Education 10 + 2 passed.
Ability to communicate with fluency and ease in English & Hindi.
You must be a holder of a valid passport.
Willing to undergo a background check.
Your height must be proportional to your weight.
No eyeglasses.
No visible tattoos.
You must be willing to submit medical test results.
Must be physically and mentally stable.
Flight Attendants are required to undergo a drug test, and you should be willing to do it every time it is needed.
You must be prepared to deal with the safety and service of passengers.
To handle stressful scenarios and emergency situations, you need to be patient.
Must be able to swim in case of emergency situations.
You must be well-groomed and portray a decent look.
You must be able to serve food and beverages.
Responsibilities:
Before each flight, conduct a safety check.
Assist passengers with their luggage.
Assist them in finding and settling into their seats.
Serve passengers in a culturally sensitive and unbiased manner.
Display emergency equipment and instruct passengers on how to use it.
The cabin must be monitored, managed, and secured.
Common areas such as cabin, galleys, aisles, toilets, etc. must be kept clean and tidy at all times.
Take note of any medical requirements, preferences, and dislikes of passengers.
Prepare and serve beverages and food to your passengers as requested.
During an emergency, assist passengers and cabin crew.
Reports on flight incidents must be submitted and prepared.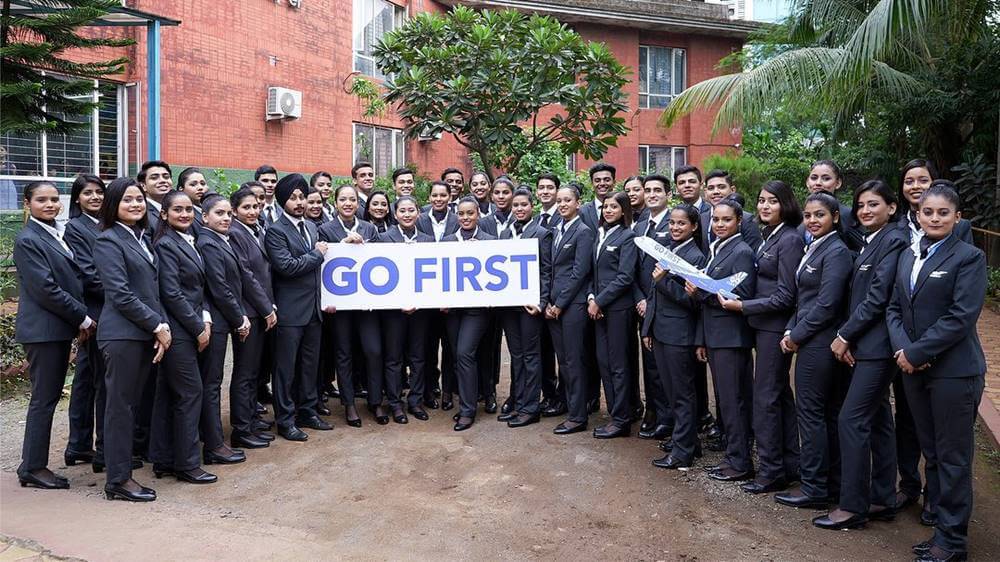 Application Process
Step 1: Go to Go First airline's official website at https://www.flygofirst.com/. Once on the homepage, check for the Career Section of the site, which is located at the bottom of the page.
Step 2: Click on "CAREERS" and choose if the vacancies are available. Flight Attendant positions are labeled as "CABIN CREW."
Step 3: If there is a provided application form, provide all the necessary information in a complete form. If you are instructed to have a Walk in application process, then check for the location and designated time & date.
Step 4: After providing all the information and files needed, wait for the airline's confirmation. This may take some time so be patient.
Step 5: While waiting, you can study more about the airline and practice possible question and answer for the initial interview. Your chances of getting hired don't solely rely on your experience and look. You need to show the panel that you have all the qualities they need, as well as the possibility that you can contribute well to their success.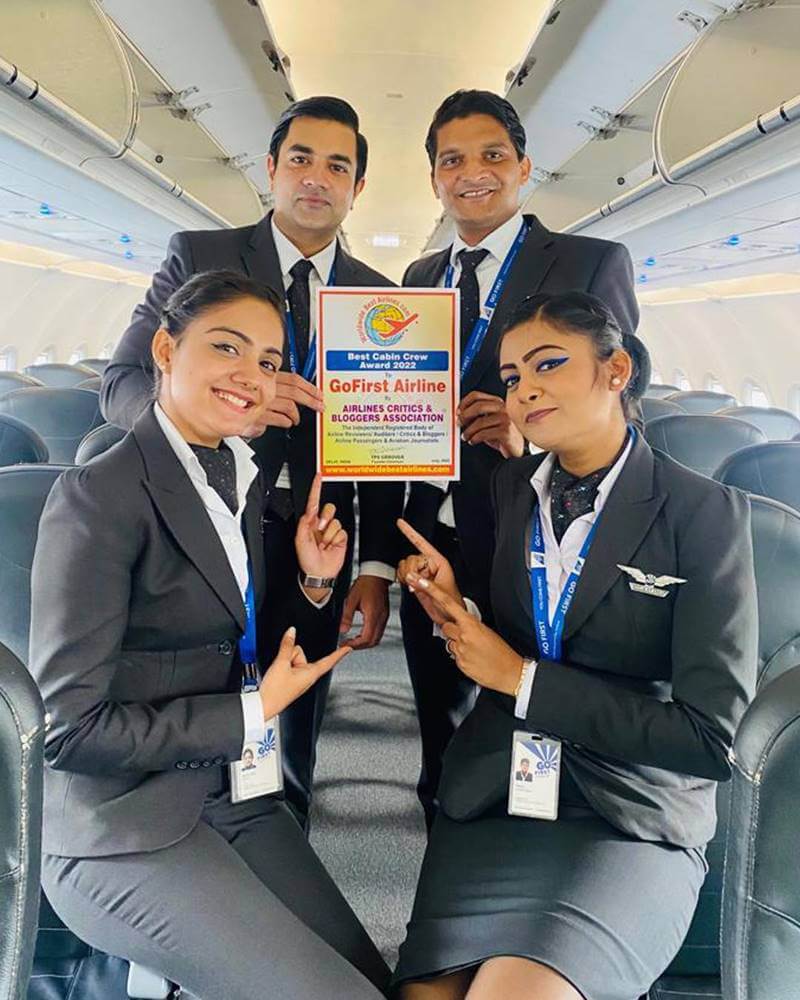 Salary and Benefits
In India, a Flight Attendant normally earns approximately 21,900 INR per month. Salaries range between 11,400 and 33,400 INR. This is the average monthly payment, which includes housing, transportation, and other perks.
Life Insurance for Crews
Health Benefits
Flying Allowance
Free Travel and other subsidies
Video: MY CABIN CREW JOURNEY | GOFIRST AIRLINE | CABIN CREW LIFE
This video will let you hear a real Cabin Crew first-hand experience at Go First. If you are hesitant, and still don't know how the actual selection process takes place, listen to her experience. Real stories of journey will help you boost your confidence when it comes to applying for a job or career you want to take.
Photos: Go First Cabin Crew Uniforms
Check out these pictures of Go First crews so you can see what they look like in uniforms:
Frequently Asked Questions
The following are some of the common questions asked about Go First:
1. Will I undergo a drug test?
Yes. Every airline conducts this type of medical examination to ensure that their future cabin crews are mentally and physically healthy, and of course, abiding by the law regarding illegal drugs.
2. I don't have customer service experience since I'm a fresh grad. Can I still have a chance for this position?
Just like other airlines, Go First accepts freshers. To make sure that you are applying for a Cabin Crew position that accepts applicants without prior experience, read the job description provided on their website. Sometimes there is a Cabin Crew vacancy for  "Experienced" and "Fresher."
3. I'm already 18, can I apply?
Yes, the ideal age to apply is 18 years old.
4. Is it true that flight attendants have a high salary?
Don't expect a competitive salary if you are just starting. But to answer this question shortly, Flight Attendants earn more than employees in the corporate world.
5. What are the drawbacks of working as a cabin crew?
You cannot expect a consistent timetable. You can miss out on important events such as birthdays, Christmas, and new year's parties with your loved ones. Another thing is maintaining your health and sleeping habits well, despite the demanding schedule and timetable you have. It is important for FAs to have a healthy and fit bodies.
6. Is it tough to apply for an FA position at Go First?
It is difficult because you will compete with many other applicants, and the airline will only select a few aspirants during their open days. As long as you have the basic requirements for an FA position, don't think about how hard it is.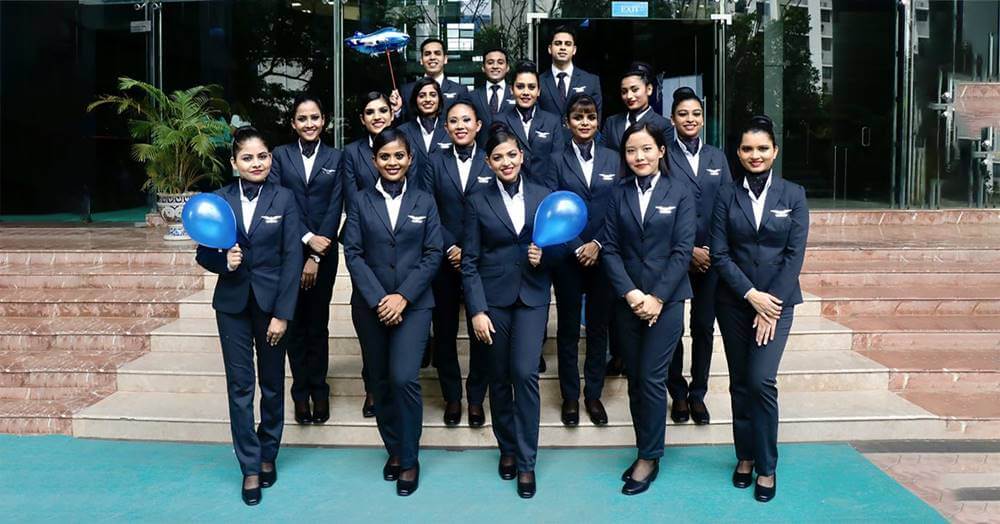 Summary
Go First is a low-cost carrier created with the goal of commoditizing air travel, as well as selling airplane tickets across India at a minimal premium to rail fares. The Go First route network connects major business and leisure locations across the Indian subcontinent. The airline guarantees a sensible value-for-money choice for both business and leisure travelers via this route network, without compromising on either safety or service considerations. The airline is looking for committed and customer service-savvy Flight Attendants, take the chance now and be part of their team!