Are you dreaming of flying with one of the leading European airlines? If yes, this is your sign to check this Wizz Air cabin crew application guide to join the growing team of the leading airline. We will walk you through providing you with the requirements, qualifications, and all the necessary steps of the application process.
Also Read: Reasons Why You Don't Need to Attend a Flight Attendant School
Wizz Air, a Hungarian-based airline with the prominent title of being an ultra-low-cost company in Europe, is searching for passionate and dedicated crews to get on board and fly with them. If you have what it takes to be part of Wizz Air's growing global team, continue reading to start your journey.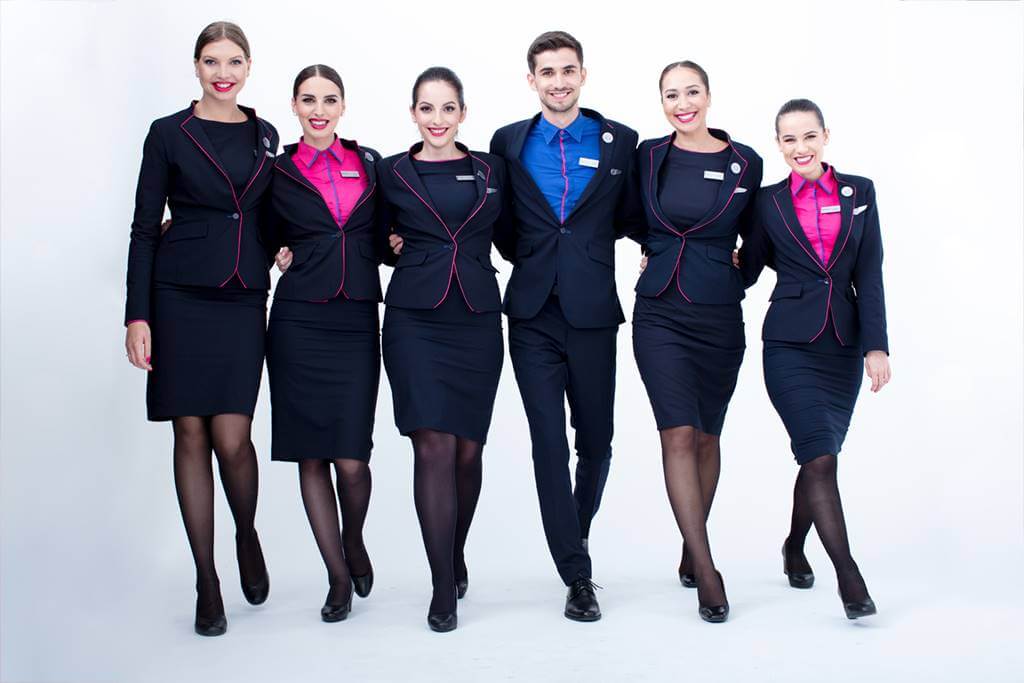 Overview of Wizz Air
Wizz Air is a Hungarian carrier established in 2003 known for providing no-frills services across various European cities. It is prominent among travelers looking to fly across borders at an affordable price. Although Wizz air is not a flag carrier, it's believed to have the largest fleet of 141 than any other airline in the country.
The airline also offers destination flights in the Middle East and the UK through its Abu Dhabi and London subsidiaries. Therefore, as a Wizz Air flight attendant, you'll also have the chance to travel back and forth across 150 destinations, covering 44 countries in Europe, UAE, and North America.
Wizz Air stands out among other European carriers because of its pillars of values: inclusivity, positivity, dedication, integrity, and sustainability. Its combined values significantly affect the services it offers to everyone. Moreover, Wizz Air also has an excellent manifesto of committing to ensure safe, secure, and reliable travel to everyone at a low cost.
The Hungarian airline claims to have a global team of professionals with different nationalities. Thus, joining the Wizz Air team is not limited to European citizens but also other races. So, if you want to have a unique working environment, learn a new culture, and grow your network– Wizz Air is probably the right place for you.
However, it's essential to ensure that you have everything you need to apply for Wizz Air. Knowing the necessary requirements and qualifications is one way to get ahead of other applicants. Here's a guide we made just for you.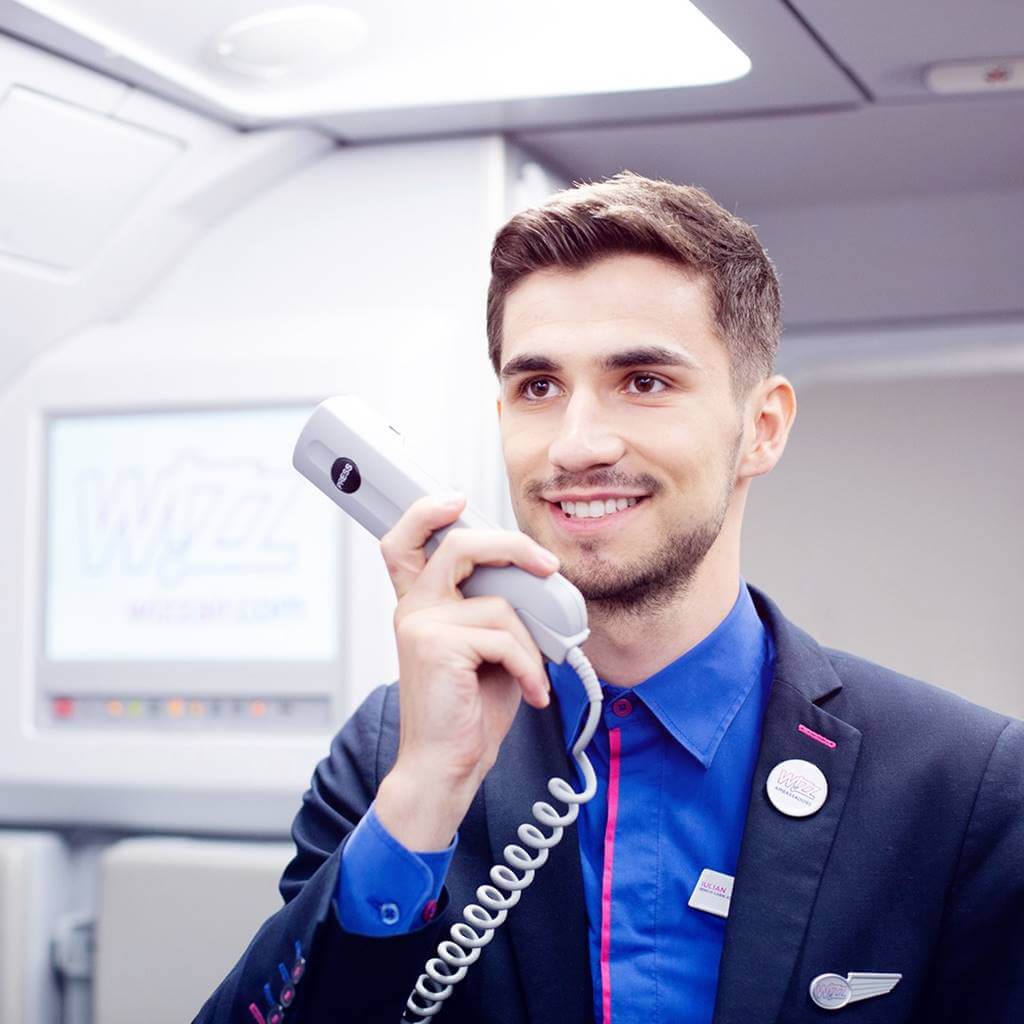 Responsibilities
As a Wizz Air flight attendant, there are duties and responsibilities that you should put in mind before, during, and after flying with them. It's essential to memorize this by heart to ace the interview during your application and become an effective cabin crew. Here are the things you should do as a member of Wizz Air's cabin crew.
Before the flight, you should be well-rested to provide utmost service to passengers and effectively attend to other necessary tasks during the boarding.
As Wizz Air's flight attendant, it's your responsibility to arrive on time and duly prepared for the flight.
You are also expected to welcome passengers with a vibrant smile and establish a light atmosphere while on board.
As the aircraft takes off, it's your duty to properly ensure the safety of the vehicle and passengers.
Wizz Air also expects cabin crews to provide excellent customer service and attend to passengers' needs.
Managing and handling in-flight sales are also part of your job as a flight attendant.
Qualifications
Whether you're applying for Wizz Air Hungary or for its subsidiaries in the UK and Abu Dhabi, there are particular qualifications that you should meet before applying. Meeting the qualifications is the first step towards applying as a cabin crew or other airline jobs. It's an essential milestone to reach the sky and fly high with Wizz Air. Here's a checklist for Wizz Air Cabin Crew qualifications to make it easier for you to identify whether to pursue a career with this European airline.
Age: In terms of age, Wizz Air particularly searches for 18 or above individuals to join its global team. However, if you're applying for Wizz Air Abu Dhabi, you should be at least 21 years old and above.
Height: The minimum height requirement for female Wizz Air cabin crew is at least 165 cm and 17 cm for males. The airline also requires the applicants to have an arm reach of 210 cm while standing on tiptoes.
Language: Applicants are expected to be fluent in English for both written and spoken. Additionally, you need to have the ability to speak any other Central Eastern European languages for UK and Hungary bases. However, for Wizz Air Abu Dhabi, you will be at an advantage if you can also speak and understand Arabic.
Other Skills: When applying to Wizz Air, the company requires its applicants to have swimming skills.
Location: You are also qualified to be part of the airline's cabin crew team if you live nearby your chosen base within a radius of 60 minutes drive. But if you're not within the area, you are expected to be ready to move once you get hired nearby your working station.
Personality: It's also important to be enthusiastic and friendly to be a Wizz Air crew.
Education: Similar to other airlines, Wizz Air only accepts applicants with a high school degree or higher.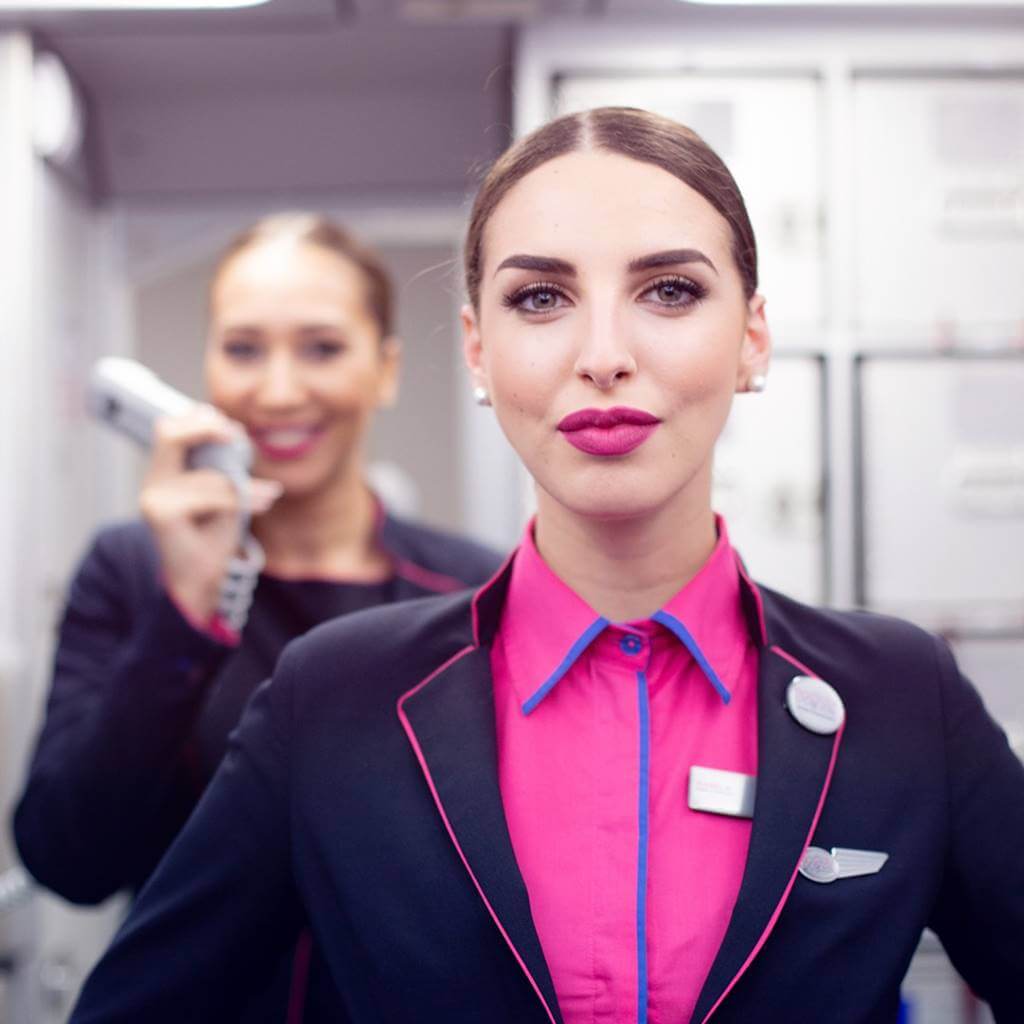 Document Requirements to Prepare
Aside from the general qualifications to meet when applying as a cabin crew for Wizz Air, there are necessary documents that you should prepare as well. They are usually presented during the interview to prove your identity, residency, eligibility, and previous experiences.
Cabin crew data sheet
Colored ID photo
Complete English CV
European Union passport
Proof of Financial History
Proof of Residency
Valid proof of identity
Valid proof of education
Language Certificate if you have
You will be required to fill in and download the cabin crew datasheet during the application process. Once you download it, you will need to attach it with the other required documents to submit during the recruitment day.
You also need to prepare for a colored ID photo aside from the photo you will attach to your CV, if any.
One thing that you should not forget for applying online is the soft copy of your Curriculum Vitae written in English. On the other hand, if you're attending Wizz Air's open day recruitment, you may want to print your CV.
According to some who have worked for Wizz Air, you should have a European Union Passport if you're applying for Wizz Air based in Europe. Furthermore, your passport should be valid and without limitations.
Upon applying, you also need to prepare documents showing your financial histories, such as bank statements or other related papers.
You should also bring a copy of a valid working permit, and the residence permit company needs to assess if you can work with them.
Most application processes also require you to provide documents proving your identity. Usually, you can present a valid ID, certificate of birth, passport, and other legal documents supporting that you are you. It's also one way for companies to check criminal records.
If you're a high school graduate or have a higher degree, you should also prepare related documents to prove your educational attainment. It could be your diploma or certificate of graduation.
Since Wizz Air requires language proficiency in English and other CEE languages, you might also want to attach your language certification along with other documents you will submit.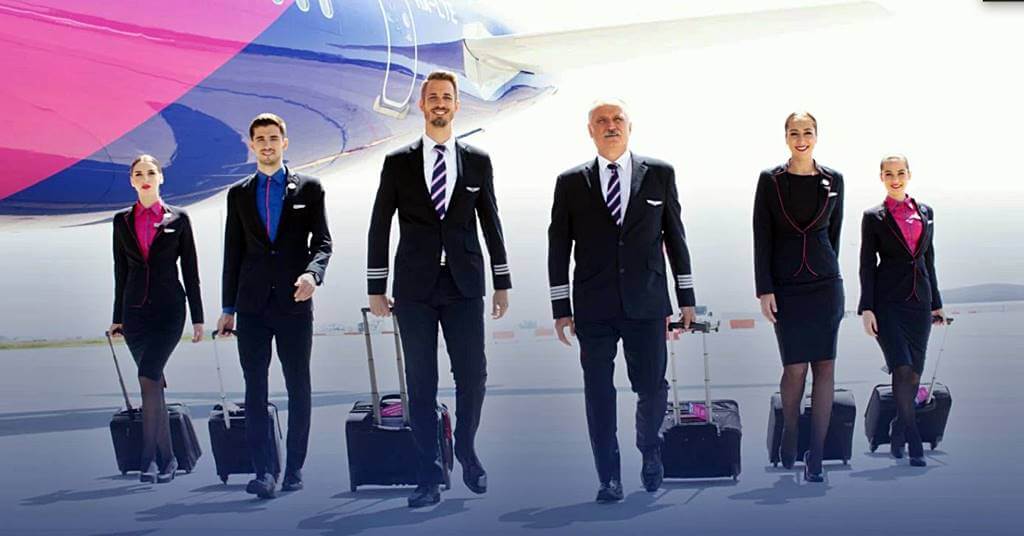 Where to Apply for a Job for Wizz Air Online?
There are two ways to apply for Wizz Air, either online or during Recruitment Days. But if you want a more convenient application process, doing it online is the best option.
You can apply for Wizz Air online through its Career Page on its website. They post job vacancies there, which you can access conveniently. Check the step-by-step guide to applying online and during recruitment days below.
How  to Become a Cabin Crew for Wizz Air
Applying for a job at Wizz Air has never been so easy nowadays since you can just send your application online. With a few steps, you'll have a chance to be part of the airline's international team.
Here's how you can apply online:
Step 1: Go to Wizz Air's official website and find the Career Page section.
The career section of Wizz Air's website is one of the legit places where you can find the openings. Kindly note that there might be other places where you can see job openings but not all of them may be true.
Step 2: Create an account or log in if you already have one.
Having an account with Wizz Air will make things easier for you, especially the tracking of your application. You can use this to monitor the status of your application, as well as your email for any issues or results.
Step 3: Upon signing in, you must fill in the application form with the necessary information.
Make sure to provide true information when filling out the form. It will make it easier for you too if you have these details ready.
Step 4: Submit the application form after completing it.
Step 5: Wait for an invitation for an upcoming Recruitment day.
If you did not receive an invitation, you could check the SPAM/JUNK section of your mailbox. However, the downside of applying online is the lack of assurance if you'll receive an email if your application gets rejected. You also probably need to wait for days or weeks before getting a response.
So, if you want to ensure an interview, you have the option to apply during Recruitment Days of Wizz Air. It is scheduled recruitment that provides applicants opportunities to do registered and walk-in applications.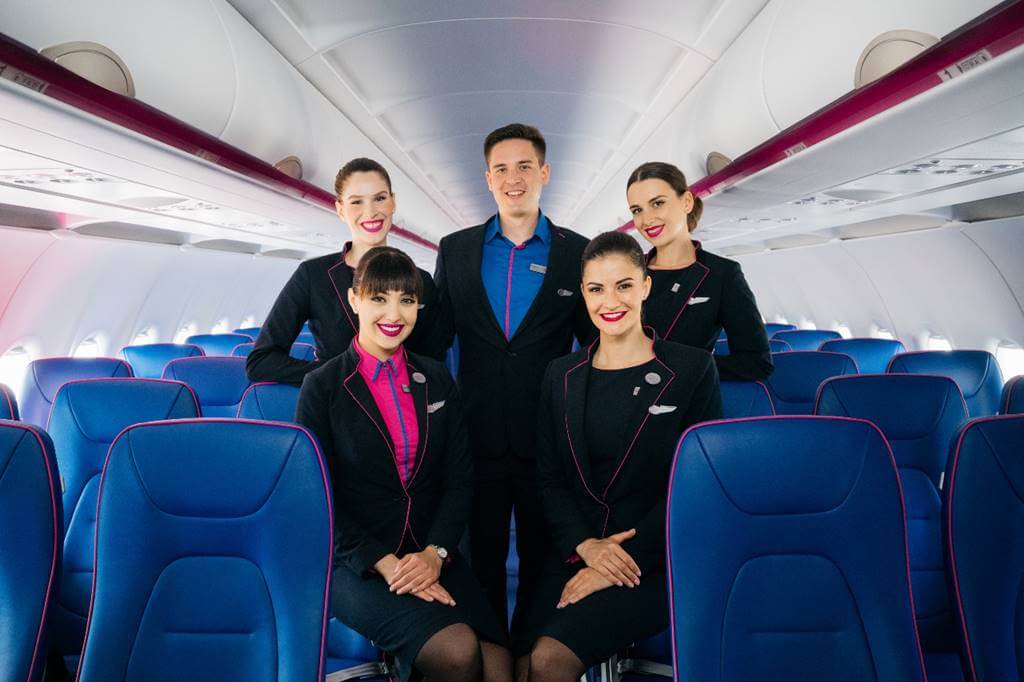 How to Apply as a Crew during Recruitment Events / Open Days
Step 1: Check for the schedule and locations of recruitment on the Career Page of Wizz Air. You can find it on the company's official website.
Step 2: Once you find a favorable date to apply, you can register on the website to secure a slot or do a walk-in application during Open Day Recruitment. However, if you choose to walk-in, you need to expect a long queue.
Step 3: Upon registering, if you received an invitation for the recruitment day, it's time for you to show up on time.
Step 4: Present your documents and get them checked.
Step 5: Participate in the activities during the recruitment day. The activities are introducing yourself, role-playing exercises, group activities, and watching presentations about Wizz Air.
Step 6: If you're one of the chosen candidates, you'll be invited for a short 30-minute interview. It's your time to prove that you're the one they're looking for.
Once you pass the initial interview, the airline will get back to you by calling you by phone or email. Be patient while waiting if you get an offer for the cabin crew position.
Monthly Salary of a Wizz Air Flight Attendant
According to the Aviation Dreamer website, they checked at least five payment slips of cabin crews from different bases and concluded that a fresher can earn £593 to £1000. It's rather a competitive salary, similar to other airlines.
Aside from the competitive earnings, a Wizz Air crew can also take advantage of various flight benefits, including discounted flights, free tickets, and free training.
Video: Being Part of Wizz Air
Wizz Air uploaded a YouTube video introduction of the perks you can get from becoming part of the company. The video shows how exciting it is to grow your career with Wizz Air.
You can also check out its other short video showcasing and sharing the day-in-a-life of a cabin crew for motivation. This video is an exciting one to watch since you will learn more about the experience of the cabin crew of Wizz Air.
Photos: Wizz Air Cabin Crew in Uniform
Check out these beautiful pictures of Wizz Air airlines flight attendants in uniform. If you wish to imagine yourself being part of this company, check out these photos to give you an idea about working for this airline:
Frequently Asked Questions
Here are some common questions and answers about the hiring process in Wizz Air airways:
1. Can I apply at Wizz Air even with tattoos?
Wizz Air does not have a problem with applicants with tattoos as long as the tattoos are not showing when wearing the uniform. So, if you have big tattoos on your shoulder, it might be an issue on your side.
2. Can I apply at Wizz Air even when I have poor eyesight?
The airline notes that if you wear eyeglasses or contacts with prescriptions of above +4 and below -4, it will be hard to pass the medical exam.
3. Can I apply at Wizz Air even when I can't swim?
No, the airline specifically includes in the list of requirements that applicants should be able to swim.
4. What is the age requirement for the Wizz Air cabin crew?
You should be at least 18 or above, and while applying at UAE base, 21 years old is the required age.
5. Do I need to be fluent in English to apply at Wizz Air?
Yes, you should be able to write and communicate in English fluently.
6. Can I send my application online at Wizz Air?
Yes, you can send your application on the official website of Wizz Air on the Career Page Section.
7. Do I need to have the experience to be a cabin crew for Wizz Air?
The airline did not mention anything about previous experience.
8. Do I need to register first before applying during recruitment days at Wizz Air?
It depends. If you want to apply during a regular recruitment day of the company, you will need to register online. However, you can also apply in person without registering during Open Day Recruitment.
9. Where can I find the requirements to apply?
You can find it on the company's official website. You can visit the site here.
10. Can I apply as a cabin crew for Wizz Air in person?
Yes, you can check for Open Day Recruitment on Wizz Air's website and attend the scheduled recruitment.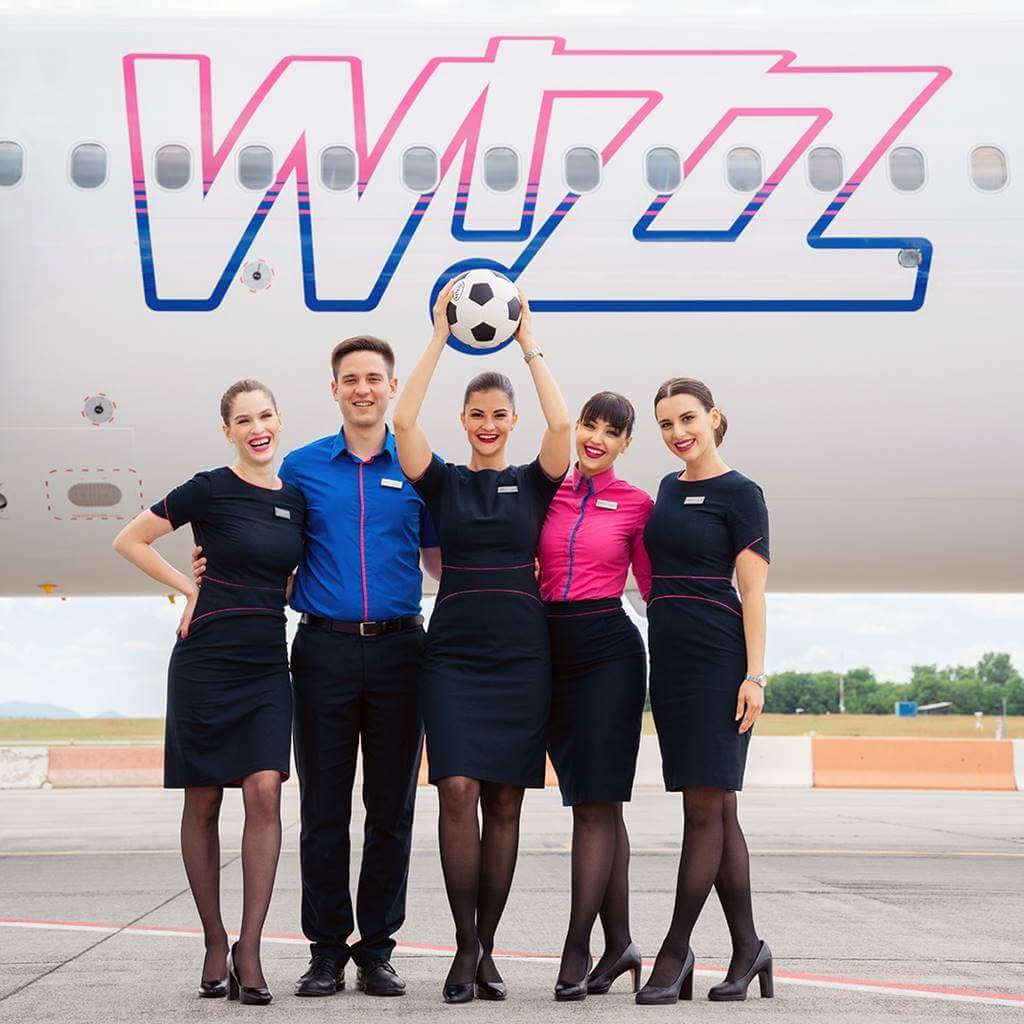 Summary
Applying to be a cabin crew at Wizz Air requires patience and dedication since you need to prepare and learn everything about the application process. You will need to have the eagerness to reach your dream career.
The above information will help you make the process more convenient. Remember them by heart or create a checklist to prepare everything you need to get the cabin crew position at Wizz Air.
Company Information
Wizz Air
Address: Laurus Offices | Kőér street 2/A | Building B | H-1103 | Budapest, Hungary
Website: wizzair.com
Contact: https://wizzair.com/en-gb/information-and-services/contact/contact-us
Facebook: https://www.facebook.com/wizzair/
Instagram: https://www.instagram.com/wizzair/?hl=en
Twitter: https://twitter.com/wizzair