Flight attendants play a vital role in the smooth operation of any airline, and SKY airlines is no exception. These flight attendants are highly trained professionals who are dedicated to providing their passengers with the best possible experience. They are responsible for safety, comfort, and customer service on every flight, and they work tirelessly to ensure that passengers have a safe and enjoyable journey. Thanks to these flight attendants, SKY airlines is able to provide a high level of service that is second to none.
Since 2001, Sky Airlines (based in Chile) has been harvesting multiple awards from the aeronautical industry, from the "Most punctual Low-Cost airline in the world" to "The Airline with the best customer satisfaction". Furthermore, they have been making greener steps in reducing their carbon footprint since their fleet produces 50% less Nitrogen Oxide and 30% less CO2. Also, their team has been proudly contributing to the country's education and health-related services
These are the reasons why Sky Airlines meticulously choose their cabin crews and other employees.  As a flight attendant in Sky Airlines, you share a common responsibility of making Air service within reach for everyone.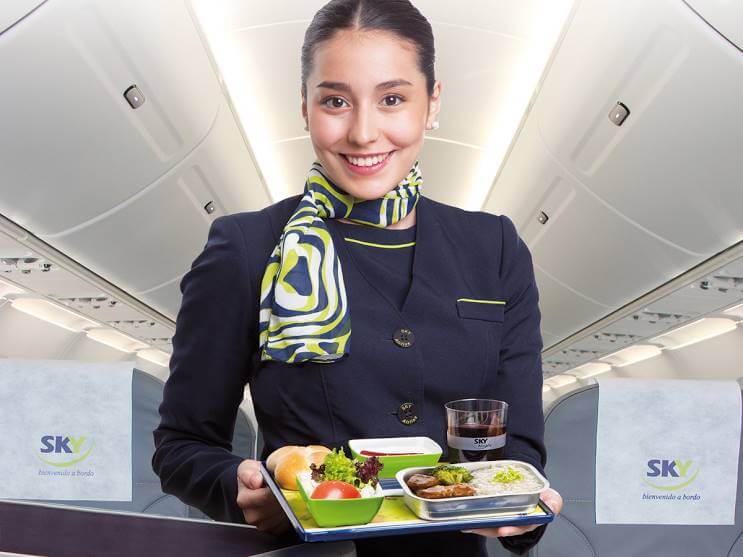 List of Requirements and Qualifications to become a Sky Airlines Cabin Crew
If you aspire to be a flight attendant in Sky Airlines, you must be able to align with their work values, the 4Cs:  Correct, Courageous, Close and Committed. Aside from that, listed below are all the qualifications Sky Airlines is looking for, for their flight attendants:
Proficiency in English and Spanish in both spoken and written
At least a high school graduate
Flight attendant or crew license
Valid rating for A319 and/or A320 material which has a validity of at least 2 years
Flexibility to work on irregular shifts, holidays and on-call duties
 Updated CMAE at the time of the application
Exemplary personal characteristics such as optimism, motivation, and a positive attitude towards work
Ability to have effective discourse with passengers
Liaise with pilots and other cabin crew
Ability to be decisive and think critically during emergencies and other urgent circumstances
 Work experience in customer service or the aviation industry is an asset
Physical endurance to not sit for long periods
Physical strength to lift, stow, and assist the passengers on their baggage as well as open and close the exit doors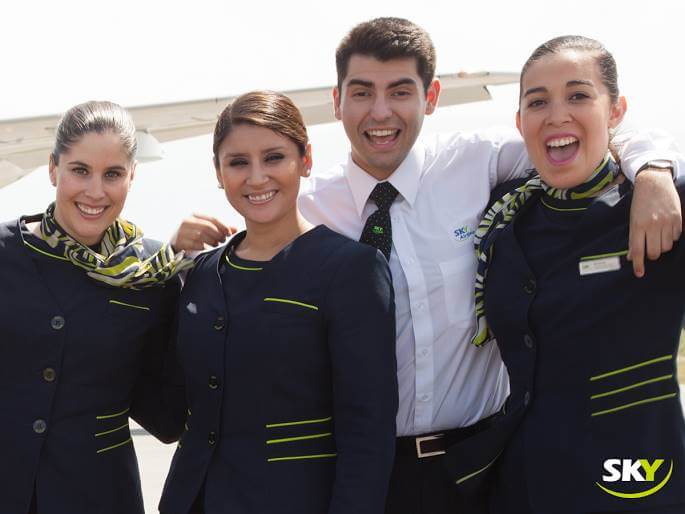 Application Process
Step 1: Prepare all the necessary documents
Prepare a copy of the following documents before applying and make sure of their validity and expiration: Updated CV or resume, valid passport, CMAE,  rating for A319 and/or A320 material, diploma, and other certification.
Step 2: Sign up for an account
Available job positions will be posted on their career website: https://skyairline.trabajando.cl/
If the flight attendant position is already available, sign up for an account on the link provided here – https://skyairline.trabajando.cl/
You can submit all your documents and fill up your biodata on this page. Also, be sure that every piece of information you will upload is factual, as any misinformation can lead to disqualification on your part.
Step 3: Ace the initial interview
The recruiting team will first assess the initial documents that you have submitted online so be sure to carefully fill up your professional portfolio. If you are selected, they will arrange a personal interview with your potential "boss". From this interview, Sky airlines will evaluate your qualifications and skills and you will also be able to get to know more about your employer or the management that you will be assigned.
Step 4: Get ready for a psycho-labor interview
Sky Airlines will schedule a psycho-labor interview to further assess the background of an applicant. Don't forget to still dress and act professionally while still wearing your authentic self. This evaluation tool helps aviation companies to evaluate candidates beyond their skills and see through their exemplary personal qualities and competencies that make them fit for the role. If they see you as a match, Sky Airlines will give you an offer for their job opportunity.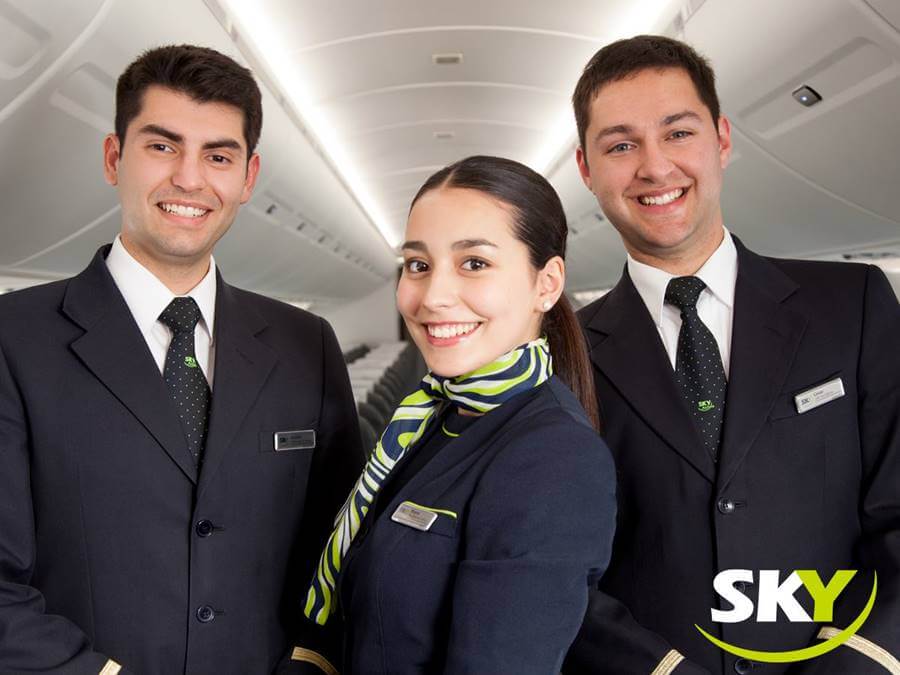 Salary & Benefits
 Average of 1,260,000 CLP annual salary
Travel packages and discounts
Overtime pay
Medical Insurance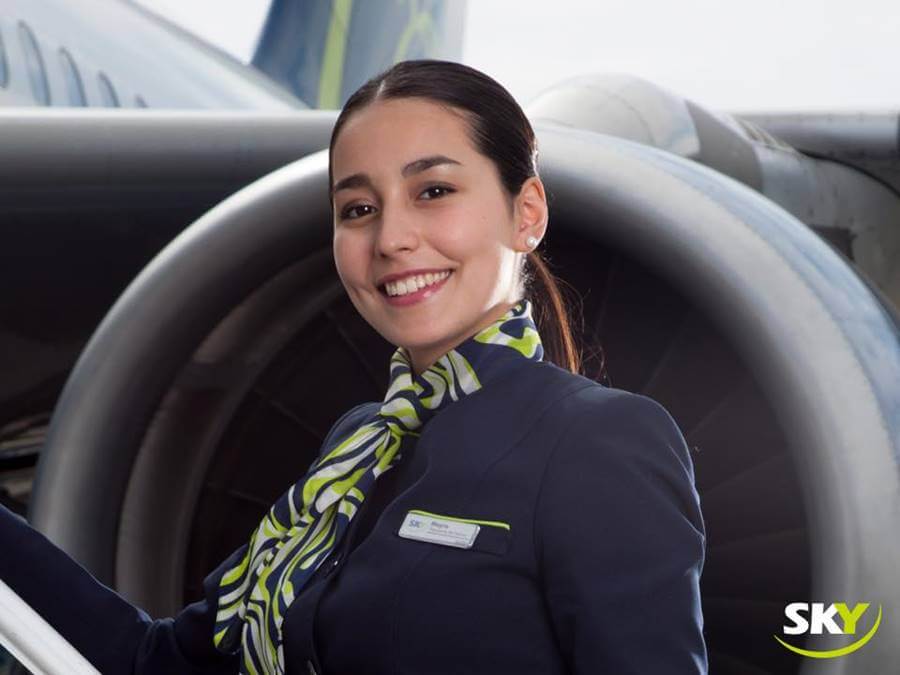 Video: Experience a Low-Cost Flight From Brazil to Chile With Sky Airlines
Watch this preview of an actual flight experience, travelling from Brazil to Santiago Chile:
Sky Airlines started its operations in the early 2000s and currently, it is the 2nd largest airline in Chile, next to the flag carrier. To provide a low-cost service to travellers, they have lessened unnecessary utilities such as entertainment. Nonetheless, they have a variety of affordable food and beverages to offer. The flight attendants were also amiable to the passengers and were attentive to their needs. The YouTuber also noted that it was a pleasant experience that is worth its price.
Photos: SKY Cabin Crew Uniforms
Check out these pictures of SKY crew so you can see what they look like in uniforms:
Frequently Asked Questions
The following are some of the common questions asked about SKY Airlines flight attendants.
1. What is a psycho-labor interview and is it necessary?
The psycho-labor interview is part of the application process so every aspiring candidate should participate in this. This pre-employment evaluation is used to assess an individual's attitude and competencies. This can include personality tests, psychological tests, and identification of gaps
2. What kinds of aviation services does Sky Airlines offer?
Sky Airlines offer international and domestic flights within Peru and Chile, and across Uruguay, Argentina, and Brazil. They also operate charter flights in South America and Chile. Moreover, they won an award for being the best low-cost airline in the world which proves that a safe and comfortable flight experience can still be achieved at an affordable rate.
3. Do they accept applicants without in-flight experience?
Yes, the flight attendant position is open to any committed individual who meets all the qualifications listed above. Nonetheless, candidates with experience in the aviation industry or customer service have a more favorable advantage during the application period.
4. Is the flight attendant position in Sky Airlines open to all nationalities?
Yes, Sky Airlines prides itself on having diverse employees from different cultural backgrounds. All of their job positions are available to any candidate from any country while ensuring that there is no room for discrimination.
5. What languages should I learn when applying as a flight attendant in Sky Airlines?
Since Sky Airlines is based in Chile, all qualified candidates must be fluent in both English and Spanish in spoken and written forms. Moreover, applicants who also speak other languages or are multilingual have an advantage during the recruitment process.
6. How can I make sure that Sky Airlines is a good employer?
Sky Airlines strictly uphold its core values which include an equal pay policy and multiculturalism. They assure that every employee receives their rightful salary regardless of their gender identity, race, or cultural background. In fact, they have collaborated with the Ministry of Women to encourage women to partake in the aeronautical industry. Currently, Sky Airlines has employees of over 20 different nationalities.
7. Do they accept applicants with criminal records?
No, they only accept applicants with a clean criminal record.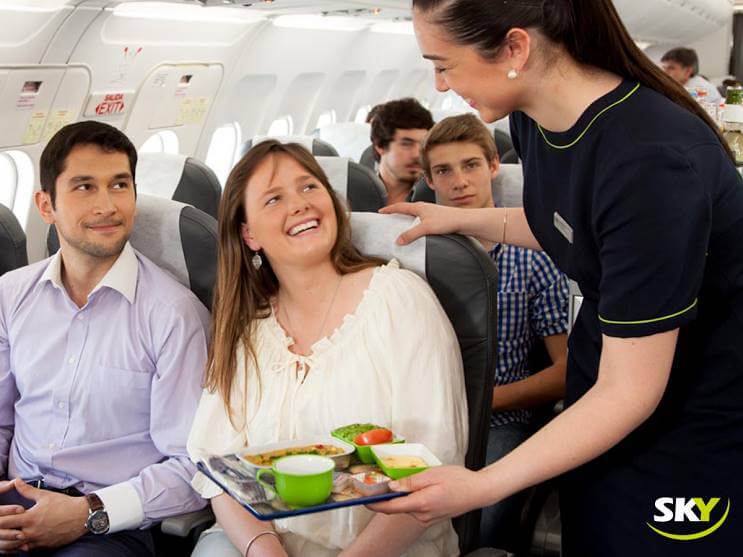 Summary
Sky Airlines is Chile's 2nd largest airline, providing excellent yet inexpensive service to local and international travellers. If you wish to apply as a flight attendant, you will have to submit your online application on their website together with other valid certifications. After this there will be a series of interviews which include a psycho-labor interview. As a part of their core values, Sky Airlines guarantee equal and rightful pay and at the same time a workplace with no room for discrimination