If you plan to apply as a cabin crew member for Skytrans, there are certain requirements you must meet. You must be at least 18 years of age and have a high school diploma or equivalent. You must also be able to pass a background check and a drug test. Additionally, you must be fluent in English and be able to swim. If you meet all of these requirements, you will then need to complete an online application and submit your resume. Once your application has been reviewed, you may be contacted for an interview. If you are successful at the interview, you will then need to complete a training program before you can begin working as a cabin crew member for Skytrans.
Also Read: How to Answer: Why Do You Want to Work for our Airline?
As Queensland's leading aviation service provider, Skytrans Airline accentuates its high regard for safety while ensuring outstanding customer service. This airline company is owned and operated by Queensland, priding in over 25 years of experience in aviation. It also helps the community by giving job opportunities to the locals and permanent residents of Australia.
In order to meet the demands, Skytrans is currently focusing on expanding its services and adding more routes. This can only be made possible by recruiting additional cabin crews, especially flight attendants to their team. Flight Attendants will be the company's visage, reflecting the company's high levels of professionalism and outstanding service.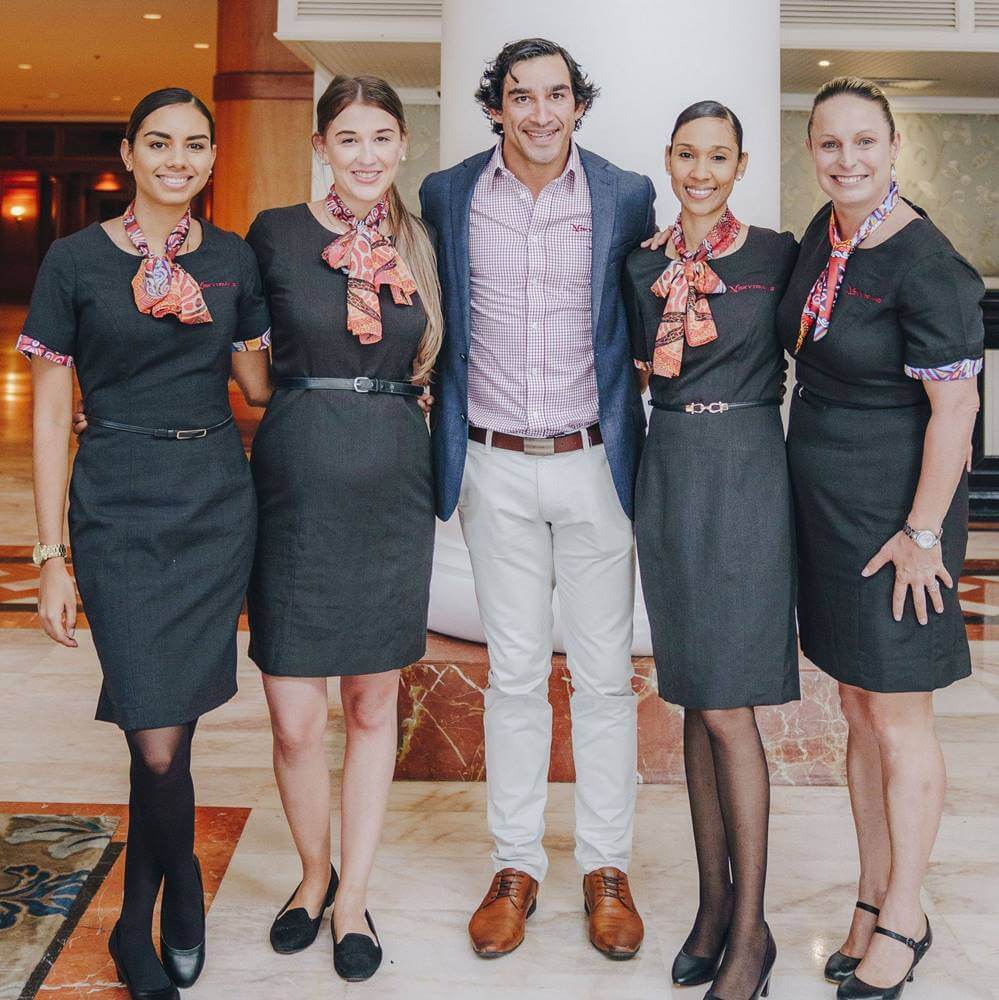 List of Requirements and Qualifications to Become a Skytrans Airline Cabin Crew
Skytrans is looking for aspiring flight attendants who can uphold the values and work ethics of the company. Applicants must prioritize safety among others and at the same time, fulfil all the duties tasked by the management. In return, Skytrans promises to give competitive benefits and an amicable workplace where there is a place for career and personal growth. On the other hand, listed below is the summary of the requirements one must have to qualify as a flight attendant in Skytrans:
Fluency in speaking, writing or communicating in English
At least 18 years old
Valid Australian Passport
Physically fit
Ability to swim up to 50 meters while being fully clothed
Endurance to perform tread water for up to 3 minutes
Certification of the completion of Current Australian Senior First Aid Training with at least 12 months validity within the application period
Authorization to travel across Australia, especially all routes served by the airline and to access all Skytrans ports
Permanent residency or VISA in Australia or New Zealand
Completion of Australian Responsible Service of Alcohol Statement of Attainment within the period of the application process
Ability to pass pre-employment drug and alcohol screening test
Ability to acquire ASIC or Aviation Security Identification Card
No visible tattoos while wearing a flight attendant uniform
Flexibility to work on irregular schedules, extended periods, and shifts of 7 consecutive days
Availability to serve on flight hours during holidays, weekends and overnight shifts
Capacity to handle at most 36 passengers as a solo flight attendant on board
Career competency skills such as problem-solving, leadership and time management skills
Commendable personal qualities such as empathy, amicability, optimism and tenacity, especially in times of unfortunate events
Responsibility to maintain in-flight hygiene in all areas of the aircraft
Mindfulness and awareness of cultural diversity
Ability to effectively converse with children, irritable and anxious passengers, and people who are not fluent in English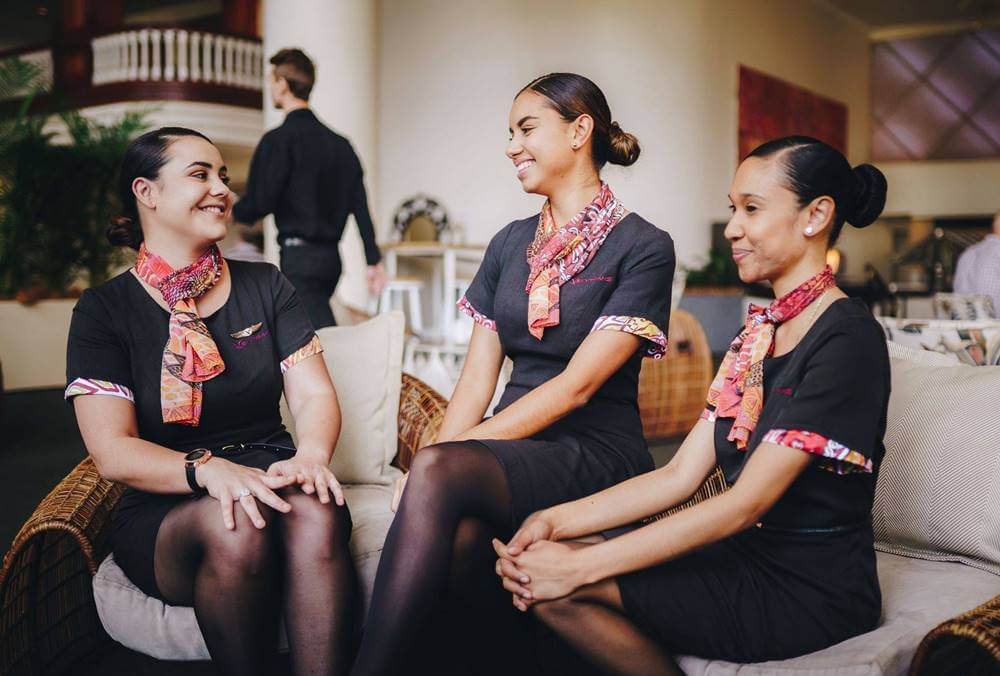 Application Process
Here's an overview of the application procedure for this airline:
Step 1.  Send your application form
You can forward your application form, consisting of your resume and cover letter at
careers@skytrans.com.au
Your application form will be documented for up to 6 months. However, if the flight attendant job position did not have any vacant spots within the 6 months, you can resend your application form.
Skytrans Airline reminds all of their applicants that their recruitment team are required to administer a professional approach in the hiring process to avoid bias or nepotism. The waiting period may also be lengthy so skytrans is encouraging flight attendant candidates to be more patient.
When vacancies do become available, the recruitment team will invite shortlisted candidates to attend an interview.
Step 2: Wait for the interview
If the flight attendant job position is available during the 6 months, qualified candidates will be shortlisted and invited to attend the interview. This means that you are competing with other applicants to get that job position. It would be best for you to make preparations ahead of time in order to ace the interview. Former applicants mentioned some of the possible questions such as "How would you deal with passengers that are non-English speakers?" and "What are your principles and values when it comes to working?"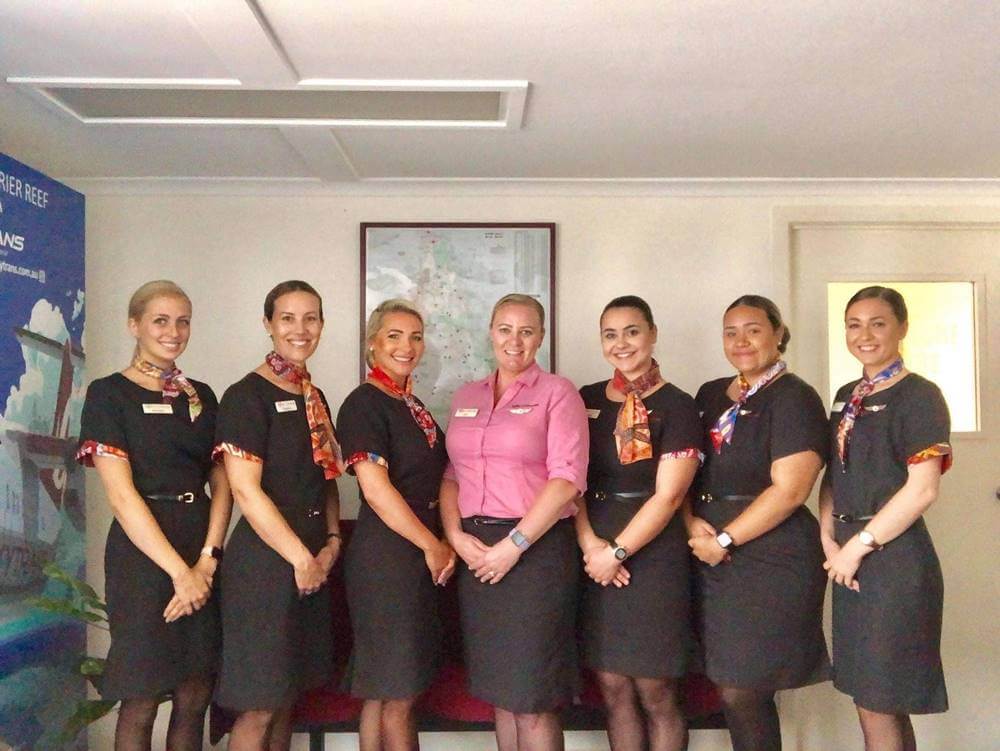 Salary and Benefits
Average Salary of 54600 AUD per year
Travel Perks and Packages
Medical Insurance
Discount Packages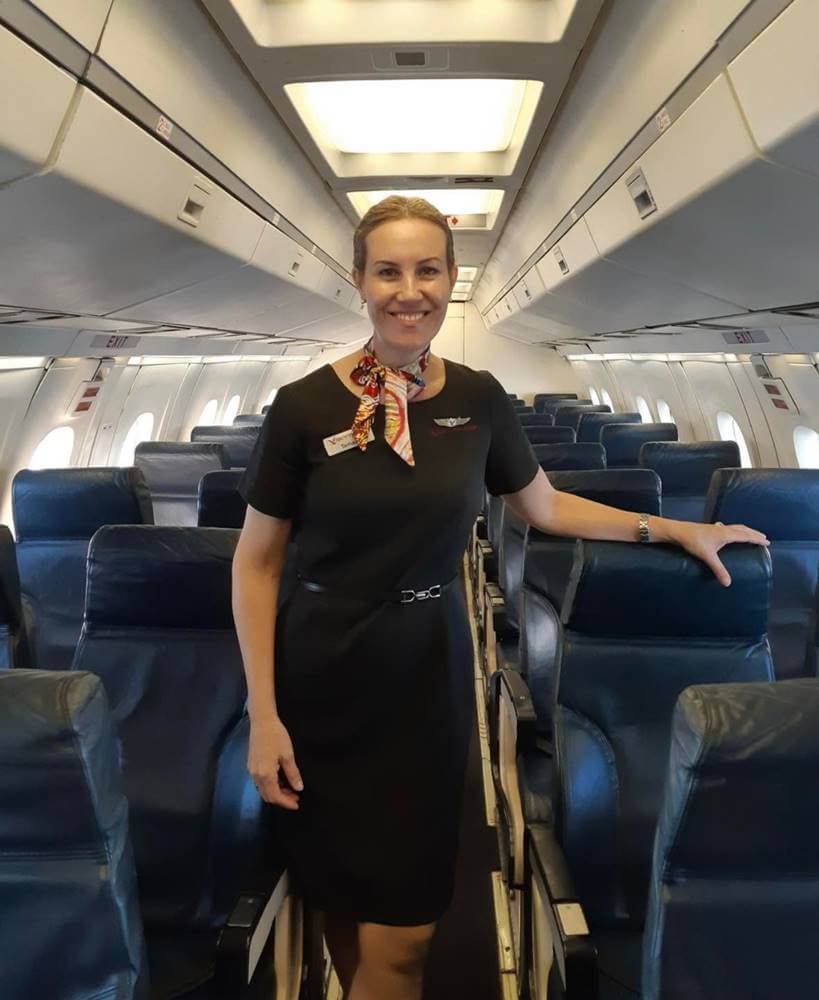 Video: Skytrans fly with zero emissions aircraft
Watch this interview at the local Australian News to learn more about Skytrans' new hydro-powered aircraft:
Aviation service contributes 2.4% to global CO2 emissions. This inspired Skytrans to pioneer zero-emissions aircraft intending to reduce this percentage of carbon footprint. As mentioned by its CEO, Alan Milne, these types of aircraft are powered by hydrogen electricity and thus, as a result, emit only water vapour. Its first flight is scheduled for 2025 and will be delivered to Skytrans by 2026. Moreover, it is anticipated that due to these aircraft's low maintenance, prices for each flight might also be reduced over time. Most importantly, it will undergo all safety regulations and standards to assure that safety is still the utmost priority.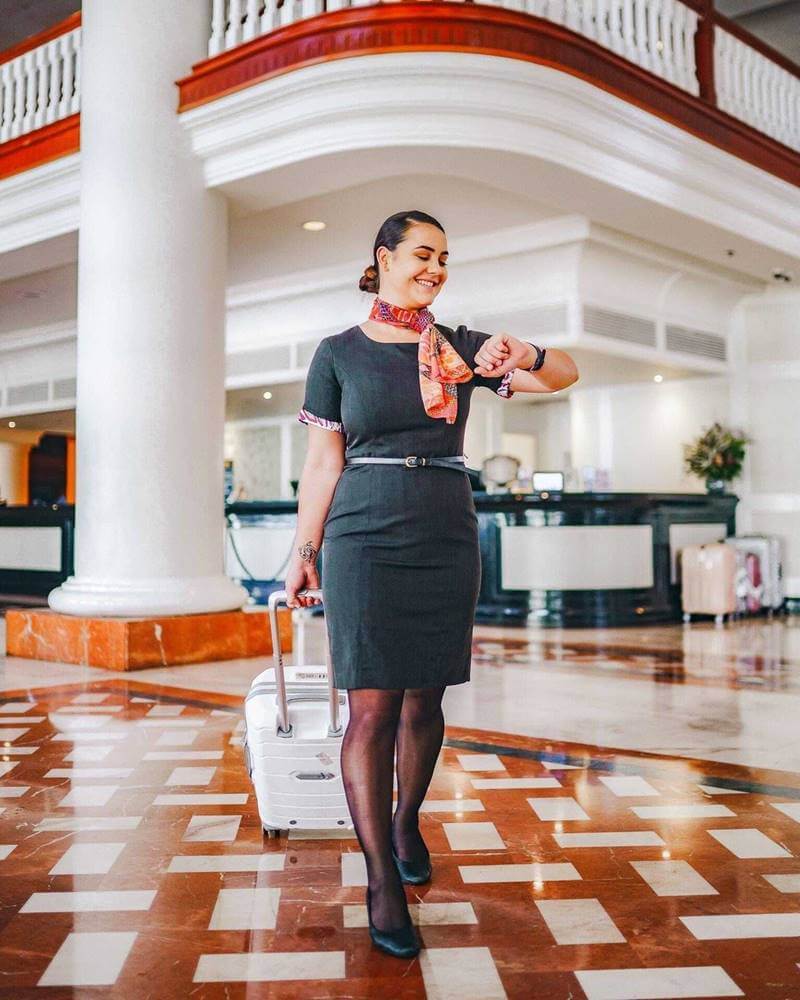 Photos: Skytrans Airlines Cabin Crew Uniforms
Check out these pictures of Skytrans Airlines crew so you can see what they look like in uniforms:
Frequently Asked Questions
The following are some of the common questions asked about Skytrans Air:
1. Does Skytrans accept applicants with tattoos and piercings?
Skytrans do not hire candidates who have visible tattoos while wearing the flight attendant uniform. In addition, once hired, they will be prohibited to wear bizarre makeup and/or multiple piercings.
2. Can I still apply at Skytrans while being employed at another airline?
During the recruitment process, you should offer your staunch commitment to the company. Once hired, you must forfeit all your work responsibilities or affiliation with other airlines.
3. What are the services offered and routes served by Skytrans Airline?
As a regional airline, Skytrans offer both charter and scheduled flights. It operates flights from its headquarters in Cairn to nine destinations, consisting of Aurukun, Coen, Northern Peninsula Area in Bamaga, Horn Island, Kowanyama, Weipa, Pormpuraaw or Edward River and Lockhart River. Additionally, Skytrans have two regional offices in Brisbane and Horn Island.
4. What languages should I learn before applying to Skytrans?
Applicants must be proficient in English in both verbal and written form. If you are bilingual or multilingual, then you have an advantage over your competitors.
5. I am not Australian, will Skytrans still accept my application?
Although they prioritize giving job opportunities to residents of Australia, applicants from other races or ethnicities are not disadvantaged as long as they meet all the qualifications, most especially the permanent residency and eligibility to travel across Australia.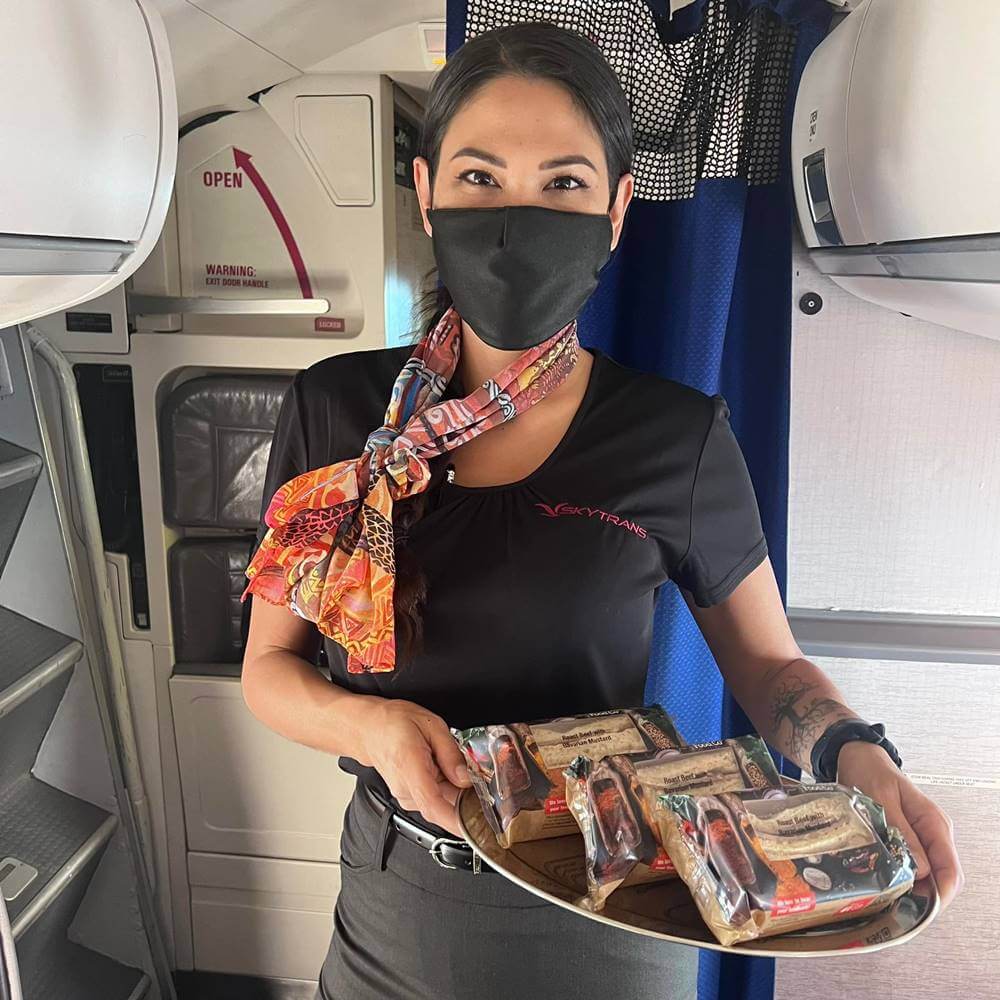 Summary
If you're looking for a job that will take you to new heights, then a career as a cabin crew member with Skytrans may be the perfect option for you. As a member of our cabin crew, you'll be responsible for the safety and comfort of our passengers while in flight. In addition to providing excellent customer service, you'll also need to be able to work quickly and efficiently in order to ensure that our flights run smoothly.
As a flight attendant, you are carrying the utmost responsibility of delivering the passenger's needs and comfort with a smile. This means you have to maintain a professional demeanor and positive attitude throughout the flight. This might be a challenging job, however, being a flight attendant at Skytrans has a lot of perks as well.  With multiple insurance benefits, a competitive base salary and an enjoyable workplace, the difficulties of carrying out the day-to-day job alleviates. I hope this article has helped you gain more insights.
.