For 24 years, Smartwings provides reliable and affordable air service for domestic travel and also international flights across Europe, North America, Africa, and some parts of Asia. In fact, Smartwings gained a reward for being in the top 4th place of being one of the best employers in the aviation industry. A team harmoniously working together is actually Smartwings' secret to their success.
Also Read: Venice Layover Guide: Best Things to Do in 24 Hours
Currently, Smartwings is looking for talented individuals who can serve them as flight attendants and help accommodate their growing airline company. Flight attendants are Smartwings backbone and are key to world-renowned customer service.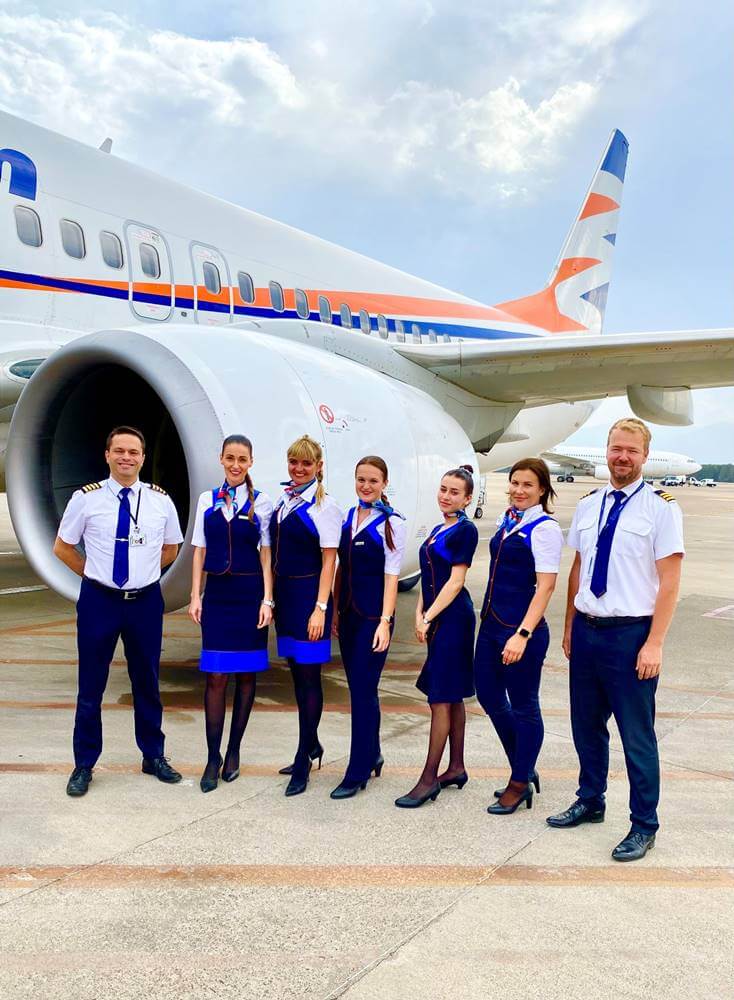 List of Requirements and Qualifications to Become a Smartwings Flight Attendant
If you wish to apply as a flight attendant at Smartwings, it is necessary to take in mind that it is not just a role but a lifestyle. Being a flight attendant means that you need to be compassionate and empathetic at all times, even if you are not on your duty. Moreover, listed below are the qualifications that Smartwings is looking for, for their flight attendant:
Valid passport
Authorization to travel and work in all destinations and routes where Smartwings operate
European Union Citizenship
Valid Cabin Crew Attestation
At least 19 years of age
Clean Criminal record
At least a secondary school graduate
Good general health both physically and mentally
Professional appearance
Without chronic illness
20/20 or sufficient vision
Complete Vaccination
Flexibility to work on varied schedules, holidays, and overnight shifts
Proximity to Prague, Brno,  Bratislava, and Katowice or willingness to relocate
Exemplary personal qualities such as empathy, integrity, and patience
Customer service skills
Social and interpersonal skills
Ability to remain calm and decisive throughout emergencies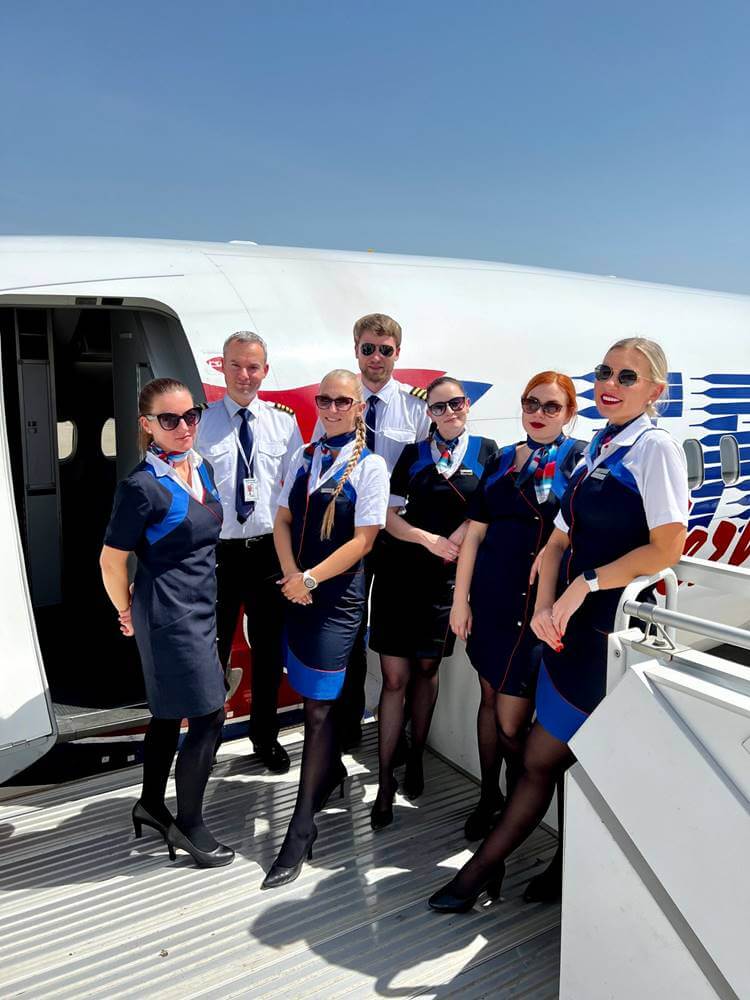 Application Process
Step 1: Carefully prepare your work portfolio
Prepare a pdf and physical copy of all the following documents:
CV or resume
Cabin Crew Attestation
Certification of Education or Diploma
Valid Passport
Cover Letter
Step 2: Submit your application to Smartwings 
Submit all your application requirements to their email address smartwings@teamio.eu. You end to be patient during the whole waiting period and wait for them to contact you. Smartwings reminds all of its applicants that they are automatically given permission to store the information provided on the documents. Nonetheless, you can request deletion or correction of all the personal information included after 1 year. You can also re-apply after this period. Also, do not falsify or sugarcoat any information from your career portfolio.
Step 3: Ace the interviews
Selected candidates will be invited to a digital and physical interview arranged by Smartwings. Be mindful of your appearance and demeanor all through the interview process. Make sure to dress in professional attire and show in impeccable grooming.  Nonetheless, still, bring your genuine self and don't be shy to smile and greet everyone. Remember that the interview will start when you enter the building or when the video call starts on the digital interview.
Step 4: Participate in the Smartwings Flight Attendant Course Training 
Regardless of your work background, it is still necessary that every candidate undergoes a flight attendant training program. This will feature both a theoretical and practical course that will equip flight attendants with the skills and knowledge that they need to fulfill their obligations. Some of the topics include basic aviation, safety procedures, and protocols, first-aid, and customer service.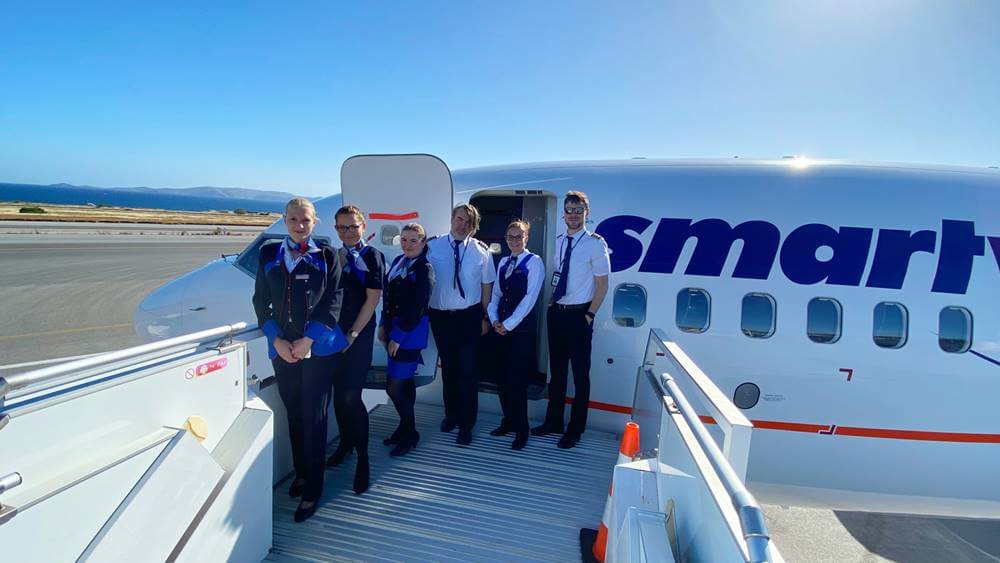 Salary & Benefits
Competitive Annual Salary of 415 860 Kč

Contract-based work

Discounts and Vouchers from Smartwings' business partners

Travel packages and discounts, especially in air travel

Discounts on other stores, accommodations, and car rentals

Medical and Life insurance

Equal Payment regardless of cultural background or gender identity
Video: A Day In The Life Of A Flight Attendant in Smartwings
From the morning alarm to the night shift duty, watch this short clip of what's it like to wake up as a flight attendant in Smartwings:
The video starts with a flight attendant ready to conquer the skies with the beep of her first alarm. She then started to do her classy make-up look and suit herself with the flight attendant uniform in hues of blue. After that, she joined the other cabin crews and pilots having their breakfast. Afterward, they were happy to accomplish all the written reports before they head to the aircraft with their baggage. The video also featured the amazing destinations that flight attendants get to enjoy during their work duties. 
Photos: SmartWings Cabin Crew Uniforms
Check out these pictures of Smartwings crew so you can see what they look like in uniforms:
Frequently Asked Questions
Here are some common questions and answers about the job requirements as a cabin crew for Smartwings:
1. Does Smartwings accept flight attendants with tattoos and piercings?
Tattoos that are not visible while wearing the flight attendant uniform should not interfere with their professional appearance and demeanor. Moreover, flight attendants should maintain their proper courtesy and professionalism aside from their grooming.
2.Does Smartwings accept applicants from other countries?
Smartwings only accept applications from candidates who are a citizen of an EU nation. They should also have a valid passport and authorization to travel to all destinations where Smartwings operate.
3. What languages should I learn when applying as a flight attendant at Smartwings?
All candidates should be proficient in both spoken and written English and the Czech language. Furthermore, since Smartwings operate on many continents, they are excited for multilingual candidates or those who are willing to learn more languages.
4. What are the aviation services provided by Smartwings?
Smartwings offer scheduled domestic flights in Czech as well as international flights across Europe, North America, the Middle East, Africa, and Southeast Asia. Moreover, they also operate charter and private flights with business jets to accommodate companies on their trips.
5. Do they accept applicants with a past history of misdemeanor crimes?
No, they only hire applicants with a clean criminal record.
6. What are the duties and responsibilities of flight attendants in Smartwings?
Maintain professionalism and excellent grooming at all times
Contribute to the mission and vision and embody the expectations of Smartwings
Assist all the passengers, especially those with special needs, the elderly, and pregnant women
Perform basic procedures or first-aid to passengers in an urgent medical circumstance
Prioritize the safety and comfort of the passengers
Demonstrate safety protocols and lead them during emergencies
Accomplish all in-flight reports and other reports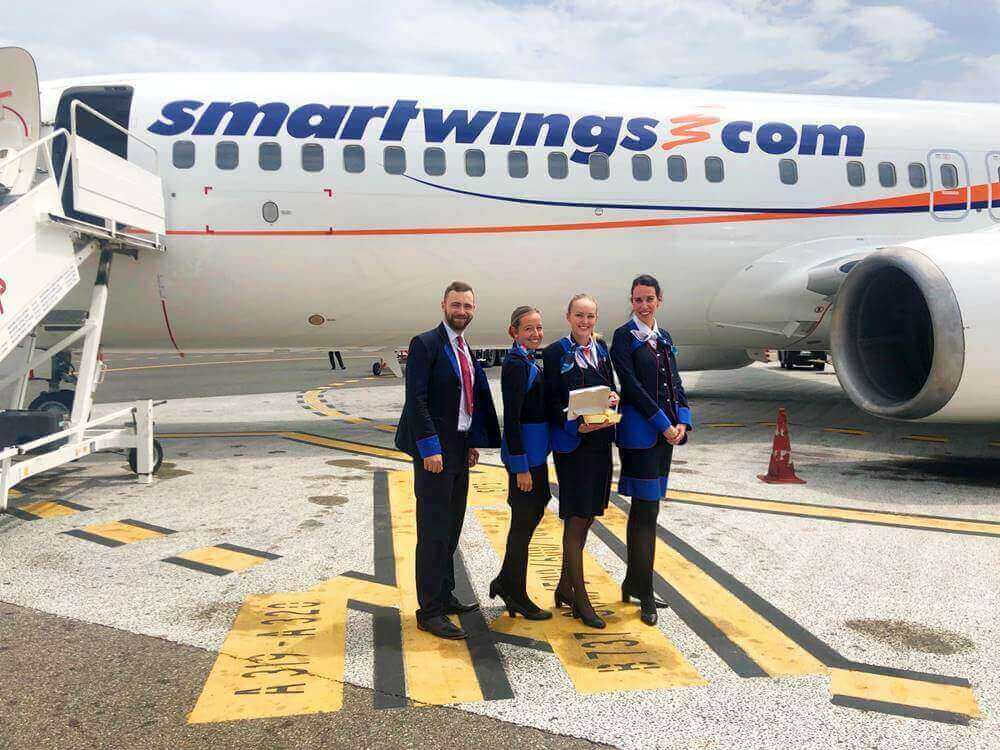 Summary
Smartwings operate charter and scheduled flights across different continents. This means that flight attendants must have cultural sensitivity and must uphold values that are free from any form of prejudice. They must see customers as their top priority and accommodate them with utmost compassion and empathy.
If you think that you have what it takes to be a flight attendant in Smartwings, prepare all your documents and send these to their email address as stated above.