If you are planning to work as a flight attendant for SunExpress Airlines must meet certain requirements. First and foremost, applicants must be at least 20 years of age. Furthermore, they must be able to speak Turkish and English fluently. Additionally, they must have completed high school or equivalent education. In addition to these requirements, applicants must also pass a physical examination and a background check. Those who meet all of the aforementioned requirements will then be scheduled for an interview with a member of the airline's senior staff. Those who are successful in the interview will be offered a position as a flight attendant with SunExpress Airlines.
Also Read: Venice Layover Guide: Best Things to Do in 24 Hours
SunExpress is a joint venture between Lufthansa and Turkish Airlines founded in 1989. The airline offers numerous direct connections between Europe and Turkey. Its headquarters is located in sunny Antalya which is known as the touristic capital of Turkey. Its other hub is Izmir on Turkey's Aegean coast while its second headquarters is located in Gateway Gardens in Frankfurt am Main. Aside from that, the airline has been transporting passengers for 30 years and its flight attendants play a vital role in every operation.
The airline's flight attendants are one of the best teams they have. They are the key to attaining their objective of providing the best flying experience in every destination they go to. Flight attendants are responsible and reliable individuals that ensure the comfort, safety, and security of every passenger. Through their service, the airline continues to grow and prosper.
List of Requirements and Qualifications to Become a SunExpress Turkey Cabin Crew
Flight attendants are the face of an airline. They are the ones responsible for dealing with the passengers and ensuring to give them the best flying experience by assisting them throughout their flight. Hence, to provide quality customer service, the airline is looking for competent, trustworthy, and reliable individuals to join its cabin crew team.
Below are the criteria that each aspiring candidate must meet to be considered for the flight attendant position.
Applicants must be Turkish citizens with Turkish Passports.
Their age must be between 20 and 35 years old.
The minimum educational level is a high school diploma (Turkish) or a high school equivalency certificate for candidates who studied out of the country.
Applicants must have a good command of Turkish and English (an additional language is a plus).
Female candidates must have a height between 1.55 m – 1.80 m and an appropriate height-weight body ratio.
Male candidates must have a height between 1.60 m – 1.85 m and an appropriate height-weight body ratio.
They must also have a neat appearance and good swimming skills.
Qualified candidates will be invited for an exam. The exam centers are in Istanbul, Izmir, Ankara, and Antalya.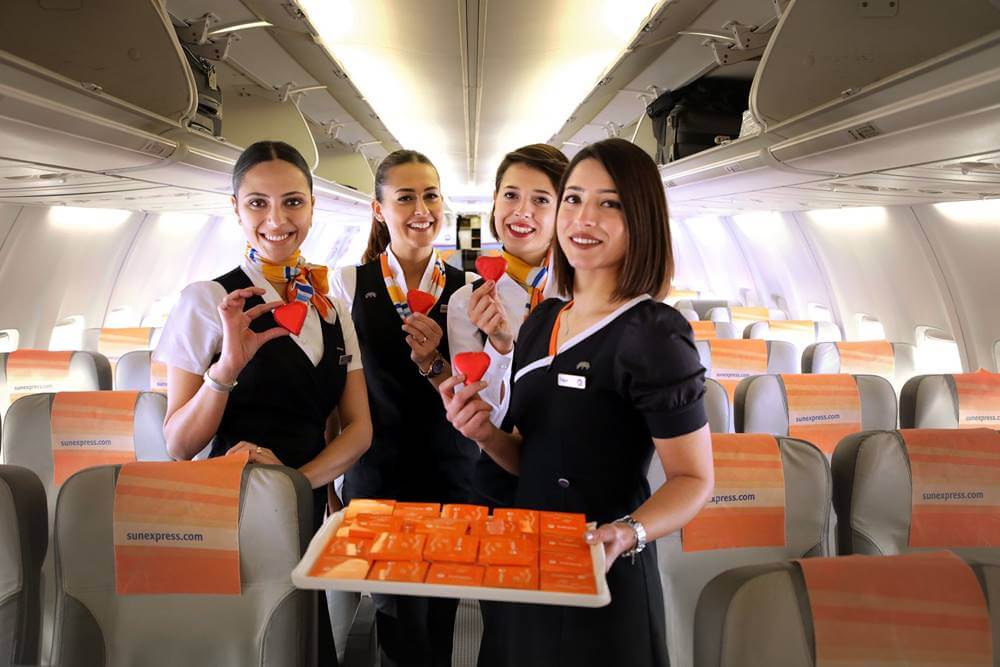 Application Process
Here is a step-by-step guide to help you with your application.
Step 1: Visit the company's official website here – https://www.sunexpress.com/en/.
Step 2: Scroll down and click "Cabin" under the Careers section.
Step 3: Then, click "Vacancies in Turkey" to view available positions.
Step 4: Read thoroughly the General Cabin Attendant Information displayed and apply for the position.
Step 5: Wait for a response from the hiring team and prepare for exams and interviews if ever you are one of the successful applicants.
It will be a two-day exam. On the first day, it will be an English proficiency exam consisting of 100 questions (online), an interview in English (online), and a password sent for an online personality inventory. On the second day, it will be a Selection committee interview for 1/2 hour.
Take note: The company does not conduct remote video interviews under any circumstances but only your English exam will be performed in English.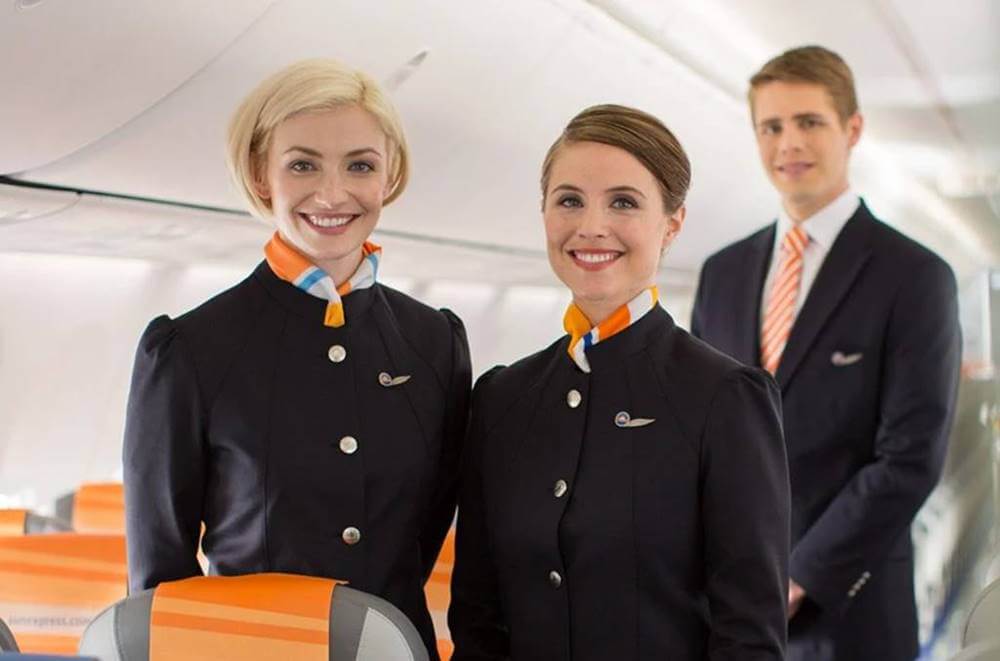 Salary & Benefits
Salaries for flight attendants at SunExpress are competitive with other airlines. Flight attendants also enjoy a benefits package that includes health insurance, paid time off, and many more. They also receive lots of travel perks and benefits such as travel discounts, work-life balance, medical coverage, health insurance, and a lot more.
More career growth and development also wait for them because the company also provides a training program for development as they recognize their employees as assets to the company. The company also ensures the safety not only of the passengers but also of their employees and provides them with a positive and healthy working environment.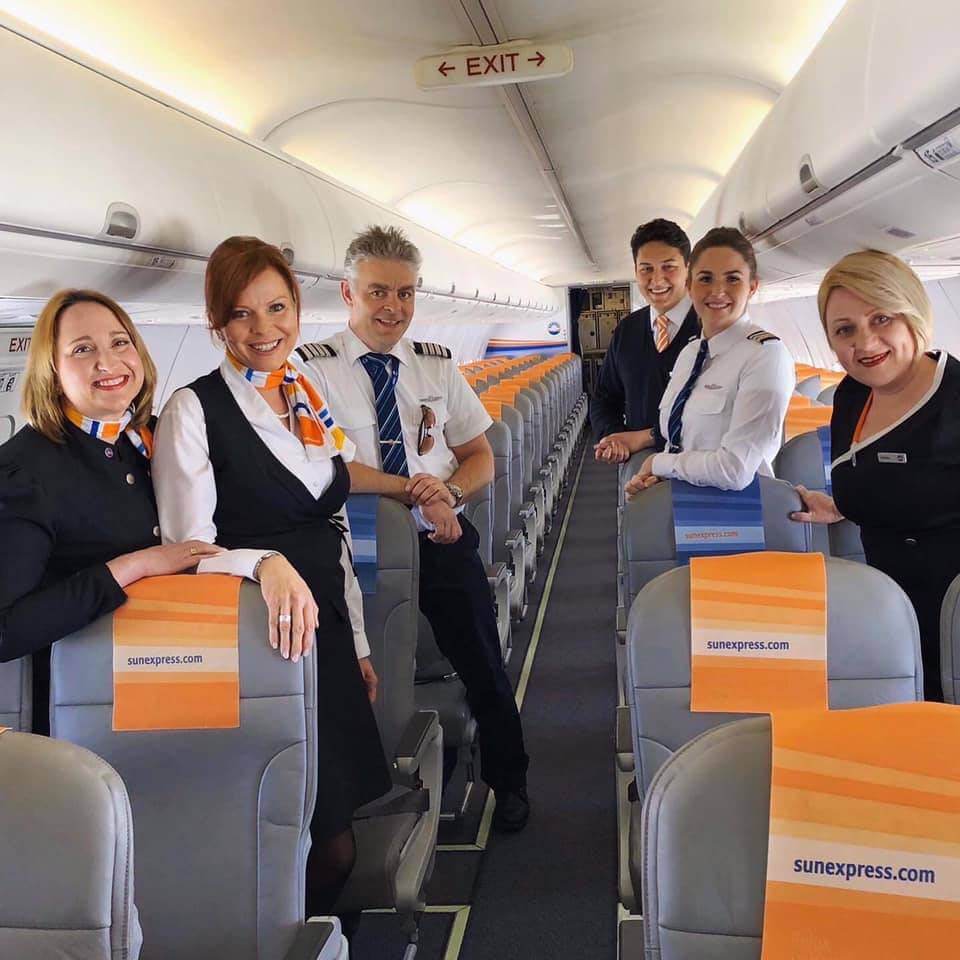 Video: SunExpress 30 Years in Service
The video was uploaded by SunExpress on their official YouTube channel. This video is very insightful to anyone who wants to know more about the company, especially its history and the making of SunExpress, as imparted by Mr. Wolf Eckard Herholz.
Aside from that, you will also know about the five founding fathers of the airline and a glimpse of their planning phase for SunExpress. Hence, it is recommended that you must watch the video as part of getting to know the company you are applying for.
Photos: SunExpress Airlines Cabin Crew Uniforms
Check out these pictures of SunExpress Airlines crew so you can see what they look like in uniforms:
Frequently Asked Questions
The following are some of the common questions asked about SunExpress Air:
1.    What is the minimum age requirement?
The age must be between 20 and 35 years old.
2.    Is there a minimum height requirement?
The height requirement varies based on gender. Female candidates must have a height between 1.55 m – 1.80 m and 1.60 m – 1.85 m for males.
3.    What language(s) must I speak?
You must have a good command of Turkish and English.
4.    What are the necessary skills I must to become SunExpress flight attendant?
You must have good communication skills and basic knowledge of customer service.
5.    Do they require previous customer service experience?
The airline does not require previous customer service experience but if you have one it is an advantage.
6.    Do I need to speak other languages aside from English?
The ability to speak additional language aside from Turkish and English is a plus.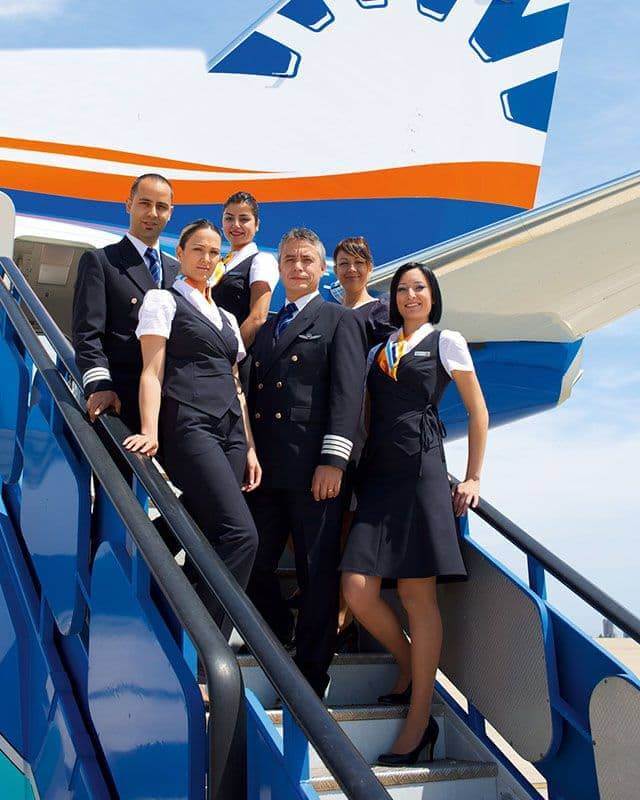 Summary
In conclusion, the requirements and qualifications at SunExpress are very specific. You must be between 20 and 35 years old, have a good command of Turkish and English, and have a height between 1.55 m – 1.80 m for females and 1.60 m – 1.85 m for males, among others. Aside from that, candidates must be physically fit and have a basic knowledge of customer service, and has good communication and interpersonal skills. If you could meet the basic minimum requirements mentioned above, you are eligible for the position and you might be the one the company is looking for its flight attendants.
Aside from that, the airline is a great opportunity for those individuals who aspire to pursue their cabin crew dream. The company offers many benefits and the requirements are not as stringent as some of the other companies. However, it is important to note that you must meet the requirements and qualifications set by the company to be eligible for the position.