Surinam Airways is Suriname's national airline which is headquartered at Johan Adolf Pengel International Airport (PBM) in Paramaribo. Surinam Airways began domestic operations in 1955, with scheduled flights between Paramaribo and the small bauxite town of Moengo using pleasure planes. At the same time, the government recognized the need for a greater number of landing sites spread across the country, particularly to open up the interior.
Also Read: How to Answer: Tell Me About a Time You Dealt with a Difficult Customer
SLM helped by acquiring Bell-47G helicopters, which were also used for aerial spraying in the rice district near Wageningen and even further afield, in Guyana. Several scheduled services to various locations in Surinam were tested. The airline built a reputation for over seventy years. If you are still thinking if this airlines is the best company to be in Suriname, then the answer is Yes. Working in a well-established company means expecting a long-term career with a lot of opportunities. Check out the things you need to have before applying as a Flight Attendant at Surinam Airways.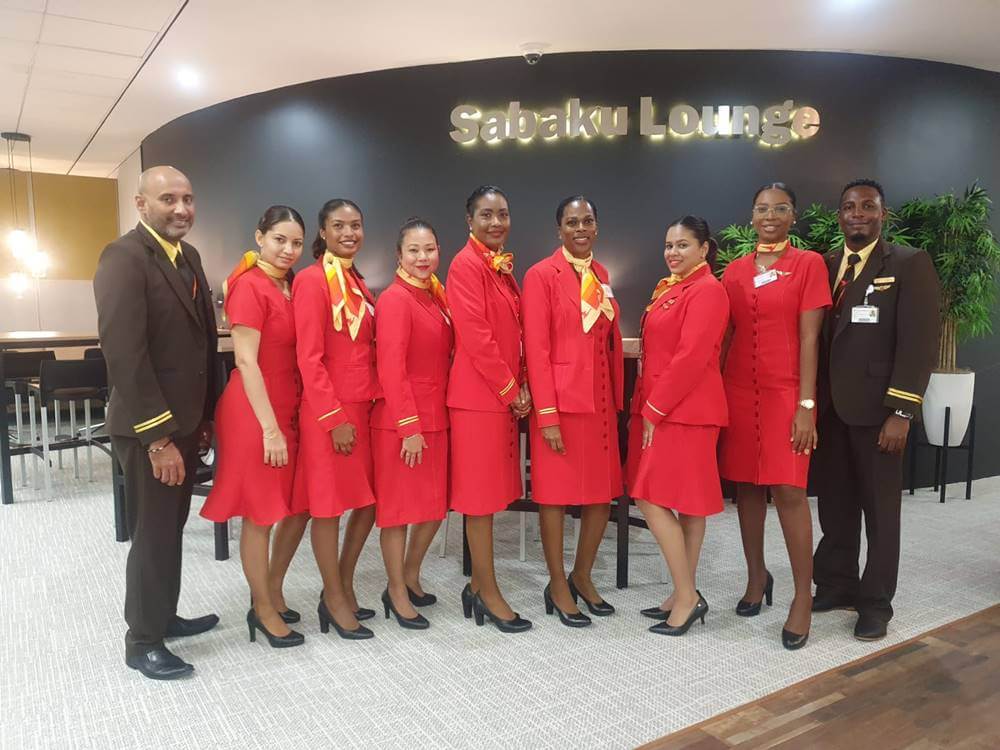 List of Requirements and Qualifications to Become a Surinam Airways Flight Attendant
Must have excellent customer service skills and a passion for travel.
Willing to submit to medical and psycho-technical test.
Willingness to follow all Surinam Airlines uniform standards (including tattoo, body piercings, and other professional appearance regulations)
You must be energetic.
You must be in good health and have no serious medical conditions.
Swimming ability is required.
Must be tidy and presentable at all times.
To meet the needs of passengers, you must have excellent self-control, resourcefulness, and the ability to handle stressful situations.
Responsibilities:
Perform pre- and post-flight inspections.
Welcoming and directing passengers to their seats.
Informing passengers about flight regulations.
Attend to the passenger's comfort and safety.
Checking safety equipment, the cleanliness of the aircraft, the state of the seat pockets, and the availability of all meals and supplies.
Informing passengers on aircraft about safety protocols and ensuring that all hand luggage is safely stored.
Hold announcements and answer passenger inquiries during the trip.
Serve meals and refreshments on time.
Create the flight reports.
Provide medical care and guidance to passengers.
Providing pertinent information to passengers.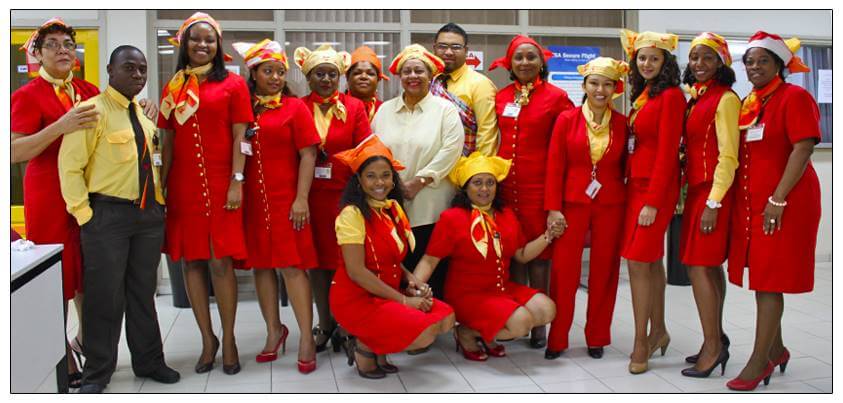 Application Process
Step 1: To get a job inside Surinam Airways, you can visit its social media accounts for job postings. Their official page doesn't have a Career page ready. Check for possible updates regarding their job postings on the following websites:
https://web.facebook.com/SurinamAirways
https://sr.linkedin.com/company/surinam-airways-ltd
Step 2: Go through the web pages and check if a cabin crew position is available. Once a job post is open, apply for the position.
Step 3: Prepare all the requirements or documentation needed for your application. Do not also forget to complete your online application with all necessary information without errors. Make sure to provide true and correct details about yourself.
Step 4: Once shortlisted, they will notify you through call or email. So, keep your lines up and always check for their message.
Step 5: You need to pass the initial interview so you can proceed to the next phase of the qualification examination.
Step 6: Once you are done with the application process and you have already passed all tests and physical examinations, the next thing is to complete the designated training and you're good to go!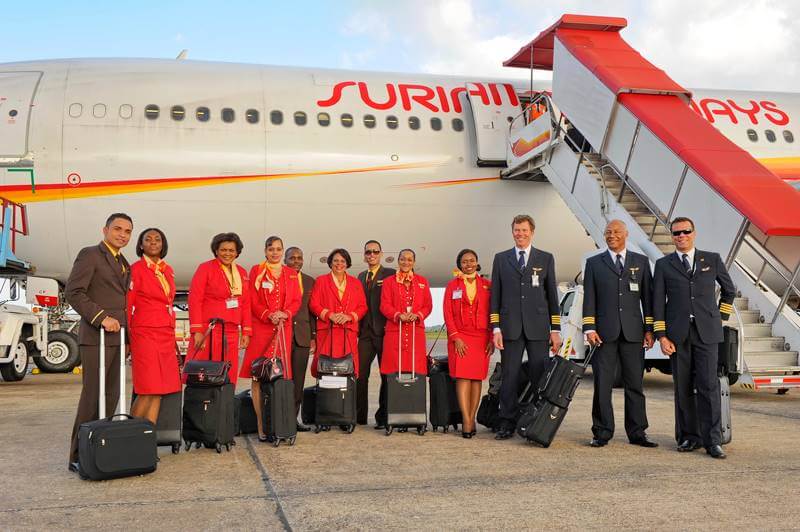 Salary and Benefits
In Suriname, a Flight Attendant typically earns approximately 3,680 SRD per month. Salaries range from 1,800 SRD to 5,740 SRD. This is the average monthly salary, which includes housing, transportation, and other perks. Flight attendant pay varies greatly depending on experience, skills and location.
Video: Surinam Airways Connects You Safely!
Surinam Airways understand how much their passengers needs to be home, they know it's important to meet a certain person on time, and the airline wants to see you closer to your loved ones. This Surinam Airways advertisement shows how each and every part of the plane is checked and how employees do their part for your safety. After all, airplanes were designed to bring people closer together – every flight should be safe. Surinam Airways, the national carrier, is ready to safely connect you with your family, friends, and business partners.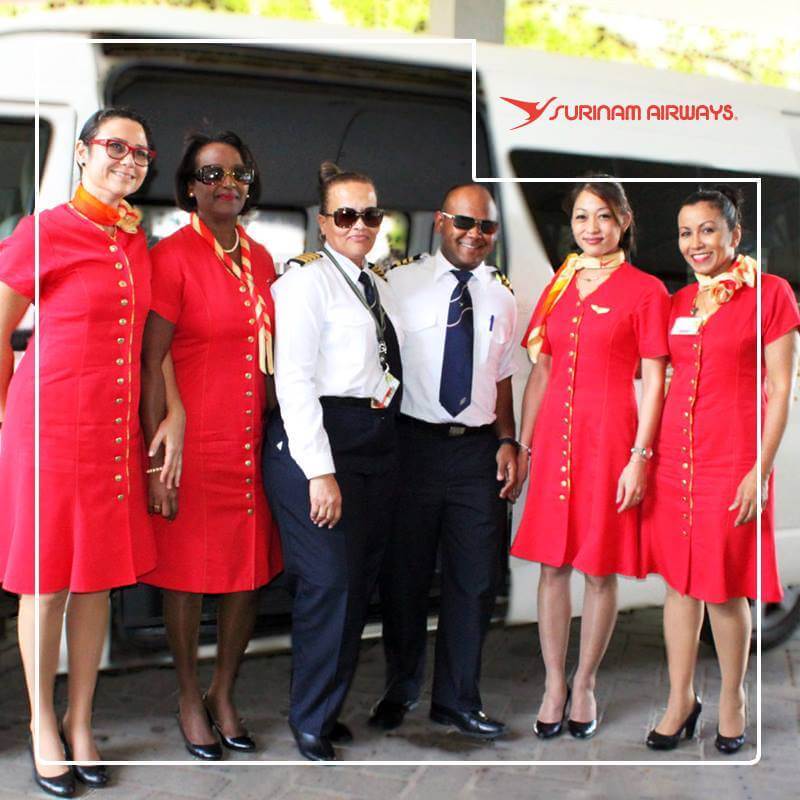 Photos: Surinam Airways Cabin Crew Uniforms
Check out these pictures of Surinam Airways crews so you can see what they look like in uniforms:
Frequently Asked Questions
Here are some common questions and answers about the job requirements as a cabin crew for Surinam Airways:
1. Is Surinam Airways a well-established aviation company?
With over 70 years of operations, Surinam has established integrity and
2. How much is the monthly salary of Surinam Airways Flight Attendants?
In Suriname, a Flight Attendant typically earns approximately 3,680 SRD per month. Salaries range from 1,800 SRD to 5,740 SRD.
3. What language proficiency is needed?
You must be proficient in Dutch and English language.
4. Do I need to undergo a Psychological Test?
Yes, you need to submit a medical certificate the you are mentally stable.
5. What other abilities they are looking for?
You must be able to swim, have excellent communication and interpersonal skills, remain calm in emergency situations, and perform well under pressure.
6. I have all the qualifications, but I don't know how to swim. Will they teach us swimming lessons during training?
Every airline provides training, but a full swimming lesson will not be part of a Flight Attendant training. You must know how to swim before applying in the first place.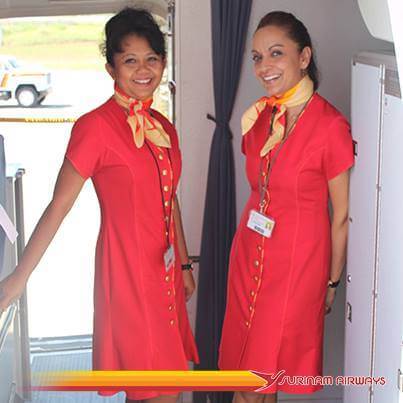 Summary
Surinam Airways is the national carrier of Suriname – running for more than seven decades. As a flight attendant for Surinam Airways, you should consider yourself as an ambassador for Suriname. Remember that every passenger wants to experience Surinamese hospitality as soon as they step on board. A Flight Attendant career at Surinam Airways will give your plenty of opportunities in the future, be there and do your best.