If you wish to become a flight attendant for Turkish Airlines, please check out the guide we've detailed for you below. We detail the requirements, qualifications, requirements, and step-by-step process on how you can apply as a crew for this award-winning airline.
Also Read: Turkish Airlines Unveils New Cabin Crew Uniforms
If you've been keeping track of the best airlines around the world for the past few years, you've probably noticed that Turkish Airlines is always on the list whenever Skytrax would recognize the best ones in the industry.
The recognition that the company receives isn't a surprise at all given that they truly deserve it. Every passenger that flies with Turkish Airlines would always talk about how satisfied they were with their comfortable seats, great entertainment system, quality of the food being served on board, and the friendly cabin crews with a good grasp of the English language.
Each person has an anchor in the world. Some people find comfort in the aspiration of helping the sick, some people envision having businesses, some find comfort in the vast ocean, while some are in the sky. The person who feels serenity between the clouds most likely dreams of becoming a pilot or a cabin crew one day. To make it clear, a cabin crew is a general term that includes flight attendants (FA), chefs, and pursers. But the cabin crew term has recently been more associated with flight attendants.
To those who have always dreamt of working on magnificent airplanes, perhaps you once marveled at working for Turkish Airlines. This article will guide you towards reaching that dream!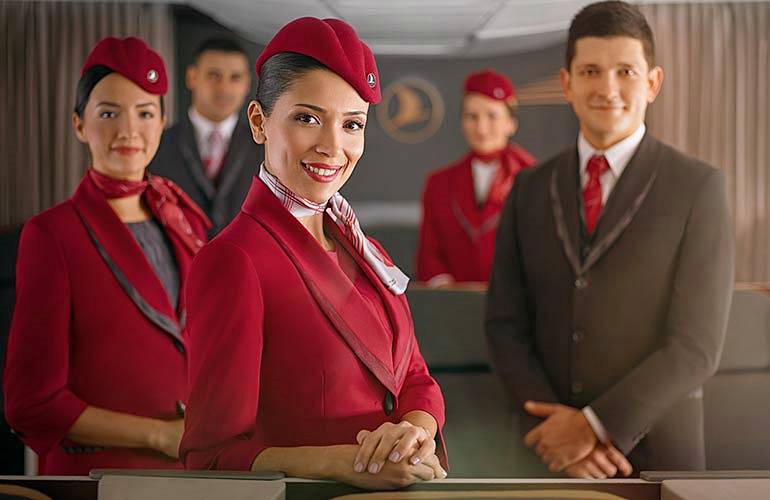 Overview
Turkish Airlines was founded in 1933. Almost 89 years after its conception, Turkish Airlines is now considered as one of the best airlines in the whole world conducting flights to 120 countries with a fleet of 373 aircrafts.
The airline is among the biggest companies in Turkey. And as it carries with it the Turkish flag, Turkish Airlines strive to produce the best experience for its passengers through continuous technological updates and purchasing of the most advanced, environmental, and economical aircrafts in the market.
If you're looking for a company that values professionalism in the workplace, you can always try knocking on Turkish Airlines' door. Every employee knows how to respect their colleagues and offers help whenever needed.
Responsibilities
A Flight Attendant most certainly becomes the face of the airline. As the first-in-line ambassadors to welcome the passengers, the serving staff who attends to passengers' needs, and the last faces to greet them farewell, flight attendants have a vast responsibility to fulfill.
Ushering and Greeting – Flight Attendants, in general, are expected to usher in the passengers, greet them with enthusiasm, and provide a hospitable environment. Turkish Airlines flight attendants are anticipated to do the very same. And as a 3-star airline, FAs from Turkish Airlines are trained to exceed the norm.
Assistance Provider – Turkish Airlines FAs provide unparalleled assistance to their passengers. From extending help in their baggage to guiding them to their proper seats, FAs are eager to make the flight an enjoyable and comfortable experience.
Food Service – Flight attendants see to it that passengers are well taken care of even in meals. In between flights, FAs attend to the requests and orders of the passengers and serve the meals from the airline kitchen.
Safety and Care – Perhaps one of the trademarks of the profession, flight attendants guide passengers through a step-by-step demonstration of safety rules and precautions. Furthermore, flight attendants are the enforcers to remind the passengers to adhere to proper rules and decorum inside the airplane for the consideration of all boarding clients.
Development – Since flight attendants share the flying experience together with the passengers, and as FAs become the first personnel to hear and attend to the passengers' concerns, they are better fit to prepare and create recommendations for the airline management to assess.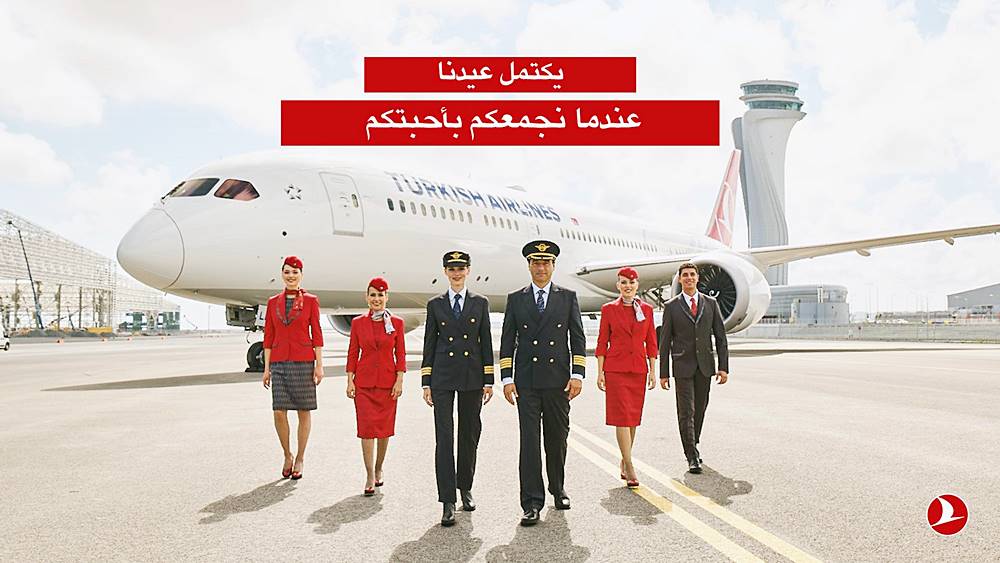 Qualifications
Every profession requires a standard. There are certain requirements to be met for your application to be considered. It is no secret that cabin crews and flight attendants are among the most particular professions when it comes to setting qualifications.
Turkish Airlines is not a stranger to this norm. Listed below are the qualifications you have to meet for that cabin crew dream job.
Age: Turkish Airlines does not necessarily dictate the proper age they require of their flight attendants. However, applicants are favored when they fall between the 20 to 33 age range.
Education: It has been a common misconception that flight attendants must have obtained a degree in tourism, management, hospitality, or other similar Bachelor's programs. Yet, the truth is that in Turkish Airlines, the education requirement is at least a high school graduate or any certification that equals a high school diploma.
Physical Characteristics: Airlines have been known to be particular with height for safety reasons and Turkish Airlines is not an exception. In general, a height of 155cm is the minimum height requirement. But, it is widely considered that ideal candidates for Turkish Airlines meet the 160-180 cm height qualification. Also, Turkish Airlines cabin crew are expected to not have visible tattoos or any form of body piercing while in uniform.
Citizenship: Turkish Airlines is an inclusive company that promotes diversity. However, it has been reported that the airlines prefer applicants who are citizens in Turkey.
Other Requirements: Because Turkish Airlines prides itself on being a 3-star airline, they favor applicants who are friendly, optimistic, and charming. Furthermore, as an airline that caters to multiple countries, an applicant with a fluent and strong command of the English language is more ideal.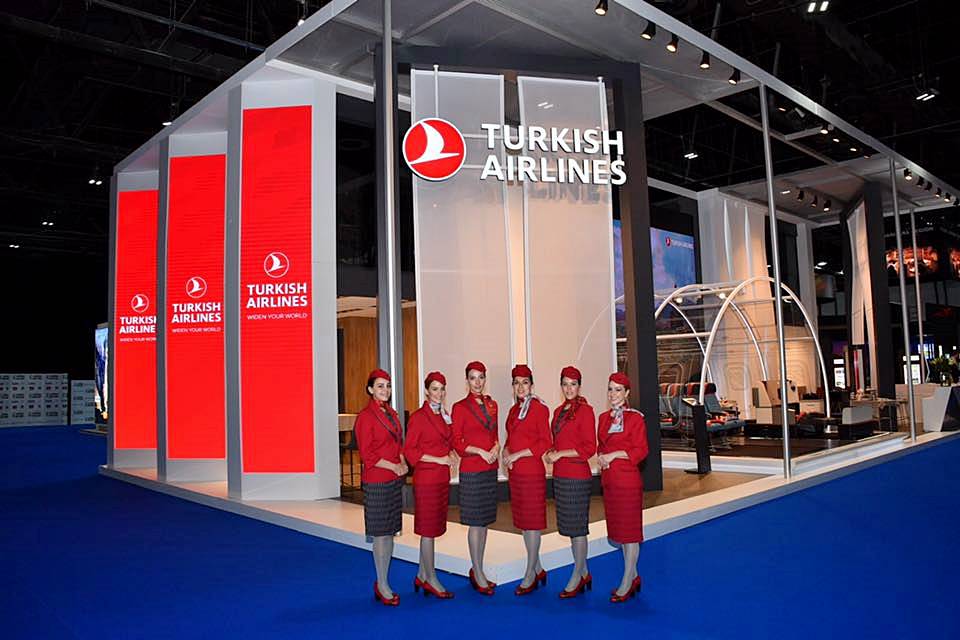 Document Requirements to Prepare
Before applying, you must first ensure that you have the necessary documents available. Some airlines like Air Arabia have a downloadable form on their websites to send alongside other document requirements. Turkish Airlines, on the other hand, does not provide an official downloadable application form. And so, it is best to prepare the following documents before applying.
CV or Resumé – Like in any profession, sending out the most up-to-date resumé or curriculum vitae is important. An updated resumé or CV must include your latest credentials, achievements, volunteer work, and professional experience.
Cover Letter – A cover letter is usually a letter that supplements your resumé or curriculum vitae that details the reasons why you should be hired for the position. Not necessarily a requirement, but it would be better to send a cover letter to show the company, in this case, Turkish Airlines, that you are ready to go the extra mile to earn the job since cover letters are specifically addressed to the company and the job you are applying for.
Diploma – As stated, there is a high school graduate minimum educational requirement. To prove this, it is best to prepare a copy of your high school diploma or any certificate that equals a high school diploma should you have taken a certification instead of finishing the whole high school duration.
Copy of Valid ID – Providing a copy of your valid ID will authenticate your legitimacy as a legal person or citizen. Valid IDs include passports, driver's license, tax ID, and other IDs issued by the government.
Photograph – As an applicant, you should always be ready with a full-sized photograph and a passport-sized photograph. Remember that your picture must be taken recently and must include you wearing formal or business attire with a plain white background.
Where to Apply for a Job for Turkish Airlines Online
Turkish Airlines makes applicants follow a certain procedure in their application process. That said, applying for a job in Turkish Airlines is not necessarily on-site in their office, but rather online. Here's the link – https://careers.turkishairlines.com/en-US/cabin-crew
Applicants must navigate the Airlines' official website and visit the career page of Turkish Airlines, complete the necessary requirements, and send the application. The next chapter provides an in-depth step-by-step process on the application process for Turkish Airlines.
Below is the screenshot of the Careers Page of the airline: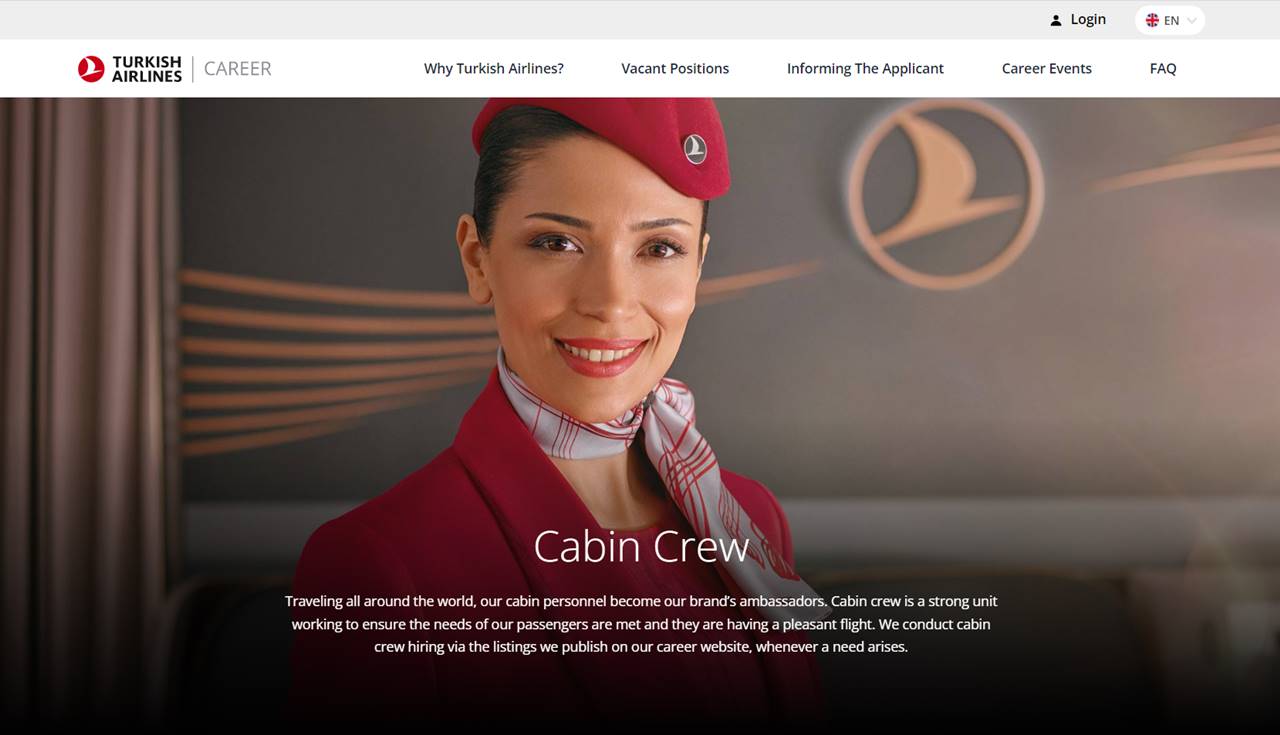 How to Become a Cabin Crew for Turkish Airlines
Researching the application process is a crucial step every applicant must consider. Some companies like Turkish Airlines have a particular procedure to follow. Failure to do so may give you a negative light in the process.
Submit your application process on the career page of Turkish Airlines' official website. The airline will be sending you an email or an SMS to confirm your application and will be informing you if you passed the initial screening to proceed to the next step of the application.
Taking the Exams. Turkish Airlines will be administering a set of tests like English exams and competency tests. As stated, fluency in the English language is an ideal skill to have. Also, there are physical exams to verify if you are physically fit to conduct cabin crew tasks and if you fit the physical criteria like height requirements. Should you pass the tests, you will be informed to proceed to an interview.
The HR department of the airline will be asking you in a personal interview a set of questions lined with your dedication to getting the job. There is no particular right answer and there are no set questions in interviews. However, you may research common interview questions for aspiring flight attendants that are shared by FAs to help you understand what to expect come to the interview proper.
Job Application Stages
Turkish Airlines is one of the biggest companies in Turkey, which is why they've already incorporated developed and modernized systems for their processes. Along with this, the employees are also provided with sufficient knowledge and training before they are ready to become one of Turkish Airlines' service providers.
Application
When applying at Turkish Airlines, you are required to submit your application through the career page of their website. If they have received your information successfully, you will receive an SMS or an e-mail to proceed to the next step.
Tests
You will be asked to visit the Turkish Airlines test center where you will take the English test and some competence inventory stages. If you've passed these, you will have another chance and will be asked to come back for the interview.
Interview
For this stage, the interview isn't the only thing that will be conducted on the same day. You will undergo document check, body measurements, group activities, and even psychological consultation processes.
Results
You will hear from the company within 7-10 days if you've been selected by the hiring manager, and you will be asked to prepare documents as well as your health report. Meanwhile, if you didn't pass the interview, you will be contacted on a later date to inform you about the result of your application.
After receiving a positive result, you'll be asked to participate in the training as soon as possible. However, it is not yet a guarantee that you're successfully hired for the job. You'll still need to impress them during your training period if you want them to offer you a contract.
If in case the results didn't go the way you wanted, don't worry as you can still reapply next time. We wish you the best of luck on your career!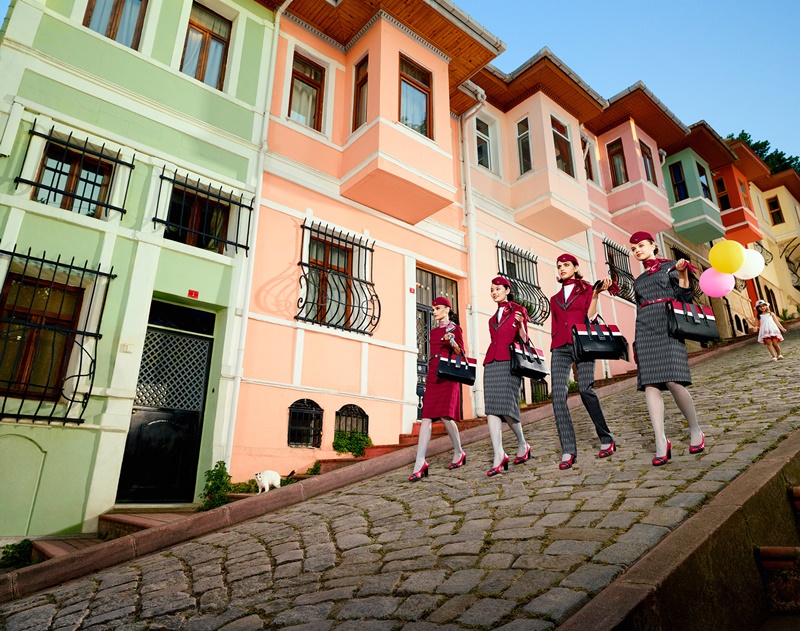 Monthly Salary of a Turkish Airlines Flight Attendant
Companies keep salaries confidential. And as salaries are among the most personal subjects to ask, we can only rely on some reports. According to testimonies, cabin crew members from Turkish Airlines reportedly earn around TRY 112,500 annually.
To place this in perspective, TRY 112,500 is equivalent to about USD 8,000 or PHP 406,500. But of course, an average salary only increases through time and hard work. Should you have shown great passion and loyalty through your service, expect promotions and incentives to be given. After all, hard work is always rewarded.
Video: Sam Chui Feature Turkish Airlines Service
This video by Youtuber Sam Chui testifies to how particular Turkish Airlines is with regards to the quality of the journey of the passengers. Despite being in the pandemic and trying to regain the lost earnings, Turkish Airlines still prioritizes bringing world-class service and products to its passengers from the food, to the smiles behind the crew, and the dedication of the management and its pilots to make decisions for the safety of the clients.
Regardless of how difficult it has been for Turkish Airlines and the airline industry in general, Turkish Airlines was and is still committed to delivering the best flight journey as well as in keeping their loyalty to their employees.
Disclaimer: This is a video uploaded by a flight attendant vlogger who shared her experience being a cabin crew member of Turkish Airline. Take note that every crew has a different experience, but this will help give you an idea what to expect when you work for Turkish Airlines.
Photos: Turkish Airlines Cabin Crew in Uniform
One more thing that you should be excited about is Turkish Airlines' new cabin crew uniforms! They've always had a stylish uniform for their crews that they decided to take the uniforms to a higher level.
Check out these beautiful pictures of Turkish Airlines Atlantic flight attendants in uniform. If you wish to imagine yourself being part of this company, check out these photos to give you a glimpse of working for this airline:
Frequently Asked Questions
Here are some common questions and answers about the hiring process in Turkish Airlines:
1. Can I apply even without a management or tourism degree?
Yes. Turkish Airlines require a high school diploma for cabin crew applicants. Bachelor's degree in tourism, management, or other related fields may be an upside and an advantage, but never a requirement.
2. Should I be from Turkey to apply?
Not necessarily. Turkish Airlines is inclusive. However, it was reported that Turkish Airlines prefer Turkish applicants.
3. Is Turkish Airlines a reputable company?
Yes. Turkish Airlines is one of the biggest companies in Turkey and is among the best airlines in the world. Turkish Airlines is a 3-star airline.
4. Does a Turkish Airlines Cabin Crew receive travel benefits?
According to former employees, Turkish Airlines provides free and discounted flights.
5. Are there additional benefits to being a Turkish Airlines Flight Attendant?
Turkish Airlines provides all its employees with social benefits and security and private health insurance.
6. Is there an age requirement for aspiring flight attendants?
Yes. Turkish Airlines favor applicants who are in the 20-33 year bracket.
7. Can I apply even if I am a fresh graduate?
Yes. Because Turkish Airlines requires a high school diploma, fresh college graduates are more than qualified to apply.
8. How much do Turkish Airlines cabin crew earn?
It has been reported that the average annual salary of Turkish Airlines cabin crew is TRY 112,500
9. Does Turkish Airlines serve flights during this pandemic?
Yes. Turkish Airlines is among the active airlines conducting flights during the pandemic.
10. Is there a height requirement for aspiring flight attendants?
Yes. The ideal heigh for applicants is between 160-180cm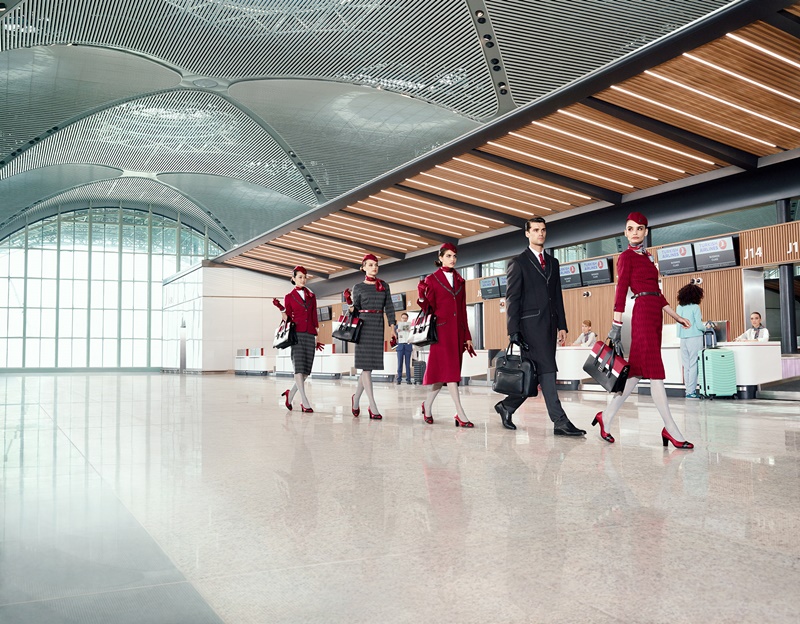 Contact Information 
Turkish Airlines
Address (Head Office): Turkish Airlines General Management Building, Ataturk Airport, Yesilkoy 34149 Istanbul Turkey
Telephone Number: +90 212 463 63 63
Website: https://www.turkishairlines.com/en-int/
Facebook: https://web.facebook.com/TurkishAirlines/
Instagram: @turkishairlines
Twitter: @TurkishAirlines