Turkish Airlines has launched a fresh, new and stylish look of their uniforms for their flight attendants in celebration of over 85 years of airline operation. The design is inspired by Turkish tradition and culture and has a deep red and grey palette. The new uniforms include gloves, pajamas, hats, bags, dresses as well as accessories for both their male and female cabin crew.
Also Read: How to Apply Turkish Airline Flight Attendant Jobs Hiring
What do you guys think of the new cabin crew uniforms of this airline? Check out the photos below: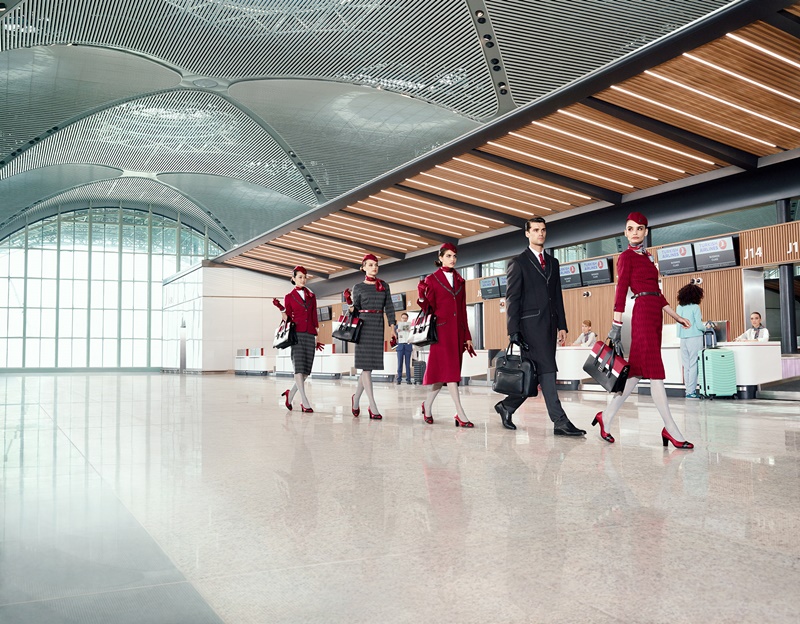 Turkish Airlines brings style to the skies with new cabin crew uniforms
In celebration of 85 successful years, Turkish Airlines has unveiled a fresh look with a new uniform specially designed for its cabin crew. The new uniforms will be used following the opening of the Istanbul New Airport, the "new home" of the flag carrier airline.
Inspired by many classic elements of Turkish design and culture, the new uniforms incorporate traditional patterns found in artisanal glassware, ceramics and calligraphy with contemporary textures and details. The collection combines shapes and colours found in Istanbul Bosphorus with a new 'flow detail', created to symbolise the effortless and dynamic energy flowing through Turkey's most dynamic city as an intersection between East and West.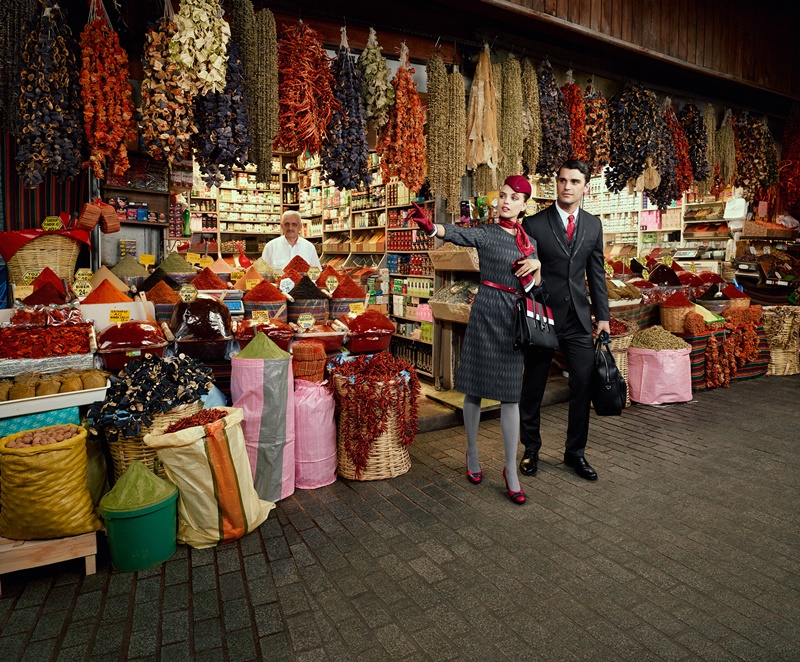 The global airline, which flies to more countries than any other, paired up with Milan-based Haute Couturier Ettore Bilotta to create the dynamic new uniform design heralding a new era and brand identity for the national flag-carrier.
Unique and recognisable with a deep red and anthracite grey palette, the collection includes hats, gloves, pyjamas, dresses, bags and accessories. Another key aspect of the project is that the uniforms of cabin, cockpit, flying chefs, and ground services will be streamlined under a single design approach to offer the passengers to live a holistic brand experience. Bilotta's designs bring together the form and function, an essential consideration for an airline that flies to most international destinations in the world. New designs were not only conceptualised in consultation with fashion leaders and Turkish Airlines' own team of cabin crew, but tested rigorously on long-haul trial flights in different climates.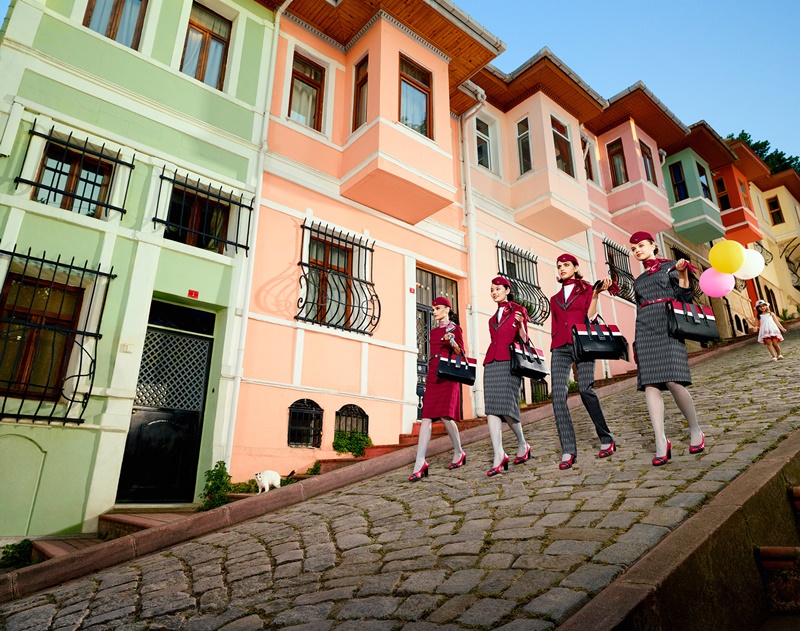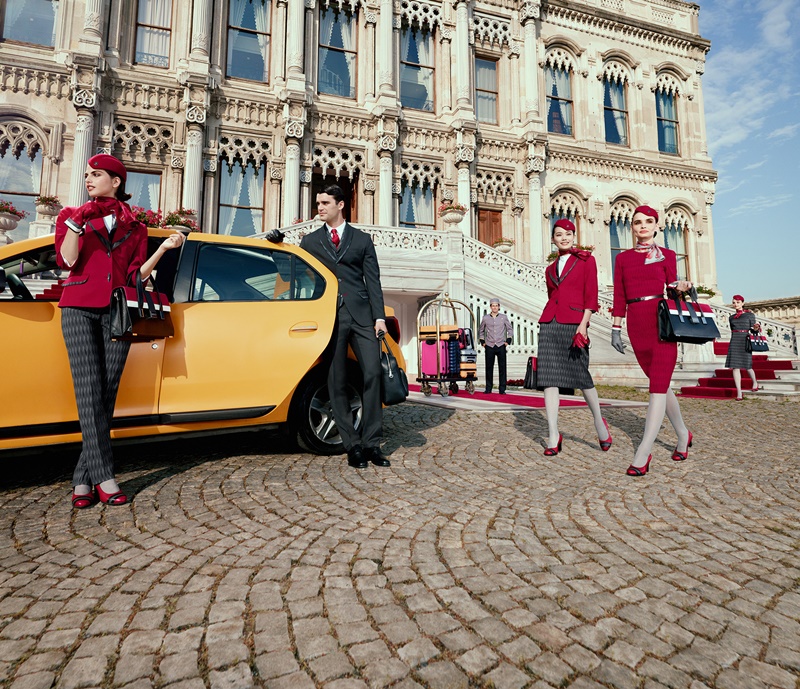 M. İlker Aycı, Turkish Airlines Chairman of the Board and the Executive Committee commented, "Turkish Airlines is always thrilled to collaborate with such creative and distinctive talents which blend elegant and practical design. While maintaining traditional elements of Turkish design and culture, the new uniforms are professional and stay true to a culture of hospitality, just like our airline".
Ettore Billotta, the fashion designer behind the uniforms said, "When I started to design for Turkish Airlines, the first thing that inspired me was Istanbul. This city has been a melting pot for art and civilisation for centuries and has a rare richness as a common heritage of many cultures. I wanted to bring elements from traditional calligraphy and mosaics together with the new interpretations of Turkish motifs, which emphasize modern lines, into foulards and ties to reflect a contrast and duality."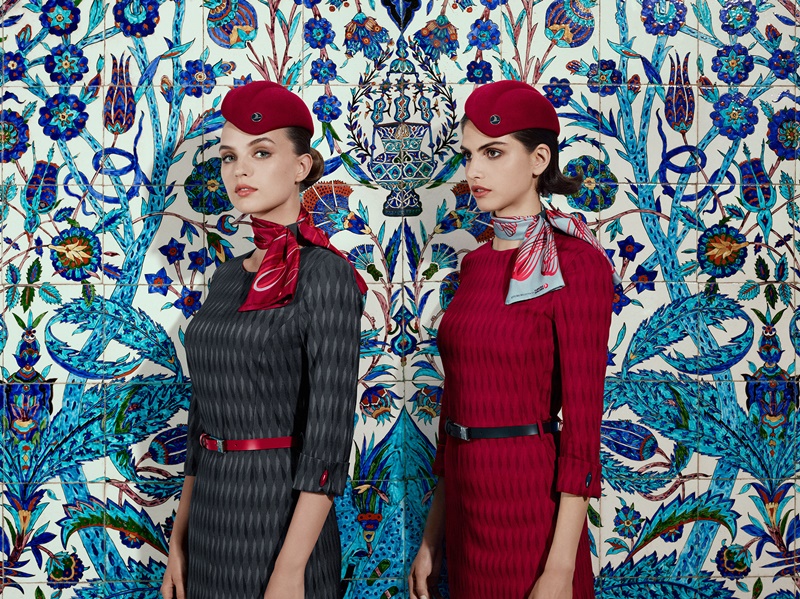 To launch the new look, the national carrier teamed up with globally renowned British photographer and artist, Miles Aldridge to shoot the new Turkish Airlines cabin uniform collection in Istanbul's unique spots.
Rich in culture and history, and vibrant in colour and texture, Istanbul, spanning two continents, provided a stunning backdrop to the uniforms.  Drawing on his ability to combine a meticulous approach and rare flair for drama and narrative, Miles Aldridge shot the collection using the city to create a selection of bright and distinct images, ready for the launch of the uniforms. A moment that just happens to coincide with the airlines 85th Anniversary. "I was really inspired when I saw the uniforms as they hark back to a golden age of couture fashion from the 1950's, but with a very contemporary twist. Again, it's very much like my own work which is always referencing the past but very much being in today."
Images: Supplied