TUS Airways is a scheduled and charter airline based in Cyprus that was founded in 2015. It uses an A320 fleet to fly to and from Cyprus, Israel, the Greek islands, and Europe. The airline was formed with the goal of improving access between Cyprus and surrounding Eastern Mediterranean nations by offering high-frequency schedules as well as comfortable inexpensive and alternative flights. In 2021, the airline made a reappearance as a hybrid airline.
Also Read: Venice Layover Guide: Best Things to Do in 24 Hours
TUS Airways Ltd wants to expand its network using Airbus A320 aircraft beginning in Summer 2023. Aspiring Flight Attendants like you can have an opportunity to join their team. All you need to do is prepare yourself and have all the requirements and qualifications they need.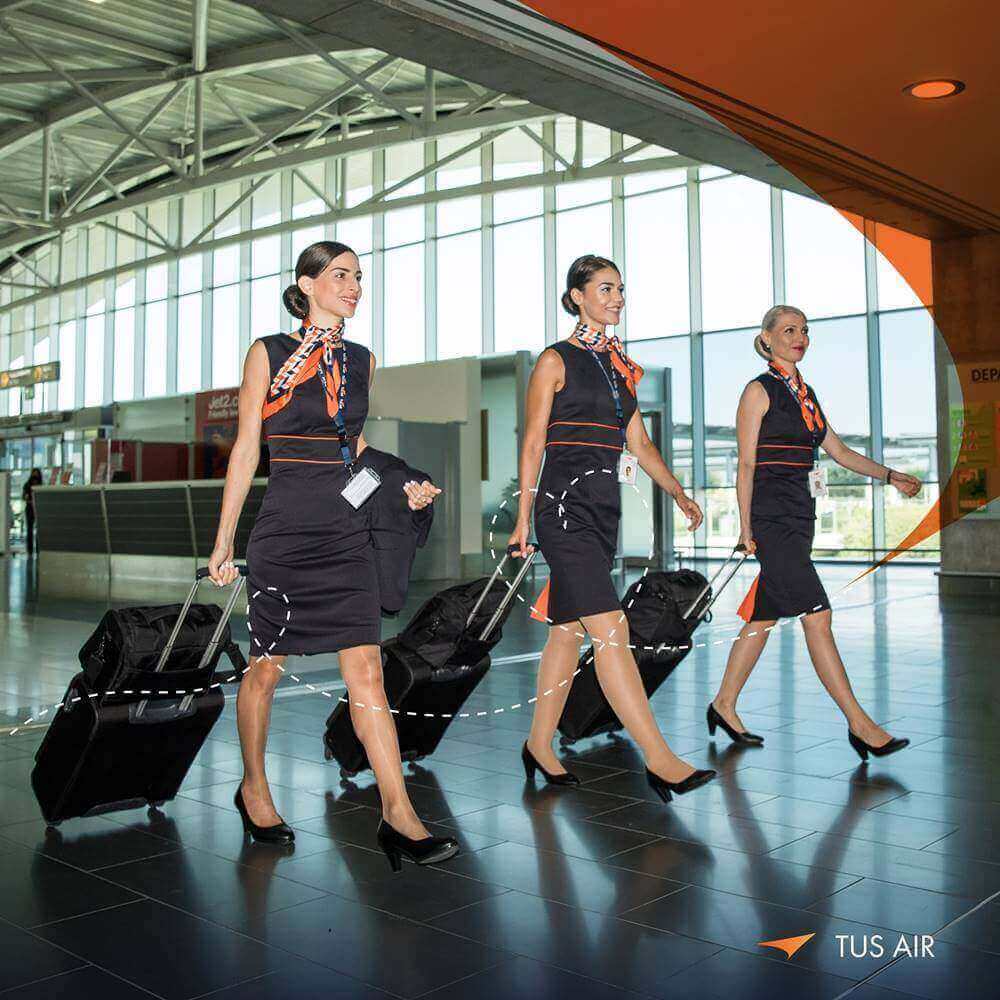 List of Requirements and Qualifications to Become a TUS Airways Flight Attendant
The minimum age is 18 years old and the maximum is 35 years old.
You must have a High School Diploma
You must be fluent in English and Greek language
You must be physically fit, with at least 20/40 eyesight, decent hearing, and a good sense of balance.
Right to live and work in the EU without restriction
Holders of a valid EASA attestation and, if available, a medical certificate*
*(Attestation and any extra language, especially Hebrew, will be considered an advantage) (Attestation and any additional language, especially Hebrew, will be considered an advantage)
No Criminal Record
Experience as a cabin crew member is an advantage but not a requirement.
Duties:
The flight's overall safety
Meeting and greeting passengers as they board and exit the plane
Assisting passengers in finding their seats and paying special care to certain passengers, such as the elderly or the disabled
Preparing and serving meals and refreshments
Explaining emergency equipment and procedures
Providing first aid.
Inspecting the condition and availability of emergency equipment
Execute the duties connected to the safety of the aircraft and its passengers while adhering to the highest ethical standards.
Managing Emergencies
Provides great customer service and fosters a welcoming environment on board.
Must have the following Characteristics:
You must be able to communicate well in both Greek and English.
Because you will spend a lot of time interacting with passengers, you must have 'good people skills.'
You must be committed, attentive, caring, and on time.
You should be humble and generous.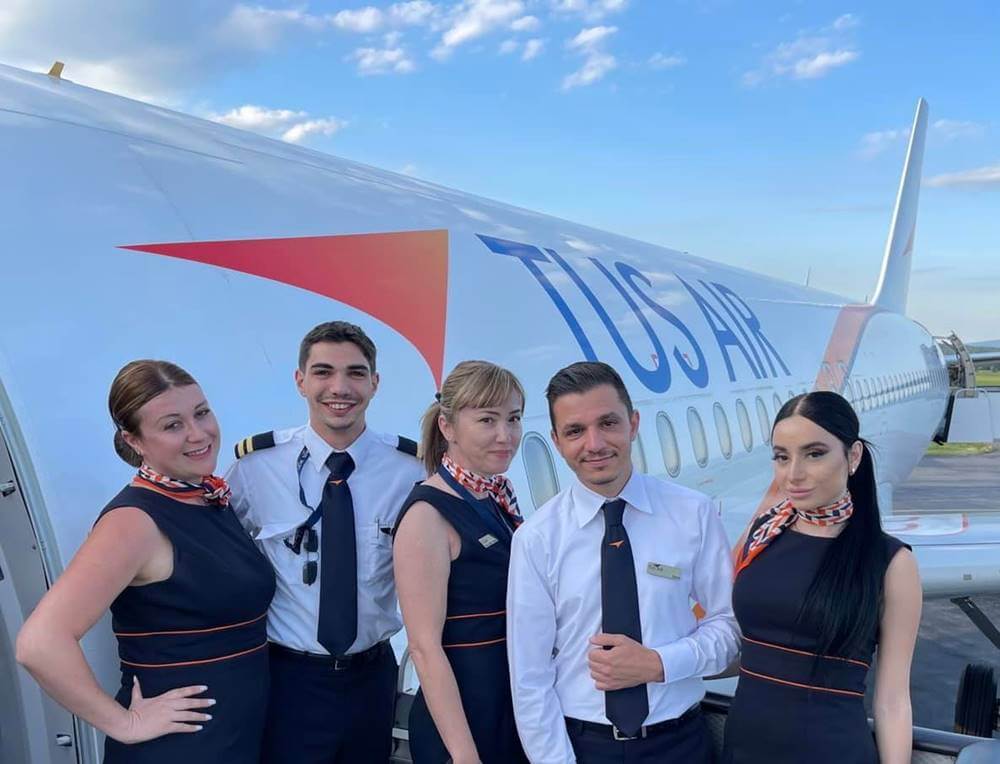 Application Process
Step 1: Go to TUS Airways website https://www.tusairways.com/ at the button part of the page you will see "Vacancy," just click it and you will be redirected here https://onlinerecruitment.exelsyslive.com/?c=ef534a2e-7591-400a-a1a6-ca6a2dc25c42&v=2022/0036
Step 2: On the Careers page, you will see an "Apply Now" button. This form has 7 pages, the page will ask you to provide some Personal Information, Upload Documents, Academic qualifications, and Work Experience. References, Additional Information, and the last part will be the Preview.
Step 3: After reviewing all the details you've provided, click "Submit."
Step 4: After submitting your online application, wait for the airline's invitation for an interview. Just be patient because this will take some time since a lot of applications are being reviewed by the recruitment team.
You can also apply by sending your CVs and a recent full-length photo at cabincrewrecruitment@tusairways.com
Note: Please keep in mind that only those who have been shortlisted will be contacted. All candidates will be treated fairly and in the strictest confidence.
Salary and Benefits
A Flight Attendant in Cyprus normally earns roughly 1,400 EUR per month. Salaries range from 690 EUR to 2,180 EUR.
This is the average monthly payment, which includes housing, transportation, and other perks. Flight attendant pay varies greatly depending on experience, skills, gender, and region.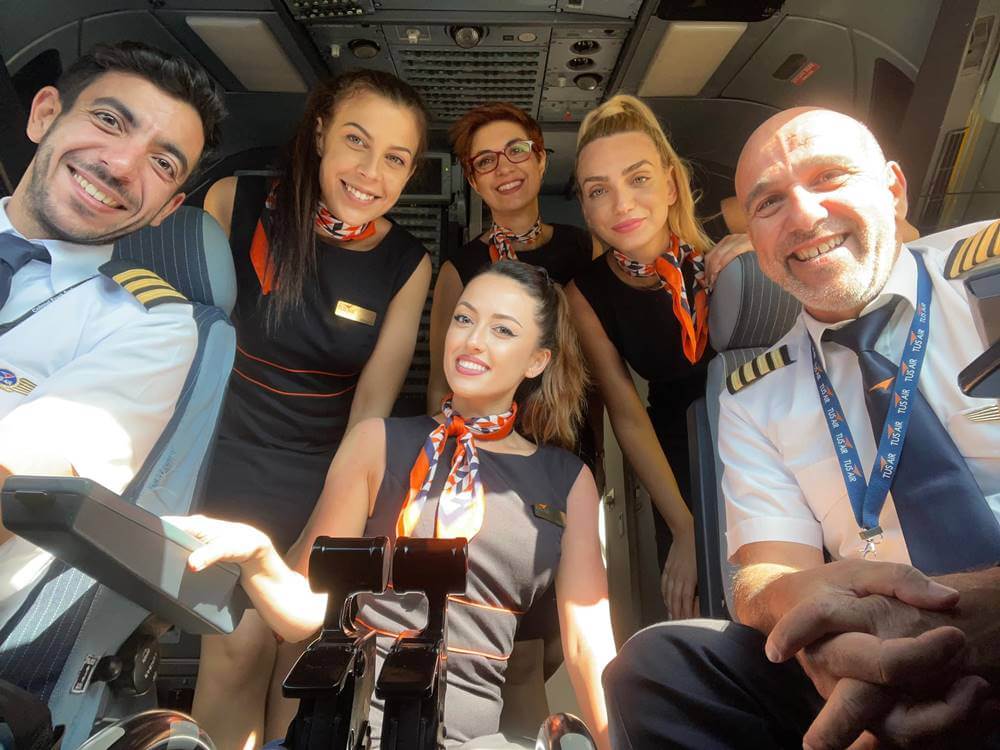 Video: TUS Airways Saab 340B – First Demo Flight TLV-LCA – Amazing view of Tel Aviv! – GoPro Wing View
This video is the TUS Airways' inaugural flight from Tel Aviv to Larnaca which took place on March 24, 2016! Buckle up and enjoy the virtual flight, a one-of-a-kind experience of the airline's first flight to Haifa in their first Saab 340B. You will witness the first step inside the Saab 340B and how Flight Attendants welcome passengers, the demonstration of safety equipment, and the actual flight. This time TUS Airways gives a full tour of their cabin.
Photos: TUS Airways Cabin Crews Uniforms
Check out these pictures of TUS Airways crew so you can see what they look like in uniforms:
Frequently Asked Questions
Here are some common questions and answers about the job requirements as a cabin crew for TUS Airways.
1. Does TUS Airways accept applicants with tattoos?
TUS didn't release any requirements regarding flight attendant applicants with tattoos. But most airlines around the world allowed it as long as it can be covered by the uniform.
2. How to know if my application was unsuccessful?
You can contact the Talent Expertise Partner or Specialist who assisted you during your application process.
3. Is there a background check?
Every airlines conduct background check to succeeding applicants before they enter the final phase of the recruitment process.
4. I'm turning 18 years old in 5 months, can I apply now?
There is a specified minimum age for applicants because of legal or regulatory constraints. Therefore, the airline cannot accept applicants below 18 years old.
5. How long does the final interview lasts?
It usually lasts for 30-40 mins.
Summary
TUS Airways was founded in 2015 and began flying the following year. However, operations were halted in 2019, and the airline rehired its original founder and CEO, Michael Weinstein, to relaunch the airline in 2021. The airline made a strong comeback with a flurry of new routes and destinations launched in the previous year. TUS is like a refreshed airlines and they came back bigger than before. A lot of opportunities are still waiting for aspiring Flight Attendants like you.