Blue Air is a budget-friendly airline based in Bucharest, Romania and founded in 2004. Although the airline is still relatively new, it has expanded significantly since 2016. As Blue air continued to expand its network and aircraft throughout the years, it became the biggest Romanian airline in terms of passenger figures.
Also Read: Athens Layover Guide: Best Things to Do in 24 Hours
The airline serves over 100 European locations. Blue Air has been flying for almost 13 years and continues to push exceptional service from within. They are consistently on the lookout for skilled and devoted employees in order to build a strong group of professionals. If you wish to be part of the inflight crews of Blue Air in service to their loyal customers, listed below are the qualities they are looking for.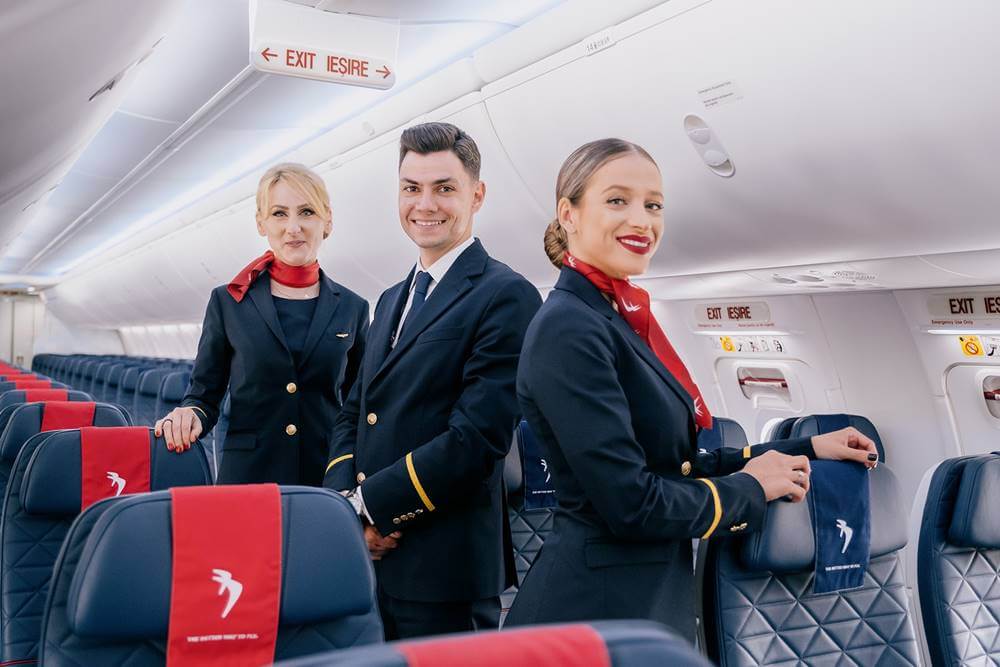 List of Requirements and Qualifications to Become a Blue Air Flight Attendant
If you intend to apply for job opportunities at Blue Air, you should first get informed with Blue Air's hiring qualifications and compensation in order to optimize your airline career. Listed below are the Blue Air's general requirements for job applicants:
Must hold valid EU Passport / Citizenship.
Must have legal right to live and work in Europe.
Must be between 5 "2 (157 cm) and 6" 2 (188 cm) in height.
Capable of swimming 25 meters unaided.
Have a hard working, flexible, outgoing and friendly personality.
Willingness to work a shift roster.
Enthusiasm to work in public and have the ability to provide excellent customer service
Proficient in speaking and writing in English with ease.
Must have a passion for traveling and meeting new people.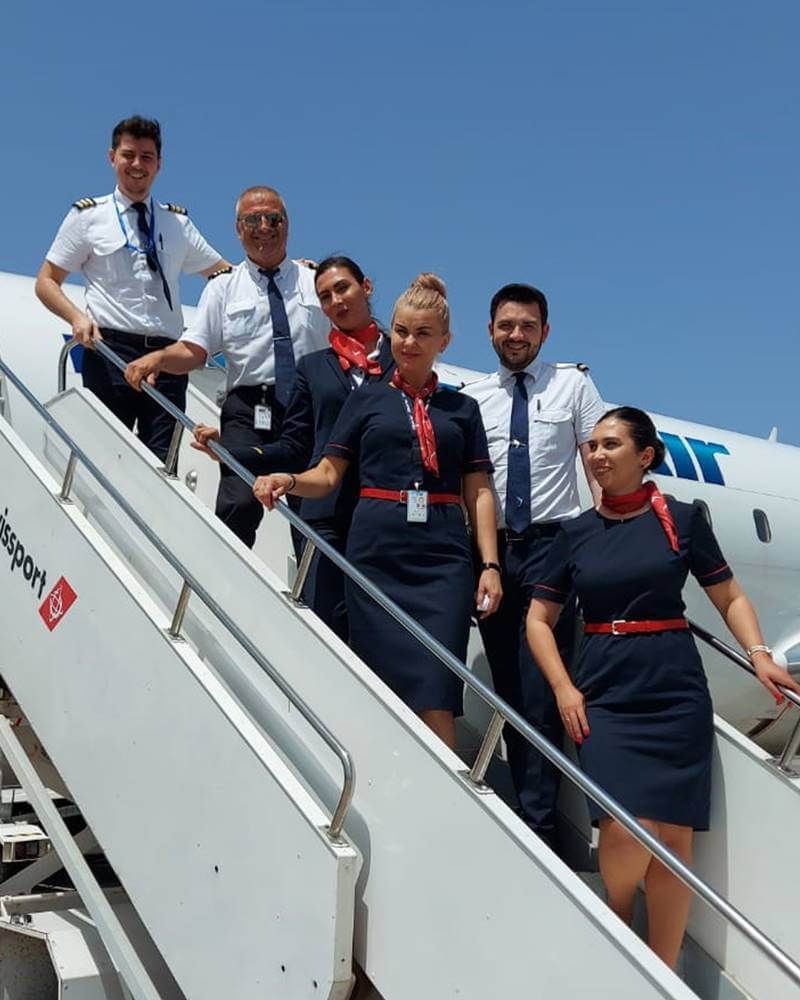 Application Process
Step 1: Check for the availability of the position
One of the general application processes of Blue Air recruitment is posting vacancies on their site. If you wish to apply for the position of Flight attendant at Blue Air Airlines, you may check the Career section of their official website to check for vacancies and availability. You may access Blue Air's Careers Page here: https://www.flyblueair.com/en/gb/careers/
Step 2: Document preparations
If the position of the flight attendant is vacant, you may start complying with all the necessary documents and paperwork. But if the position is unavailable at the moment, you may still opt to submit your Resume to the link provided on their website as Blue Air constantly looks for competent employees. Make sure that all the documents are updated and contain all the necessary information on your educational background and previous job experiences.
Step 2: Online submission of documents
Once you have compiled all the required documents, you may submit the documents to the mail address posted on their official website. Submit the paperwork through HRRecruitment@blueair.aero and wait for the acknowledgment of your application and the schedule of your interview proper.
Step 3: Interview Preparations
If you were able to pass the first screening and have received a confirmation call or email, prepare for the upcoming interview by learning and reviewing all potential flight attendant-related questions.
You may also read articles regarding Blue Air Airlines to have some background and references during your interview. Having prior knowledge of the airline may give you an edge and may reflect your dedication to acquiring the job.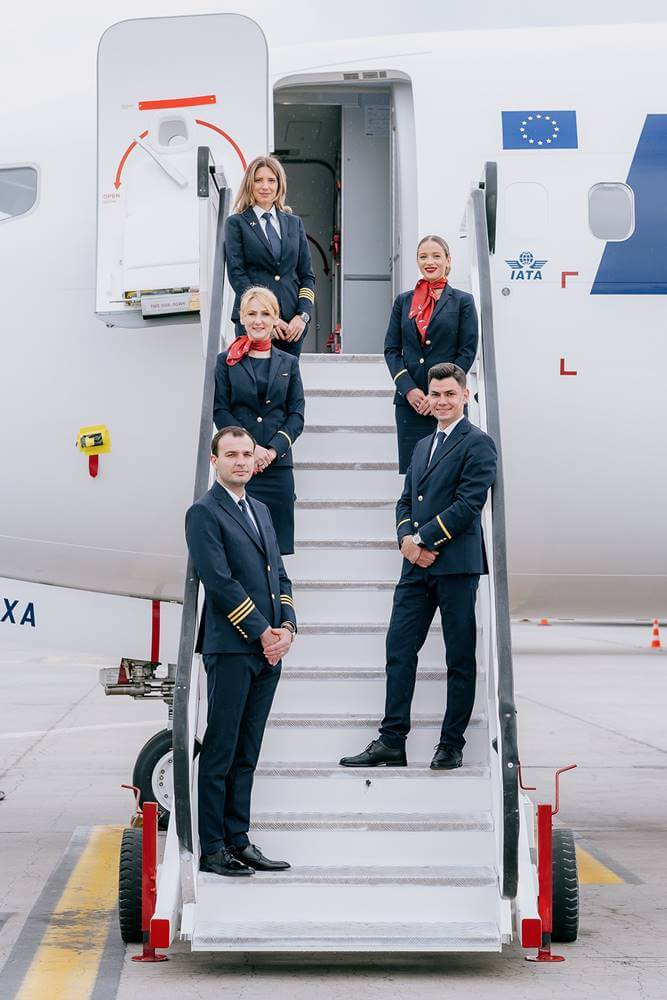 Salary & Benefits
Cabin Crew training course free of charge
Flexible schedule of 5 days on / 3 days off staff rosters
Highly discounted Staff Travel rates (unlimited)
Sales bonus
1- year free Uniform
Security of working for a financially stable airline
Video: International Flight Attendant Day at Blue Air Airlines
Watch this video from the staff of Blue Air Airlines as they celebrate International Flight Attendant Day and recognize their hard-working cabin crews.
To watch interesting the video, click here: https://www.linkedin.com/posts/blue-air_international-cabin-crew-day-activity-6805117858880729088-dAUz?utm_source=share&utm_medium=member_desktop
Blue Air Airlines celebrated International Cabin Crew Day on May 31 and honors the enthusiasm and commitment of all flight crew members worldwide who awaken early, stay late, and remain vigilant throughout the trip to provide comfort, care, and confidence of safe passage.
Blue Air flight attendants are fearless, well-trained, and cheerful; they are here to provide the greatest in-flight hospitality while always keeping their customers' safety in mind.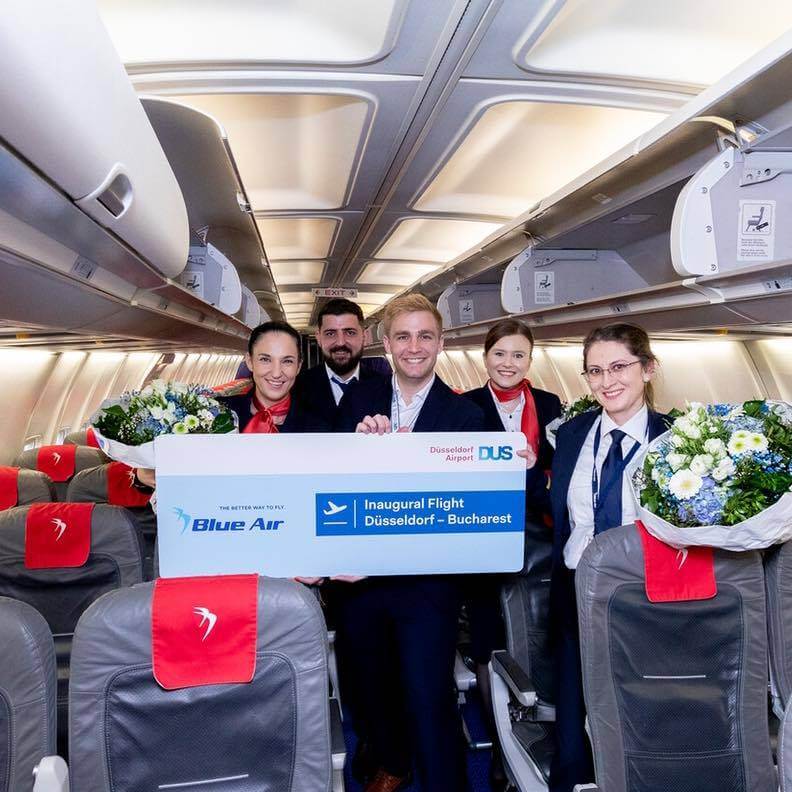 Photos: Blue Air Cabin Crew Uniforms
Check out these pictures of Blue Air crew so you can see what they look like in uniforms:
Frequently Asked Questions
The following are some of the common questions asked about Blue Air:
1. Will Blue Air Airlines be back on operations?
Blue Air promised to make an announcement "as soon as the continuing discussions about when it intends to get its fleet flying again are completed."
2. Is the course training for flight attendants free of charge?
Yes, in Blue Air airlines, all the course training before deployment will undergo free training for several weeks to ensure knowledge on the basic duties of being an inflight crew.
3. Is there a height requirement for Blue Air Airlines flight attendants?
Yes, just like in any other airline companies, the Blue Air Airlines has set the standards for the candidates to be between 5 "2 (157 cm) and 6" 2 (188 cm) in height and are capable of accessing the cabin with ease.
4. Is Blue Air Airlines a safe airline?
Blue Air Airlines' top priority is the safety of their passengers. The airline has received the 3-Star COVID-19 Airline Safety Rating for the safety measures and enhanced health and hygiene systems implemented during the pandemic.
5. How long has Blue Air Airlines been in the aviation industry?
Blue Air has been flying for over 13 years but has been forced to halt operations for the time being because of their financial crisis.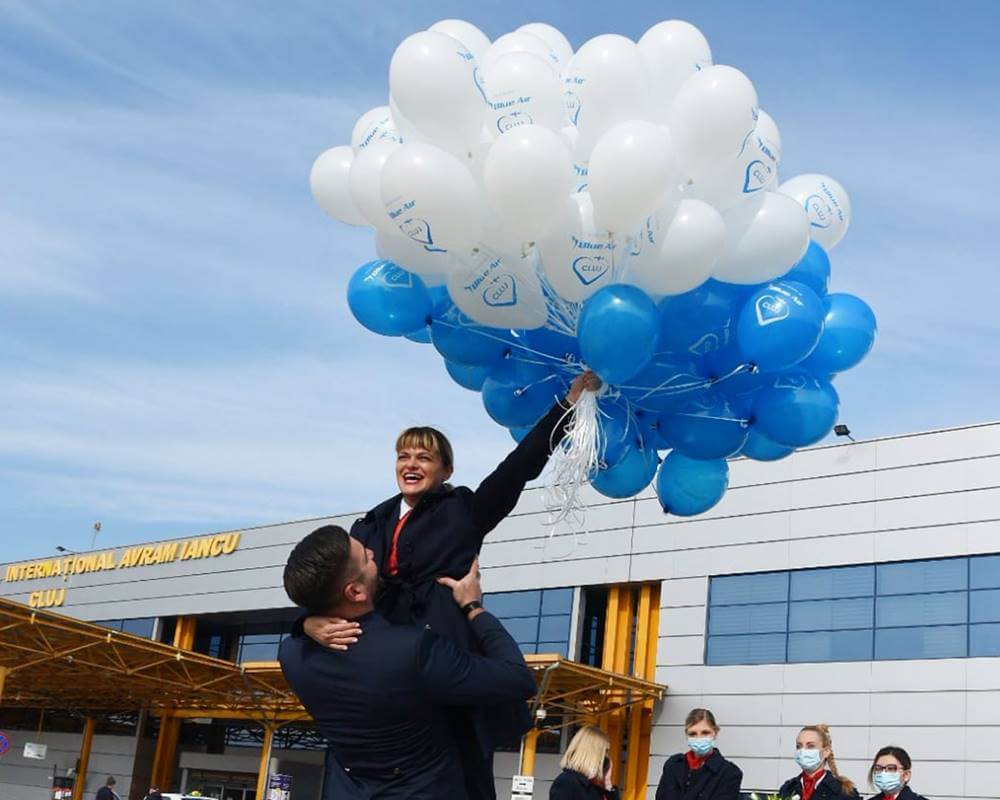 Summary
Blue Air's main priority is and will always be safety. They are completely devoted to ensuring that their passengers have safe rides and that all those who work with them have a positive working environment. If you wish to be a flight attendant at Blue Air Airlines, you must have the qualities the airline is looking for.
Having a valid EU Passport / Citizenship and legal right to live and work in Europe is one of the most important qualifications for being part of their team. As of the moment, the airline's operations are suspended due to their financial crisis but they have reassured their passengers to announce their return once the issue has been resolved. They are scheduled to resume flights before late 2022.