The goal of Zipair is to become the new basic airline, setting a new standard for a full-service and low-cost carrier. With the "new basic," Zipair is not aiming to keep expenses low, their main objective is to provide consumers with a service that meets their needs and the comfort they deserve. Moreover, the airline company prioritizes clients' safety by providing on-time service that consistently gets them where they need to go.
Also Read: 15 Cabin Crew Career Progression Paths for Flight Attendants
With the help of their dedicated staff, especially flight attendants who take their roles passionately, Zipar can provide passengers with a pleasant and worry-free flight by adhering to the rigorous guidelines set forth by the aviation industry. The values embodied by Zipair's team are critical to their success. As a newly established airline last 2020, they are specifically looking for dedicated flight attendant candidates for their recently launched scheduled flights.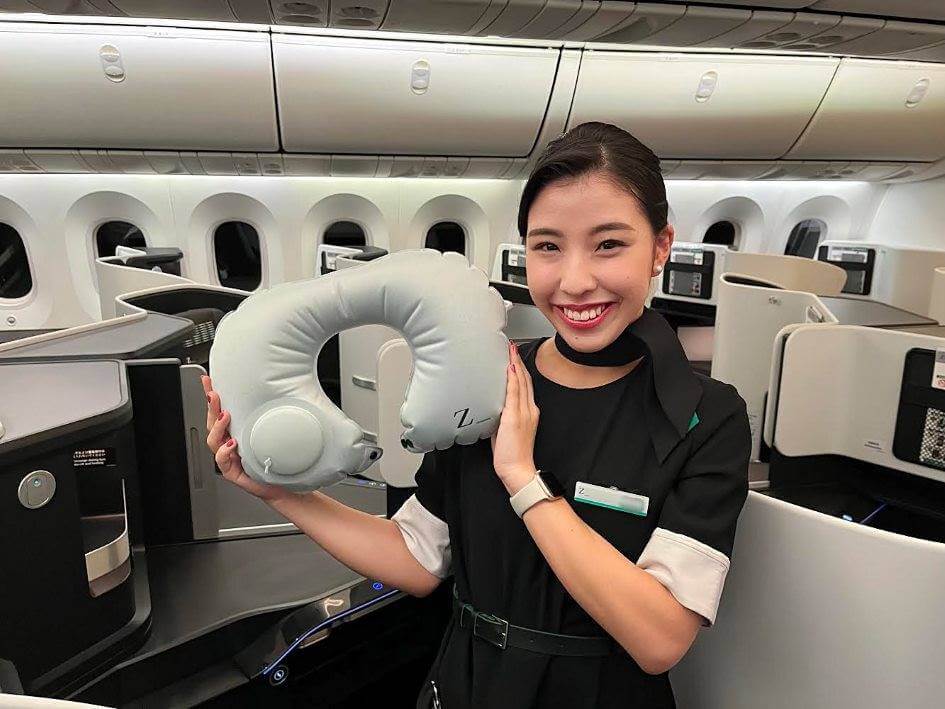 List of Requirements and Qualifications to Become a Zip Air Flight Attendant
Zipair's work ethics revolve around its core values: heart, wit, and being proactive. If you are eager to apply as a flight attendant at Zipair, you must uphold those values and be prepared to overcome new challenges. Aside from that, listed below are the qualifications that you should also meet to achieve the position:
Completed Education
Valid passport
Eligibility to travel in Japan and all routes and destinations where Zipair operates
Proficiency in communicating in both English and Nihongo
Being multilingual is an asset
No criminal record
Mentally and physically capable of performing all the required tasks as Zipair flight attendants
Good swimming skills
Ability to see clearly enough (can be corrected with contact lenses)
Ability to interact with others and have effective conversations with clients.
Possessing exemplary character traits, including compassion, honesty, and perseverance
Customer service abilities
Social Skills
Composure to acting decisively in emergency situations
Physical strength to assist passengers with their baggage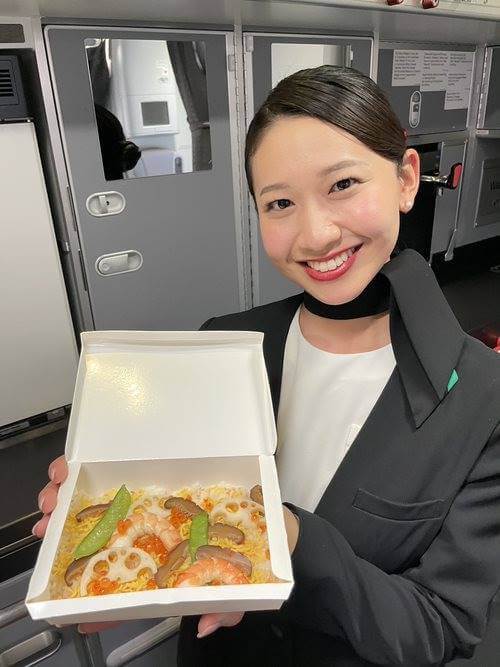 Application Process
Step 1: Prepare a digital and physical copy of all the necessary documents
The first step is to make copies of all relevant paperwork. A professional appearance in your portfolio is essential to give an excellent impression. Make sure you have copies of your résumé, cover letter, passport photos, and any additional documentation the employer may request, like a copy of your degree and other certifications.
Step 2: Be updated on their job openings
Since Zipair is still expanding its routes and services, it is anticipated to hire more employees, primarily flight attendants, based on the recent announcements made by their CEO. It is best to always visit their website to keep yourself updated and early for submitting your requirements.
You can visit their official career website on the link provided below:
https://www.zipairtokyo.com/en/company/
Step 3: Prepare your Medical Certifications and Ace the Interviews
If you make it through the first round of hiring, the recruitment team at Zipair will set up an interview and test to see how you work in a more hands-on setting. Aspiring flight attendants need to put in significant work into their preparations and get a head start on developing crucial skills, such as those connected to customer service and emergency procedures.
Step 4: Prepare for the interview
Lastly, finish the required flight attendant training. If you meet all the requirements and surpass all the steps, Zipair will offer you the flight attendant job position. You will be eligible to apply for your Cabin Crew Attestation Card after successfully completing the course. Keep in mind that not all trainee flight attendants will graduate successfully from the program. A combination of a theoretical course and on-the-job experience will be provided by an assigned mentor.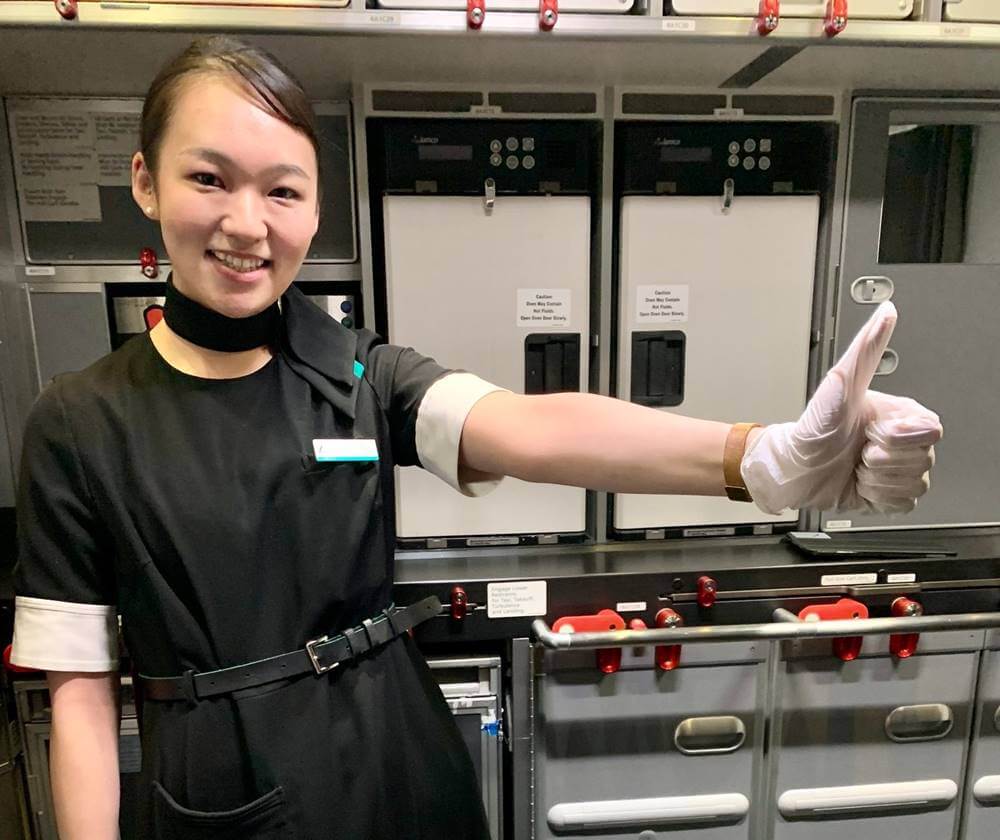 Salary & Benefits
 Starting monthly salary of JPY 176,000.00
Travel packages and discounts
Overtime pay
Medical and Life Insurance
Travel perks to eligible employees and their family members
Discounts to affiliated stores and accommodations
Video: Zipair Offering The First Budget Flights To North America
Watch this video featuring the newly launched airline from Japan, Zipair:
During the pandemic, the travel restrictions caused most airlines to discontinue their scheduled flights. This was also the time when Zipair first established its airline company. Initially, they started with cargo-only flights and expanded to passenger flights starting Christmas day, December 25th. Zipair offers long-haul trips from Asia to North American destinations such as Hawaii.
Photos: Zipair Cabin Crew Uniforms
Check out these pictures of Zipair crews so you can see what they look like in uniforms:
Frequently Asked Questions
Here are some common questions and answers about the job requirements as a cabin crew for Zipair:
1. What uniform will flight attendants be wearing?
Flight crew, cabin attendant, and ground staff costumes were created by Taro Horiuchi, a fashion designer who has garnered international acclaim for his works. Using the principle of "coordination and unity," employees can mix and match various goods to suit the day's tasks, weather, and disposition. In addition, sneakers became the footwear of choice because of the emphasis placed on comfort. The corporation hopes its employees will be more invested in their work if they are given the flexibility to accessorize their uniforms as they would any other article of clothing.
2. What kinds of aviation services does Zipair have?
During Zipair's starting month in June, they only offer cargo flights across Japan. Currently, they offer cargo and scheduled flights on domestic and International destinations within Japan and to Singapore, Hawaii, Thailand, and South Korea.
3. Does Zipair accept flight attendants with visible tattoos and multiple piercings?
No, they don't consider candidates whose tattoos and piercings are visible while wearing the flight attendant uniform.
4. Do they accept applicants without in-flight experience?
Yes, the flight attendant job position is also available to those newly graduated. In addition to that, previous work experience as a cabin crew or in customer service is an advantage.
5. Does Zipair accept candidates with blurry vision?
All flight attendants must have sufficient vision that will not interfere with their regular tasks. Contact lenses are acceptable to use while on duty.
6. Do they accept applicants with criminal records?
No, they only accept applicants with a clean criminal record.
7. What languages should I learn when applying as a flight attendant in Zipair?
Since Air Dolomiti is based in Japan, all qualified candidates must be fluent in spoken Nihongo and proficient in Hiragana, Katakana, and Kanji. Moreover, applicants who are also proficient in other languages have an advantage during the recruitment process.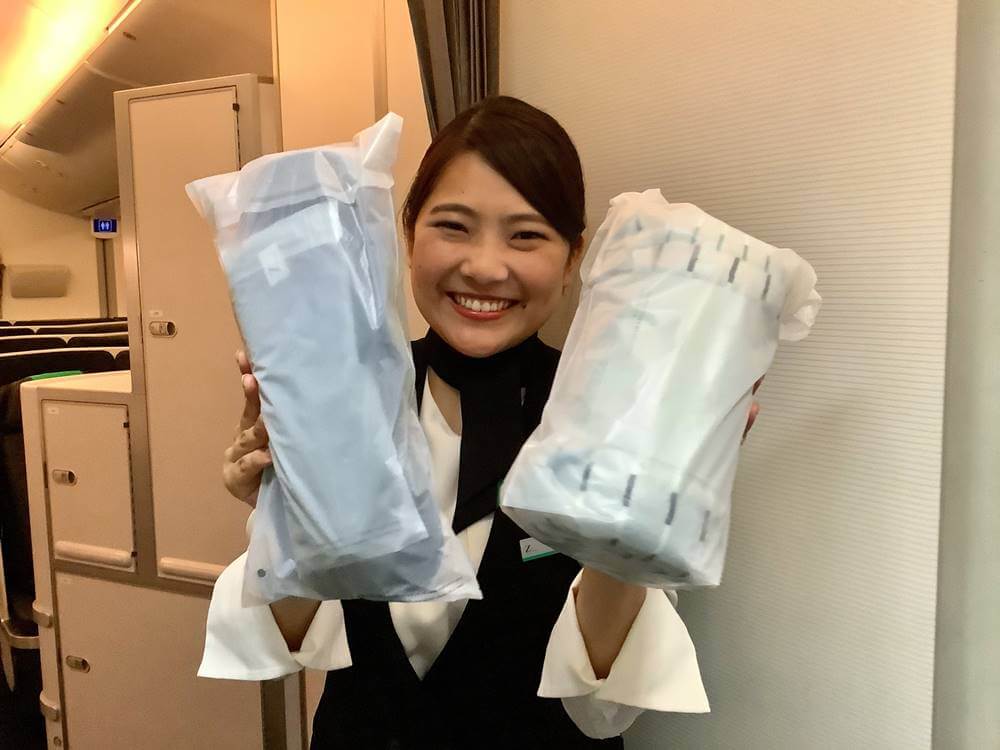 Summary
Zipair, a new low-cost airline, is hiring when most airlines are cutting back on employees. If you want to join Zipair's flight crew, you should be passionate about customer service and committed to upholding the company's values. As a result, being a flight attendant calls for a significant focus and determination to successfully complete all of one's duties.
To be considered, you must possess the necessary skills, such as the ability to communicate effectively and an air of professionalism in the workplace. To top it all off, you'll need the cognitive skills and physical stamina to help the customers with their needs, from assisting them with their baggage to providing basic medical attention. You can submit an application on their career website if you think you have what it takes to be a flight attendant for Zipair.