Working as a cabin crew member for Air Canada is an excellent way to see the world while providing passengers with a high level of service. In order to be eligible for the role, candidates must meet a number of requirements and qualifications. Firstly, they must be at least 18 years of age and have a high school diploma or equivalent. They must also be able to pass a criminal background check and have a valid passport.
Also Read: 5 Common Answers to Why Do You Want to Be a Cabin Crew?
In terms of physical requirements, candidates must be able to swim unassisted and have good vision (with or without corrective lenses). Finally, they must be proficient in English and either French or another Canadian official language. Cabin crew members who meet all of these requirements will be well-positioned for success in this competitive field.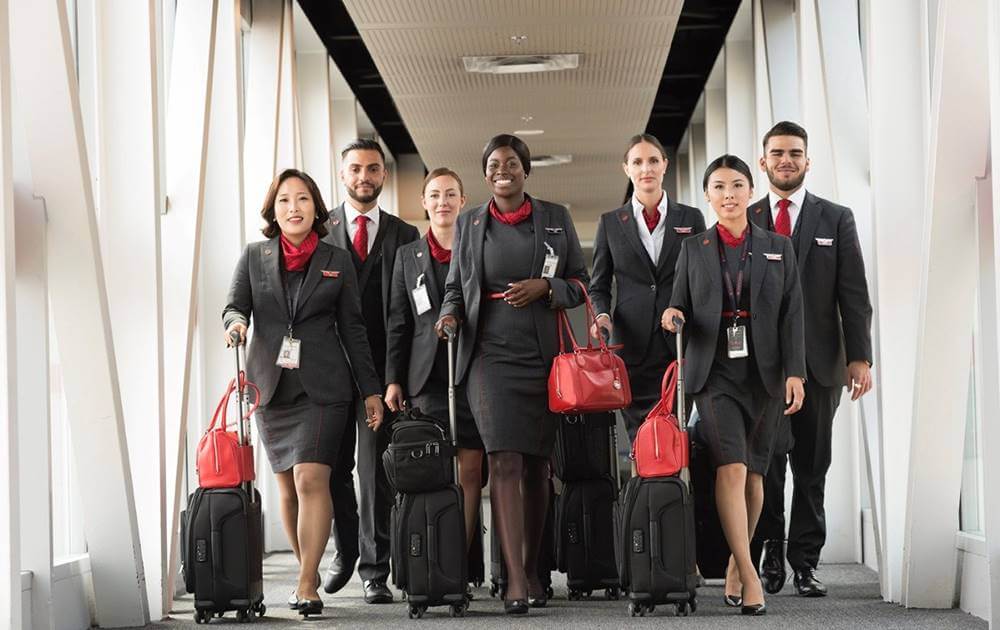 List of Requirements and Qualifications to become an

Air Canada 

Flight Attendant
Air Canada is the largest airline in Canada and the largest provider of scheduled passenger flights in the Canadian market, as well as the international market to and from Canada. It'll be a good starting point for Canadian Citizens to hook up an aviation job from this airline. How to get in? Well, knowing what the airlines want from you would be a vital first step before applying.
Don't worry if you're still a teen-dreamer because Air Canada accepts 18 years old applicants – never wait for your 20s. But unlike other airlines, Air Canada has bit more requirements for an FA applicant. Have a glance at the major requirements to qualify for an FA job inside Air Canada.
You must be at least 18 years old.

A valid Canadian passport is required.

A good level of health and fitness is required.

Having a valid Canadian passport that allows you to travel to all of Air Canada's destinations.

Grooming standards must be perfect.

The ability to swim 25 meters is required.

Must be adaptable and flexible

Naturally empathetic

Dedicated to providing excellent service

Dedicated to providing excellent service

Aware of the significance of rules and regulations in our sector and at Air Canada

As part of the position, you must be available during irregular working hours (mornings, evenings, weekends, and statutory holidays).

Proudly represent Canada at home and abroad.
It would be an edge if you:
Candidates who are fluent in both English and French are preferred.

As Canada's most international airline, they would love to hear if you speak any of the following languages in addition to English: French, Japanese, Italian, German, Hebrew, Greek, Hindi, and Punjabi.
Application Process
Step 1: Look for available vacancies. Check the websites of Air Canada and Air Canada Rouge on a regular basis for job postings. To restrict your search, use location and position filters.
Step 2: Fill out an online application. Follow all prompts to create a user profile on the appropriate website. Complete the following questionnaire exactly as suggested.
Step 3: Wait for a notification. Check your email for confirmation that your application was received and processed successfully. Wait for a phone call after that. If they decide to consider you for the position, a recruiter will contact you and perform the initial interview over the phone.
Only candidates that are considered will be contacted by phone. If your phone interview goes well, your recruiter will contact you about future interviews, events, and training.
Step 4: Attend the phone and face-to-face interview. This will typically last for 30 minutes. During the interview, you will be asked to share your experiences, expectations, and impressions of Air Canada.
Step 5: After getting qualified, you need to attend a 7-week training. This is being done to ensure that new FAs are prepared and well-oriented before serving a real flight.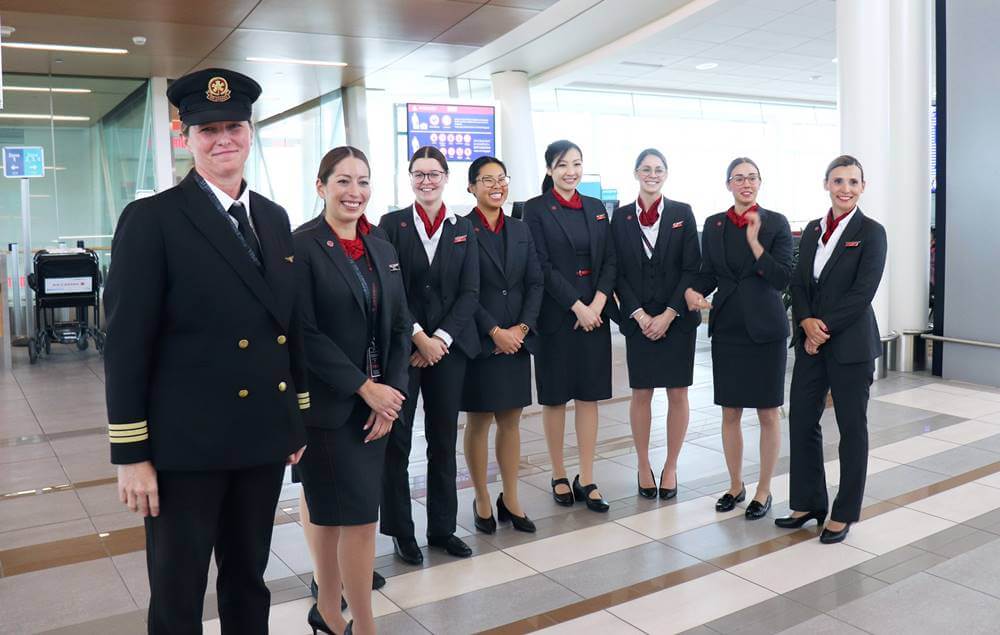 Salary & Benefits
Travel opportunities for employees

Work hours that are flexible

Visioncare includes eye exams, spectacles and lenses, and laser surgery.

Employee medical and dental plans

Competitive starting salary

Bonuses for productivity

Working for a financially solid airline provides security.

There are permanent contracts available.

Opportunities for post-employment training and development
Video: Air Canada: In-Flight Service – Let Your Career Take Flight
Waking up early in the morning and at different boarding, times could be one of the most challenging for aspiring Flight Attendants. But for those FAs who are already serving on board professions that they are passionate about.
Air Canada FAs believe that every detail is considered and done with excellency – because they are travelers too.
Photos: Air Canada Airlines Cabin Crew Uniforms
Check out these pictures of Air Canada Airlines crew so you can see what they look like in uniforms:
Frequently Asked Questions
Here are some common questions and answers about the job requirements as a cabin crew for Air Canada Airlines:
1.

How can I find vacant positions for Flight attendants online?
All current employment positions are listed on the Career site, where you may search and apply.
2.

What exceptional benefits should I expect from Air Canada?
Health care, insurance programs, travel privileges, pension plans, vacation time, and other benefits are available to Air Canada employees.

When you join Air Canada, you become an ambassador for the country we represent, flying the flag proudly and sharing the best of Canada with the rest of the globe.

We are united in our desire to achieve success.

We care about your overall well-being and the well-being of your family, which is why we provide a comprehensive range of benefit plans, including health and dental, and our wellbeing platform provides tools and resources to help you live your best life.

Air Canada is committed to training and development. We encourage employees' continuing development, whether technical or leadership. For individuals who prefer to learn at their own pace, formal instruction is available as well as self-service choices.
3.

Does Air Canada accept 20 years old applicants?
Yes, they accept 20 years old applicants. In fact, their minimum age requirement is 18 years old.
4.

What attitude does Air Canada look toward aspiring flight attendants?
To create an improved experience, you will value the power of working as a team through good communication, mutual respect, and natural leadership.

Naturally adaptable: Air travel is constantly changing. This necessitates that you be adaptable, available, and solution-oriented at all times, while also acting with the utmost care and kindness.

Safety is your top priority: You will always prioritize safety.

Customer-focused: You will try to provide great experiences in every aspect, giving a relaxed and delightful bookend to every trip.
5.

Can other nationalities apply?
Air Canada only accepts flight attendant applicants that are Canadian passport holders.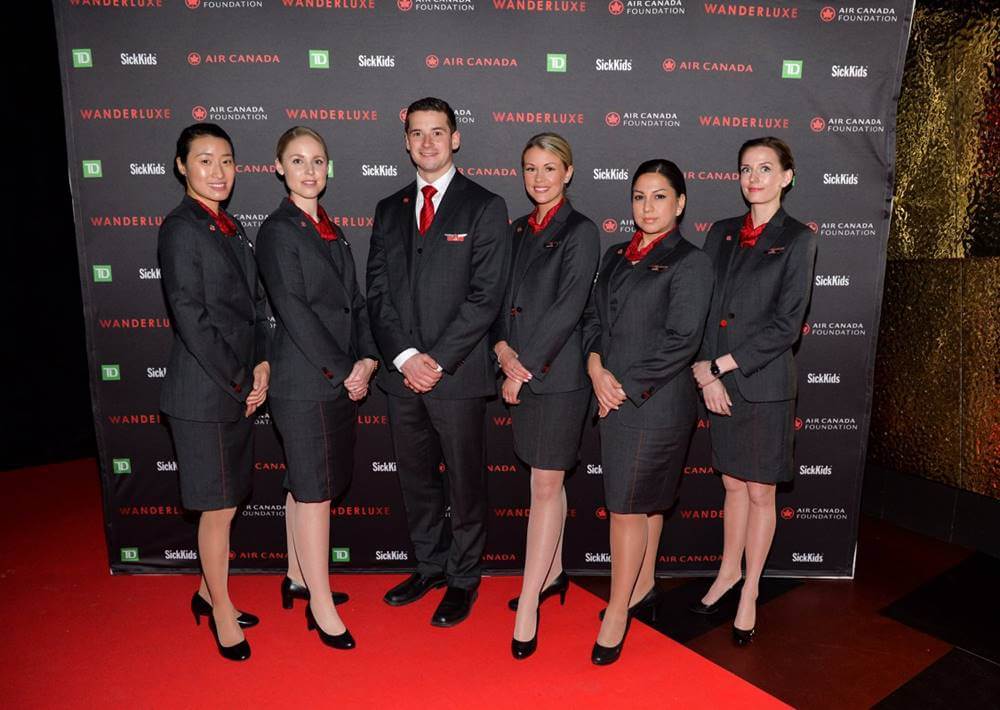 Summary
You are never too young to travel the world and get paid at the same time. Air Canada's minimum age requirement for FAs is 18 years old. If you have all the qualifications, try visiting their website and checking for vacancies. The requirements listed above include characters that you must show while your application process is running.
Air Canada Cabin Crew is the front line of customer service for the airline and is responsible for ensuring the safety and comfort of passengers during flights. They are highly trained professionals who must be able to think on their feet and maintain a calm demeanor in the face of potential danger.
In addition to their safety responsibilities, cabin crew also provide other services to passengers such as serving food and drinks, providing information about the flight and destination, and assisting with baggage.
Because they play such an important role in the Air Canada experience, the cabin crew must be selected for their excellent customer service skills and their ability to work well under pressure. With a demanding job that requires split-second decision-making, Air Canada staff are some of the most skilled customer service professionals in the airline industry.