Like many well-established airlines in the world, Air China is also a member of Star Alliance – the world's largest airline alliance. Air China, headquartered in Beijing, China, it has several branch offices, including Southwest, Zhejiang, Chongqing, Tianjin, Shanghai, Hubei, Guizhou, Inner Mongolia, and Tibet. The airline has developed a global route network with other Star Alliance members over the years, which the main purpose is to help each customer travel the world quickly and smoothly.
Also Read: New York Layover Guide: Best Things to Do in 24 Hours
Air China's corporate logo features a phoenix, a legendary bird revered by the nation since ancient times and regarded as a symbol of good fortune and happiness. The Phoenix represents a spirit. The will to "serve the world, lead, and move forward to higher goals" is at the heart of the "Phoenix Spirit."  Want to be a flight attendant for an airline that has a Phoenix Spirit? Read on!

List of Requirements and Qualifications to Become a Air China Cabin Crew
You must be a holder of a valid passport.
No eyeglasses.
No visible tattoos.
Willing to undergo a background check.
Must follow Air China's uniform standards.
You must be willing to submit the results of medical tests.
You must be well-groomed and portray a decent look.
You must be in good physical and mental health.
You must agree to submit to a drug test.
You must be prepared to deal with the safety and service of passengers.
You must be able to serve food and beverages, assist disabled passengers, answer guests' questions, and operate mechanical and safety systems.
It is also necessary to have excellent self-control, resourcefulness, and the ability to deal with stressful situations.
Responsibilities:
Conduct pre- and post-flight checks.
Passengers must be greeted and directed to their seats.
Passengers are being informed about flight regulations.
Take care of the passenger's comfort and safety.
Examine the safety equipment and the cleanliness of the interior of the aircraft including galleys, lavatories, aisle,  seat pockets, and the availability of all meals and refreshments supplies.
Inform airline passengers about safety protocols.
Make announcements and respond to passenger inquiries.
On time, serve meals and refreshments.
Give passengers medical attention and advice.
Passengers are given pertinent information.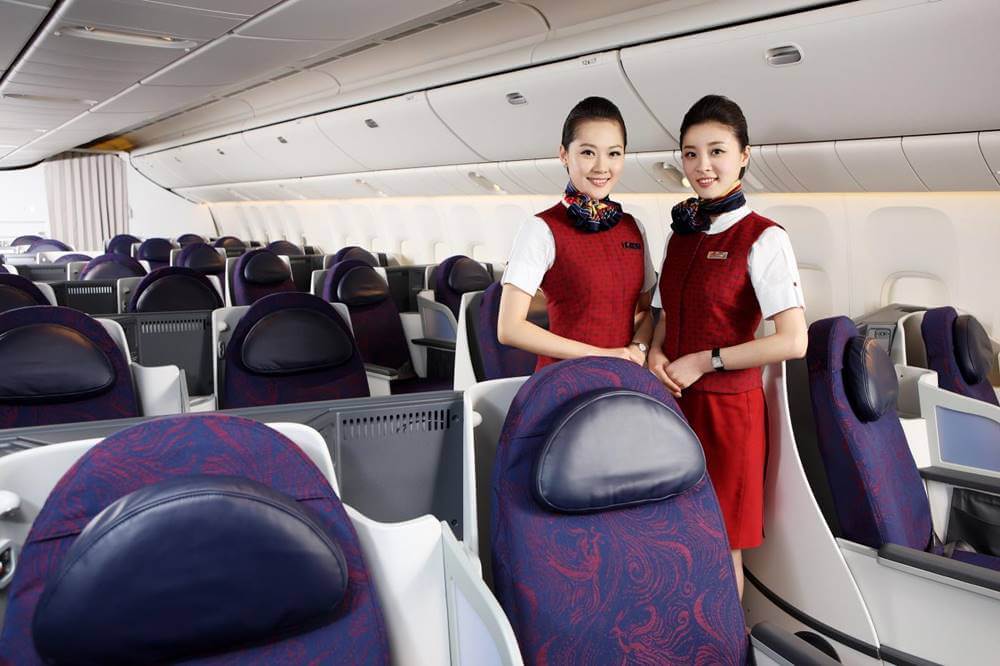 Application Process
Step 1: Go to Air China's official page if you want to work as a Flight Attendant for the company. You can go here: http://www.airchina.com/index.shtml. Select your region and on the new page that will pop up, select "About Us" which is located at the bottom of the page. Then select "Recruitment Information." You will be led to the different openings available for the Air China in your region.
Step 2: You can also visit their official Facebook page here: https://www.facebook.com/airchina/ and see if a position for Cabin Crew is available.
Step 3: Prepare all of the requirements or documentation required for your application. Fill out an online application for a Cabin Crew position if provided. Write only true and accurate information about yourself. Before submitting the form, double-check your information.
Step 4: Air China is extremely picky when it comes to hiring the right candidate. Arrive on time, dress professionally, and make some research and practice before the interview.
Step 5: You will be notified by phone or email if you are chosen. So, keep your lines open and check your emails on a regular basis. Provide the phone numbers and email addresses that are always in use.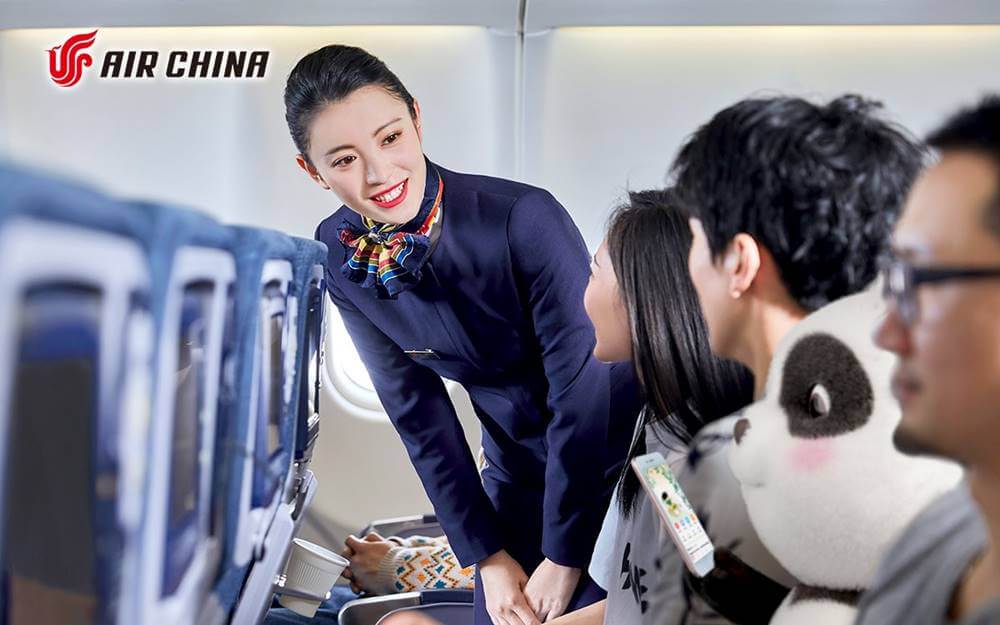 Salary and Benefits
A Flight Attendant's annual salary at Air China is estimated to be $65,446. While the extra pay is estimated to be $12,780 per year. Some get higher salary rates, and this is because of the experience they have in the same field or position. Just like any job, the longer you stay the higher the possibility of a salary increase. You may receive a salary increase and added perks in the long run.

Video: Enjoy Air China
This video from Air China's YouTube page shows what is it like to be on a business trip with them. The airline provides comfortable cabins for their Business Class trip where guests can continue with their commitments comfortably, seat and lay with a good slip, and get served quality and delicious food.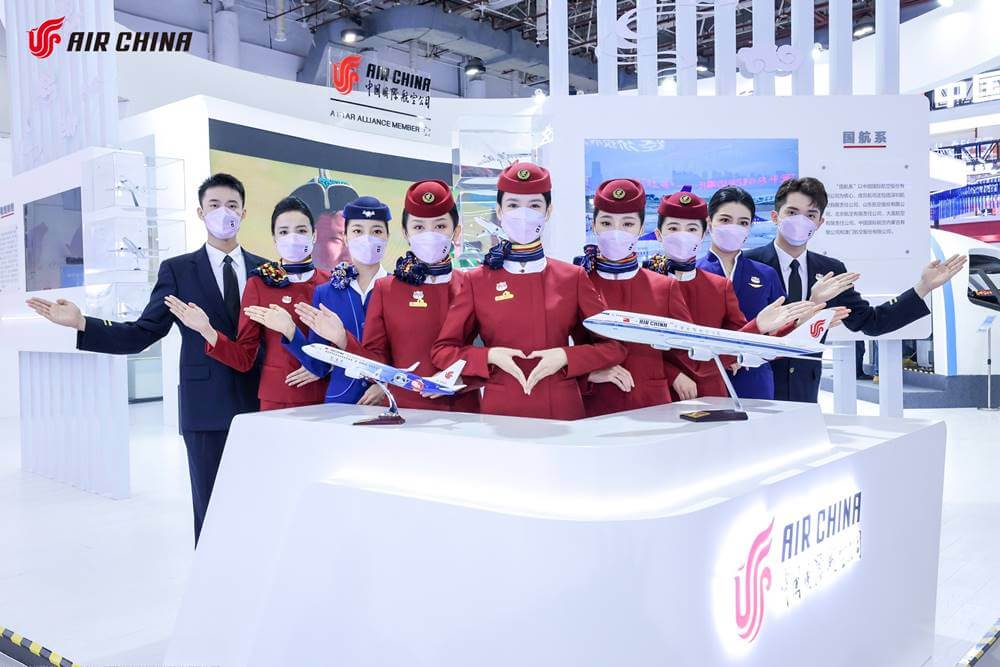 Photos: Air China Cabin Crew Uniforms
Check out these pictures of Air China crew so you can see what they look like in uniforms:
Frequently Asked Questions
The following are some of the common questions asked about Air China:
1. Where is the base of Air China?
Air China is located in Beijing, China.
2. Is there any language used by FAs in Air China aside from English?
Mandarin, since most FAs in China, are native speakers of this language.
3. I am tall enough to be a cabin crew, but a bit heavy for my height. Can I still get qualified?
Aside from skills, airlines require FAs to have pleasing personalities. And a proportional weight and height must be followed strictly.
4. Can I get an update regarding my application? How?
If you already submit an application to Air China's official website or designated email for applicants, wait for a while before submitting a request for an update. Airlines have plenty of applications to scan, Air China a lot of aspiring Flight Attendants are dreaming to get a position by submitting their applications online. It could take weeks and months before you hear from the.
5. There are no job postings on their official website, are there other ways to submit my application?
You can go directly to their official Facebook Page to check for job postings: https://www.facebook.com/airchina/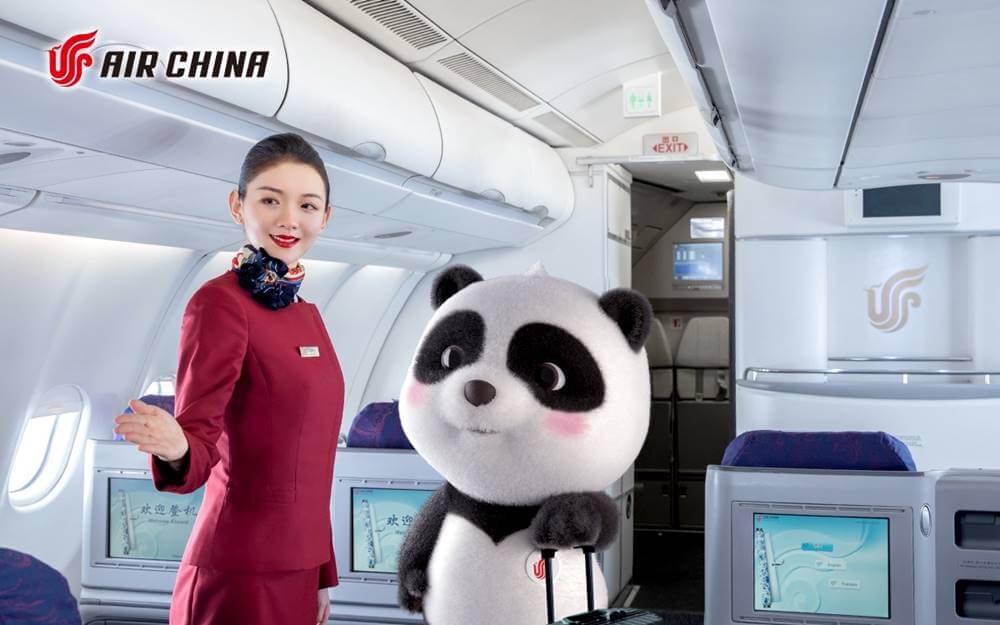 Summary
Air China has a professional team of pilots and flight attendants with exceptional skills, precise work methods, and excellent service delivery. Each FA has completed a successful polar flight in one of the most restricted "air zone" labeled by the International Civil Aviation. This is due to its universally acknowledged degree of flight difficulty.
So don't get surprised if Air China has the best fleet pilot and of course FA. So if you want to become a part of this airline, make sure you are ready for the challenge. But for sure this challenge, everything will be worth it.