Air Mauritius currently operates direct flights to seven destinations in Europe, India, Africa, and the Indian Ocean islands, with plans to resume operations to other destinations in Asia, Africa, and Australia later in 2022. This airline now has one of the world's youngest and most modern fleets, with aircraft of the latest generation such as the Airbus A350-900 XWB and the A330-900neo.
Also Read: Difference Between Cabin Crew and Flight Attendant
Air Mauritius employ over 2,000 people in a variety of roles requiring varying levels of expertise, ranging from Cabin Crew to Airport Services. The team's priority across the organization is to make the customer's experience unique and unforgettable, based on the unwavering commitment to every passengers' maximum comfort and convenience. Their Cabin Crew selection process provides equal opportunity to all. The airline strictly adheres an inclusive set of selection procedures in which it does not discriminate or favor any applicant based on their religion, social origin, political affiliation, or gender.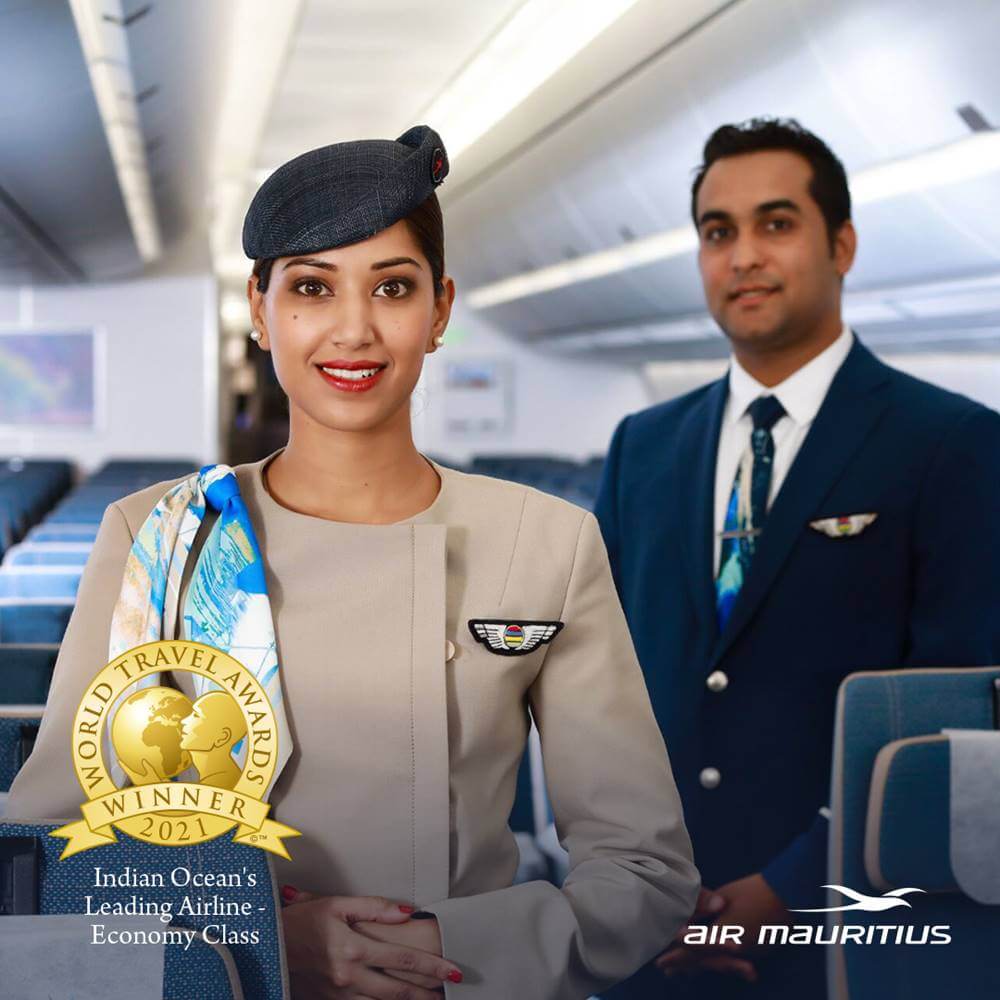 List of Requirements and Qualifications to Become an Air Mauritius Flight Attendant
You must be at least 20 years old and no older than 30 years old.

Must have High School Certificate with two A'Levels taken at the same time, including French and a General Paper.

Excellent written and spoken English and French command

A minimum height of 157.5 cms is required (minimum arm reach of 212 cms on tip toes)

Body Mass Index (BMI) range: 18.5 to 24.9

To meet airline requirements, you must have good eyesight.

Must be physically and be medically fit.

Excellent swimming abilities
Advantage:
Proficiency in other languages is an advantage.

Prior experience in the service/hospitality industry is preferred.

An outgoing and self-assured personality.

Attention to details is one of the qualities that airlines look for.

You must be flexible and adaptable since you will be meeting different people, countries, and culture.

Being well-groomed and decent is what the recruitment focus when it comes to personal appearance.

Excellent interpersonal and communication skills.

The nature of the role necessitates the presence of a team player.

The ability to deal with stressful situations would be ideal for the position.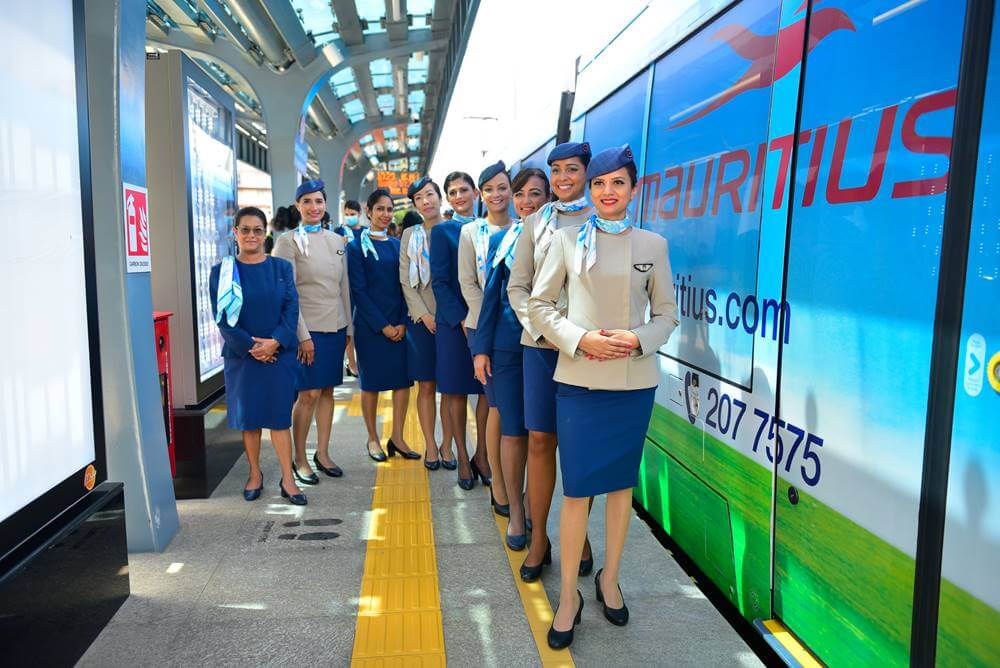 Application Process
Step 1: Go to Air Mauritius official page. You can go here: https://www.airmauritius.com/ 
At the bottom part of the web page, click on "Careers"
Step 2: At the left part of the Careers page choose "Vacancies"
Step 3: Look for a Flight Attendant job vacancy and then click on "Apply here"
Step 4: You will be lead to different job forms, click what suits your position. These are confidential forms which will be filled with your personal information. Instructions will also be provided in the forms.
Step 5: Click on submit and wait for the recruitment team to confirm your application through email or call. Selection process might take some time, but you have to be patient.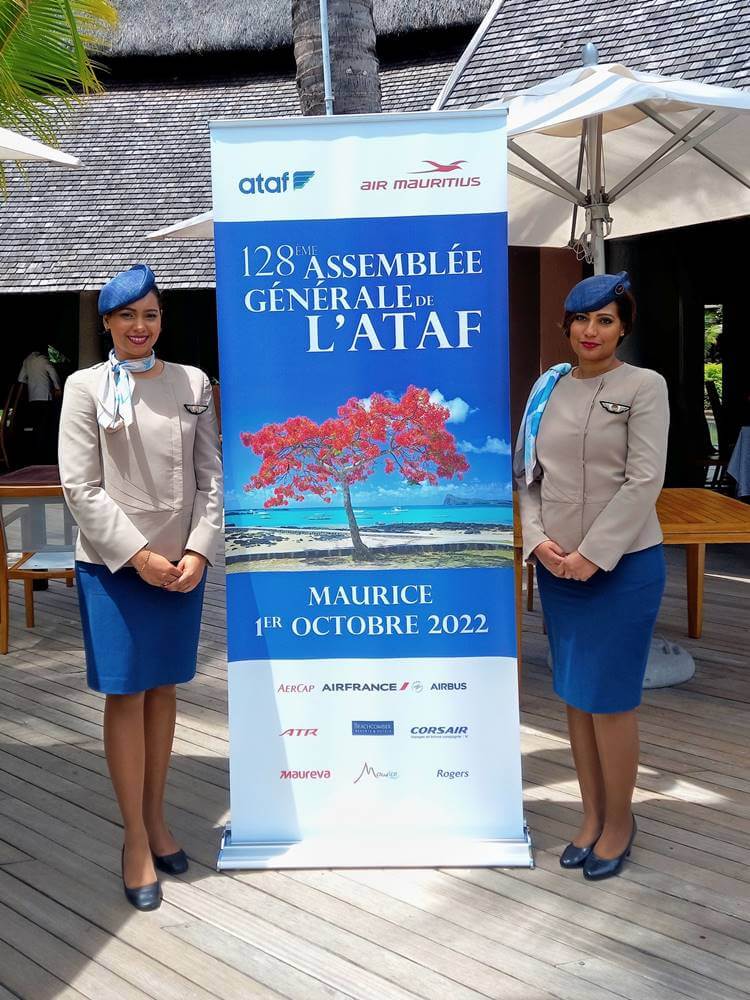 Salary and Benefits
In Mauritius, a Flight Attendant typically earns around 33,000 MUR per month. Salaries range from 16,200 MUR  to 51,500 MUR. This is the average monthly salary, which includes housing, transportation, and other perks. Flight attendant pay varies greatly depending on experience, skills, gender, and location.
Air Mauritius offesr a wide range of career opportunities in Cabin Crew and Airport Services, both on and off the ground.

Take advantage of various opportunities for professional development.

Travel at reduced fares, an appealing itinerary, medical benefits, and much more are all available.

Working with a Corporate Social Responsibility Mauritius Foundation organization allows you to give back to the community, make a difference in society, and protect the environment.
Video: 3D Animated Flight Safety Video for Air Mauritius
This is an animated video of Air Mauritius created to encourage passengers focus on safety instructions without getting bored. The said fully animated video was created in the scene of Air Manutius A350 airplane. Everything the you will need to hear from a flight attendant during a flight is here. 
Photos: Air Mauritius Cabin Crew Uniforms
Check out these pictures of Air Mauritius crews so you can see what they look like in uniforms:
Frequently Asked Questions
Here are some common questions and answers about the job requirements as a cabin crew for Air  Mauritius:
1. What's inside the confidential Air Mauritius Form?
This form will let you specify your personal information such as educational background, employment history, some interview questions that you need to answer in text.
2. I don't know my exact weight and height, can I still proceed with this application for?
The honest suggestion is NO. Do not skip any of the details or blank boxes of the application form. This can affect your selection chances. Before you start filling the application form, measure your height and weight.
3. What language should I be fluent of?
In Mauritius they use two main languages, which is English and French. If you have a third language, then it will be an advantage for you.
4. I'm already 32 years old, can I still apply as a Cabin Crew?
Unfortunately, No. At the time of application, the applicant must be at least 20 years old and no older than 30 years old.
5. I don't have prior experience to customer service and hospitality industry, can I still apply?
Yes, you can. Those said experience are listed as advantage, not a basic requirements. So even if you're are starting with your flight attendant career, you are welcome at Air Mauritius.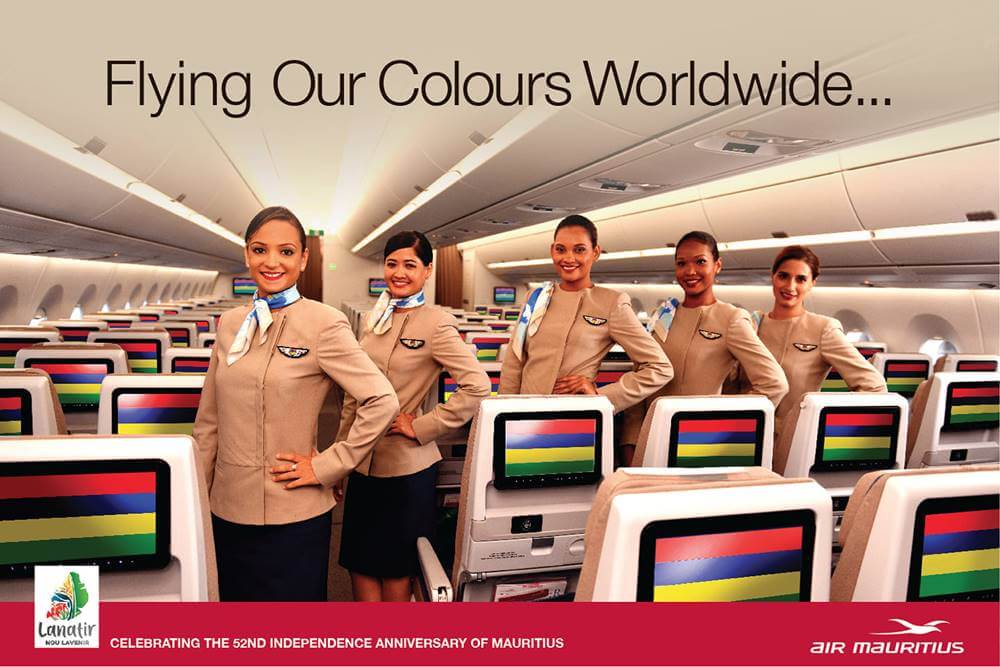 Summary
Air Mauritius has been awarded a 4-Star rating for the quality of its airport, onboard product, and customer service. Product ratings include seats, amenities, food and beverages, IFE, cleanliness, and so on, while service ratings include both cabin and ground staff.
This airline's hiring process is really commendable since they promise a fair selection process to all applicants. Now, if you have all the requirements stated above and you are really passionate about an aviation career, then get your things done. Prepare all the necessary details for filling in their Cabin Crew form, and get your new job up and flying!