The flight attendant uniform of Air Wisconsin includes a navy blue skirt suit for female flight attendants and a navy blue suit with pants for male flight attendants. The skirt suit is made of high-quality fabric with a tailored fit, featuring a single-breasted jacket with gold buttons and a knee-length skirt. The suit for male flight attendants consists of a well-fitted blazer, trousers, and a crisp white dress shirt. Both uniforms are completed with a navy blue tie or scarf, adding grace and probity to the overall appearance.
Also Read: How to Become a Flight Attendant in USA
In addition to the main uniform, female flight attendants also have the option of wearing a navy blue dress with a matching blazer for a more feminine and sophisticated look. The dress is designed to be comfortable and practical, allowing for ease of movement during long flights.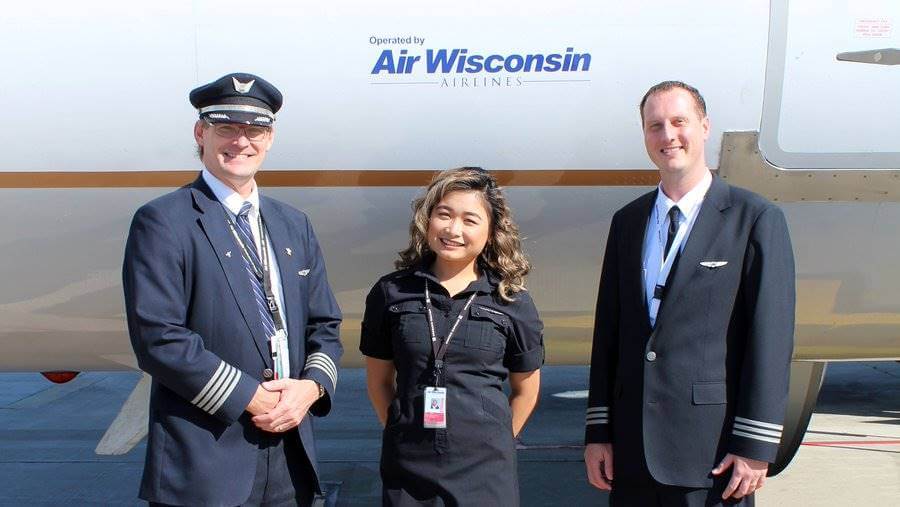 Features of Its Uniform
The following are the features of their required cabin crew uniform.
Full blazer suit (upper uniform) with a complete logo company at the right portion of its chest.
A blue scarf for females and a red stripe tie for males.
A vest with a company logo at the right portion of its chest combined with black pants for a male representative.
A pair of black comfortable formal shoes for both males and females. Female formal wear is expected black with heels and black hosiery.
A white long-sleeved blouse on top paired with black skirts and a scarf.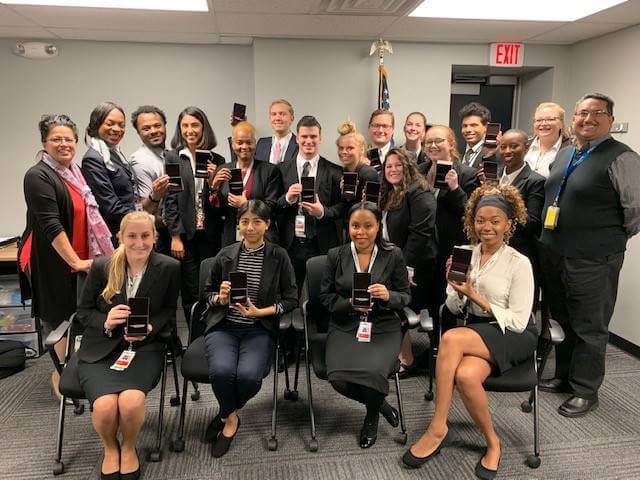 Female Air Wisconsin Airlines Cabin Crew Uniform
The female cabin crew member of the airline company must adhere to the required presentation and company standards, including the proper wearing of their company uniform. Their uniform is designed to reflect the company's brand identity and create a sense of unity among the crew members. By adhering to these standards, the female cabin crew member maintains a high level of civility and contributes to the positive image of the airline company.
Below is a list of their uniforms that they may wear interchangeably, following their set guidelines for wearing them.
Female Upper Uniform
Topcoat
Blouse
Blazer
Apron
Suitcase
Scarf or Tie
Female Lower Uniform
Pants
Skirt
Skort
Belt
Shoes
Hosiery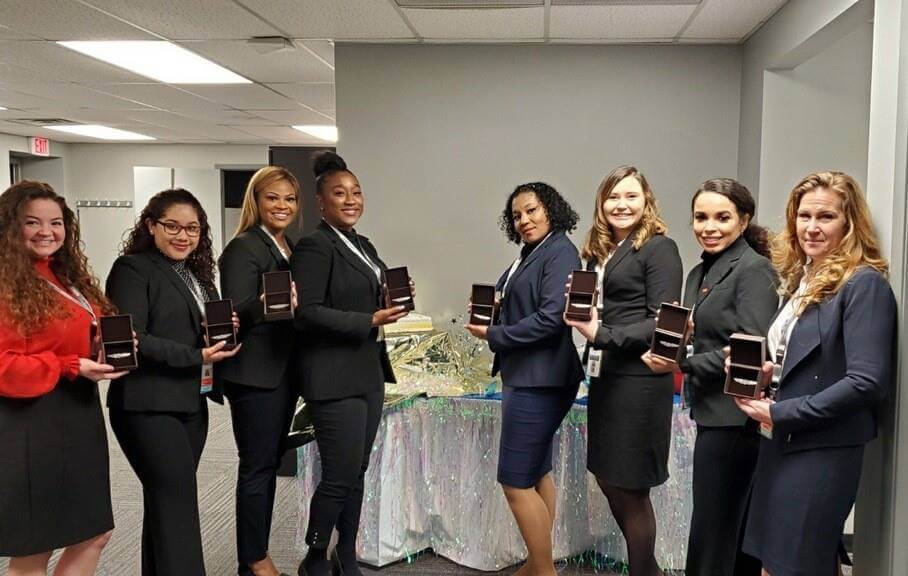 Male Air Wisconsin Airlines Cabin Crew Uniform
The uniform not only adds to the general aesthetic appeal of male cabin crew members but also helps them reflect confidence and authority. The detail in the uniform's design ensures that all crew members present a unified and polished image, further enhancing the reputation of Air Wisconsin while upholding industry standards.
The following are the specific uniforms issued to the male cabin crew members of the Air Wisconsin Airline.
Male Upper Uniform
Shirts
Topcoat
Aprons
Suitcase
Blazer
Tie
Male Lower Uniform
Belt
Shoes
Socks
trousers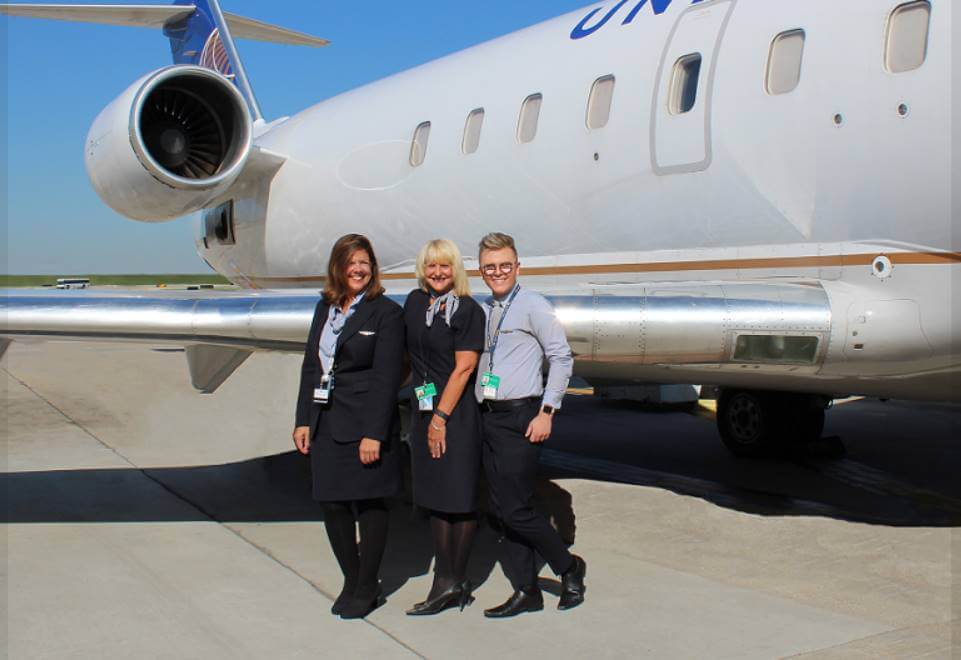 Uniform Accessories (Male/Female)
Wearing other personal accessories that complement the airline's uniform is also possible, as it adds some elegance to the complete look and appearance of the FAs, but cabin crew members must also be mindful of their sizes and colors to avoid unexpected accidents in providing services to their passengers on the flight. For example, wearing a simple and sleek watch can enhance the image of the cabin crew, but it should not be oversized or flashy to avoid any potential hazards during the performance of their duties.
The following are the accessories that can be worn by flight attendants along with their company uniform.
Rings
Single strand necklace
Identification badge (if applicable)
Watch
Sunglasses (if applicable)
Bracelet
Earrings
Presentation and Grooming Policy
Flight customer representatives represent the company image, ensuring a professional and presentable appearance. Aside from that, they follow policies and standards to create a positive customer impression. Below are some of the standards they must meet and maintain to provide excellent customer service.
Hair and Grooming
A neat and formal hairstyle for both males and females that complements its uniform casts the neat and tidy appearance of the flight representative. Female FAs must be well tied or bunny depending on the hair required of them, while for male FAs, proper haircut and hairstyle are strictly observed, along with their hair color and styling wax.
Uniform
In general, the uniforms of the inflight representatives of the airline must be clean, well-pressed, and neat. Fitness or the size of their uniform must also complement their body structure to have a presentable look.
Personal Hygiene
To be comfortable on every flight, flight attendants must also maintain their hygiene for the welfare of their customers and themselves, especially when delivering services to passengers while on flight. Practicing good personal hygiene is crucial for flight attendants to provide a safe and pleasant flying experience.
Cosmetics/ Makeup
Cosmetics and makeup are strictly observed, and the natural color of the palette must complement their skin tone, especially the female cabin crew member, along with its lipstick color. This is to preserve the natural look of the female flight customer representative.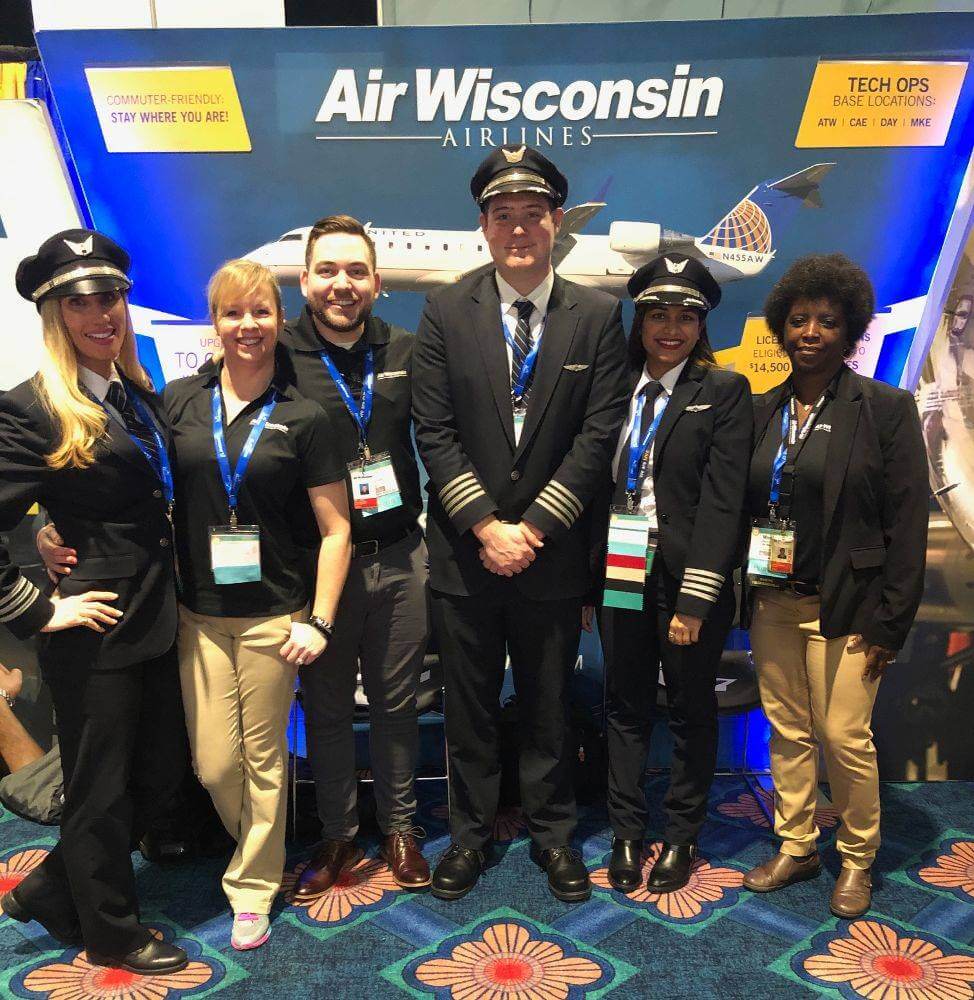 Important Notes to Remember
The airline provides the cabin staff with a UPC, or uniform purchase card, to buy their uniform from the authorized seller store.
There is uniform reimbursement for the uniform of those flight attendants who finish their one-year service in the Air Wisconsin.
Visible tattoos and extreme body art that might be distracting and affect the identity of the uniform are strictly prohibited most especially during on duty.
The approved latest released uniform is the one that is required for the FAs to wear.
Video: Behind the Scenes of a Marketing Photoshoot with the Retro Livery Down in a Day
This video is a compilation of a photo shoot of the marketing department of Air Wisconsin, in which it highlights their cabin crew, including their flight attendants and pilots. Some video parts highlight the FA's appearance, including their uniform and their complete look as a flight representative.
https://www.tiktok.com/@airwisconsin/video/7223074802180017454
Summary
In summary, Air Wisconsin's flight attendant uniform embodies expertise and good customer service. Its modern design with clean lines and tailored fit enhances the appearance and comfort of flight attendants. The uniform also features the company's logo and colors, fostering trust and reliability among passengers.