Allegiant Air's flight attendant uniforms have vibrant colors of dark navy blue and orange, which represent the airline's brand and logo. The uniforms are fashionably designed with a modern touch, featuring fitted blazers and tailored trousers for both male and female attendants. The dark navy blue dominates the uniform, symbolizing competence and grace, while the vibrant orange accents add a pop of energy and reflect the airline's enthusiasm and forward-thinking approach.
The Allegiant Air uniform is also adorned with accessories such as a sleek, silver-toned name badge and a black leather belt with a polished Allegiant Air logo buckle. These accessories add a touch of sophistication to the overall look while also serving a practical purpose. The name badge ensures that passengers can easily identify and communicate with the flight attendant, while the logo buckle adds a subtle branding element that reinforces the airline's identity.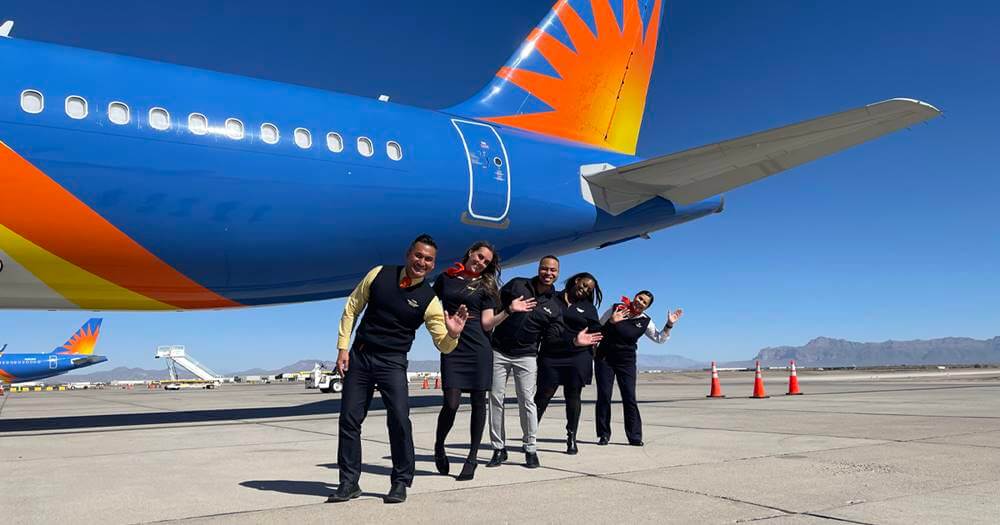 Features of Its Uniform
Business casual attire for cabin crew members in corporate positions.
The upper portion of their uniform includes a blouse, sweater, or buttoned shirt.
A maxi dress or knee-level dress.
A casual black closed shoe paired with black hosiery or socks (if applicable).
Red ties and red neck scarf tied conservatively.
A blue slacks or pencil skirt and a blue or black sweater vest.
Female Allegiant Air Cabin Crew Uniform
Flight representatives must adhere to uniform norms and standards, representing Allegiant Air's visual identity. The cabin crew, including female flight attendants, represent the airline's image, with their sophisticated style and elegance reflected in their attire, all aligned with the company's standards.
Here is the list of the complete uniforms that female FAs are required to wear according to their uniform schedule.
Knee level skirt
Slacks or pants
Blouse/s
Button polo shirts
Cardigans
Sweaters
Maxi dress
Black Hosiery
Bracelet
Formal Black Close Shoes
Black socks
Watch
Earrings
Necklace
Belts
Scarf
Make-up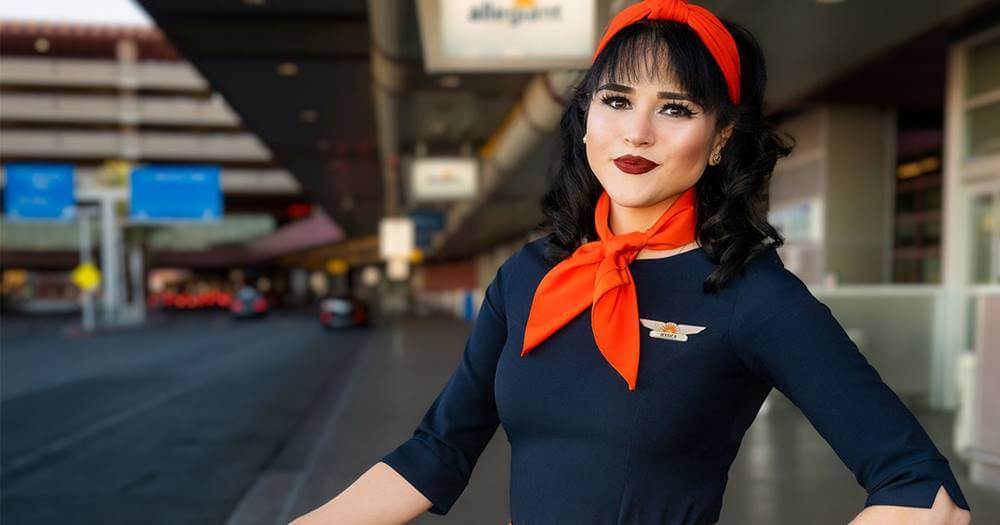 Male Allegiant Air Cabin Crew Uniform
Allegiant Air's competitive guidelines and standards guide the design of a unified male cabin crew uniform, ensuring corporate identity and probity. Every detail, including color, is scrutinized to positively impact the visual identity of the male cabin crew.
The following is the list of male flight attendant uniforms.
Formal pants or slacks
Button-down shirts
Polo shirts
Long sleeve
Company-approved belts that match the company uniform
Formal close shoes
Sweaters
Jackets (if applicable)
Tie
Watch
Socks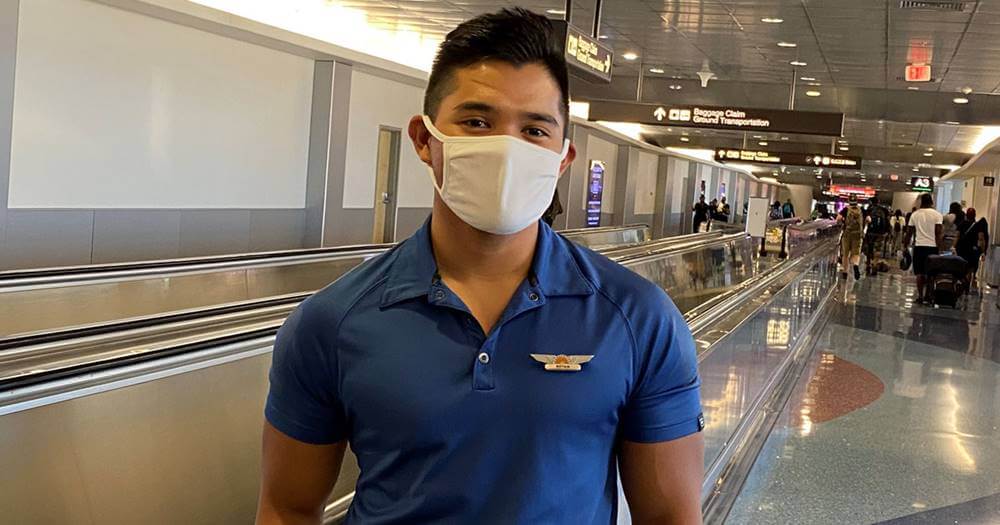 Uniform Accessories (Male/Female)
Allegiant Air has designed elegant uniforms for both male and female flight attendants, incorporating a pair of combined accessories to enhance their appearance, including various accessories.
Wing Badge
Name Tag
Pins
Bracelet
Single-strand necklace with a small pendant size
Watch
Ring (not too big)
Makeup
Sunglasses (applicable if needed)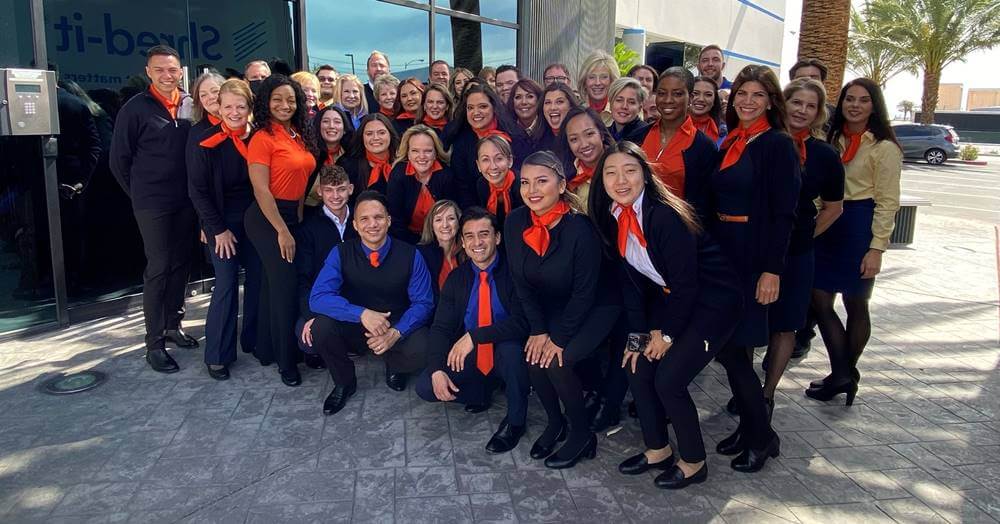 Presentation and Grooming Policy
The airline company's presentation and grooming policy for cabin crew members includes ensuring uniformity, professionalism, and high-quality service delivery to passengers. Competent workers possess great values and a sense of humor, enabling them to effectively handle various situations.
Uniform
In general, every cabin crew member needs to make sure that their uniform is well-pressed and neat most especially their external piece of clothing. Aside from that, it is also important that it is clean and has a charming scent while on duty to be presentable always.
Personal Hygiene
Cabin crew members may not just look good, but they should also be clean and neat by maintaining good personal hygiene daily to feel fresh and comfortable while dealing with customers. In addition to looking good, cabin crew members should also pay attention to their personal grooming. This includes maintaining clean and trimmed nails, ensuring their hair is well-groomed and tidy, and using appropriate personal care products.
By taking care of their personal hygiene, cabin crew members can exude integrity and make a positive impression on customers. It also allows them to feel confident and comfortable throughout their interactions, enhancing the overall customer experience.
Cosmetics and Makeup
Applying an appropriate shade of cosmetics and makeup is usually required for the female flight attendant of the said airline company they need to consider their skin color and the shade of makeup they applied wherein it must be complemented to acquire a natural look. Heavy makeup and inappropriate shade of makeup color should be strictly observed.
Hairstyle
This grooming policy is always considered for both male and female cabin crew wherein they are required to have a clean and neat cut. Male flight attendants must consider an approved hairstyle cut required to them applied with a certain amount of hair gel or hair wax. It is also important that they comb it properly while for female FAs, a required hair tie must also be observed. The exact amount of hair wax must also be considered. It is also important that it is neat and properly combed.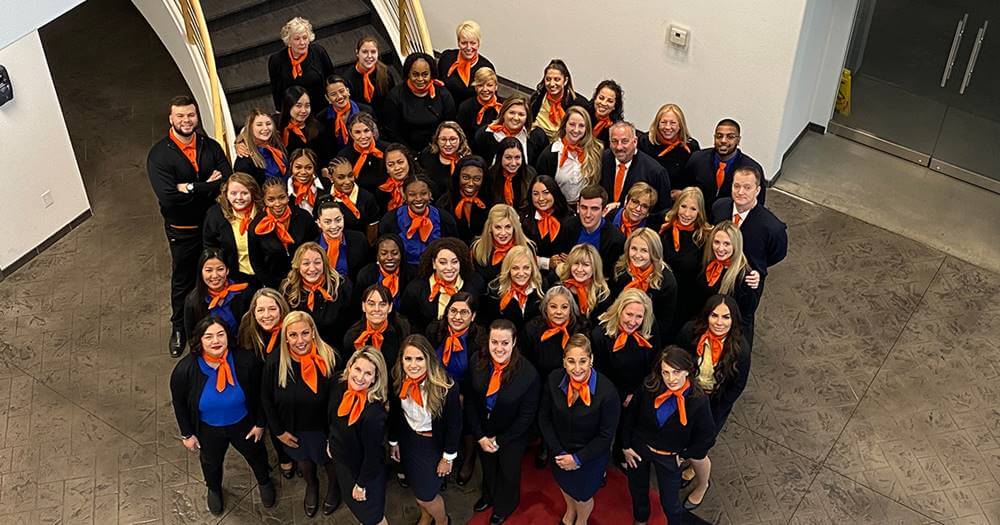 Important Notes to Remember
Every Allegiant flight attendant in uniform is expected to follow the uniform dress code and conduct.
Optional jackets that are highly identified by the airline company are possible during the winter season.
Other clothing design beyond the required uniform requirement is strictly prohibited.
Tattoos and other piercings should not be visible.
Uniforms should only be worn on duty not for going on any personal occasions.
Video: How Do Flight Attendant Schedules Work
This video provides insight into the working schedules and service delivery of Allegiant flight attendants, showcasing their confidence in their uniforms and their commitment to providing excellent service. The flight attendants are shown meticulously preparing for their flights, ensuring that everything is in order and that they are well-groomed and presentable in their uniforms.
Summary
In a nutshell, Allegiant Air's flight attendant uniform showcases a modern design that sets it apart from other airlines. The color scheme incorporates a striking combination of deep navy blue and vibrant pops of orange, creating a visually appealing contrast. This unique color palette not only enhances the airline's brand identity but also ensures the flight attendants stand out amidst the sea of traditional uniforms seen in the industry.