The American Airlines flight attendant uniform is a sleek and professional ensemble that exudes elegance and sophistication. It is designed with sharp lines and tailored cuts, accentuating the curves of the body while maintaining a sense of formality.
The classic navy blue color with subtle hints of silver adds a touch of modernity and complements the airline's branding. Thus, the American Airlines flight attendant uniform is not only visually appealing but also reinforces the airline's commitment to delivering a high standard of service to its passengers.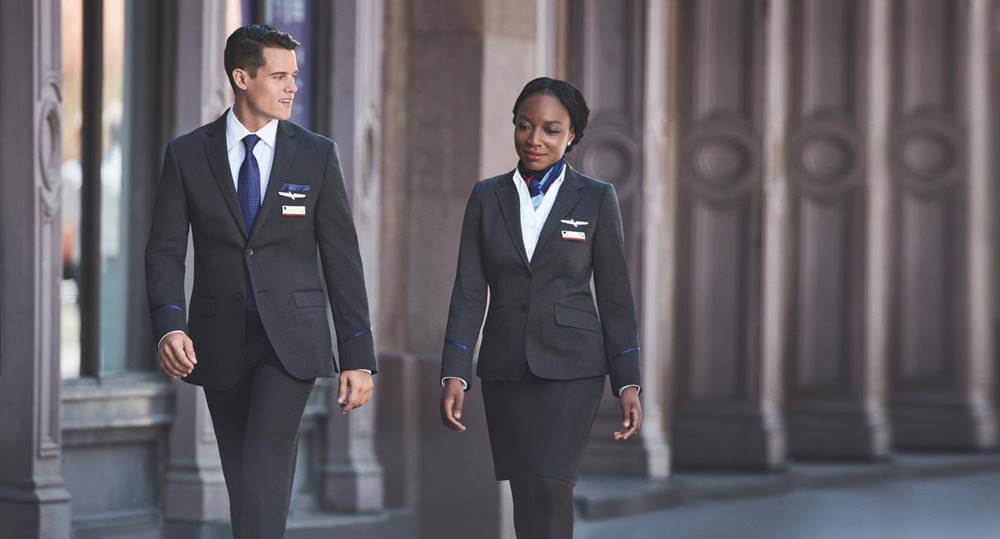 Features of Its Uniform
A tailored navy blue dress with a modish blazer
A crisp white shirt and a classic red scarf
Gold accent buttons and the American Airlines logo embroidered on the chest add a touch of refinement to the overall look.
A pair of comfortable and stylish black heels ensures that the flight attendants are both trendy and comfortable throughout their shifts.
Female American Airlines Cabin Crew Uniform
The female American Airlines cabin crew uniform comes in different sets that cater to different seasons and occasions. One of the most iconic uniforms is the classic navy blue set, consisting of a tailored jacket with a gold button-down blouse, and a knee-length skirt.
Here is the complete list of the female cabin crew uniforms of American Airlines.
Blazer
Short-sleeve Jacket
Sweater
Dress
Blouses
Bottoms (pants/skirts)
Scarf
Belt
Hosiery/Undergarments
Shoes
All Season Coat
Inclement weather gear
Serving garment
Maternity
Modesty collection
Personal bag
The uniform is designed to be both elegant and fashionable, reflecting the airline's commitment to providing excellent customer service. Aside from this, the female cabin crew members have the option to wear a dress or a pantsuit, giving them flexibility and comfort during long flights. Hence, the American Airlines cabin crew uniform projects a timeless and classy look.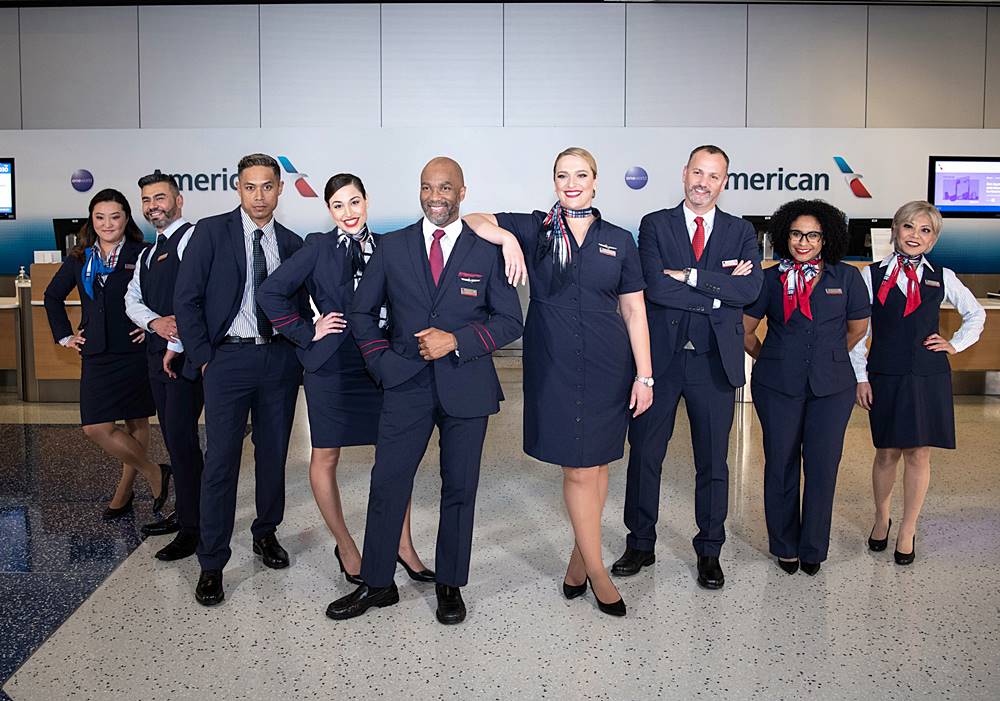 Male American Airlines Cabin Crew Uniform
The male American Airlines cabin crew uniform is a glossy and contemporary set that radiates professionalism. It features a custom-made navy blue suit jacket and perfectly complemented by matching trousers. The jacket showcases the American Airlines logo on the chest pocket, adding a touch of brand identity. In addition to it, the uniform includes a white shirt and a chic navy blue tie, completing the polished look. The detail and the design of its uniform also ensure that the male cabin crew members present themselves with confidence and elegance while representing the American Airlines brand.
Here is the complete list of the male cabin crew members attire of American Airlines.
Blazer
Sweater
Vest
Shirts
Pants
Tie
Pocket square
Belt
Socks/Undergarments
Shoes
All Season Coat
Inclement weather gear
Serving garments
Personal bag
With this uniform, American Airlines sets a high standard for competence in the aviation industry, making a lasting impression on passengers and reinforcing the airline's reputation as a leader in customer service.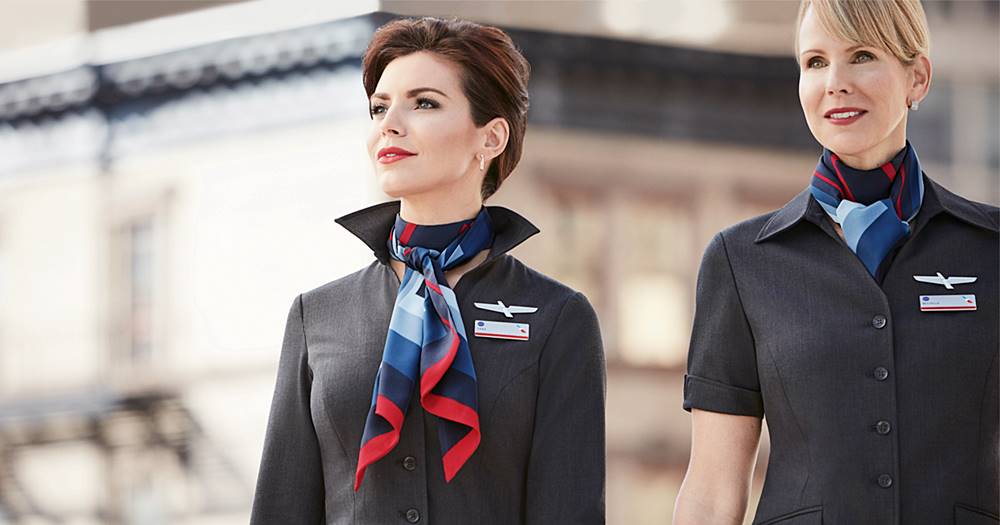 Uniform Accessories (Male/Female)
In addition to their standard uniform, American Airlines cabin crew members also wear a range of accessories that add a sense of expertise and style to their appearance. These accessories include the following, which are worn with pride and complement the final look:
Wings
Lanyards and Clips
Name Bars
Pins
Jewelry and Accessories (wristwatch, rings, bracelets, earrings, and necklaces)
Eyeglasses and Sunglasses
Body Piercing and Body Art
Presentation and Grooming Policy
Personal Hygiene
American Airlines flight attendants prioritize personal hygiene to maintain a positive image and contribute to passenger comfort and well-being, ensuring they present themselves efficiently and neatly during flights.
Hair and Grooming
Flight attendants' probity is also reflected in their neatly styled hair and well-groomed appearance. Hence, adhering to strict haircut and length requirements ensures uniformity and unity among the crew while avoiding unnatural colors like green, pink, or blue.
Cosmetics
American Airlines flight attendants also use cosmetics to enhance their appearance, creating an adept and refined image while maintaining a balance between overdoing it and complementing their uniforms well.
Fingernails
Flight attendants must also maintain a specific nail length to ensure safety, handle emergency tasks, and maintain a polished appearance. In line with this, polished nails should match their uniform, be free of glitter, artwork, ornaments, or decals, and not have extreme color shades or glitter.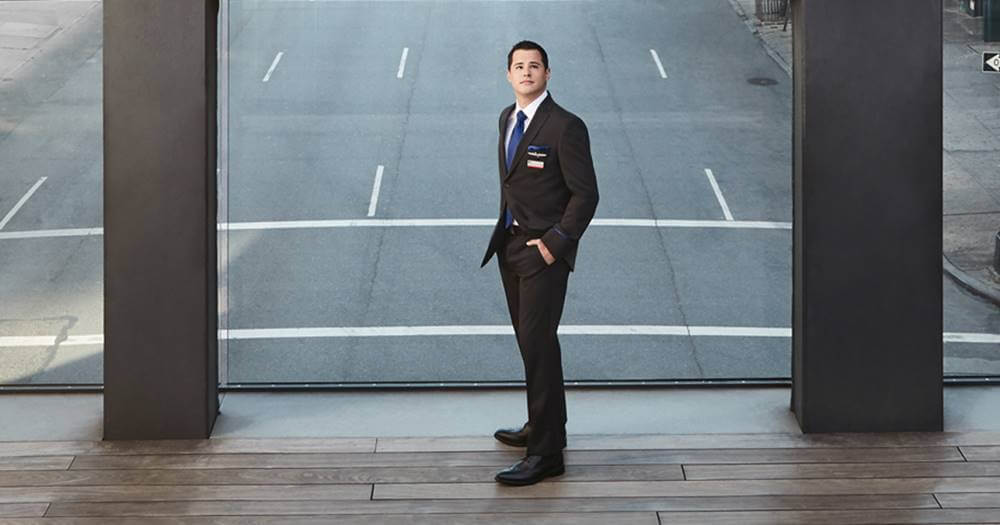 Important Notes to Remember
Only American Airlines Lands' End uniform garments with OEKO-TEX Standard 100 certification are approved for operations, excluding items from previous vendors.
Any uniforms or grooming supplies not specifically mentioned here are to be regarded as prohibited.
Items with logos purchased from "company stores" are not regarded as uniform-compliant.
Put on clothing appropriate for the gender you identify with. It is impossible to mix gender groups.
Flight attendants are required to adhere to uniform and image standards during their duties, including deadheading, commuting, airport terminals, and layover hotels.
Your uniform must also be neat, pressed, and in good condition when reporting for duty.
In crew operations, uniform and image standards may be relaxed for comfort, but flight attendants must adhere to full compliance before entering public view.
Avoid stuffing pockets so tightly that they bulge or change the shape of the uniform item.
Uniforms should be fitted, and any garments that don't fit properly must be replaced with the appropriate size.
The uniform is not suitable for personal use and should only be worn during duty, commuting, or approved company business.
All garments should be worn as they were designed, without any alteration, monogram, or embroidery, except for company-approved alterations.
Ramp access necessitates the use of a safety vest, which should not be worn inside the terminal.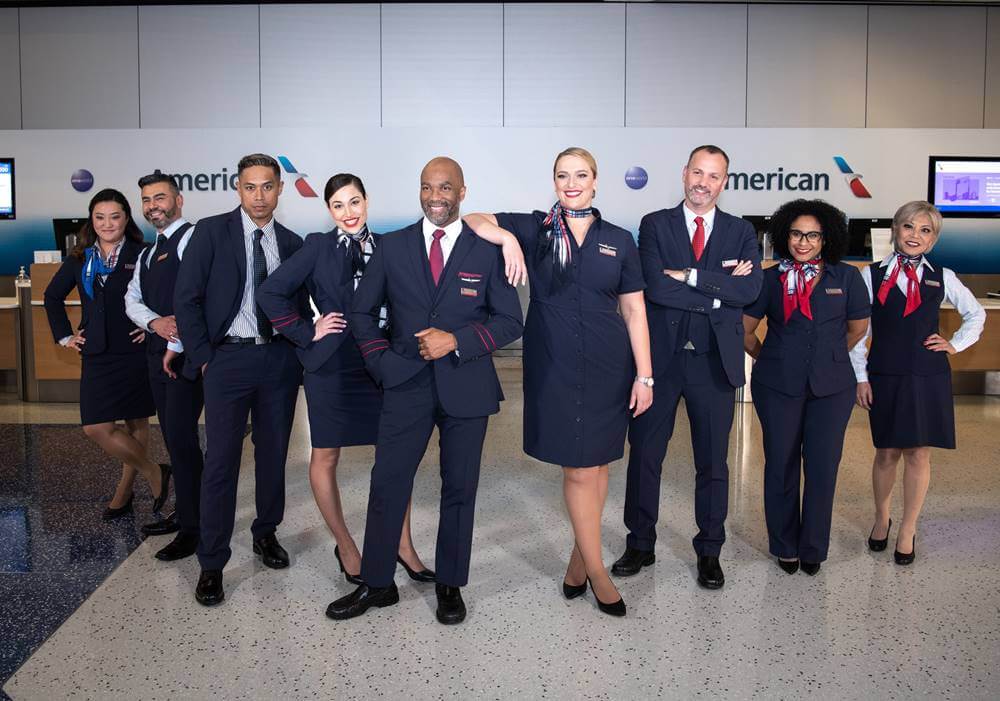 Video: A look at the #AATeam's new uniforms
The video showcases Landers' End's new American Airlines team members' uniforms, featuring tailored blazers, white shirts, and stylish accessories, showcasing integrity and finesse.
Summary
In summary, the uniform not only reflects the airline's brand image but also ensures that flight attendants present themselves as polished and skillful representatives of the company. Hence, American Airlines' cabin crew uniform is designed with functionality in mind, allowing flight attendants to move with ease and carry out their duties efficiently.