The flight attendant uniform is an essential aspect of the airline industry, as it not only represents the company's brand but also serves practical purposes. In United Airlines, these uniforms are designed to be professional, comfortable, and easily recognizable by passengers. Aside from this, they often incorporate elements of cultural diversity and reflect the values and image of the airline.
Did you know? United Airlines is the first major US carrier to allow its employees to wear their preferred pronouns on their uniforms. The update is part of United's developing uniform design, with a whole new collection launching in 2025. Flight attendants will start donning the new name tags and wings "later this year."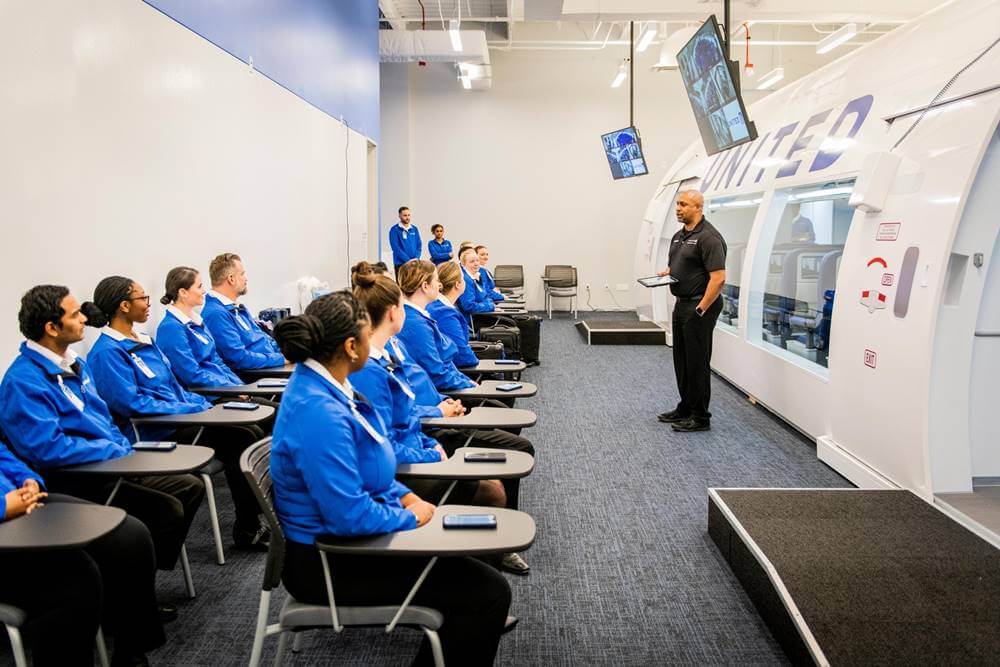 Features of the United FA Uniform
Minimal yet classy black dress
Black blazer with white stripes on its lower arm for female
Black blazer, black vest, white long sleeve, and a tie
Black pants with issued uniform belt
Star Trek Blue Dress for a female that has a round neck and some black lines
A pair of elegant blue cardigans and a V-neck blue dress partnered with a stripe blue and grey scarf for women.
A 3-inch black business heel shoes
A black leather business-style shoes
FA identification ID badge and lanyard.
Wing badge pinned on the upper left side of the outermost garment
A serving garment including an apron, vest, and international serving jacket for male and female food and kitchen servers.
For weather gear, outer garments like all-season coats and wool coats.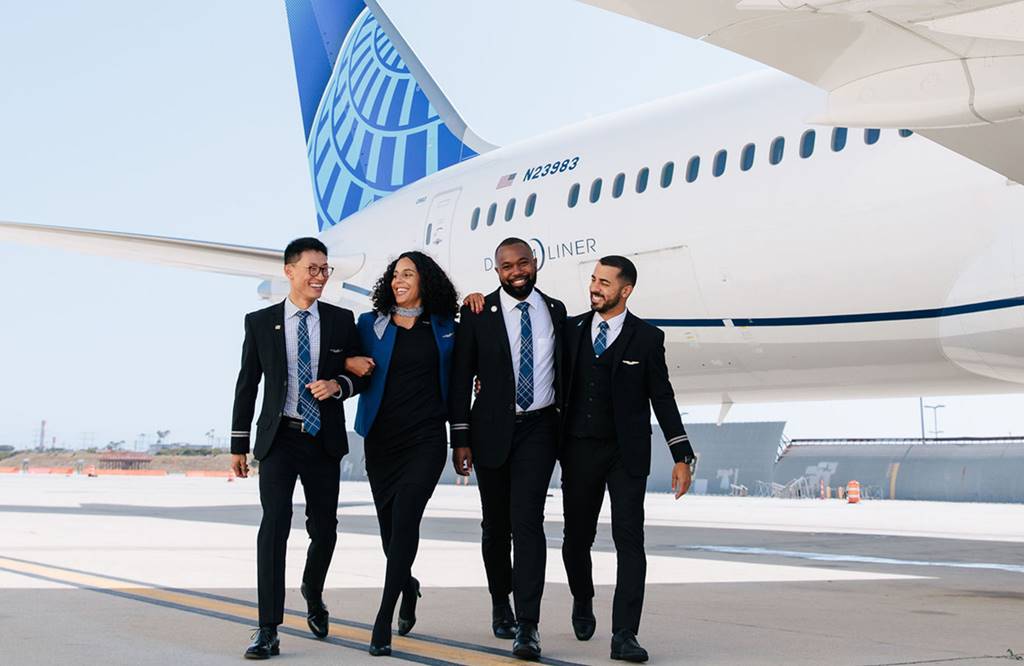 Standards for Wearing the Flight Attendant Uniform
The absolute standard of wearing FA uniform for both male and female depends on the four phases of the flight and this includes;
Phase 1
The cabin crew who is in this phase must be in full uniform including a blazer if needed.
Phase 2
Flight servers that are in Phase 2 must wear their serving garment with their name displayed.
Phase 3
Serving garments must be worn by the servers during this phase and service periods only.
Phase 4
They must be in their full uniform including a blazer if needed.
United Airlines Female Flight Attendant Uniform
Since the United Airlines Female Flight Attendant Uniform varies from different phases, they also have different sets of paired uniforms. These carefully curated uniforms not only represent the competence of the flight attendants but also provide practicality and comfort during different seasons.
Here is the list of the female flight attendant uniforms at United Airlines.
Blazer
Short sleeve Jacket
Vest
Cardigan V-Shape Blue Sweater
Trimmed blue dress
V-Neck Blue Dress
Hosiery/ socks
Neckwear/ scarf
Serving Garments for Flight Attendants (Male/Female)
This is usually used in serving foods and beverages most especially in Phases 2 and 3 in the flight but not during boarding, deplaning, or safety demonstration.
Apron
Vest
Serving Jacket
Outer Wear or Weather Gear for both Male and Female Flight Attendants
The following weather gear is usually used during the winter season and it is partnered with plain black gloves and hats, including the winter scarf and uniform coat or long-sleeve blazer.
All-Season Coat
Wool Coat
United Airlines Male Flight Attendant Uniform
The following are the standard male flight attendant uniforms of United Airlines.
Black Blazer
Blouse
Tie
Vest
Pants
Black Formal Shoes
Socks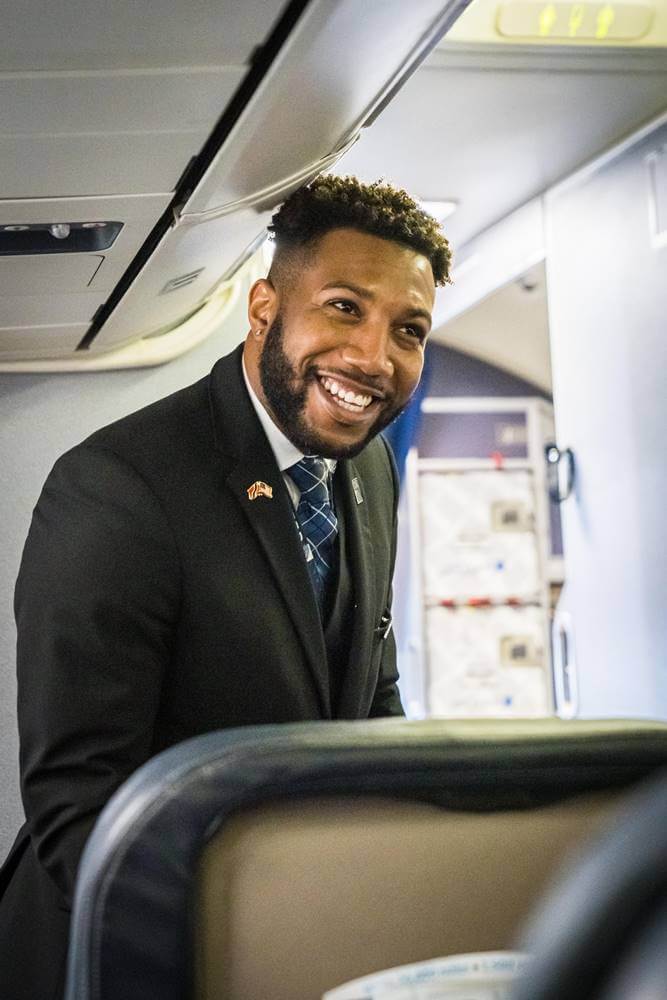 Presentation and Grooming Policy
To attain the adept and presentable look of the flight attendants of United Airlines, they make sure that they follow the following standards set for them. These include the following:
Personal hygiene
To maintain comfort in dealing with the customer, flight attendants must also maintain their personal hygiene to maintain a clean and presentable appearance. Regular hygiene, including bathing, brushing teeth, and wearing clean and wrinkle-free uniforms, is crucial for them to maintain a positive and proficient interaction with customers, demonstrating the airline's commitment to cleanliness and customer satisfaction.
Grooming
Hands and fingernails must be clean and well-manicured wherein color polish must compliment the uniform color.
Hair must be in a proper haircut and hairstyle for males and females. For females, hair must be neat, well brushed, and secure in a bun especially if the length is much longer than the shoulder level. However, if the hair of the female FAs is shorter than the shoulder length, she must pull it backward from her head to see her face.
Other accessories
Accessories like earrings, rings, necklaces, bracelets, and watches must be worn accordingly along with their appropriate size that might not affect passenger's services while on duty. Colors should also be complemented by the uniform color.
Cosmetics
Makeup and other face cosmetics must be applied naturally to achieve natural beauty. It is strictly observed so they must choose an appropriate shade to their skin color.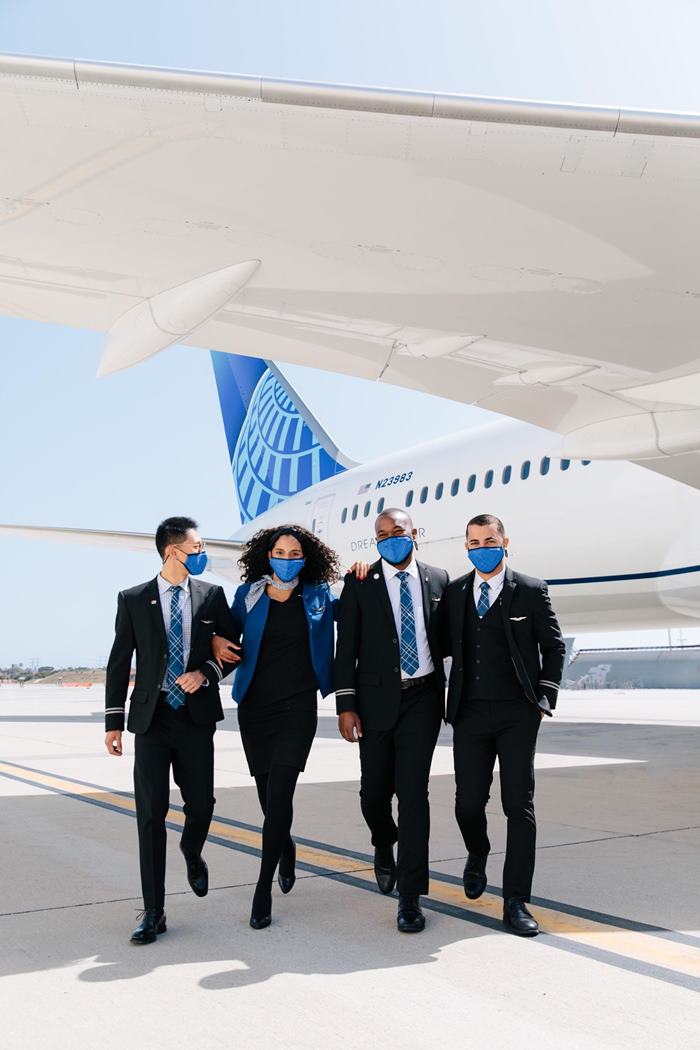 General Notes to Remember
The current uniforms issued by United Airlines are the only ones to be used by the cabin crew members.
Athletic shoes and sports socks are not allowed.
Company-issued purses are the only ones allowed for use.
Using hair wax to maintain a clean and neat hairstyle for both males and females is also required. However, hair color must complement the color of your skin and must be maintained accordingly. A clean and formal hairstyle is strictly observed.
At least one business formal type watch is required that complements the uniform.
The uniform has an expiration and it cannot be sold on the internet or to anyone without the approval of United Airlines.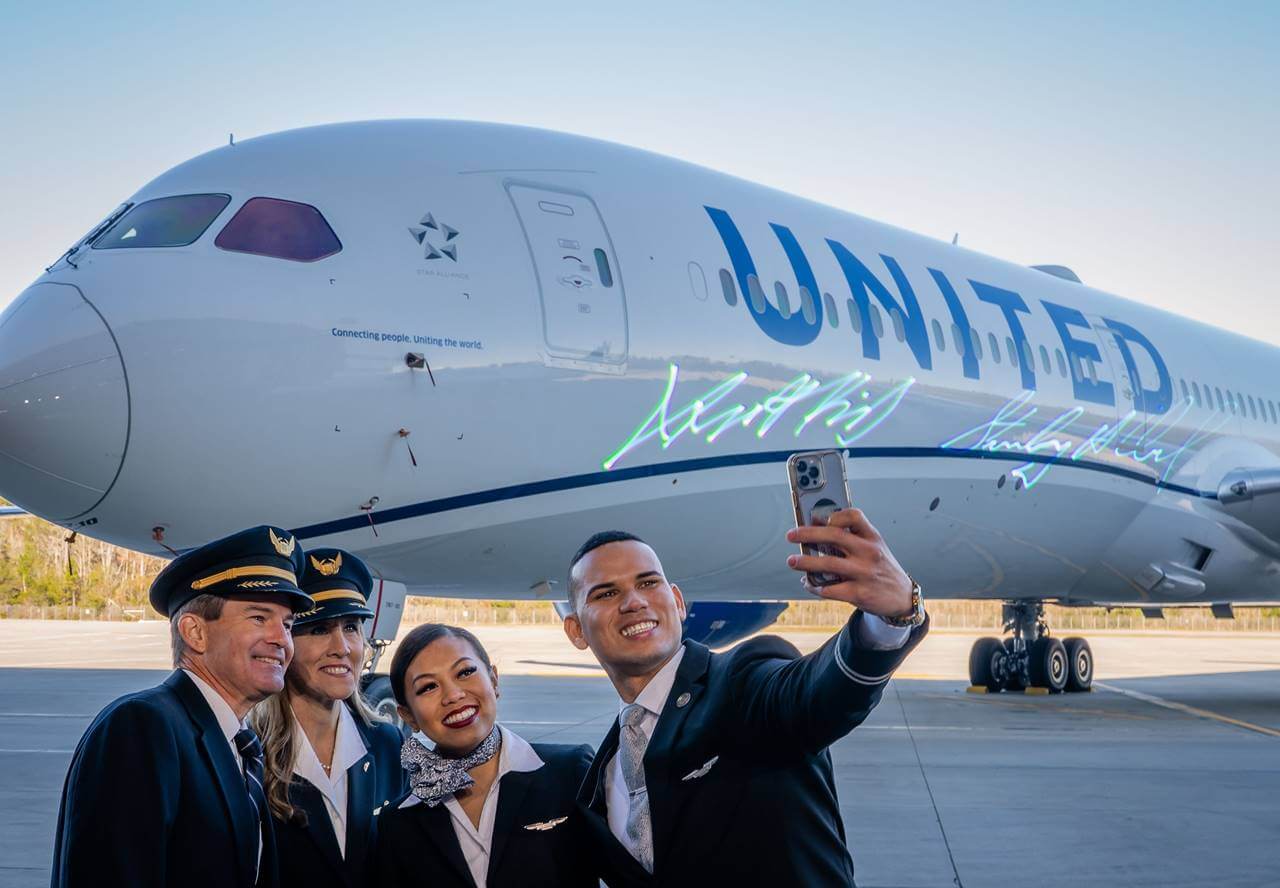 Video: A Day in the Life of a United Flight Attendant
This video highlights the flawless and well-disciplined daily routine of a cabin crew on a United flight. Here, it showcases the preparations they do, particularly when wearing their uniform, which highlights the company's commitment to maintaining a high standard of service as cabin crew members.
https://youtu.be/lAEsAhD0MBA?si═Su-z7_VZQZC7BkK
Summary
In summary, United Airline's uniform features a timeless navy blue color scheme, with accents of United's signature shade of "Rhapsody Blue." Aside from this, the design incorporates comfortable and functional elements, ensuring that flight attendants can carry out their duties with ease while maintaining a polished appearance.