Asiana Airlines took its first flight in 1988 and has since expanded to serve destinations all over the world. With the management philosophy of "maximum safety and customer pleasure via service", Asiana Airlines offers unrivalled service by putting the needs of our passengers above anything else.
Also Read: 15 Cabin Crew Career Progression Paths for Flight Attendants
For Asiana Airlines, "customer satisfaction through excellent safety and service" means ensuring that passengers get to their destinations on time and in comfort. In order to reach their objective of becoming the best airline, without compromising on quality, Asiana Airlines are looking for flight attendants who have the endeavors of joining their team.
Asiana Airlines, which is one of the major airlines of South Korea, is one of the best companies in the industry. It was established in the early 1988 and went by the name Seoul Airlines at the time. The company has grown over the years in terms of their employees, facilities, and aircraft. In the present time, Asiana Airlines is bringing their passengers to various parts of the world such as Asia, Europe, North America, and Oceania.
Throughout the years, the company had performed well which is why they have received a lot of recognition and have easily become a consistent member of the Top 20 Airlines in the World. Despite their proven integrity and good reputation, the company still strives to improve their service by seeking new cabin crews every now and then.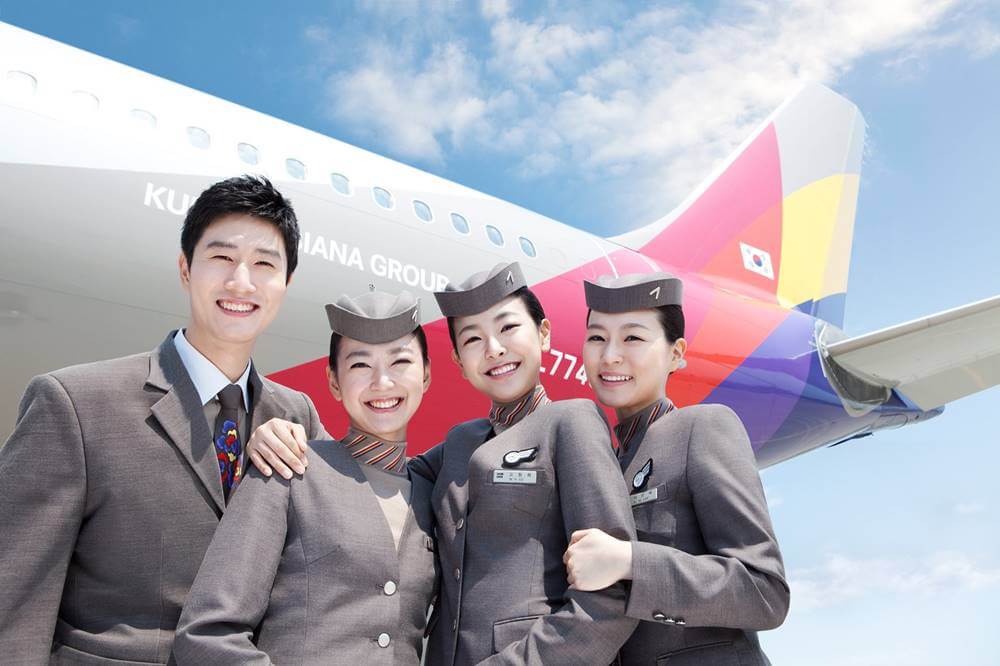 List of Requirements and Qualifications to Become an Asiana Airlines Flight Attendant
Flight attendants need to be physically and mentally strong to be accountable for the safety of their passengers, as well as have cultural sensitivity for passengers of varying ethnic backgrounds. The flight crew is responsible for the overall security of the aircraft and must always be at their best self. Listed below are the other qualifications Asiana Airlines is looking for, for their flight attendants.
Minimum 162 cm height with an arm each of 217cm on tip toes
Must be a Bachelor's Degree Holder
Fluency in English and Korean
Must have a TOEIC score of 550, or must pass Asiana Airlines' English Test
Pleasant, likable, and helpful; with a kind disposition and genuine concern for the passengers
Willingness to prioritize the needs of passengers first
 Global perspective and etiquette
Foreign language fluency and interpersonal competence
Authorization to travel in Korea and all destinations and routes served by Asiana Airlines
Has completed or is exempted from military service for male applicants
Regular TOEIC scores acquired only in South Korea
At least a visual acuity of 1.0 or sufficient vision
Physically and mentally fit to accomplish all the duties and responsibilities assigned to flight attendants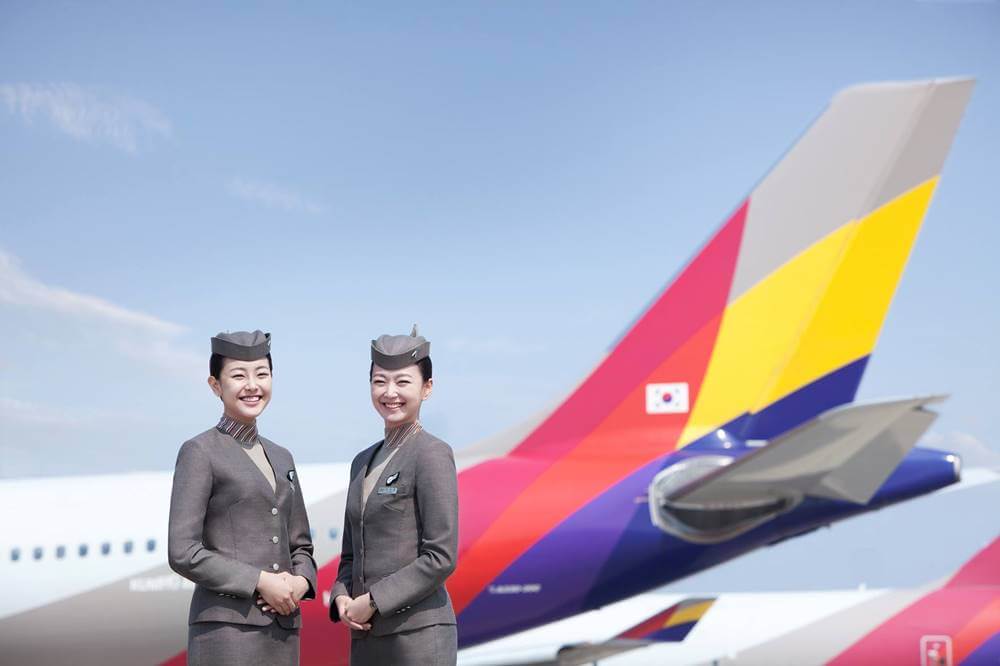 Application Process
Step 1: On-line support
Obtain all the necessary documents such as your diploma, TOEIC Scores, CV, ID picture, and cover letter. You can submit these documents and fill up your biodata through their official career website: https://recruit.flyasiana.com/aboutjob/ab_cabin_jobinfo.asp
Be updated on any changes in their screening or recruitment process.
Step 2: Ace the practical and last interview with the Executives
Asiana Airlines will invite the selected applicants to a practical and English interview with the executive officer. Maintain a professional look and behavior during the interview process. Be sure to wear business clothing and exhibit an excellent demeanor. Nevertheless, bring your authentic self, and don't be hesitant about smiling and greeting others.
Step 3: Pass the medical examinations and physical fitness and personality test
Every applicant must comply and be able to pass all the medical examinations, physical fitness, personality, and psychological tests prior to the flight attendant program.
Step 4: Attend the Flight Attendant training program
The final comprehensive list of successful applicants will be announced by Asiana and will proceed with the flight attendant training program. Every applicant is required to complete a flight attendant training program, regardless of their professional history. This will include both theoretical and practical training that will provide flight attendants with the necessary skills and knowledge to execute their responsibilities. Basic aviation, safety procedures and regulations, first aid, and customer service are among the subjects covered.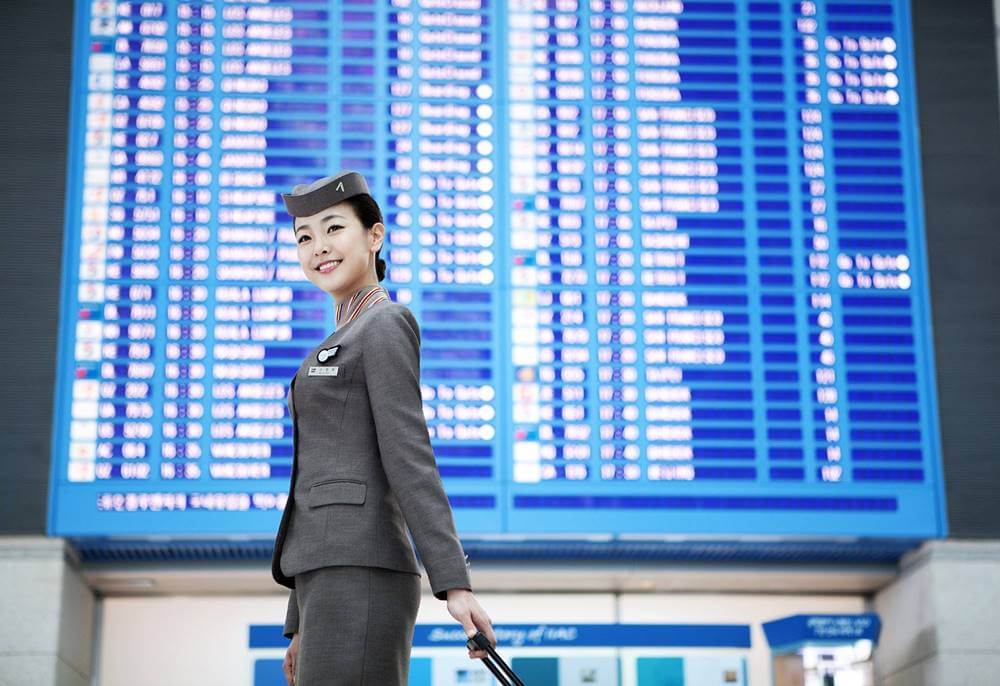 Salary & Benefits
Average salary of ₩41,905,940  per year
Travel packages and perks for the flight attendants and their eligible family members
Salary increases depending on experience and seniority in Asiana Airlines
Overtime pay
Medical Insurance
Working at Asiana Airlines
Every employee in the company knows how to lend a helping hand to a colleague or a trainee. If there are things you're not sure of at work, ask away and they will definitely help you out!
As for the workplace, expect that you will be working in a fast-paced environment so you need to think and act fast whenever an unexpected issue arises.
Video: Flight Attendant Interview for Asiana's 22nd Year
Watch this video featuring Asiana Airlines' interview with their senior flight attendants as a part of their 22nd year anniversary:
According to an International Awardee among flight attendants, Kim emphasizes how her years were colored by the passengers' smiles and kind words. She was grateful not only to Asiana Airlines but also to the customers who'd always chosen to trust the company.
Ku Hye Sun also expresses her gratitude for the personal and career development she has gained throughout her years as a flight attendant at Asiana Airlines.
Photos: Asiana Airlines Cabin Crew Uniforms
Check out these pictures of Asiana Airlines crews so you can see what they look like in uniforms:
Frequently Asked Questions
Here are some common questions and answers about the job requirements as a cabin crew for Asiana Airlines:
1. Does Asiana Airlines accept applications anytime?
You may submit an application at any time. After reviewing your application materials, we will contact you if and when suitable positions become available at the specified location.
2. Can I increase my seniority as a flight attendant?
You will be given the option to advance to supervisory roles like a group leader, part leader, and team leader based on your in-flight field experience, and you will be able to execute the tasks of a training team instructor and a staff member in charge of cabin safety and service planning.
3. Can I apply for the flight attendant job position if I don't have the TOEIC scores?
No, Asiana Airlines requires all its applicants to obtain the TOEIC Scores. Moreover, TOEIC scores acquired from other countries will not be accepted during the recruitment process.
4. How long is the flight attendant training program?
The training program will last an average of 9 weeks.
5. What will happen if falsified information is found in the application?
If fraudulent information is discovered on the application form, the application may be stopped or terminated, and future applications to the Asiana organization may be at a disadvantage.
6. Should I relocate once I am hired?
Yes, all flight attendants must be willing to relocate to any of their bases or to Asiana Airlines' headquarters in Gangseo-gu, Seoul, if they do not live in proximity to the area.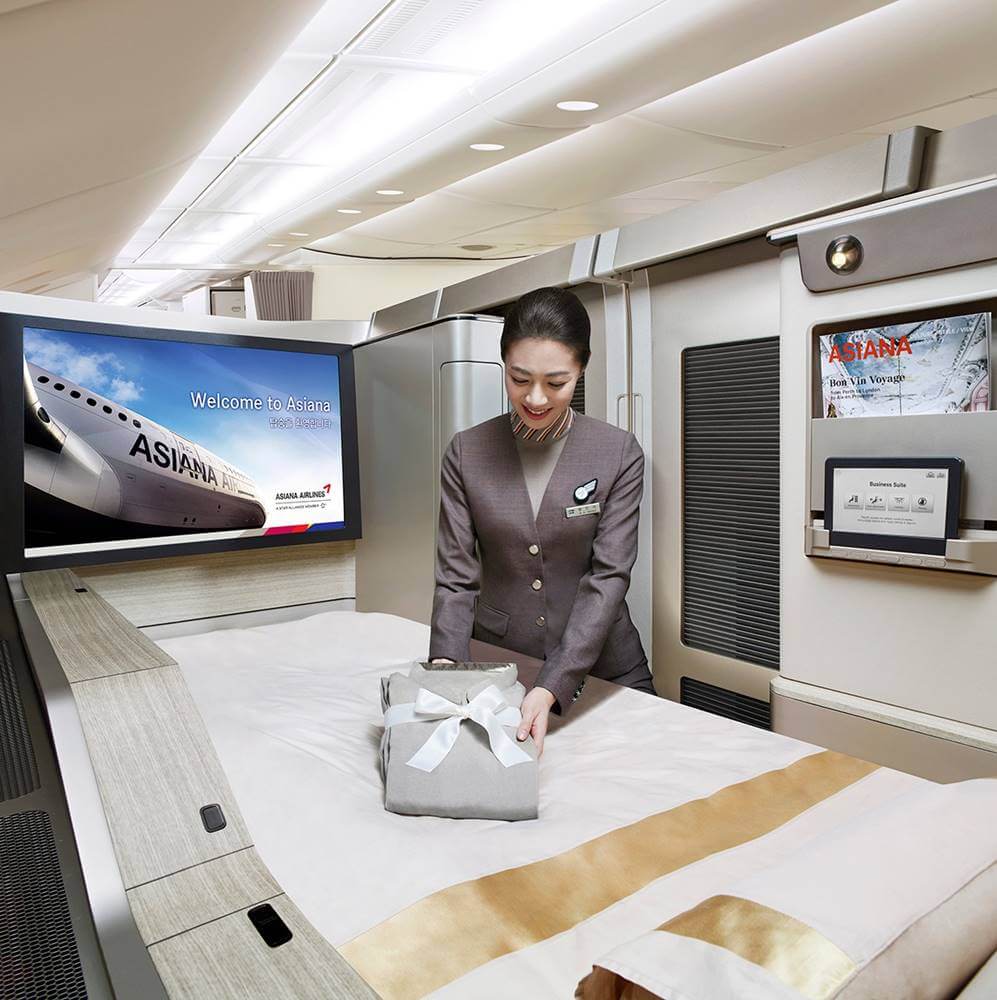 Summary
Asiana Airlines' mission is to provide exceptional service to each and every one of its passengers. As a result, it is essential that the flight attendants and the rest of the crew work passionately to meet the needs of the passengers and solicit their opinions at every opportunity. They stress the need of having a solid grasp of both English and Korean before moving on to the next round of the application process.
Moreover, they also require a domestic TOEIC score that must be obtained before the actual application period. Asiana Airlines will also provide an extensive training program that covers both the academic and practical aspects of being a flight attendant.