Austrian Airlines is the main aviation provider in the country, bringing other countries closer to Austria. Beginning in the heart of Europe, Vienna, they continuously expanded their services since 1954. Now that they are becoming more globally competitive, they are hiring more cabin crews, especially flight attendants to accommodate the growing number of passengers.
Also Read: How to Answer: Why Do You Want to Work for our Airline?
On the other hand, being a flight attendant is a rewarding role— to be able to serve other people in a magnificent workplace above the clouds. However, being a steward in aviation is also challenging, ensuring the safety and comfort of the passengers above all.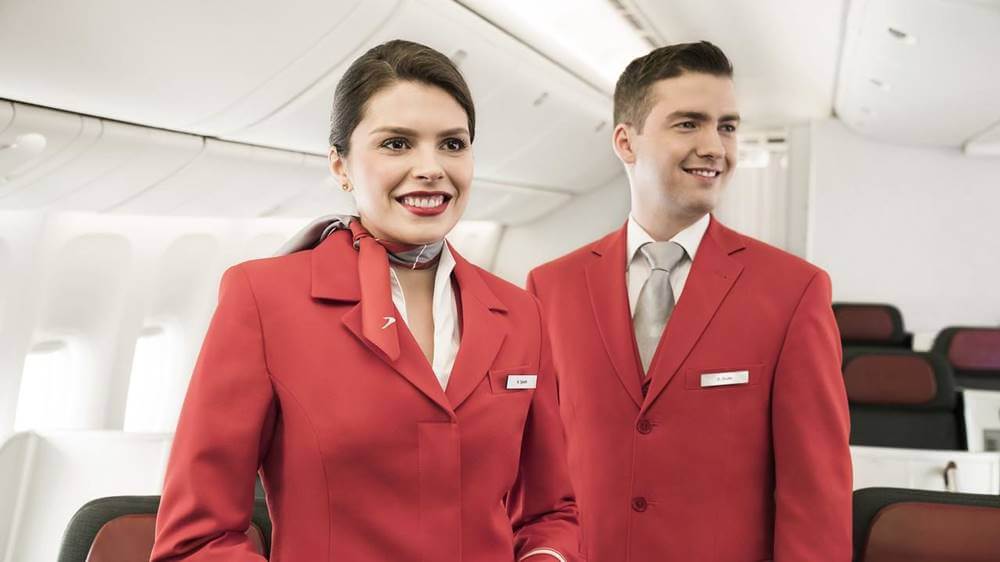 List of Requirements and Qualifications to become an Austrian Airlines Cabin Crew
Austrian Airlines is looking for dependable and committed individuals who can provide excellent customer service to passengers with the distinct Austrian charm. Provided below are the qualifications every candidate for flight attendant must meet:
At least 18 years old
Authorization to work and travel in Austria and all destinations served by Austrian Airlines
Proficient in English and German in both spoken and written
A professional and confident demeanor
Good Etiquette and Conduct
Ability to work independently and synergistically with the whole team of Austrian Airlines
Fully vaccinated against COVID 19
Ability to handle challenges creatively and solution-oriented
Charming and Amiable personality
Training or past work in hotel management or customer service is an asset
Completion of Abitur or Matura
Undergone mandatory civilian or military service (Austrian applicants)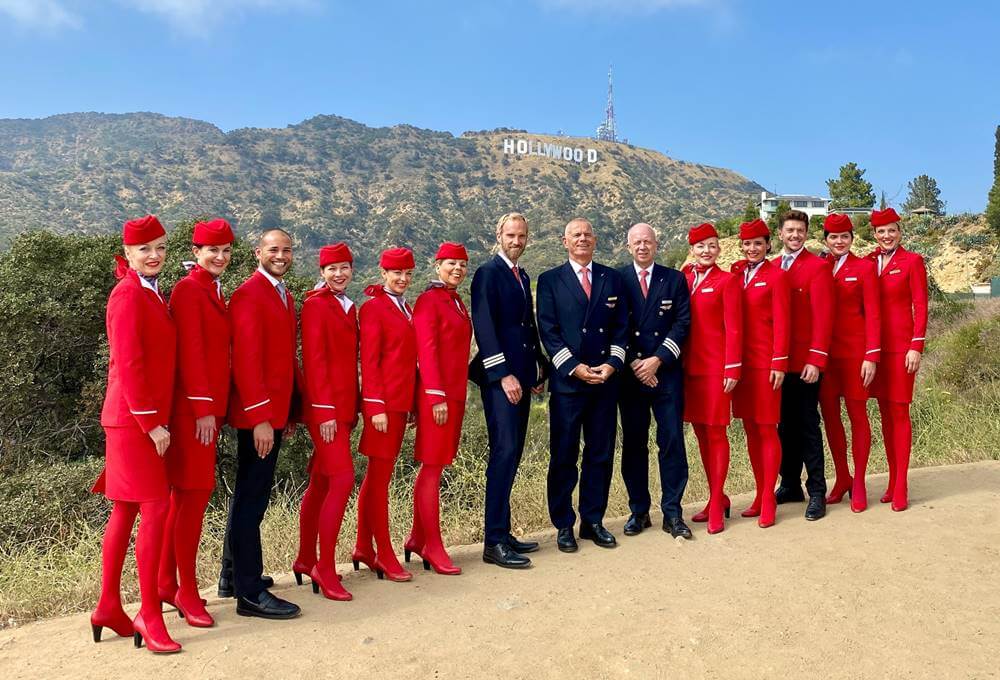 Application Process
Step 1: Make a copy of all the valid documents
Make sure that you have both a digital and printed copy of the requirements such as your personal CV or resume, Diploma, Certifications, ID pictures, letter of motivation, proof of vaccination, and a valid passport. Make sure that you have recent information about your height, weight, BMI and the like.
Step 2: Submit your application online or through a hiring event. In addition, you can also apply initially through hiring events which you can see on their career website here – https://www.austrianairlines.ag/en/career/
Step 3: Prepare for a personal interview
If your application document is shortlisted, Austrian Airlines will arrange a personal interview to evaluate you further. You will be invited to go to a multilevel assessment center. The interview will start with something more casual to relieve the nervousness of the candidates which will be followed by a company presentation. There will also be roleplaying and a more in-depth interview. Lastly, you will present an elevator speech.
Don't forget to dress and act professionally throughout the interview. Nonetheless, you also have to show your authentic self because the recruitment team can spot pretentious enthusiasm and personality.
Step 4: Complete the flight attendant training program
First, there will be an entrance test before the training program. After this, there will be a 4-week intensive training for first aid, safety and security. The last 2 weeks will be more focused on customer service and becoming an ambassador of Austrian Airlines.
The whole training session will be filled with roleplaying, practical exercises and extensive lectures. According to one of the senior flight attendants, the most difficult part of the training is the self-studying of the theoretical basics of aviation services. Since the training program will take place several weeks after the initial application, it is best that you have fully prepared and studied beforehand.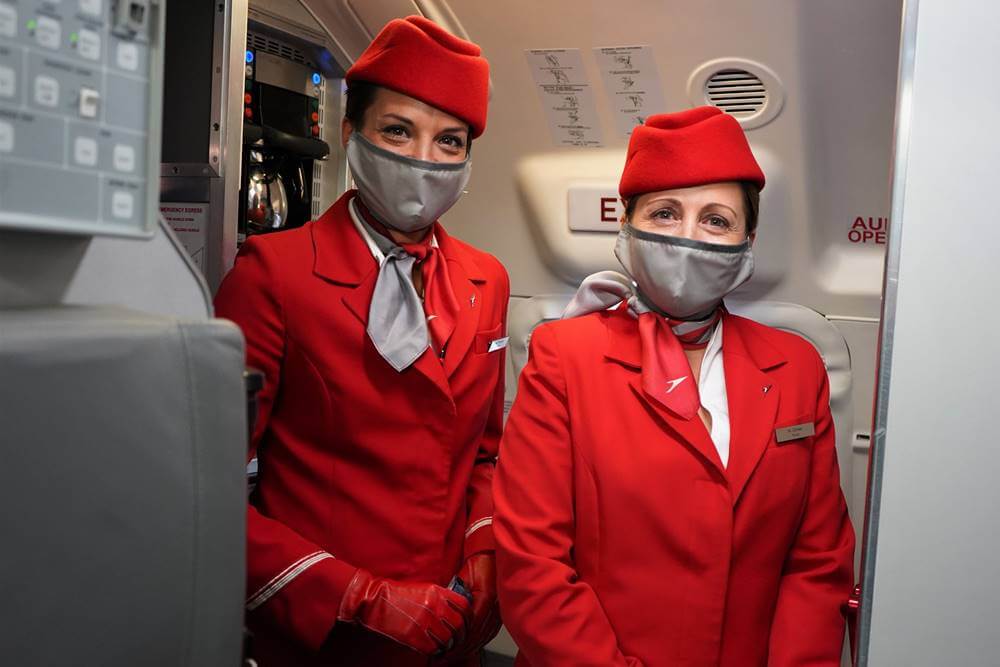 Salary & Benefits
Competitive gross salary of € 21,000 annually
Paid overtime and daily allowance
Travel packages and discounts including accommodation and car rental
Renewable 3-year contract
Flight Attendant Uniform provided by the company
A work environment that encourages career and personal growth
Exclusive training with a monthly allowance of € 1,054.40
Transportation allowance and free use of Vienna Airport lines and CAT
Flexible working hours
Participation in International groups and events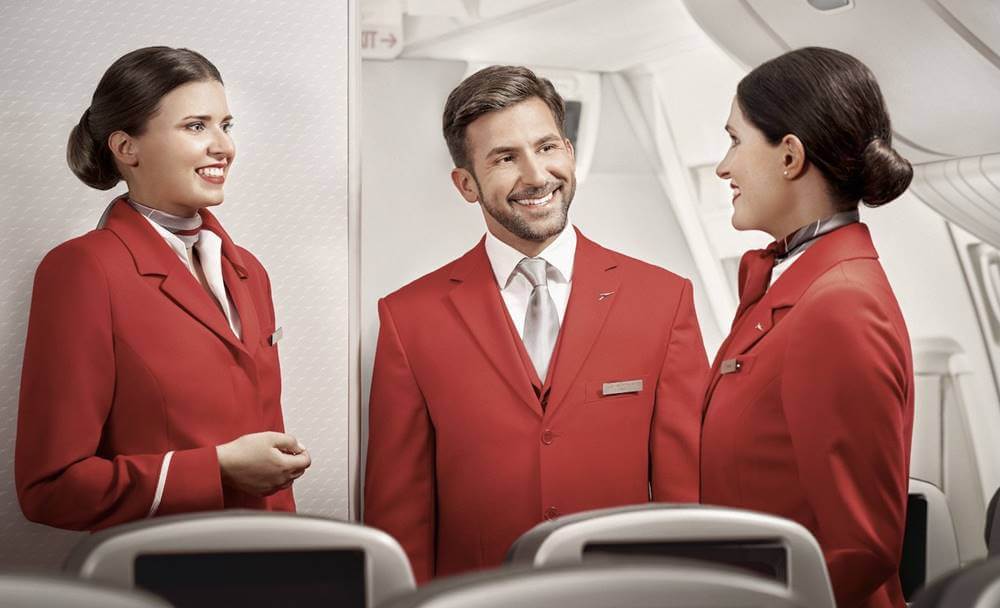 Video: Austrian Airlines Amidst The Pandemic
Watch this interview of Verena Peruschitz, the head of the cabin crew in Austrian Airlines, as she discloses the new protocols of the cabin crew training amidst the surge of COVID 19:
Safety comes first before anything else. Facemasks, frequent disinfections, and washing of hands became the norm. Also, disinfecting wipes and other sanitary tools are given to passengers during flights. Moreover, Austrian Airlines implement a stringent protocol in social distancing to maximize safety precautions. During lockdowns, the face-to-face training programs were postponed and replaced by online sessions. Nonetheless, the quality of the training was not diminished. Austrian Airlines also implemented new measures such as announcements before landing and deboarding.
Photos: Austrian Airlines Cabin Crew Uniforms
Check out these pictures of Austrian crew so you can see what they look like in uniforms:
Frequently Asked Questions
Here are some common questions and answers about the job requirements as a cabin crew for Austrian Airlines:
1. Do we get paid during the flight attendant training program?
The training program is fully sponsored by Austrian Airlines. In addition, all candidates will receive a monthly allowance of  € 1,054.40
2. What kinds of aviation services does Austrian Airlines offer?
Austrian Airlines provides scheduled flights from Vienna to 130 destinations daily across Europe, North America, and Asia.
3. What languages should I learn when applying as a flight attendant at Austrian Airlines?
All applicants must beagle to fluently write and communicate in German and English. Moreover, multilingual candidates are more than welcome.
4. Does Austrian Airlines accept applicants with tattoos and piercings?
Yes, as long as these tattoos and piercings are not visible while wearing the flight attendant uniform, without any additional clothing. In fact, when you submit your online application, this will already be asked.
5. Do experienced flight attendants still have to undergo the training program?
Yes, every applicant will undergo an intensive training program for flight attendants. Furthermore, Austrian Airlines offer a "Find your Way", for flight attendants wherein they can choose the courses and seminars that they would like to participate in.
6. Is the flight attendant job application open to all everyone outside of Austria?
Yes, their job position is open to any qualified individual as long as they are not restricted in travelling or working in Austria and all routes served by Austrian Airlines.
7. Aside from the skillset provided above, what is a good flight attendant that Austrian Airlines is looking for?
For Austrian Airlines, flight attendants are not just employees– they're family to them. With this being said, they are looking for candidates who have the team spirit to not only work for the airlines but to also reflect and uphold their values and mission. It is also po significant that every member contributes to the success and accomplishments of the team by fulfilling their roles wholeheartedly.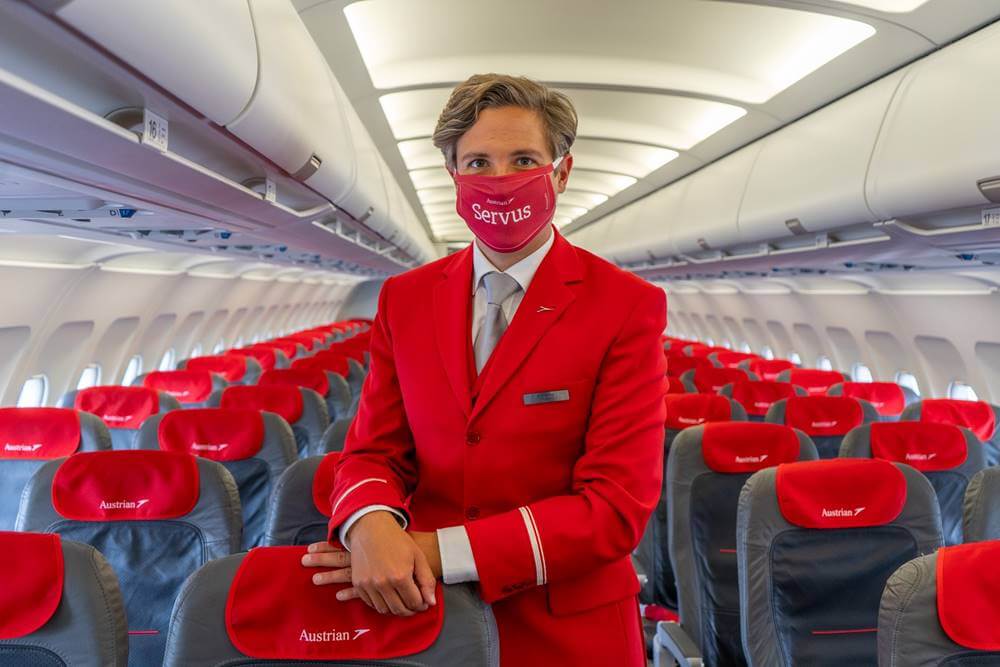 Summary
The whole duration of the application period can be lengthy but it is worth the wait if you are truly passionate about that job. Always remember to be genuine and authentic all throughout the hiring process, especially during the interview. Along with the qualifications and requirements, a sincere smile and enthusiasm can win the heart, of not only of the recruitment team but also the passengers.