Austrian Airlines is known for its friendly and professional flight attendants. These men and women are responsible for the safety and comfort of passengers during flights, and they take their jobs very seriously. In addition to their safety training, Austrian Airlines flight attendants receive extensive customer service training. They are taught how to handle difficult situations, how to resolve customer complaints, and how to provide an exemplary level of service.
As a result, passengers can rest assured that they will be well taken care of if they fly with Austrian Airlines. The next time you take to the skies, be sure to give a big thank-you to the hardworking flight attendants who make your journey safe and comfortable.
Also Read: How to Become a Flight Attendant in Austria
The moment you click the send button for your application, there's this feeling of worry whether the airlines would see it or not given the fact that most airlines receive hundreds of thousands application for every job ad that they post and the probability of your application being seen might be slimmer than you think.
However, it doesn't happen at all times. There are still a lot of airlines that meticulously go through the sea of applications and select candidates to be interviewed for the cabin crew position, just like Austrian Airlines.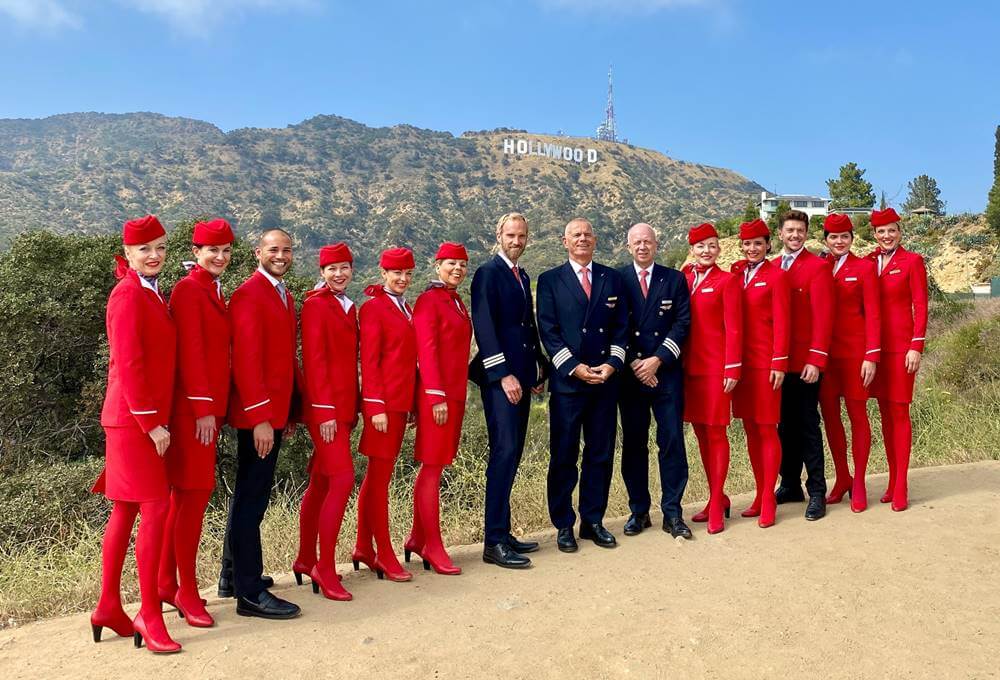 Overview of Austrian Airlines
Austrian Airlines is Austria's official flag bearer and largest airline. Founded in 1957, Austrian Airlines is a globally operating airline with a particular focus on Central and Eastern Europe. The airline officially commenced its operations in 1958.
Austrian Airlines has a global network of over 120 destinations across 55 countries, including non-stop flights in destinations like the US, Thailand, China, and Montreal in Canada. The airline is a subsidiary company of Lufthansa Group, Europe's biggest airline network, and is part of Star Alliance, the biggest worldwide airline alliance. To date, they have more than 6,000 employees and have welcomed over 305 million passengers onboard their fleet of aircraft.
Responsibilities of an Austrian Airlines Flight Attendant
As a flight attendant of Austrian Airlines, you are expected to carry out the following duties below:
Provide personal care to all passengers of Austrian Airlines
Keep passengers comfortable while onboard the aircraft.
Monitor and manage the cabin, ensuring that it is secure throughout the flight
Help passengers with their luggage and guide them to their designated seats
Demonstrate how to use the aircraft's emergency and safety equipment
Distribute food and beverages to passengers
Give aid to passengers and fellow cabin crew members during emergencies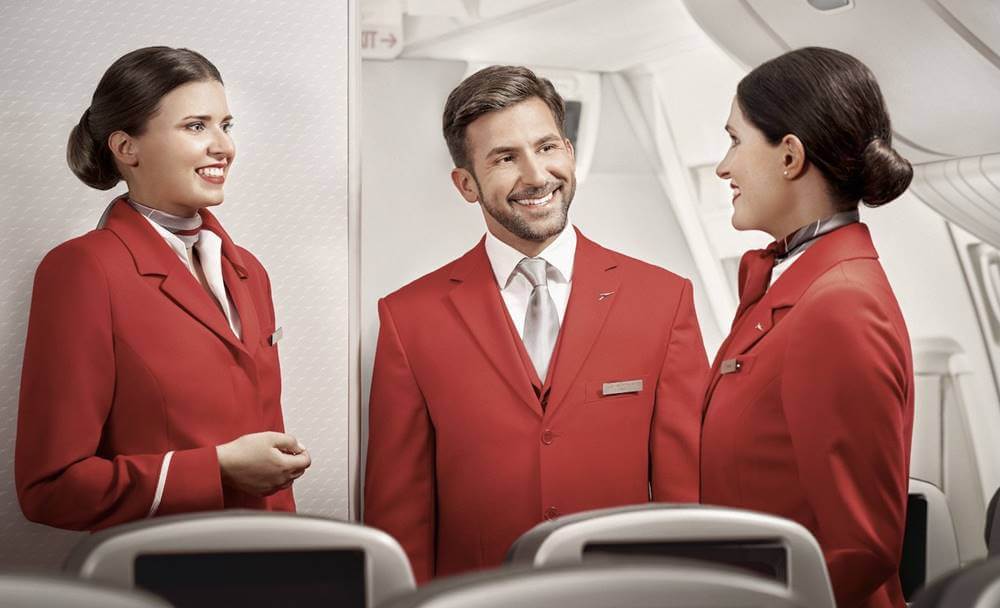 Qualifications to Become an Austrian Airlines Cabin Crew
Are you interested in joining Austrian Airlines' growing cabin crew? To become a flight attendant of Austrian Airlines, here are the qualifications you must meet below:
Applicants must be at least eighteen years old
Must be proficient in speaking and writing English and German
Must have finished Matura/Abitur or vocational training
Must have finished military or civilian training service (For Austrian applicants)
Must be fully vaccinated against COVID-19
Must have a well-kept appearance
Must have a bright and charming personality to provide passengers with a welcoming and superb travel experience onboard
Must be a professional team player
Must be well-mannered and have excellent conduct
Must have the ability to deal with difficult situations in an innovative and solution-oriented way
Applicants with experience or training in hospital management or gastronomy/services is an advantage
Documents to Prepare
Austrian Airlines allows aspiring flight attendants to apply online. That said, you must prepare digital and physical copies of the following documents:
Valid passport
Your personal CV or resume
Your educational certificates
Your vaccination certificate against COVID-19
ID pictures
Letter of motivation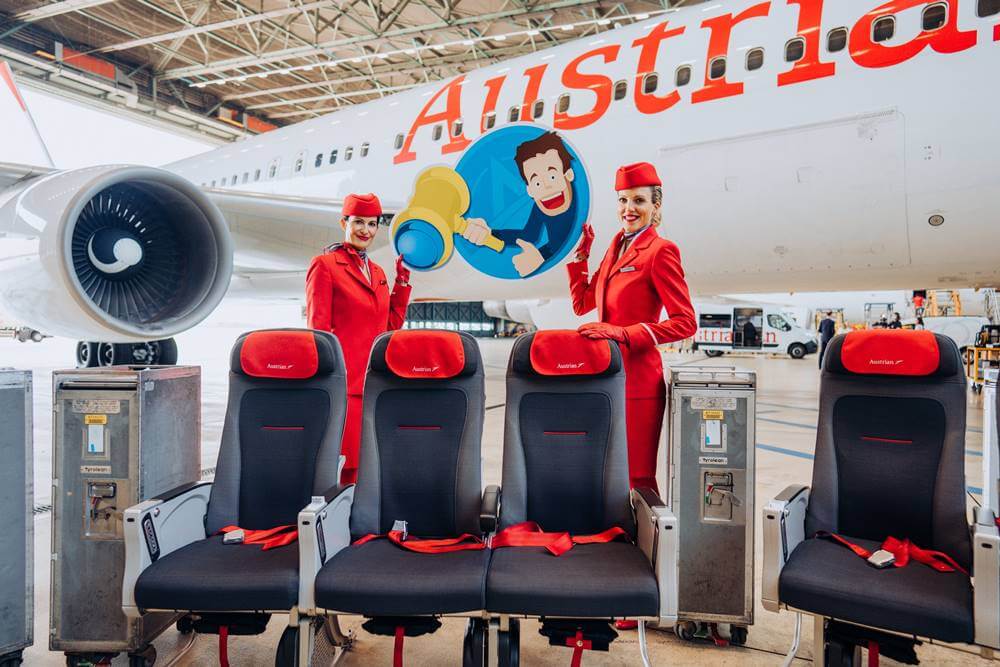 Step-by-Step Process Application to Become a Cabin Crew for Austrian Airlines
Austrian Airlines accepts flight attendant applicants through their online application portal found on their website. To go there, visit the airline's official website and go to the Careers Page by clicking this link: https://www.crew-and-more.com/english/Cabin-Crew/Austrian-Airlines-AG/index.html
From there, you can look for "Cabin Crew Flight Attendant" job openings and follow the following steps below to turn in your application:
Step 1: Online Application Process
As previously mentioned, you must prepare both physical and digital copies of the required documents listed above. Besides preparing the required documents, make sure to take note of your weight, height, and BMI for the application, as you will be asked to enter them in your application.
Upon entering the online portal above, the page will display the job requirements and list of benefits. When you're done reading them, you may click the "Apply Now Online" button found on the page. This will take you to their online cabin crew application form page.
Duly fill out the online application form with your personal information. Make sure to attach the digital copies of the documents asked for in the application form. Don't forget to double-check the information you entered before submitting your application.
Step 2: Interview Process
Once you've submitted your application, it's time to wait for a response from the airline company. If your application gets shortlisted, you will be invited to an interview with the airline's recruitment team. The interview will take place in an assessment center.
The interviewer will ask you basic questions about the job. Questions about the airline company will also be brought up. So, make sure to do your research about the airline company before your interview.
Step 3: Training Program
If you successfully pass the interview and assessment stages, you will be invited to finish Austrian Airlines' training program. The training program is mandatory and will primarily focus on providing personal care to customers and becoming an ambassador of the airline company. Both live training and e-trainings will take place during your training period.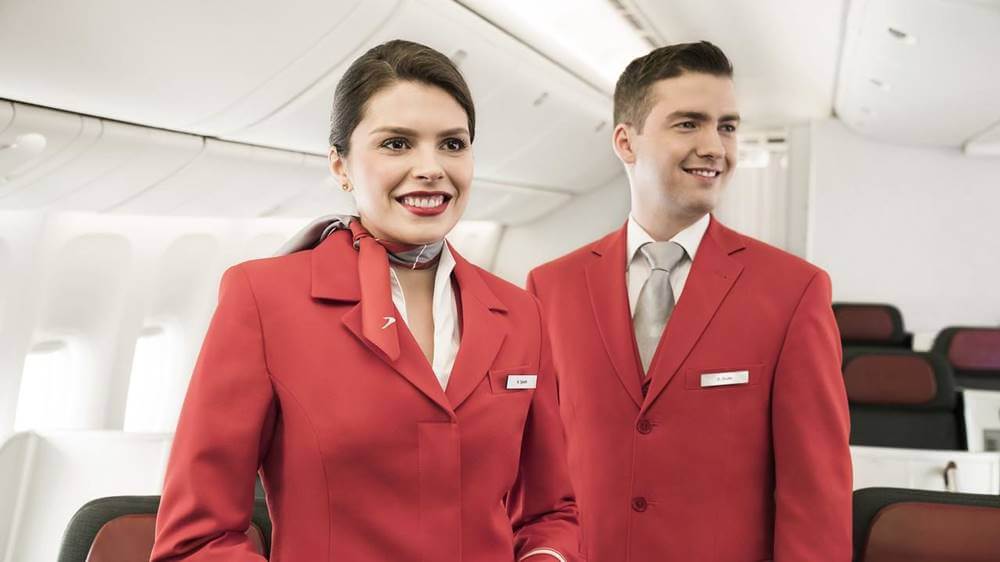 Austrian Airlines Salary and Benefits
If you successfully pass Austrian Airlines' training program and become part of their growing cabin crew, here are your expected salary and benefits as an Austrian Airlines flight attendant below:
A gross collective agreement salary amounting to €23,100 yearly
Paid overtime hours
Flexible working hours
Free usage of the airline's work transport
Perks and discounts for flight tickets, hotels, and rental car providers
Free flight attendant uniforms provided by the airline company
Recruitment Procedure of Austrian Airlines
There are a lot of things that you need to consider before sending a copy of your resume, and you need to be sure that you are well-prepared from the beginning up to the end. You need to make sure that you have the qualifications that they are looking for; otherwise, you will just be ignored. Remember that you have a lot of competitors, and you only have one chance.
Application Process
Step 1: Submit your application online or through a hiring event. In addition, you can also apply initially through hiring events which you can see on their career website here – https://www.austrianairlines.ag/en/career/
Step 2: Prepare for a personal interview
If your application document is shortlisted, Austrian Airlines will arrange a personal interview to evaluate you further. You will be invited to go to a multilevel assessment center. The interview will start with something more casual to relieve the nervousness of the candidates which will be followed by a company presentation. There will also be roleplaying and a more in-depth interview. Lastly, you will present an elevator speech.
Step 3: Complete the flight attendant training program
First, there will be an entrance test before the training program. After this, there will be a 4-week intensive training for first aid, safety and security. The last 2 weeks will be more focused on customer service and becoming an ambassador of Austrian Airlines.
The whole training session will be filled with roleplaying, practical exercises and extensive lectures. According to one of the senior flight attendants, the most difficult part of the training is the self-studying of the theoretical basics of aviation services. Since the training program will take place several weeks after the initial application, it is best that you have fully prepared and studied beforehand.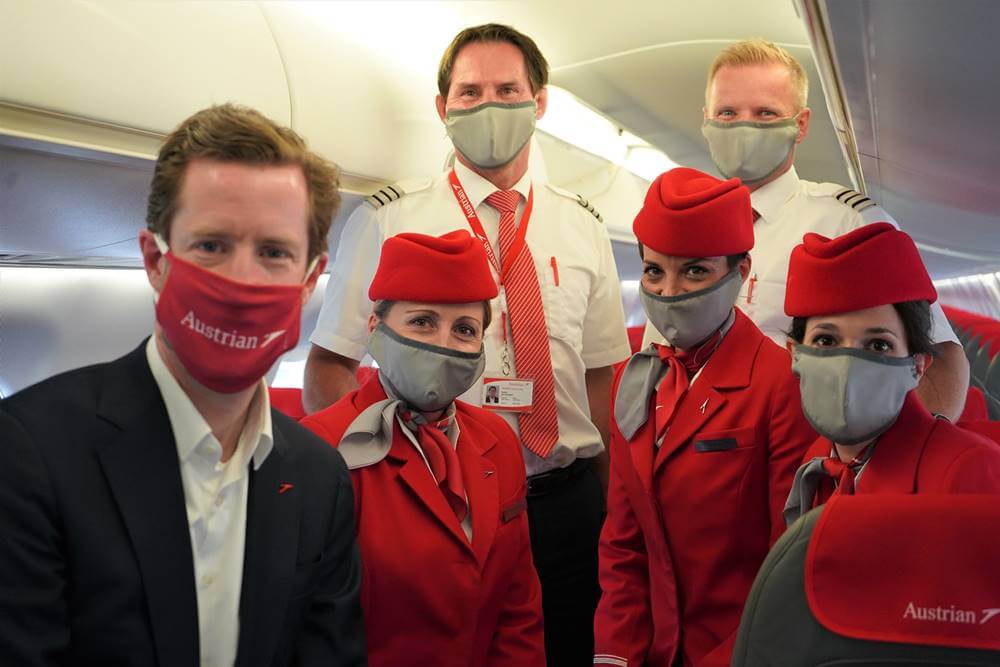 Online Applications
Austrian Airlines allow online applications if in case there aspiring cabin crews who can't attend a hiring event in person. After you have filled in the necessary information required, a confirmation will pop up on your screen saying that you've successfully applied for the position. Moreover, they will also send you an additional e-mail giving you the same confirmation.
Afterward, the hiring manager will review your background and assess if you match the list of requirements that they are looking for. Of course, it might take some time but be patient and understand that you aren't the only applicant who's interested with Austrian Airlines.
If they think that you're a good fit, the company will definitely want to see you and to know you better. During this period, you will be invited for a personal interview and further assessment.
Photos of Austrian Airlines Flight Attendants
To give you an idea what to expect when you are a cabin crew for Austrian airlines, here's a photo album of some of their flight attendants:
Video: #AskAustrian – Cabin Crew Training
Austrian Airlines conducts #AskAustrian episodes on its official YouTube channel. For this episode, the hosts have invited Verena Peruschitz, the head of cabin crews, to ask her some cabin crew training questions and to discuss the new measures rolled out due to the pandemic.
Peruschitz mentioned that cabin crew members are following new measures as part of stricter measures brought upon by the pandemic. For instance, cabin crew members are required to wear face masks that cover the nose and mouth from check-in to check-out. They are also required to wash their hands and disinfect surfaces frequently.
Cabin crew members are also obligated to complete online training programs before flying again. These special training programs take place online, as physical training programs have been limited due to lockdowns. Cabin crew members are also asked to distribute disinfectant wipes to passengers as part of the stricter hygiene measures.
Social distancing is also observed from onboarding to deboarding. To ensure proper social distancing when deboarding, cabin crew members make the necessary announcements and deboard passengers in groups to avoid overcrowding.
You can watch the full video here:
Frequently Asked Questions
Here are some answers to questions you might ask when applying as a flight attendant at Austrian Airlines:
1. Is there any specific height requirement to become a flight attendant at Austrian Airlines?
Austrian Airlines doesn't have any height requirement for its applicants. However, you must ensure that your height is proportionate to your weight, which is an indicator that you're physically fit for the job.
2. What languages should I be fluent in to become part of Austrian Airlines' cabin crew?
Austrian Airlines requires its cabin crew to be proficient in writing and speaking German and English. Of course, proficiency in other languages will give you an edge against other applicants.
3. What is the minimum age requirement to apply as a flight attendant at Austrian Airlines?
An applicant must be at least eighteen years old to apply as a flight attendant at Austrian Airlines. Furthermore, they don't have a maximum age requirement for aspiring cabin crew members.
4. Do I need to have training or experience in hotel management or in a similar industry to apply at Austrian Airlines?
Austrian Airlines doesn't require its applicants to have prior experience or training in hotel management or similar fields. However, having experience or training in hotel management or gastronomy/services is a significant advantage.
5. Do I need to be vaccinated against COVID-19 to become an Austrian Airlines cabin crew member?
Yes, Austrian Airlines requires its applicants to be vaccinated against COVID-19. Applicants must submit proof of COVID-19 vaccination in the online application form.
6. Do Austrian applicants need to finish military or civilian service first to become an Austrian Airlines cabin crew member?
Yes, Austrian applicants must complete military or civilian service to apply as flight attendants at Austrian Airlines.
7. Does Austrian Airlines accept applicants with tattoos and piercings?
Yes, Austrian Airlines accepts applicants with tattoos and piercings as long as they are not visible while wearing the airline's official flight attendant uniform. Applicants must declare if they have tattoos or piercings in the airline's official application form.
8. What attire should applicants wear when attending Austrian Airlines' interview process?
Most airlines require applicants to wear business attire during the interview stages. Your interview invitation from the airline company should also tell you what to wear during your interview.
9. Is Austrian Airlines' training program mandatory?
Yes, all applicants who pass Austrian Airlines' interview stage will proceed to the training program.
10. Does Austrian Airlines provide training allowances to its trainees?
Yes, Austrian Airlines provides monthly training allowances to its trainees. You will receive €1,054.40 per month as a trainee in the said airline company.
Summary
Austrian Airlines is known for its friendly and professional flight attendants. The airline employs over 3,000 flight attendants, who are responsible for the safety and comfort of passengers during flights. Austrian Airlines flight attendants receive extensive training in safety procedures and customer service. They are also fluent in multiple languages, which helps to ensure that passengers from all over the world can enjoy a safe and comfortable journey.
In addition to their safety and service skills, Austrian Airlines flight attendants are also known for their stylish uniforms. The airline's signature red uniforms are iconic, and they help to create a sense of luxury and sophistication onboard. Whether you're looking for a safe and comfortable flight or simply hoping to travel in style, Austrian Airlines is the perfect choice.
The information we've just provided you is disclosed directly by the Austrian Airlines themselves in their website. You are now a few steps away from landing on a job! Remember that every application can't be processed in a short while unless it's an urgent hiring event. So, try to be patient and calmly wait for the company's response.
Applying for prominent airlines like Austrian Airlines can be quite intimidating. But as long as you meet the qualifications, do well in your interview, and successfully finish your training program, you can become part of a large, premium airline like Austrian Airlines. And with the help of this guide, you should already have a good idea of how the application process goes, allowing you to prepare better for it. Best of luck with your application!
Contact Information
Austrian Airlines AG
Address: Vienna International Airport, Vienna – Schwechat
Website: https://www.austrianairlines.ag/
Facebook: https://www.facebook.com/AustrianAirlines/
Instagram: https://www.instagram.com/austrianairlines/?hl=en
Twitter: https://twitter.com/_austrian?lang=en
YouTube: https://www.youtube.com/user/austrianairlinesag
LinkedIn: https://www.linkedin.com/company/austrian-airlines